3 powerful hiking experiences in the Red Centre
If you're considering a family trip to the NT, you must ensure you visit the Red Centre.
It's an iconic Aussie location which is bursting with ancient and natural wonders. The Red Centre is the heart and soul of Australia's Outback and the enormity of the rocks and gorges you'll discover are truly powerful.
If you're going to the Red Centre, these three incredible natural wonders cannot be missed:
1. Kings Canyon Rim Walk
The Kings Canyon Rim Walk is one of the most breathtaking places in all of the NT. When you're standing up on top of the Canyon, looking out across the desert, the remoteness and size of the surrounding environment is absolutely mind-blowing. Don't let the initial steep climb put you off, once you reach the top you're rewarded with one of the most spectacular sights in central Australia. I really loved this trek as the kids had so much fun exploring and hiking.
Tip: Wake up early and start your hike so you can avoid walking around in the hottest part of the day.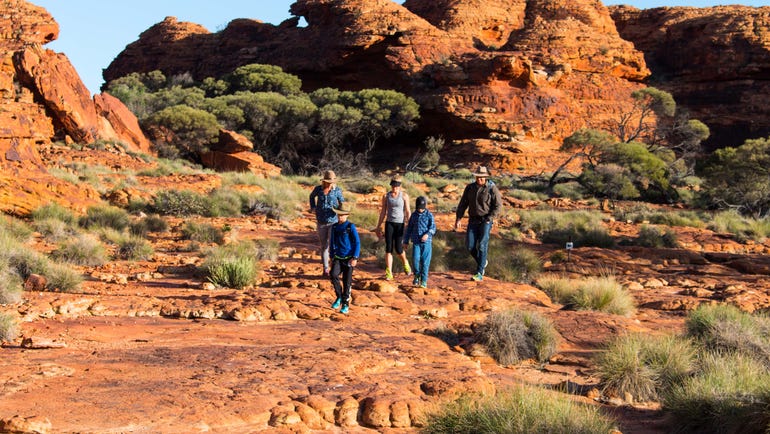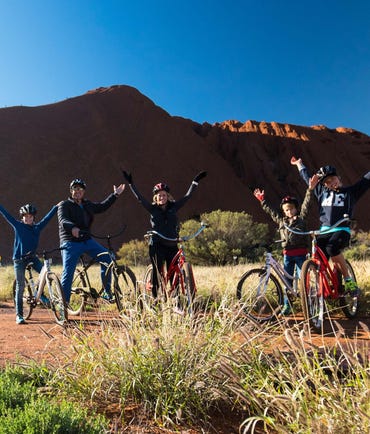 2. Uluru
One of Australia's most iconic land masses, Uluru never ceases to amaze me how impressive it is. Towering 867m above sea level, and 3.6km long, the sheer size of the Rock is super impressive. One of my favourite things to do is to spend the morning cycling around the Rock. And then in the evening, after a little siesta, watch the sunset illuminate the rock in bright orange, before it turns a series of red hues, getting darker, before it fades into charcoal.
Tip: Walking or riding around is a nice activity which the entire family can enjoy and gives you a chance to see the Rock up close where you can feel its harsh surface.
3. The Olgas
Traditionally known as Kata Tjuta, The Olgas are phenomenal. The sheer size of these 36 domed rocks is seriously captivating, leaving you to feel so small in comparison. The tallest rock, Mt Olga sits 1,066m above sea level which is a whopping 200m higher than Uluru! The Olgas are part of Uluru-Kata Tjuta National Park, about 53km drive from Uluru so make sure you fit them in when you visit Uluru.
Tip: If your kids can handle it, I'd recommend taking the Valley of the Winds Walk which is roughly 3 hours. It's incredible and the scenery is spectacular, plus it's a little more off-road with small trails and ups and downs.
More articles you might like