Arnhem Land is a wild and untamed landscape which has remained the same for centuries. From red, dusty rock formations to sprawling wetlands, there's something for everyone in Arnhem Land.
Arnhem Land is just waiting to be explored. Enjoy a relaxing vacation with your feet in the white sand or learn more about the world's oldest continuous culture.
A few fast facts
Arnhem Land was named after the Dutch ship Arnhem, which navigated across the coast almost 400 years ago in 1623.
Arnhem Land x-ray art, thought to have developed around 2000 BC, shows animals and humans in an 'x-ray style', with accurate depictions of their internal organs, bones and even veins and arteries.
You'll need a permit to enter Arnhem Land - contact the Northern Land Council, or the Dhimurru Aboriginal Corporation, for more information.
Arnhem Land is the home of Australia's most famous musical instrument – the didgeridoo.
At just under 100,000 square kilometres, Arnhem Land is roughly the size of Iceland – and is bigger than Hungary, Portugal or Austria.
Arnhem Land has a total population of approximately 16,000 people, of whom 12,000 are Aboriginal Yolngu people – the traditional owners of the land.
Here's a detailed guide about Arnhem Land, covering the highlights, organised tours, DIY trips and all the essential info.
Seven must-sees
Injalak Arts & Crafts Association
Injalak is an Aboriginal-owned, non-profit enterprise which has been operating for almost 30 years and collates the work of over 200 local artists. Climb Injalak Hill with an Aboriginal guide to learn about Aboriginal rock art and find out about Aboriginal cultural traditions. Injalak is located in Gunbalanya, around 2 hours' drive north of Jabiru.
Macassan Beach
Macassan Beach - just a 35 minute drive from Arnhem Land's largest township Nhulunbuy - is the site of the Yolngu people's first interaction with Indonesian traders. Take the Wurrwurrwuy Macassan Beach Interpretive Walk and see intact stone constructions from over a century ago which were made to teach future generations about the Macassan traders. There are several walks to different beaches, such as Turtle Beach and Little Bondi, which are dotted with secluded camping spots along the way, meaning Macassar is ideals for kids and adults alike.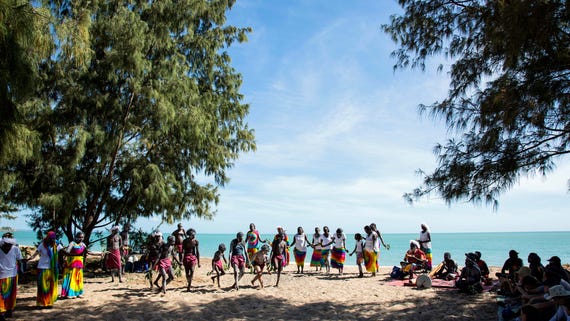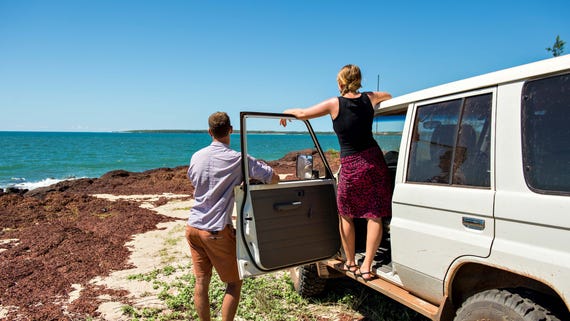 Nhulunbuy (Gove)
Nhulunbuy, on the Gove Peninsula, is the largest town in Arnhem Land. It is one of the world's most isolated towns, surrounded by a natural environment unrivalled in its beauty. Nhulunbuy is the Northern Territory's fishing mecca, with even the unluckiest angler able to snag a fish by throwing in a line. Just outside the town are a number of beaches and picnic spots from which to enjoy a stunning Territory sunset, such as East Woody Island (Dhamitjinya) and East Woody Beach (Galaru). As with anywhere in the Top End, be crocwise when it comes to swimming.
Buku-Larrnggay Mulka Arts Centre, Yirrkala
The Buku-Larrnggay Mulka Arts Centre houses a number of Aboriginal artworks, including bark paintings, carvings and musical instruments. The gallery also includes the stories of the Yolngu people's involvement in World War II. Just 20 minutes from Nhulunbuy, the gallery has a retail centre where you can buy some unique works of art.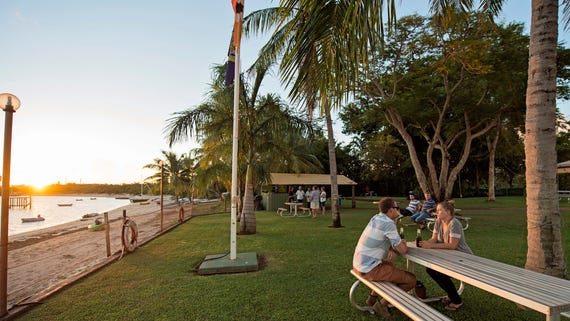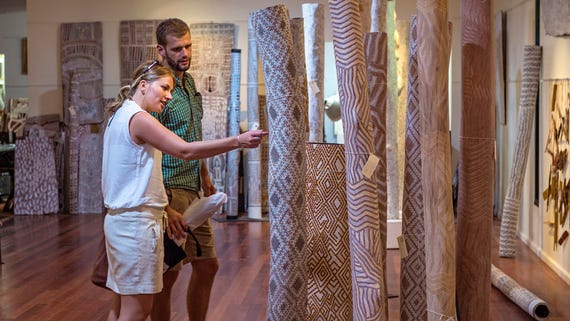 Groote Eylandt
Groote Eylandt is the largest island in the Gulf of Carpentaria - its name means 'large island' in old Dutch. There are numerous fishing tours and adventure activities on the island, and golfing at the Groote Eylandt Lodge. The traditional owners of the island are the Warnindhilyagwa people - cultural tours teach you about their traditions, language, and life on the island.
Cobourg Peninsula
If you are looking for true isolation – and the peace and quiet that comes with it – the Cobourg Peninsula is just the ticket. Cobourg Peninsula fishing is world renowned and at roughly 2,000 square kilometres, with a total population of approximately 30 people, you're likely to have your fishing spot to yourself. The ruins of Victoria Settlement at Port Essington, an 1800s attempt at British settlement, are an important historical site and can be accessed by 4WD.
Bremer Island
Bremer Island (Dhambaliya in the local language) is 5 kilometres off the coast of Nhulunbuy. It is home to the Bremer Island Banubanu Beach Retreat – a secluded resort perfect for fishing and relaxation. If you're after an escape from the hustle and bustle, Bremer Island is the place – a maximum of 8 guests are allowed on the island at a time.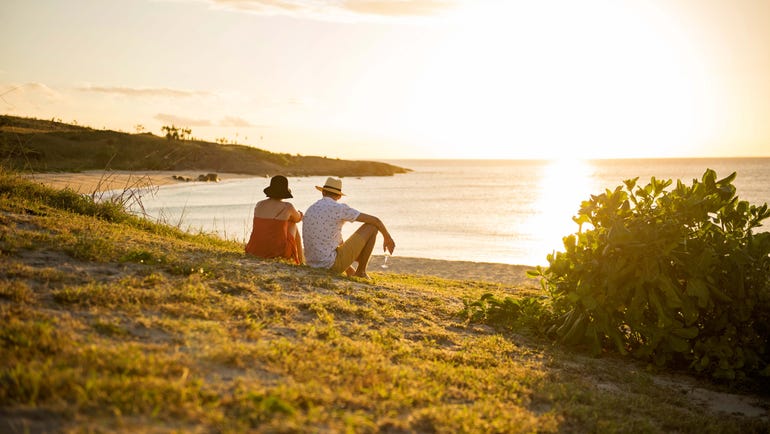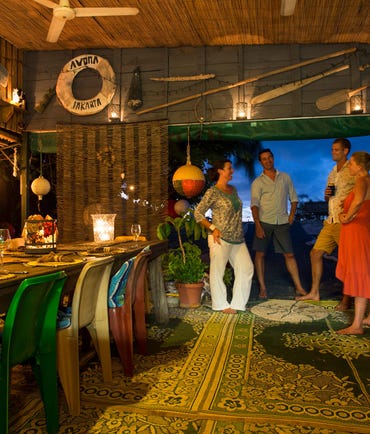 Top tours
Davidson's Arnhem Land Safaris
Going on safari conjures images of long, taxing treks through the rugged wilderness – but who said you can't do this in style? Davidson's Arnhem Land Safaris show you the stunning wetlands, swamps, floodplains and exclusive Aboriginal rock art sites of Arnhem Land in 'Territory time', a slower, relaxing way of engaging with the natural environment that gives you time to take in the pure beauty of your surrounds. Davidson's is also a lodge and offers cabin accommodation.
Venture North
The family-owned company Venture North runs a number of small group culture and nature tours throughout remote Arnhem Land. These include fishing charters off the Cobourg Peninsula, along with 4, 5 and 7-day tours which include Kakadu National Park and Arnhem Land. There are also private charter tour options if you'd like a personalised experience.
Guluyambi Cultural Cruise
The Guluyambi Cultural Cruise takes you through the rugged wilderness of West Arnhem Land in small groups, where your expert guide will share modern and ancient tales of the region. Learn about the traditional uses for many of the native plants and animals while cruising effortlessly down a secluded waterway.
Gove Sports Fishing and Diving Charters
Whether you're an expert angler or you don't know your hooks from your sinkers, there's a charter for you at Gove Sports Fishing and Diving. Your experienced guides know all the secret spots and will take you on a half, full or multi-day tour.
Arnhemlander 4WD Cultural Tour
Perhaps the most precious resource that can be found in the Top End is the knowledge and wisdom of those who have known the land for generations. The Arnhemlander 4WD Cultural Tour is the perfect place for you to experience this unique expertise, transmitted in an engaging and entertaining fashion by your expert guides.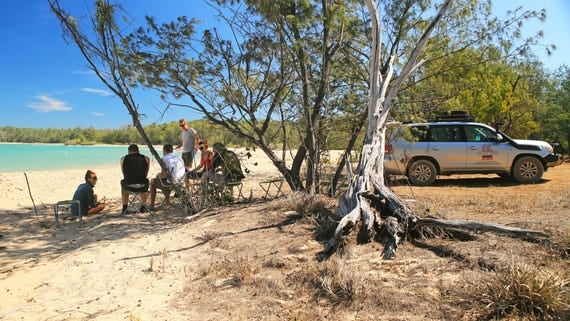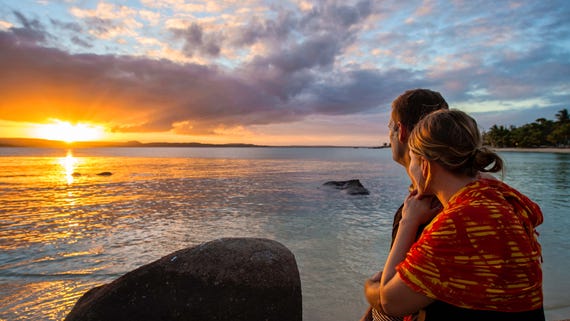 Do it yourself
We've just clued you in on some excellent tours where you can sit back and/or bait a line without having to organise a thing, but we also know the appeal of a do-it-yourself holiday. Blazing your own trail brings a whole different kind of excitement to your experience – and this is definitely possible in Arnhem Land. Make sure you look into permits with the Northern Land Council or the Dhimurru Aboriginal Corporation, and organise a 4WD, before you head off.
Nhulunbuy and surrounds
Nhulunbuy sits on the doorstep to some of the most beautiful natural landscapes on the face of the Earth, with unspoilt wilderness just minutes away. There are a number of single or multi-day trips to be taken from Nhulunbuy, meaning the only limit is how much time until you have to return – if indeed you want to return at all.
The Dhimurru Recreation Areas are between 1 and 2 hours' drive from Nhulunbuy. You'll need a 4WD, and don't forget to follow the usual precautions such as taking plenty of water and a reliable communication device.
Pack yourself a picnic with plenty of Territory goodies and fresh water, and bring your tent, just in case you like what you see and you decide to stick around. Once you make the journey, head out towards the Dhimurru walking trails. There are 3 main trails, between 1.5 and 3 kilometres in length.
The walking trails take you past sandy beaches and jagged rock formations, showing you the rugged beauty of Arnhem Land and giving you the chance to meet the local wildlife. Find yourself a perfect place for your picnic, preferably somewhere with ocean views. Continue on the walk, knowing that it's only a couple of hours' drive back to Nhulunbuy – and a delicious dinner. Alternately, if you find a spot near Turtle Beach, Macassan Beach or Daliwuy Bay, settle in at one of the camping sites and pitch your tent for the evening.
Need to know
Best time to visit: Arnhem Land is a sight to behold any time of year. In the wet season (November to April), the rivers and creeks are flowing rapidly and nature is in full flight. In the dry season, the weather is more temperate, with less humidity and cooler days and nights. In the wet, some roads may be subject to flooding and there's always a risk of cyclones, so be sure to check with local authorities.
How to get here: You can access Arnhem Land by road via Katherine or Darwin. Tours also depart from Darwin regularly between May and October. Daily flights with Air North land in many communities across Arnhem Land, although be sure to have ground transport organised if you fly in.Getting around: Arnhem Land is a sprawling paradise which is both isolated and cosy at once – but to get around you'll need your own transport or a spot on a tour. There are a number of car rental options in Gove, such as Gove Rentals or Kansas Transportation, and of course Darwin.
Passes and permits: As Arnhem Land is designated Aboriginal Land, you will need a permit to visit and to camp. Contact the Northern Land Council website or the Dhimurru Aboriginal Corporation.
Plan ahead: Arnhem Land is many things, but a metropolis it is not, meaning planning ahead is incredibly important. Make sure you have plenty of fuel, enough water and food in case of emergency, and a satellite phone. Tell someone your travel plans, and check with local authorities about whether roads are open – particularly from November to April. Be sure to check the route as many roads are only accessible by 4WD.
Safety: Aside from ensuring you have enough water and fuel and your permits are in order, you should also Be Crocwise. There are crocodiles all over Arnhem Land, even if you're not near the coast, so don't just follow the signs – make sure you've double and triple checked before going swimming, fishing or boating. Cahill's Crossing has a high number of crocodiles, so be extra careful and be sure to cross at low tide. Drop in to the Bowali Visitor Centre or the Border Store to ask if it's safe to cross, and ensure you don't enter the water here.