​10 things you can only do in the NT
It doesn't matter whether you're young or old, keen for adventure or looking to relax, on a budget or ready to splurge – a holiday in the Northern Territory is an experience like no other.
The Northern Territory offers some of the world's unique travel experiences. From traversing the Red Centre to getting up close and personal with Aussie wildlife, a trip to the NT will leave you with memories you'll treasure forever.
Here are 10 things you can only do in the NT – the most diverse and magical part of Australia.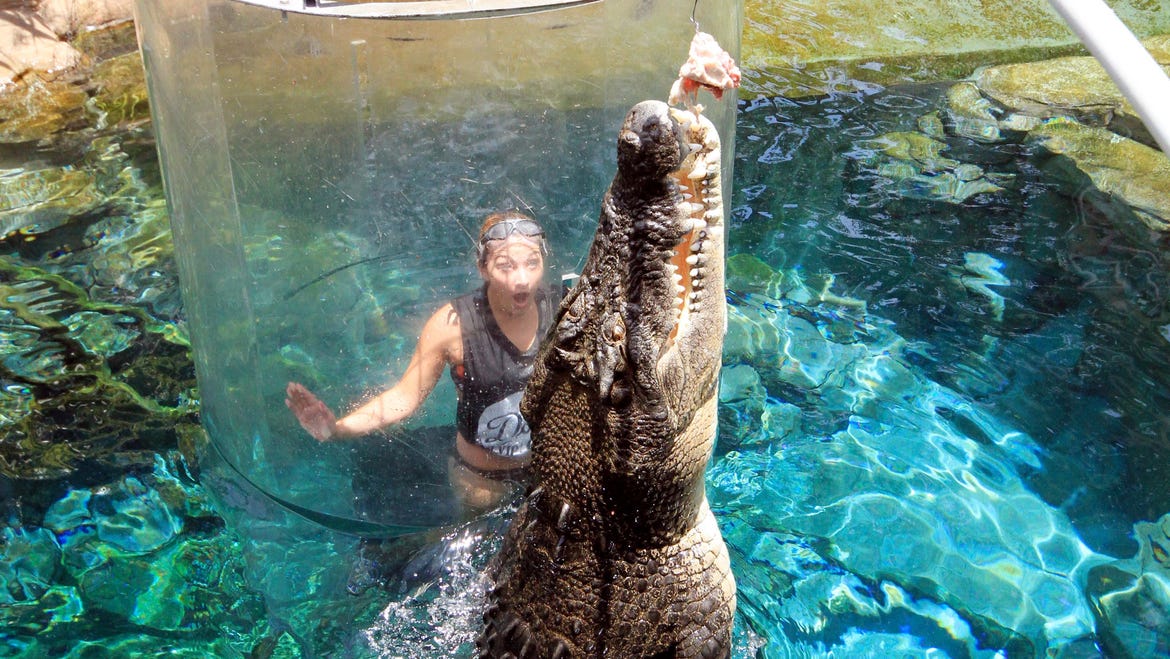 1. Swim with crocs in the Cage of Death, Darwin
If we didn't get you at 'swimming with crocs', we surely won you over with 'cage of death'!
The Cage of Death at Crocosaurus Cove is submerged underwater in a crocodile enclosure, allowing you to get up close and personal with your new scaly pal in a safe environment. Safe it may be, but it's still guaranteed to get the heart pumping!
Crocosaurus Cove, situated right in the heart of Darwin, does things a little differently to your average zoo. This is no regular crocodile park. You can go fishing for crocodiles, swim with the salties, hold a baby croc or watch the big fellas at feeding time.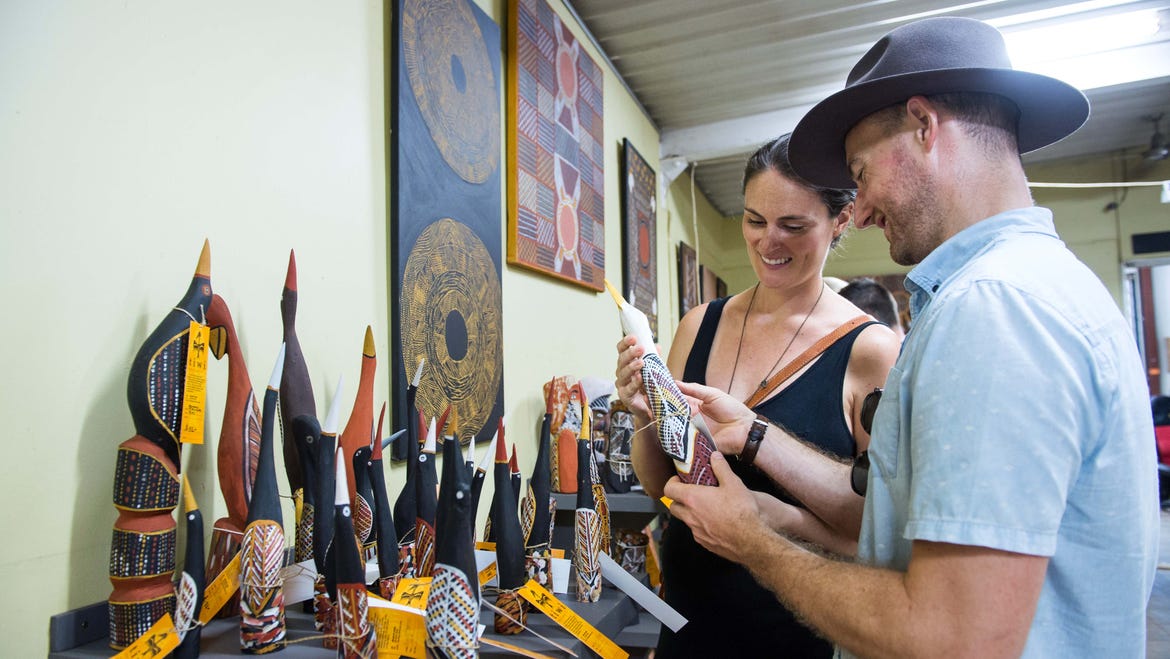 2. Immerse yourself in Aboriginal culture on the Tiwi Islands, north of Darwin
Just 80km north of Darwin, the Tiwi Islands – the collective name for Bathurst and Melville islands – are fast becoming a must-see destination for tourists keen to experience authentic Aboriginal culture. All it takes is a 30-minute flight or a couple of hours by ferry and you're there.
Learn about traditional Australian art and burial rituals, enjoy totem dances and a smoking ceremony, take in a game of Australian rules football, or get in a spot of fishing at some of the most secluded retreats in the world. The Tiwi Islands offer the perfect blend of nature and culture, and they truly are like nowhere else in the world.
If you want an organised tour, reputable operators include Tiwi Islands Adventures, AAT Kings and SeaLink. If you're going it alone, make sure you contact the Tiwi Land Council for all the appropriate permits.
There's a reason the area is nicknamed the 'Island of Smiles'. Head to the Tiwi Islands and find out why.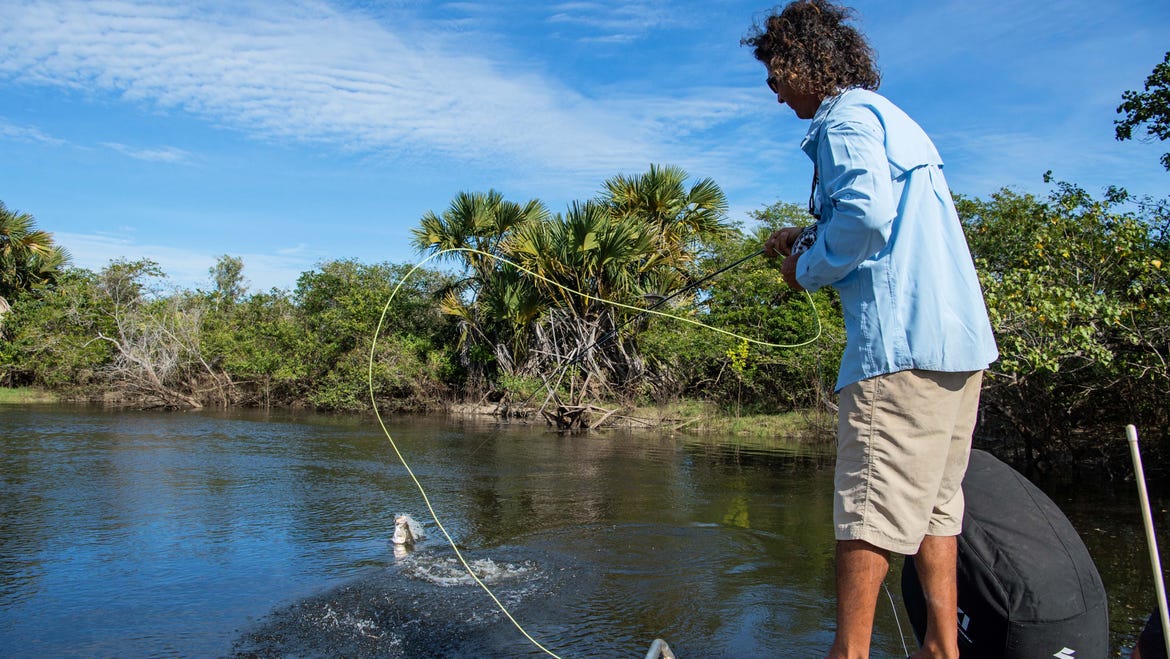 3. Hook yourself a million bucks with Million Dollar Fish in the Territory's Top End
Fishing in the Northern Territory is world famous, and, even better, it's the only place in the world where you can reel in your line and become a millionaire. The Million Dollar Fish promotion is fast becoming one of the most popular events on the NT calendar.
Each year, Tourism NT tags 125 barramundi at fishing hotspots around the Top End. 100 of them carry a $10,000 prize, 20 are tagged as "charity fish", while 6 lucky fish carry a $1,000,000 price tag for one lucky fisho!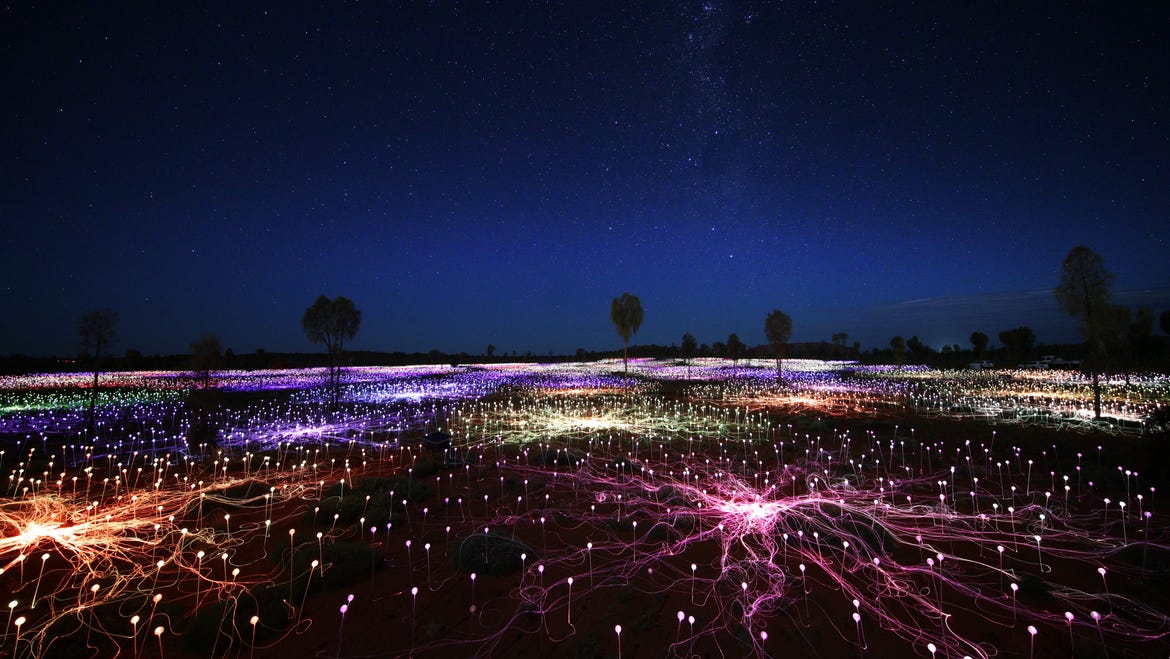 4. Walk through Bruce Munro's illuminated art installation at the Field of Light Uluru
The Northern Territory is known for spectacular scenery and an array of stunning natural colours – but there's nothing quite like the Field of Light located in the shadow of Uluru.
Created by acclaimed artist Bruce Munro, the spectacular Uluru light show – made up of more than 50,000 solar lights – contrasts perfectly with the setting sun and the brilliant night sky. Launched in 2016, the outdoor light exhibition is a permanent display, meaning there's no time like the present.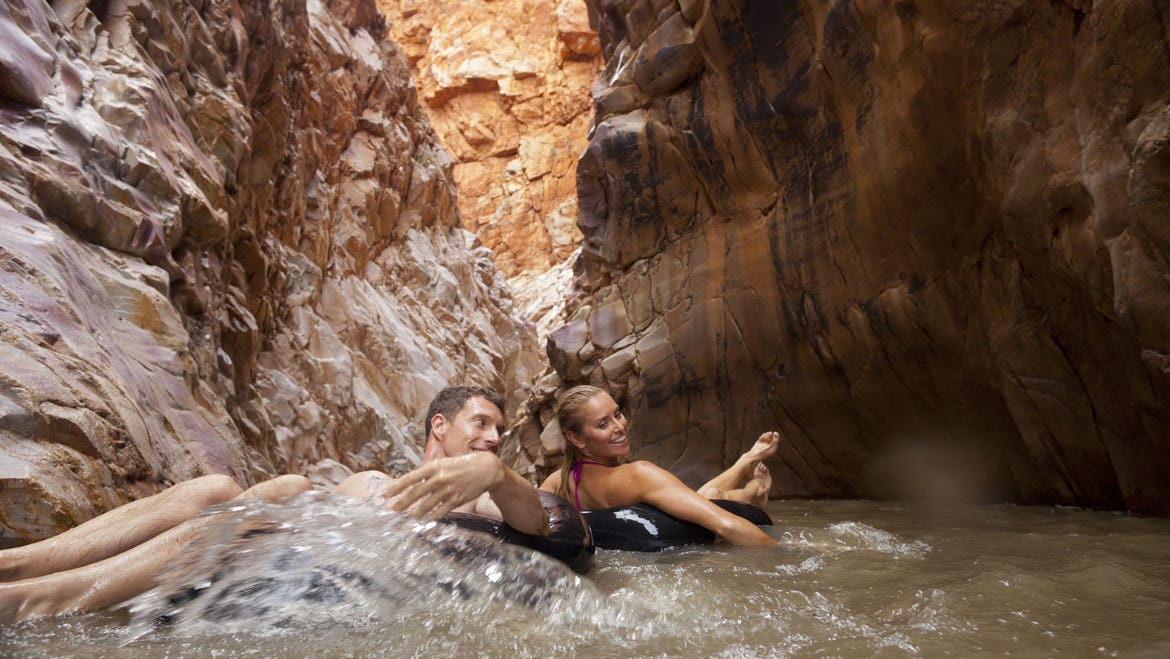 5. Tube through Redbank Gorge in the West MacDonnell Ranges
Dry and dusty plains and rocky outcrops adorn many a postcard of the Northern Territory. But it would be a mistake to forget the Red Centre's beautiful oases, where you can swim and even go tubing.
One of the most spectacular places to cool off is Redbank Gorge, in the West MacDonnell Ranges near Alice Springs. Glide between tall ochre cliffs in your tyre tube, watching the ancient, awe-inspiring walls while you float by without a care in the world.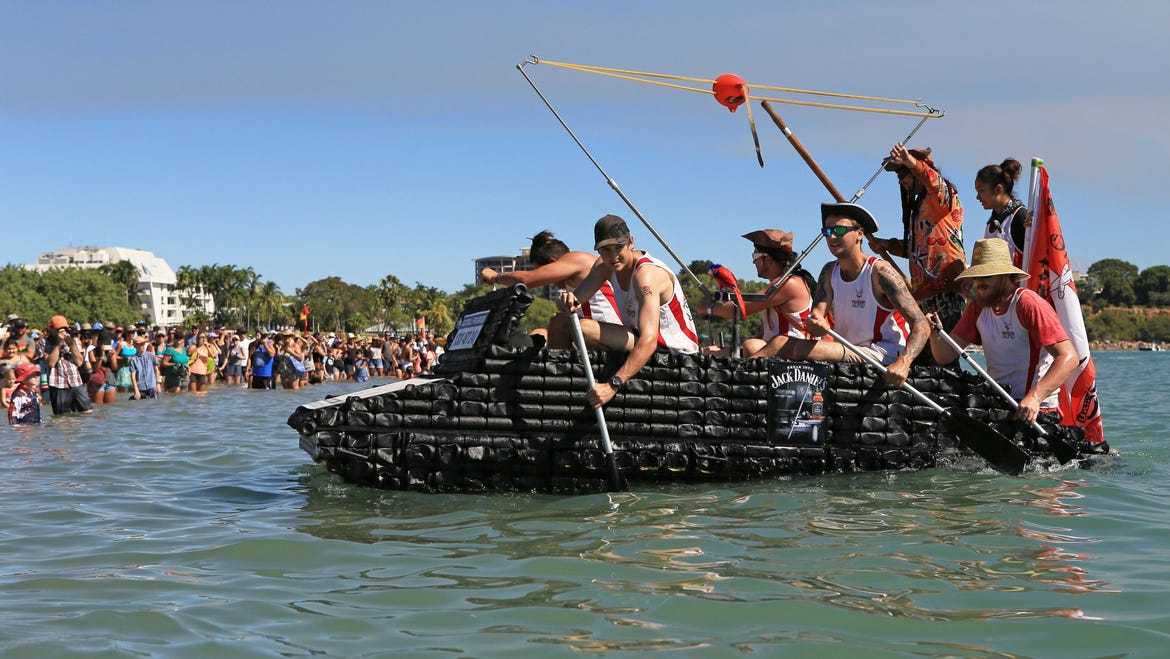 6. Build a boat made of beer cans at the Darwin Lions Beercan Regatta in Darwin
We've touched on a heap of unique experiences, but it doesn't get much more 'Northern Territory' than Darwin's Beer Can Regatta, held in July each year.
Join locals and tourists alike for this must-see yearly event. How do you get involved? Easy. Simply build yourself a boat out of aluminium beer cans and launch it into the water. Fun is guaranteed, even if your boat doesn't float! If you're not up to building your own boat, it's almost as much fun to be a spectator and watch from the shore or the water.
It's a fun-filled event that supports recycling habits and gets behind many of the area's most promising initiatives, with all the money raised on the day going to local charities.
7. Take helicopter pub crawl to remote watering holes

Grab your mates and book into the legendary Heli Pub Crawl. Visit 5 unique and out-of-the-way 'pubs' including Dundee Beach, Crab Claw Island and Goat Island on Adelaide River for a refreshing ale and substantial lunch. Fly over plains, lagoons and rivers spotting crocodiles basking in the sun, herds of buffalo, wild horses and myriads of birds along the way.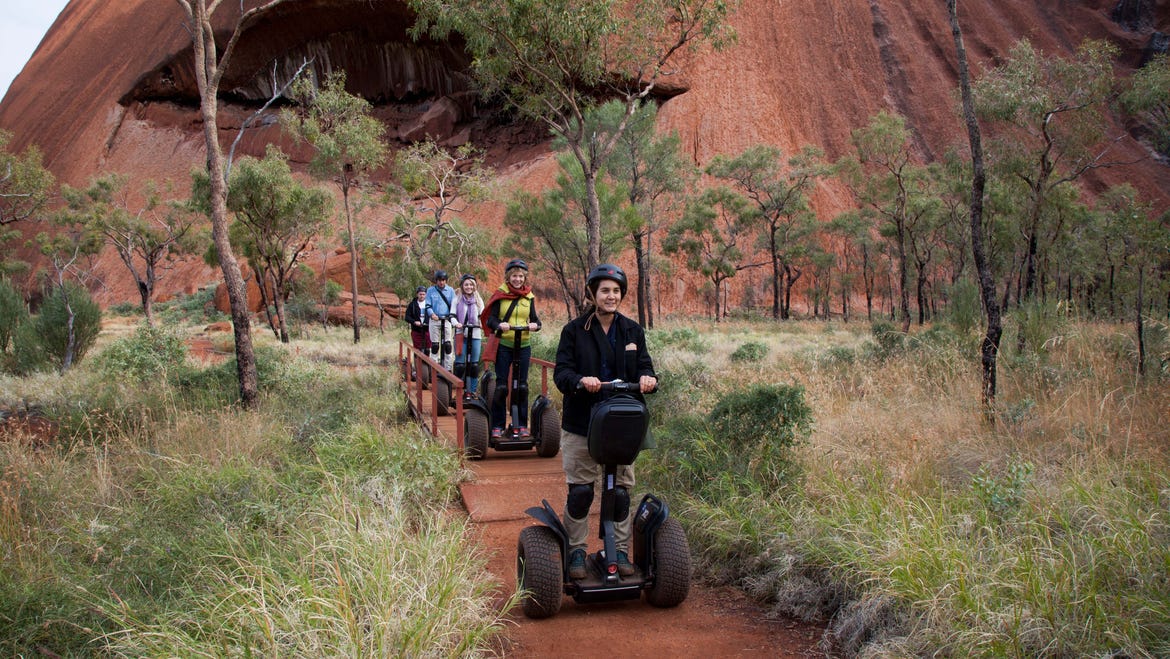 8. Segway around the world's biggest rock
Uluru is so big and beautiful that it can be viewed from any vantage point – but what about cruising around the rock on an off-road Segway?
Segway tours are all the rage for their comfort and accessibility, but nowhere in the world will you have such a spectacular view as with Uluru Segway Tours. This is fast becoming one of the most popular Uluru tourist activities. It gives you the chance to get right up close to the rock, where you can get a feel for the grandeur and scale of the monolith.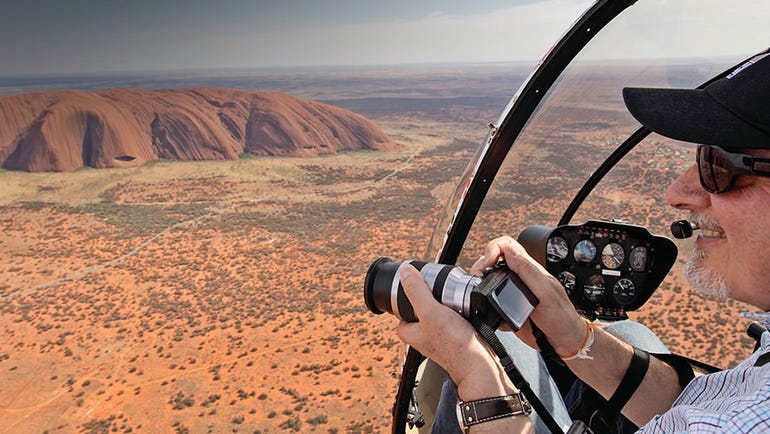 Of course, there are plenty of other Uluru tour options, from helicopter tours to skydiving experiences to motorcycle excursions to camel rides. And if you just want to walk it, you can do that too.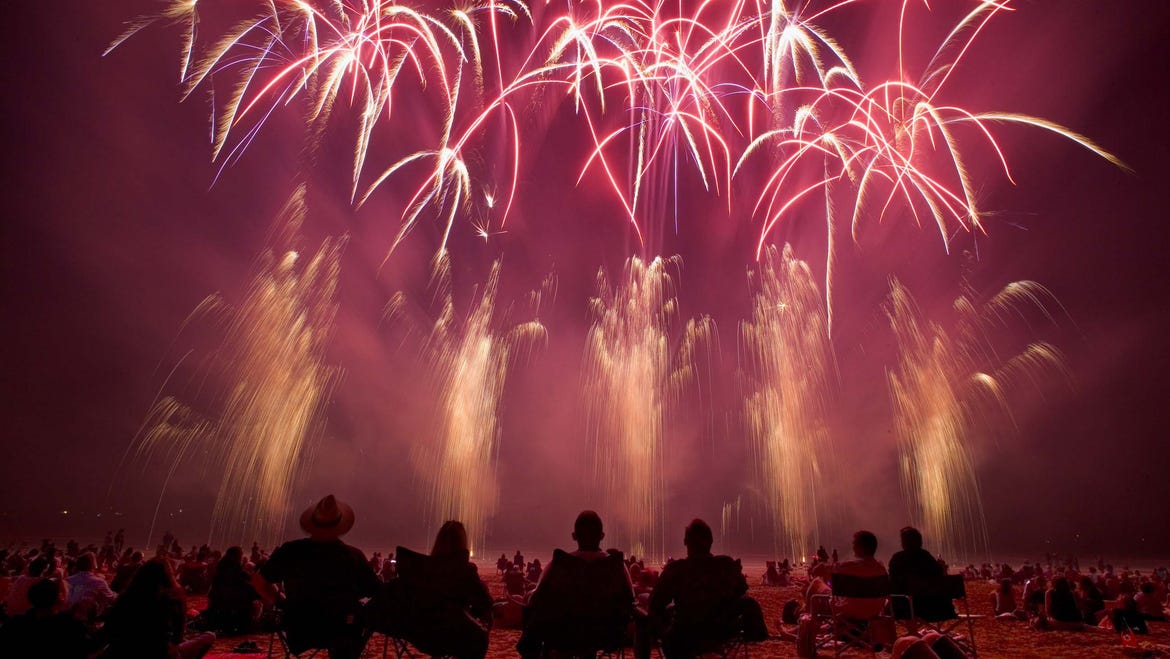 9. Light up your own fireworks on Territory Day
For the most part, fireworks are illegal across Australia, but not on Territory Day! The first day of July is the anniversary of Northern Territory's self governance, and the Territory Day fireworks have become an annual institution.
Fireworks can only be used between 6pm and 11pm on 1 July, and it's illegal to possess them thereafter, so you'd better let them rip while you can. But make sure you follow the safety precautions.
If you'd prefer to be a spectator, get a comfortable seat, sit back and watch the sparkle over Darwin's beautiful Mindil Beach or at one of the public fireworks displays in all major towns across the NT.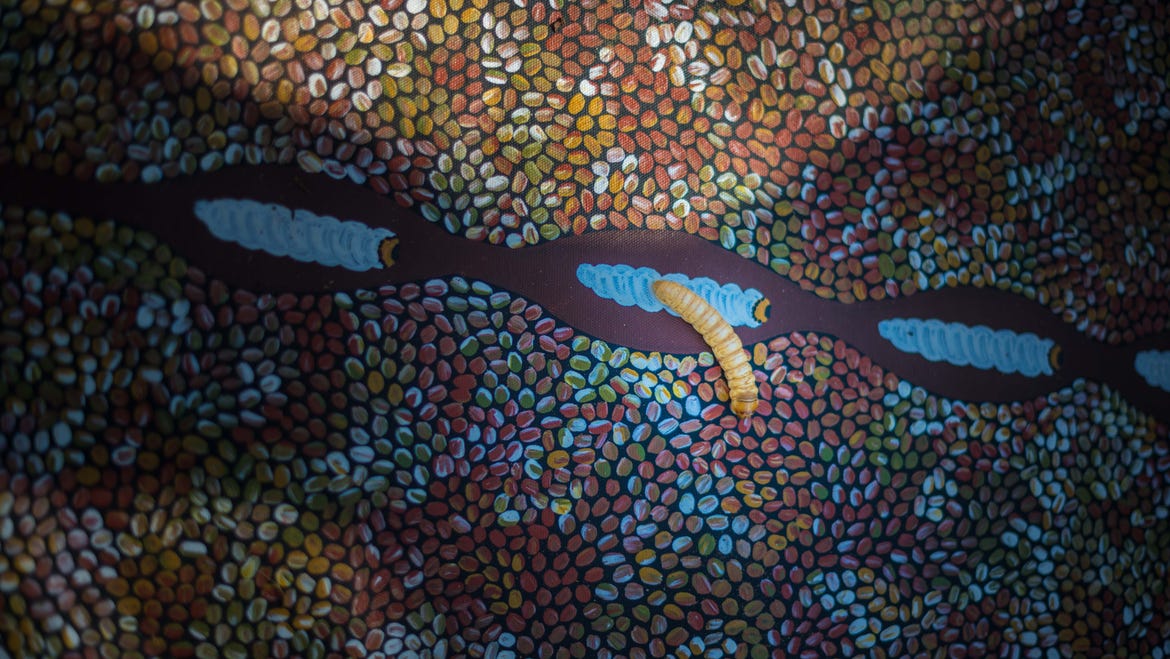 10. Eat a witchetty grub at Karrke Aboriginal Cultural Experience Tour in Kings Canyon
A trip to the Northern Territory wouldn't be complete without some bush tucker. Experience traditional Aboriginal cuisine first hand, including the witchetty grub, which has been a staple in Aboriginal diets for centuries.
The witchetty grub might look a little off-putting at first, but the buttery taste is well worth it. Think a cross between roast chicken and popcorn.
There's plenty more to do on the Karrke Aboriginal Cultural Tour, including necklace making and traditional painting. You'll also learn about bush medicine and the many plants and birds of the Red Centre.