Your Red Centre romance itinerary
What could be more romantic than being whisked away to Australia's beating heart?
With its vast red desert, awe-inspiring pink sunsets and sacred landmarks, there's something that draws the soul to the Northern Territory's Red Centre.
Whether escaping to a private sanctuary with a lover, marvelling at the glittering night sky with your partner, or impressing someone special, the Northern Territory will welcome you with open arms.
Alice Springs
Kick off your trip in Alice Springs – home to the Tjoritja West MacDonnell National Park, known locally as 'West Macs,' which stretches more than 160km. Spend the morning taking on a section or two of the Larapinta Trail together. In the afternoon, you can cool down in one of many water holes dotted throughout the Park, including Ellery Creek, Ormiston Gorge and Redbank Gorge.
Take a trip to Alice Springs Desert Park to explore a vibrant botanic wonderland and get up close with outback animals and characters that epitomise the fun and adventurous spirit of the red centre.
A trip to Alice Springs isn't complete without meeting one of Australia's most iconic animals. The Kangaroo Sanctuary team rescues and cares for orphaned kangaroos. Get in touch with your sensitive sides by nursing a cute baby 'roo on a sunset tour.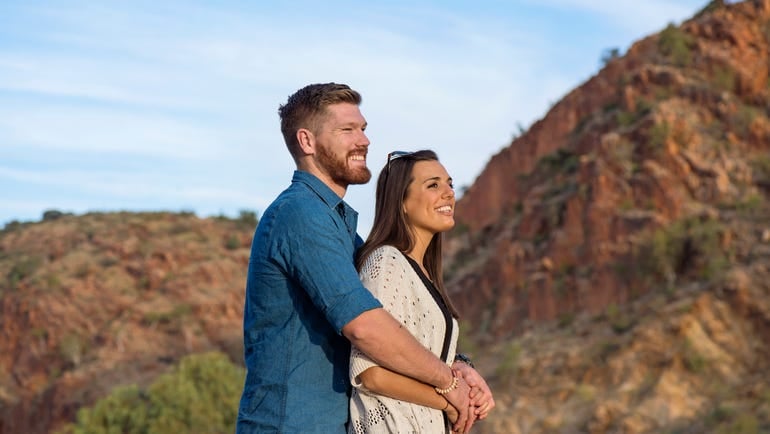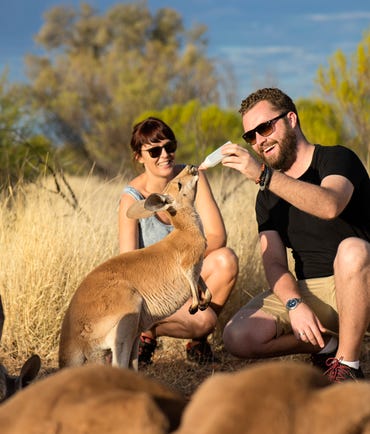 There's something sentimental about cracking open a bottle of fine wine and reflecting on your day over a delectable à la carte meal.
If you're looking for somewhere to impress, DoubleTree by Hilton Alice Springs should be at the top of your list. The hotel has two dining options for patrons. The first, Saltbush, is a modern Australian restaurant with rare bush tucker experiences. The second, Hanuman, is an Asian fusion restaurant which takes influences from Sri Lanka, India, Malaysia and Thailand. Crowne Plaza Alice Springs Lasseters' fine dining offering, Tali, is an Australian-come-French restaurant. If you consider yourselves sommeliers-in-training, then you'll be impressed by the wine list.
For something a little more casual, you can't go wrong with Epilogue Lounge – one of Alice Springs' hippest spots for live music.
Accommodation
Do you and your partner seek splendour? The DoubleTree by Hilton, Alice Springs is for the couple that want to feel comfortable in style: think plush guest rooms with mountain views, an 18-hole golf course and an outdoor heated pool.
Is lady luck on your side? The 4.5-star Crowne Plaza Alice Springs Lasseters is the optimal choice for people who love entertainment. With four bars and restaurants, a nightclub, a sports theatre, day spa and the international-standard Lasseters Casino, you'll never have a dull moment.
Ooraminna Station Homestead is set amongst the rolling hills of 600 acres of the outback Australian desert. The private property offers camping, full kitted swags or luxury cottage style accommodation - with the convenience of being only 30km out of Alice Springs. A great place to base yourself to explore the surrounding regions, or just to take it easy for a few romantic days to yourself.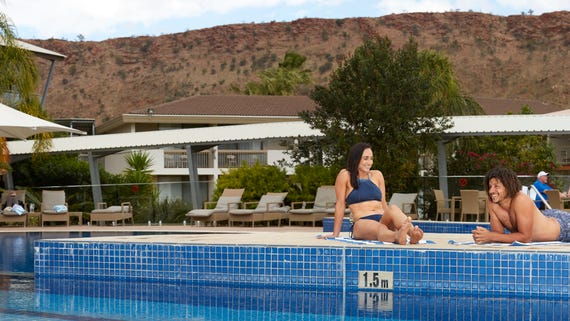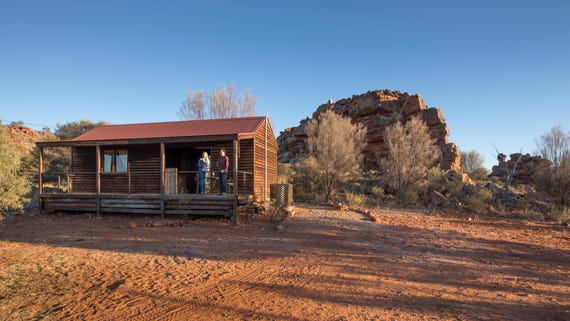 Uluru
From Alice Springs, head south west on a road trip, or book a short flight onto the Spiritual Heart of Australia – Uluru. A place to connect, you and your love can be dazzled by breathtaking landscapes, abundant wildlife and the star-filled outback sky.
Just the sight of Uluru is enough to take your breath away – but the view from the red sand dunes is like nothing else - cosy up to your loved one on a camel ride with Uluru Camel tours.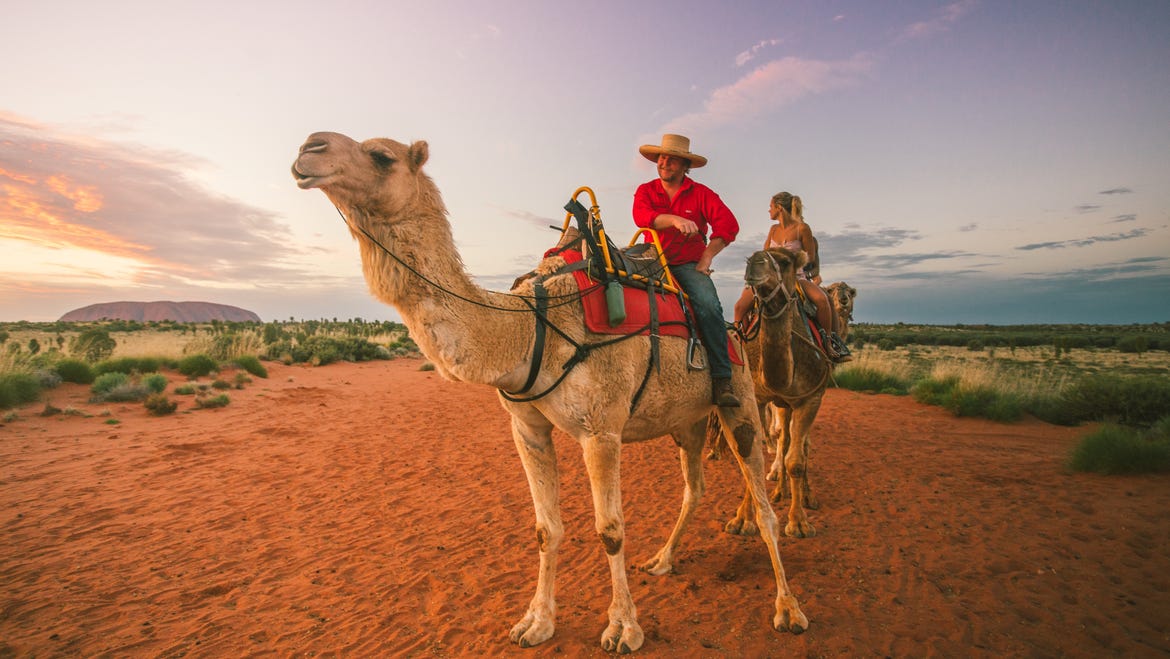 Explore beyond the rock and take in the monumental site of Kata Tjuta. Don your trekking boots and head off for a three-hour adventure on the Valley of the Winds walk. The breathtaking views are worth the effort!
Continue your cultural journey together by immersing yourself in awe-inspiring Aboriginal art culture at Maruku Arts. Work alongside the locals and colour your holiday by creating traditional dot painting artwork together. If you want to take home something special for your someone special, you'll be pleased that all profits go to the local Anangu people.
Arguably, the best view of Uluru is from the sky, so make sure you sit back and float over the Red Centre with your sweetheart, courtesy of Ayers Rock Helicopters.
As day turns to night – catch the twinkle in your lover's eye during A Night at Field of Light. Indulge in sparkling wine and canapes as the ochre-red sun settles down for the day. Be charmed by the soothing sounds of the didgeridoo and witness 50,000 individual sphere lights come to life at nightfall.
For an intimate culinary experience, consider Tali Wiru. Serving no more than 20 diners at a time, you'll feast on a four-course dinner paired with Australian wines in the open-air, perched upon a sand dune overlooking Uluru and the domes of Kata Tjuta in the distance. After dinner, finish your evening together with captivating stories of the land told by an Indigenous storyteller.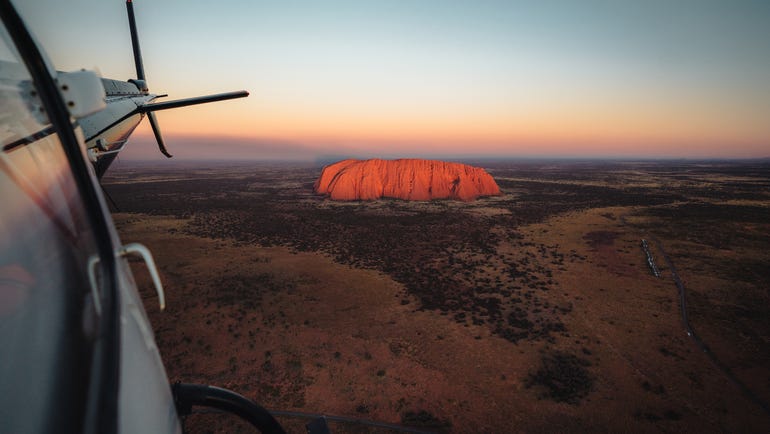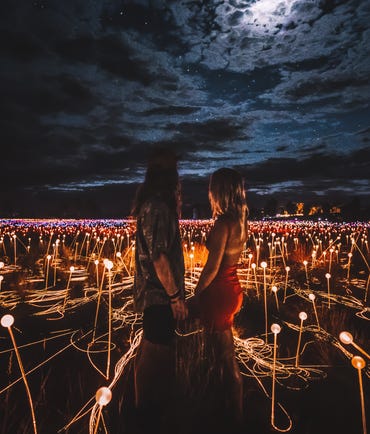 Accommodation
Uluru offers an array of accommodation options with the cultural heritage, native wildlife and stunning celestial displays at the heart.
There's no better way to start and end your day than overlooking the remarkable Red Desert at Longitude 131. These 'grandeur tented pavilions' are the most opulent way to stay during your romantic holiday with your love. Cuddle up in luxury, gazing at Uluru at the foot of your bed.
If you and your partner want to experience Uluru in style, settle yourselves under the sails of the elegant and classy Sails in the Desert. Submerge yourselves into the gumtree-lined heated swimming pool and clink your glasses to the start of something beautiful.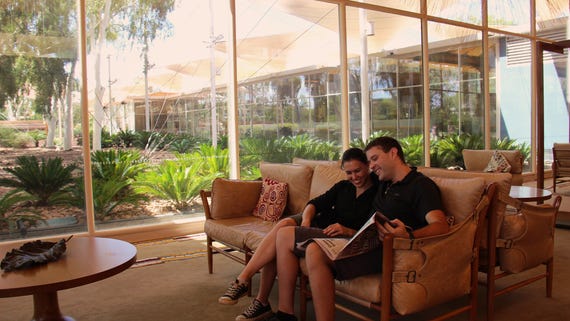 Are you both ready to experience a piece of Australia's heartland? The pulse of Northern Territory's centre is sure to leave you pinching yourselves at every moment. Plan your trip, pack your bags and set off on an adventure together that you'll never forget.
More articles you might like