Top End Local's Tips:
Road trip from Darwin to Injalak Hill, Arnhem Land
For the adventurer, the best way to explore the Northern Territory is by road. Begin in the lively city of Darwin, and venture to the sacred Injalak Hill in Arnhem Land to experience its ancient rock art galleries. We've put together the ultimate guide, so pack your bags and set off on the road less travelled.
Why Injalak Arts?
If you want to feel cultural and spiritual significance during your trip to the NT, experience the Injalak Rock Art Tour. These breathtaking ancient rock galleries are anywhere between 8,000 and 10,000 years old and are an integral part of Aboriginal culture. Join a tour by local guides and hear fascinating stories about the incredible paintings.
Local's tip: Some guests may need to provide transport for their guide from Injalak Arts to Injalak Hill, as Injalak isn't registered for tourism vehicles. However, this will be confirmed when you book.
Getting to Gunbalanya
To experience the Injalak Rock Art Tour, you'll need to head to Gunbalanya – an Aboriginal community town that's a four hour drive from Darwin. To break up the journey, we recommend travelling through the Kakadu National Park and stopping in Jabiru. Jabiru is a tropical town with attractions and amenities close by. It's the ideal spot to use as a base when exploring the surrounding natural beauty.
Local's tip: When travelling by road to Gunbalanya, you will have to cross a river which is seasonal and may be affected by the tides. Always check the tide times prior to setting off on your journey.
Getting a permit
In order to visit Gunbalanya and partake on the Injalak Rock Art Tour, you must apply for a permit. Permits can be arranged in advance through the Northern Land Council and you can apply for your permit in either Darwin or Jabiru.
If you don't want to organise a permit, you can book an all inclusive day tour.
Where to stay
If you're looking for somewhere unique to stay, consider the Mercure Kakadu Crocodile Hotel. Indigenous owned, the hotel is in the shape of the Kakadu's most famed inhabitant, the crocodile. After a day full of touring, take a dip in the pool (or the heart of the croc), peruse the hotel's Aboriginal art gallery or try bush tucker at Escarpment restaurant and bar.
If you want a hideaway to escape to after a long day of exploring, book an architecturally-designed self-contained cottage at the Anbinik Kakadu Resort nestled amongst tropical flora and fauna. There's a range of accommodation options for different budgets including rooms, cabins, suites and bungalows.
Extending your trip? If you're travelling a little further into Kakadu, stay at Cooinda Lodge. We recommend tucking into the 'Taste of Kakadu' platter at the Barra Bar & Bistro. Feast on Aussie favourites including crocodile, barramundi, buffalo and kangaroo.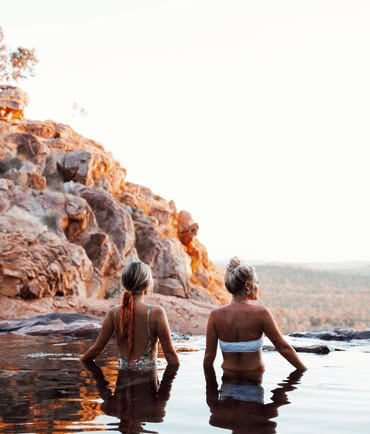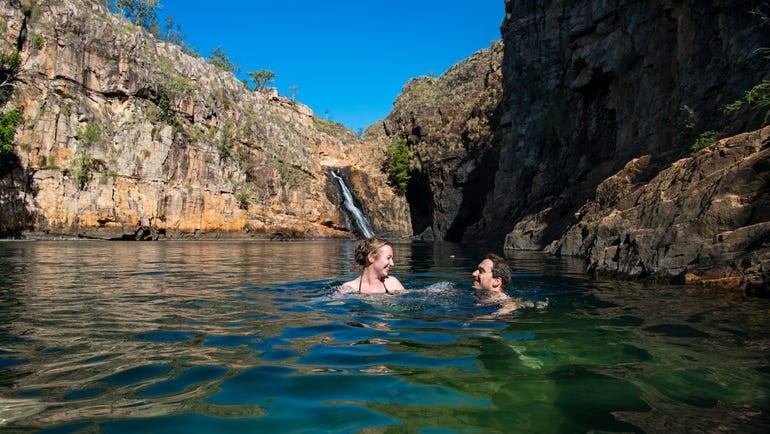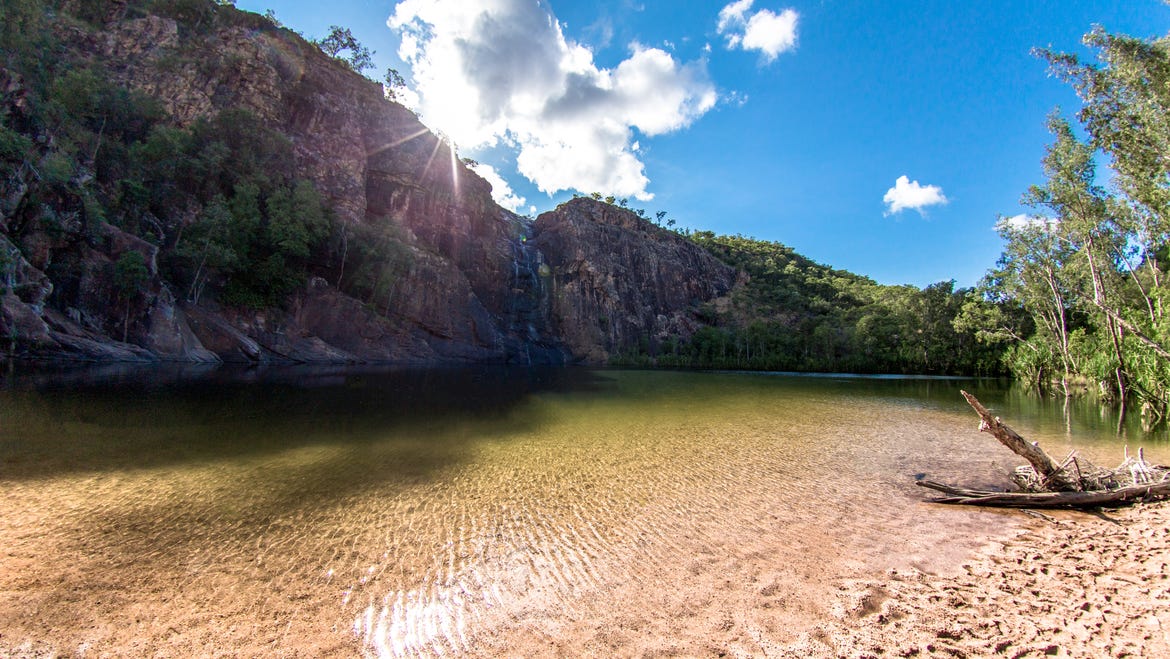 What to do
Ubirr is an awe-inspiring Aboriginal rock art gallery that you can access from a 1 kilometre walking track. For breathtaking views, make a further 250 metre climb to the outlook point in the late afternoon to watch the glowing sun go down over the floodplains.
Immerse yourself in the rich culture and history of the NT by learning about Aboriginal heritage at the Warradjan Aboriginal Cultural Centre. Wander through the displays, and marvel at the artefacts gallery. Don't forget to stop by the gift shop so you can take a little bit of Kakadu home with you.
In the world heritage listed Kakadu National Park, see history come alive right before your eyes. The Nourlangie Rock Art Site is another sacred spot for you to marvel at the cultural canvases. Grab your gear and walk the 1.5 kilometre track before reaching the main site. You'll learn of mesmerising stories about the significance of the land to the Aboriginal people.
Local's tip: There's an entry fee into the Kakadu National Park, so be prepared. Park entry is valid for 7 days and can be purchased from Parks Australia.
If you're water lovers, then a visit to the gorges and falls is well worth it. If you're planning to explore further afield, we recommend taking a dip in the ever-refreshing Gunlom Plunge Pool as well as marvel at the epic Maguk and Jim Jim waterfalls.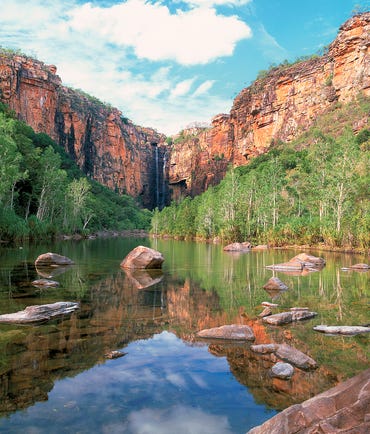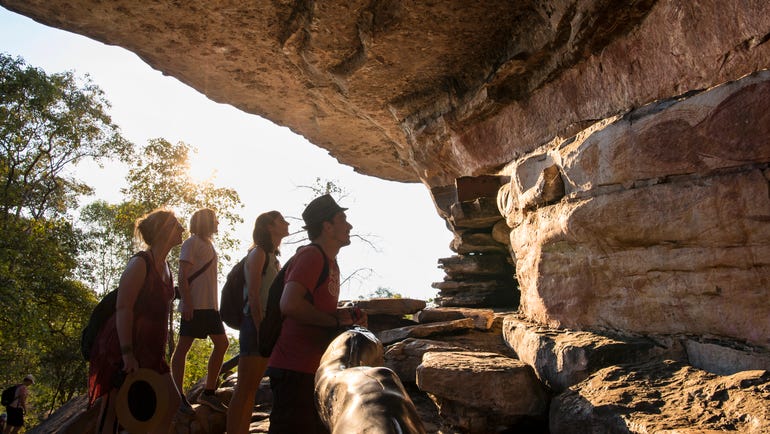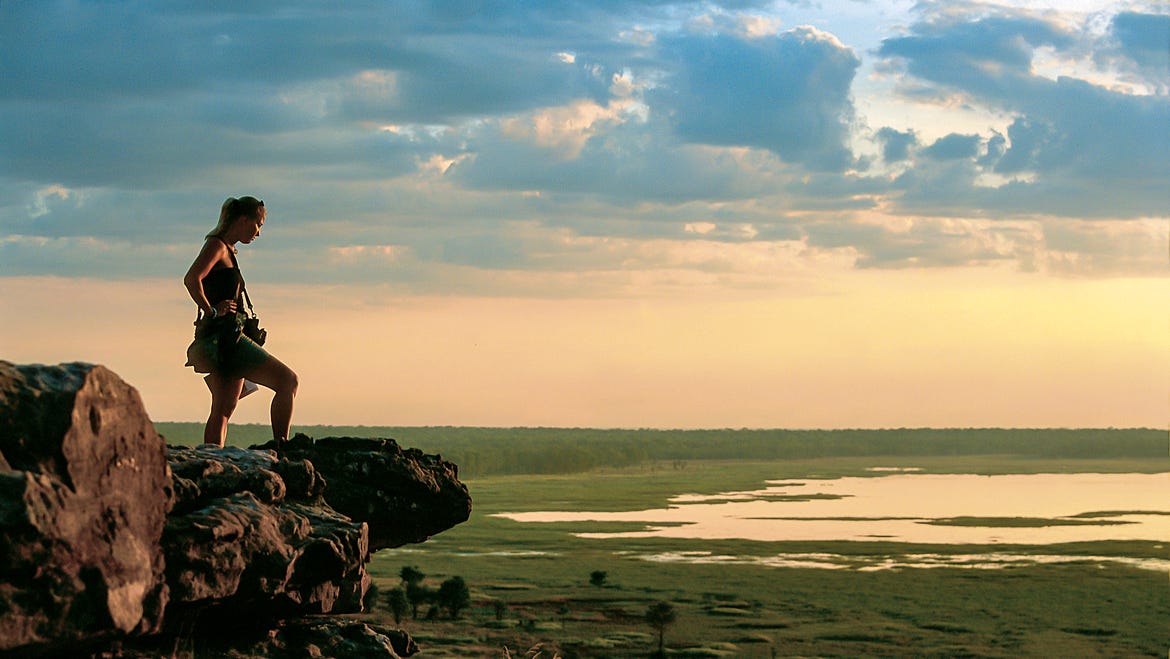 Rev up for your road trip of a lifetime
With its unique landscapes, long dusty roads and deep spiritual ethos, the NT is a spectacular place to take your next road trip. If you're feeling inspired, remember that adventure is only a click away, so get planning your road trip now.
More articles you might like