A real bride's modern boho wedding, NT style
What better way to find out why a Northern Territory wedding is the ultimate wedding experience than to talk all things romance with a real bride. We caught up with Meg who was married in a truly stunning wedding ceremony at Simpsons Gap. Let's find out what Meg had to say about her epic desert wedding to Lucas.
Alice Springs attraction
When Meg was 22 she packed up her VW Beetle and dog and set off to Alice Springs looking for an adventure. Growing up in South Australia her family did lots of camping in the Northern Territory, and Meg felt the "outback was quite familiar to her, it felt like home".
She thought she'd only be there 3 months! Then she met Lucas, a local musician and music teacher who grew up in Alice Springs. He was very arty and she asked him for guitar lessons. This was the beginning of something really special. Meg might not have had much success progressing her music career, but she was winning on the love side of things.
In Meg and Lucas's story they went on to have three gorgeous children. When Meg fell pregnant with their first child Jack they had to move back to Adelaide for his birth and ended up staying in South Australia. But their connectedness to Alice Springs and the desert never waned.
When asked about her reasons for getting married in the Territory desert, Meg said, "We had already bought a house, we already had three kids, we were already living like a married couple, so I was looking for something a bit more adventurous. I'm really creative and I wanted something special and unique and I had this vision of being a desert bride".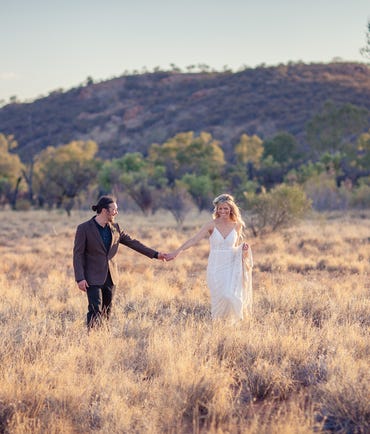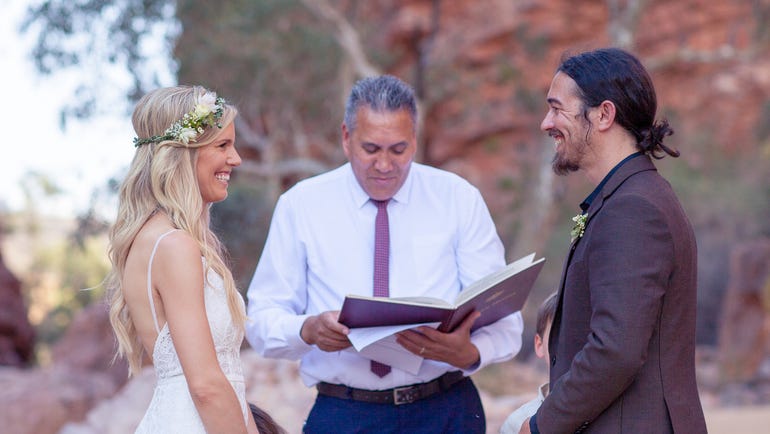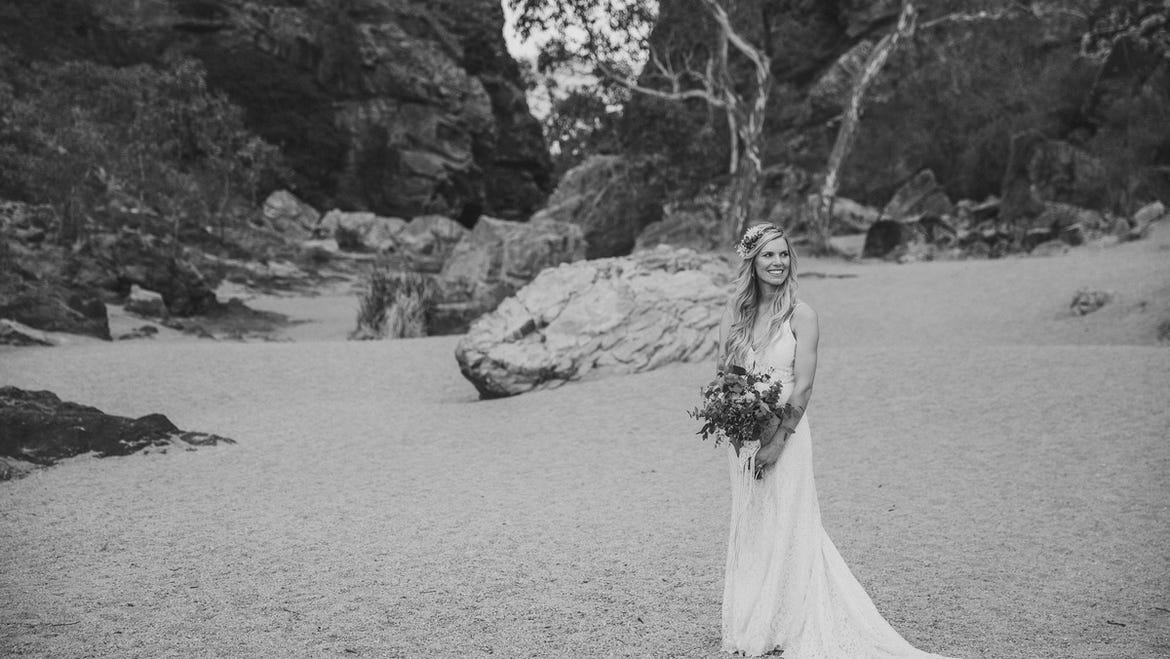 The location
The choice was obvious. Meg and Lucas decided to get married back in the place where it all began. They love the natural surrounds and the desert is so important to their families.
Meg highlights why the Northern Territory Outback is so special, saying "I just love the pictures of a beautiful white gown on the red background". Simpsons Gap is a place that epitomises this imagery. Meg and Lucas chose Simpsons Gap due to the stunning and picturesque position amongst the centuries old rock formations. Meg also wanted a place that was easy and convenient for guests to get to. Simpsons Gap is an easy 23km drive from Alice Springs.
Meg and Lucas chose to have their wedding reception at the Earth Sanctuary which was still close enough to town. Being a self-described nature lover Meg liked the bush location. She had fallen in love with a picture of the Earth Sanctuary and she felt this was the perfect choice for them, saying, "I wanted our wedding to be true to the desert, and I didn't want any green lawn in my photos". Once Meg and Lucas visited the venue, in the red dirt, in an open shed, they knew that this was an idyllic place for them to celebrate their union. They added their own style and tied eucalyptus around the chair covers. They chose a buffet style menu which suited the relaxed family vibe they were aiming for on the day.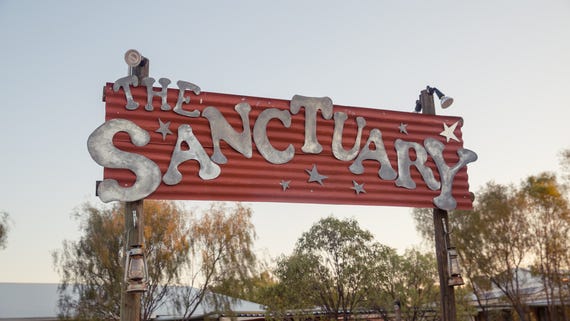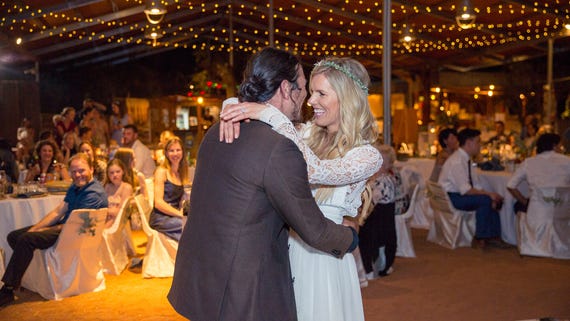 The planning
According to Meg the key to planning and bringing the day together was that "everyone involved had a connection to them in some way, it was really special".
Meg said, "I had a visual of what I wanted the wedding to look like, Amy from Confetti and Skeet brought it together. Amy was amazing, she helped through the whole process of styling. I trusted everything she did". Meg's advice is that you should get a wedding planner if you are getting married away from home.
Meg was aiming for a 'modern boho' style wedding. After searching online for quite sometime she ended up purchasing her dress in Adelaide. On a whim she went into Made with Love and she "Fell in love, it was one of those instant things". Meg said "I can't believe how amazing I felt once I put that dress on".
The photographer was a friend from Adelaide and Meg appreciated her creative style. "They end up being with you a fair chunk of the day, so I wanted someone I like". The colour tones of the desert add to this style and Meg loves the beautiful photos where the sun is hitting the desert 'grass' and it's all golden. Meg wanted to draw in the beautiful natural tones of the desert in her photography. To complement this Meg created the bouquets with blue mallee wrapped with her own home crafted macrame wraps. The bridesmaids looked ethereal in their pink hues accenting these desert tones.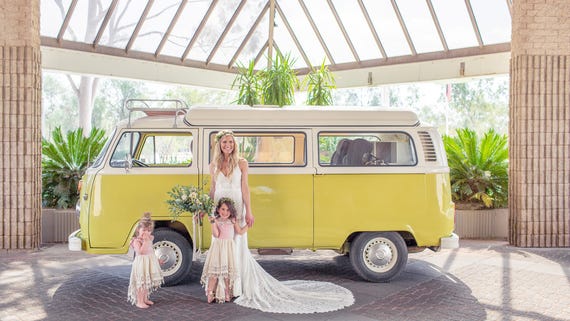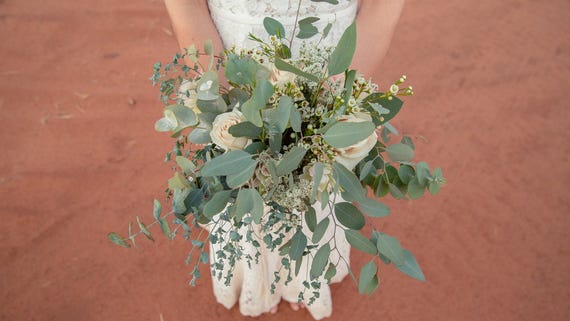 Tying the knot
The actual wedding was such a special day for Meg and Lucas. "We met in Alice Springs and the desert has always been part of our life, that's where our journey started, so it just made sense. The groomsmen all grew up in Alice and many had moved away, so it was this lovely way of bringing everyone back together. It was a giant reunion, back to the place where we all connected, it was really symbolic to have it there. The desert is so important to our family".
Meg had some special wedding moments to share. She said that during the ceremony "Lucas sang a song he had written for me as I walked down the aisle, that was really special and beautiful. We also had a musician from Alice Springs who sang this gorgeous song in the middle of the ceremony". The Simpsons Gap location added an element of magic to the occasion.
Another special moment for Meg was after the ceremony when it was just her and Lucas. "It was just a quiet time and it was just us (with the photographer and videographer), we had beautiful pictures taken in the field and up on the rock".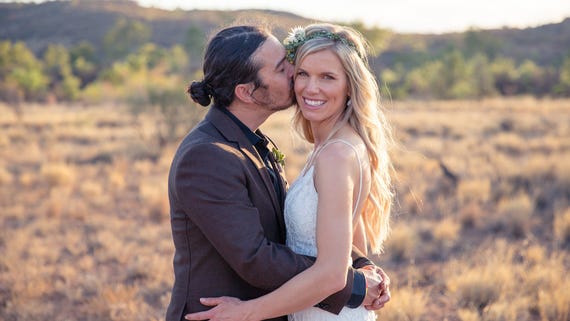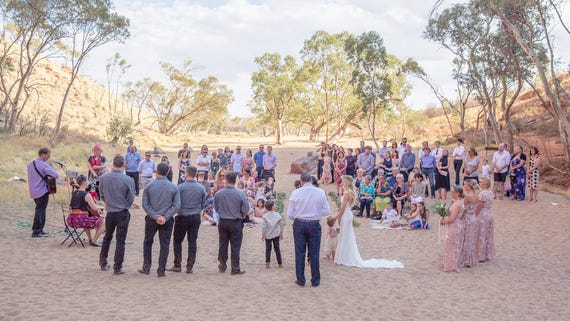 Meg said "If you've got a dream location, go for it, it's so rewarding when it all comes together". We think this is the best advice, and the Northern Territory has so many unique locations to choose from. Discover more Territory wedding inspiration from our NT wedding vendor directory.
All photography is by Kate Potter.
More articles you might like