Lauren & Steve's live televised wedding in Darwin
It was an unforgettable moment for the couple from Victoria after being selected as winners by The Today Show to throw their wedding in Darwin and have it televised live on breakfast news! The pair packed their bags and embraced everything the Top End has on offer. The bride, Lauren, recaps the events leading up to their incredible day.
Steve and I met at my cousin's wedding in early 2017. Steve and I had both grown up in the same area, but had never crossed paths. My auntie Susan was trying to set us up with each other in the past, even when we were dating other people and I lived interstate. A set-up was obviously something that didn't appeal to either of us.
When I walked into the wedding venue, I noticed him straight away, with a massive smile on his face, standing tall amongst the bridal party. After the ceremony he was brave enough to introduce himself to my mum and I. The reception went off with lots of dancing and singing. Steve over-performing for the congregation, even going as far as to give my auntie Susan (cupid) a lap dance. He was very charismatic and had a very friendly, charming and energetic aura about him.
He asked me to dance that evening, and the rest is history.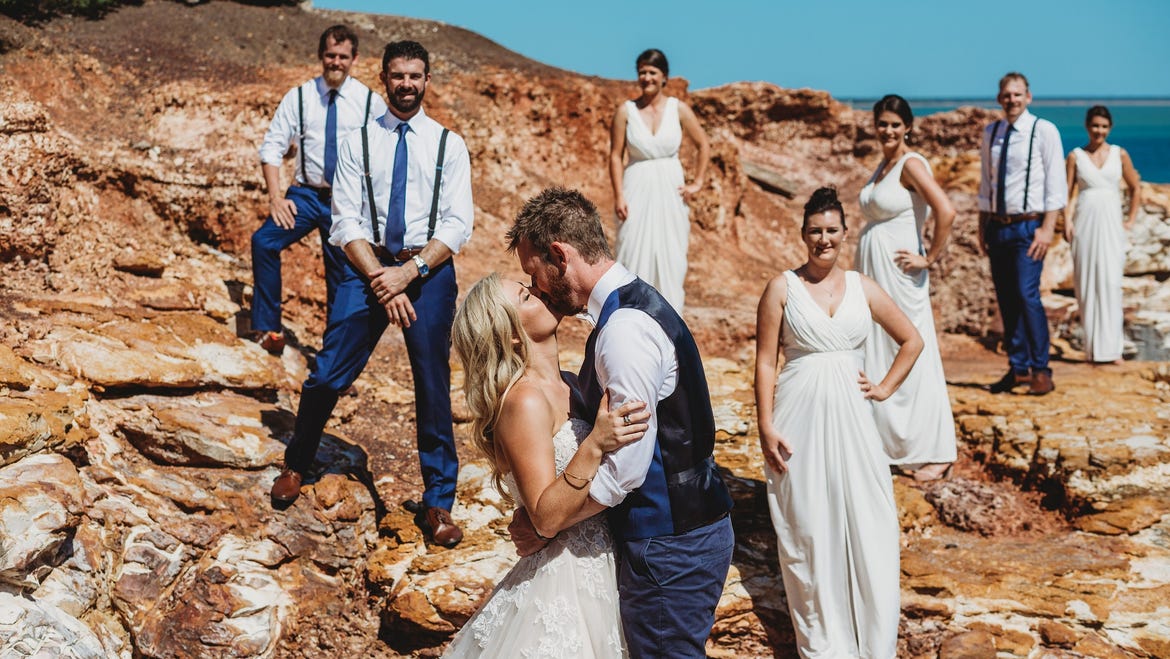 On 23rd December last year (2018), Steve had hiked down and set up an incredible picnic at one of my favourite places to visit, the Channels (on the Avon River). When he brought me down there and pulled out this delicious bottle of bubbly and a platter (made by his mate who happens to be a chef), he'd definitely set the bar high as far as picnics go.
After a brief sip of champagne, and before I stuffed my face, Steve was getting down on one knee (which was no small feat as it is very rocky and uneven ground along the channels)… It ended with a yes!
Around Feb 2019, we were going on our first overseas holiday to the Philippines to celebrate another friends wedding, when we heard about this Top End Wedding Competition that the Today Show had announced. In conjunction with Tourism NT, the promotion of the Northern Territory and the Australian premier of Top End Wedding, the Today Show were giving away an entire NT wedding to one lucky couple.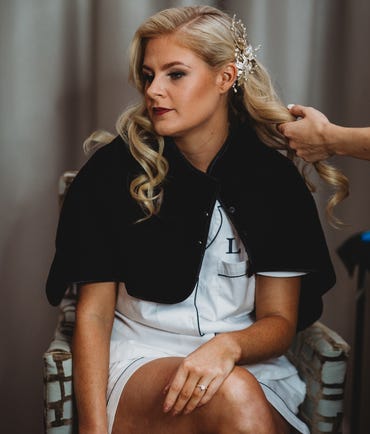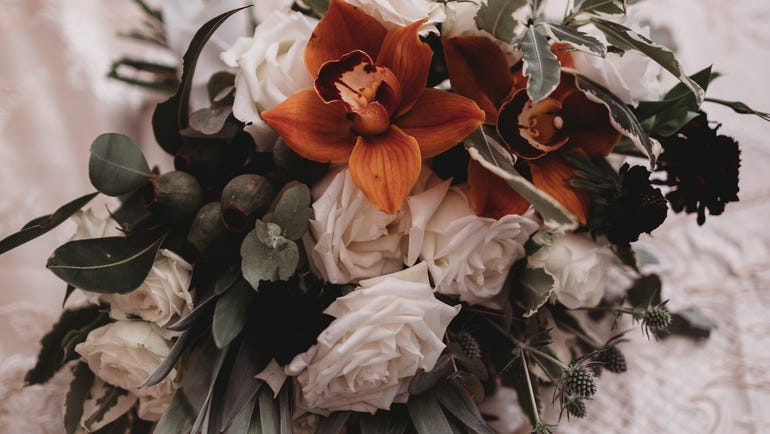 We see competitions like this all the time and thought we'd enter it, get our friends to enter on our behalf, then thought nothing of it. My cousin Tori's entry sparked their interest, and they asked to see a short video of us interacting and telling them why we thought we should win. We had just ridden our motorbikes back home from Metung, looking a bit ratty and the sun was going down. So we quickly wrote what we wanted to say on some paper, stuck it to the outside wheely-bin, sat the phone on top and pressed record.
A few weeks and numerous phone calls later, we believed we were in the top 3. We couldn't believe it! We felt like winners already! So they sent a camera crew to our house one morning, and said they'd announce the winners live on the show. When Stevie walked through the door, that was it! Unbeknownst to us, they had already chosen Steve and myself over 12,000 entrants to get married in the NT, live on the Today Show. We couldn't have been more lucky or overwhelmingly happy. I got to marry my one and only on May 6th 2019 in front of our nearest and dearest, beside one of the beautiful coastlines this country has to offer, in glorious Darwin. It was magical!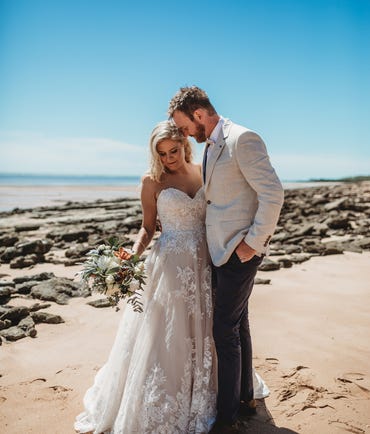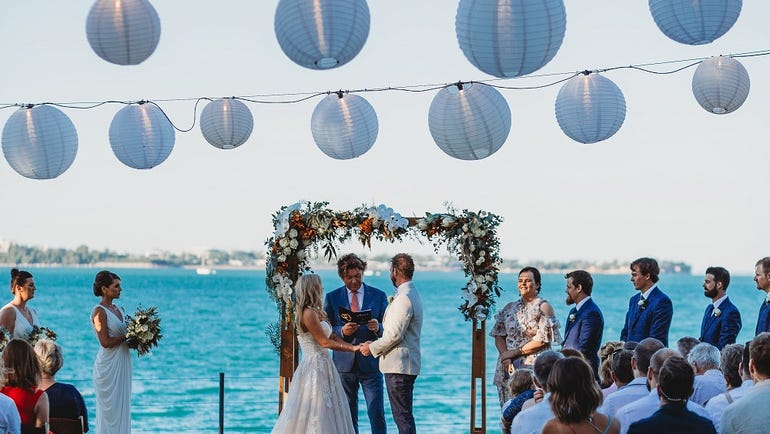 I didn't think we really had a style or theme necessarily. The ceremony was outdoors with an incredibly vibrant backdrop of Darwin city, a turquoise sea and a bright blue sky. We kept things fairly modern and simple, leaving most of the décor and styling up to our beautiful wedding planner Belinda from Creative Two and the florist, Beija Flor.
We had a few rows of white string lanterns overhead and a stunning arbour. Just behind and to the side of the seating arrangement was a mix of tables, chairs, a bar and food table for all the guests to enjoy before the ceremony began.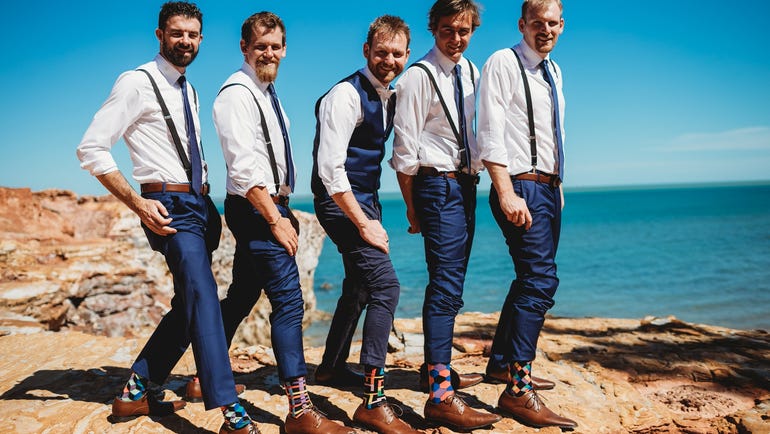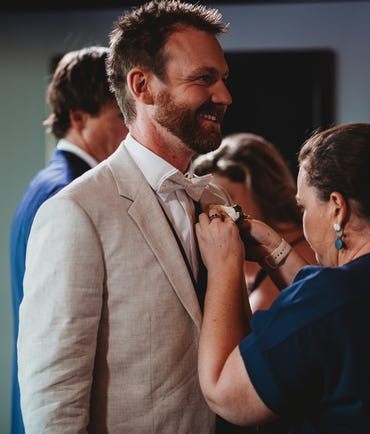 Another one of our surprises was that we had David Campbell sing his rendition of For Once In My Life as I walked down the aisle! So technically, the song I walked down the aisle to, was chosen for us.
We are both pretty down to earth, so we wanted our ceremony to be relaxed, fun and not too long-winded. We wanted to pay respects to the land on which we were to be married, and those who are no longer with us, but always in our hearts. We also wrote our own vows, which were inspired by Google. It was probably a healthy combination of several websites, to be fair!
We loved our celebrant Caitlyn from Ceremonies by Ceejay, Darwin. She was such a cool chick, and really easy to get along with. It felt like we knew her for ages, right from the get-go. She spoke very well too and with a clarity that could be heard by the entire congregation.
Steve says his favourite photo of the day was the one of him and his Pa. It's very special to Steve to have his Pa see how far he's come in life and the man he is today. Pa was the only grandparent we had there that day as all others have passed or were unable to attend due to illness. Steve is very close to his Pa, and we were so happy to be able to share our day with him.

I'd say it would be hard to choose a favourite. One that stands out to me was when we flew in a helicopter to the coastline of Hotham, north-east of Darwin for some secluded snaps. This untouched shoreline can only be accessed via boat or air if I recall. By this time it was the hottest part of the day, and being very fair white folk from Victoria, we were sweating up a storm.
Shaun, our helicopter pilot from Nautilus Aviation Darwin, went above and beyond in his role and followed me around on the beach with an umbrella to shield me from the sun, as I had no sunscreen on. Our wedding photographer, Jesse snapped a great pic of this moment. He was a life-saver or make-up saver. Either way, it was one of those little, special moments which I appreciated immensely. Not all hero's wear capes. Thanks Shaun!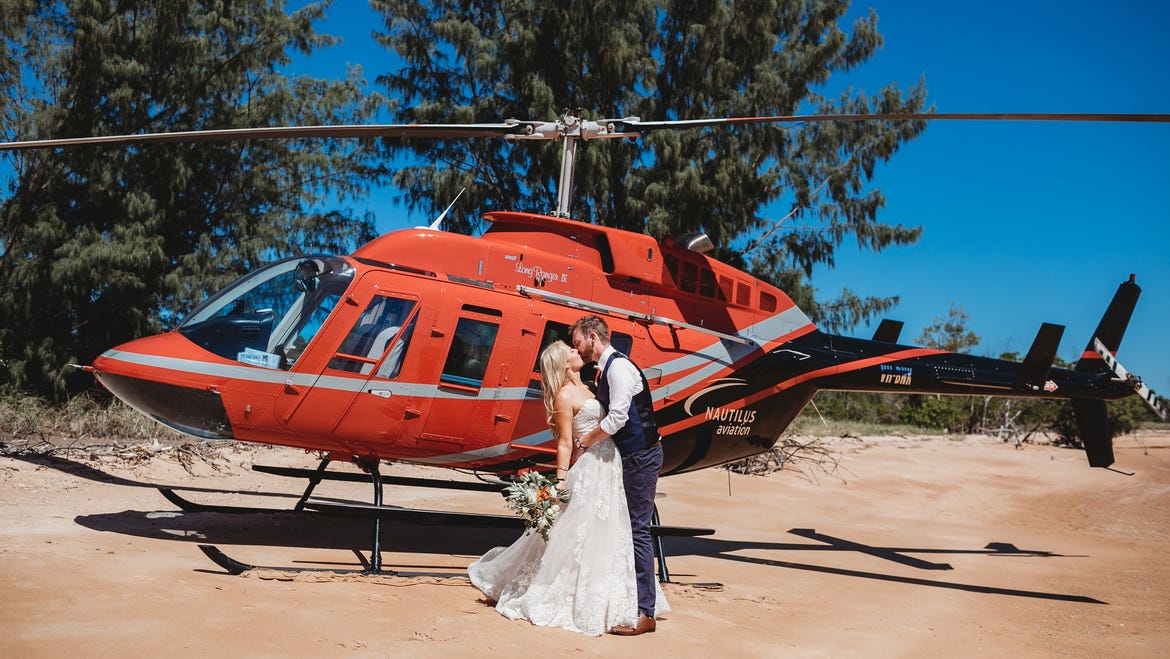 My dress was from LUV Bridal and Formal, Moonee Ponds, Melbourne. It is a floor length A-frame with a sleeveless heart shape corset top. It has an intricate beading and embroidery design, with a soft nude underlay, which I believe was a perfect match for my fair skin tone. At first, we tried on a variety of dresses for the filming process.
With no time to spare before flying to Sydney for filming, I organised to go back to the store the following day to try to find "the dress". After what felt like a long process of elimination, I was worried I wasn't going to find what I wanted from that store, and I was starting to feel a bit overwhelmed, knowing I didn't have time to have anything made, and that I had to find something "off the rack" as they say.
It was the last dress I tried on, having been pulled off the mannequin. I never thought I would have chosen such a "princess" dress. I had thought that I would have preferred something a little more simple, but in the end, this was the dress that stood out for me. It was elegant and flattering for my figure. Both my mum and I knew as soon as we looked at each other. It was the 'ah ha' moment everyone talks about, and it finally happened.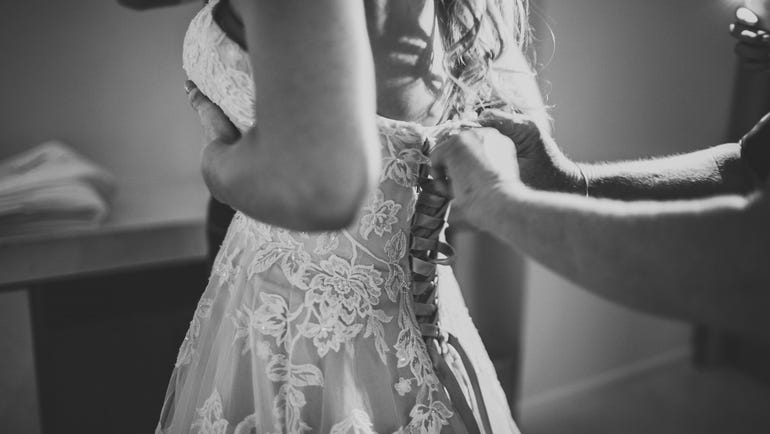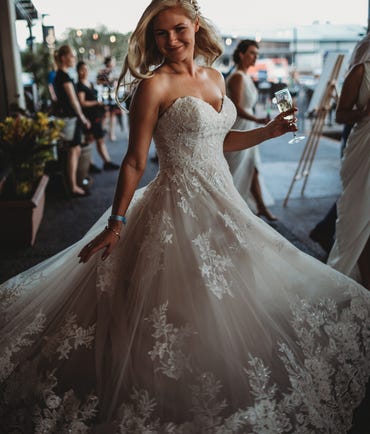 On the bride's side, my maid of honour was my cousin Tori (who's entry won us our wedding). My 3 other bridesmaids consisted of my brothers (now fiancé) Melinda, my cousin Stacey (who's wedding is where Steve and I met), and my other cousins wife Anne-Marie, who is just a beautiful soul. On the groom's side Steve's best man was his brother Pat. He also had his cousin Brent, his long-time work mate BJ and my brother, Ryan.
The boys went to Ferrari Formal inside Myer in Melbourne. They did some filming here with the Today Show crew before choosing their suits. I think this was a tad easier for all involved, being guys who aren't all that fussy. I think Steve had some ideas about what colouring he wanted. They also had to keep in mind that they were going to be wearing 3 piece suits in the NT, where it was bound to get warm.
I had already given him a rough idea of the colours both myself and the bridesmaids were wearing, so that we'd be sure nothing would clash (just in case). They ended up choosing a lovely royal blue suit with matching tie, brown leather shoes and a white crisp shirt. Steve wore mostly the same, except for a cream, light linen jacket (just to stand out haha).
Due to our wedding being in the NT, we liked the idea of a tropical feel to the floral arrangements, but we were also keen on having natives as well. Steve and I weren't too fussed on flowers to be honest. I think our only main requests was to have nothing pink (not a fan of pink), and draping flowers like Spanish moss trees (which I looooove). That, and I think they needed to have flowers that wouldn't wilt too quickly in the elements.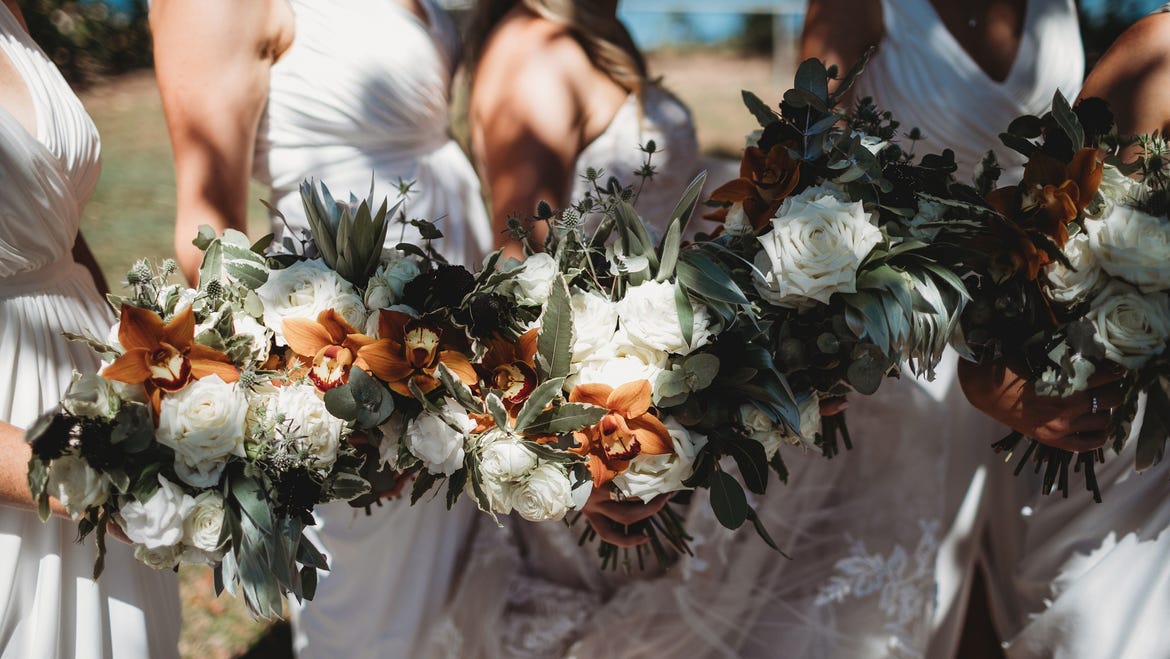 We flew up to Darwin on the Friday. Our hens and bucks were day-long events which lasted until 2am on the Saturday. Sunday was dress-rehearsals before a 2.30am start for hair and make-up on Monday morning for our 8am Wedding, live on the Today Show.
Safe to say Steve and I were pretty knackered by this point. So much so, that I'd lost my voice on Sunday. Gone. It was down to a whisper. The morning of our wedding day, I was silent. I was getting so worried that I wouldn't be able to say my vows. I had no back-up plan, so I was just hoping against hope, that my voice would break through when push came to shove. We made sure my mic was cranked, so the people at home could hear it all.
Sure enough, my voice cracked through when it counted most and I was able to say how I felt, to the one I love.
Our surprise venue was Pee Wee's at the Point. A spectacular outdoor location, with waterfront dining, looking over the city of Darwin. They are well-known for their sensational cuisine and hospitality. We also loved that we'd be married on a vibrant stretch of green grass with a backdrop of tall trees.
I always thought it'd be nice to get married in a garden or something with lots of trees around. Especially since I grew up in the bush and have always loved being surrounded by nature. It worked out perfectly. The evening reception was held at Wharf One on the Darwin Waterfront. It too had a simply elegant atmosphere, gleaming with warm lighting and stylish décor. The food was bloody delicious too!
We had a few extra special detail requests which the wonderful Bel (our wedding planner) was all hands on deck in organising for us. They included things like stubby coolers for guests, a photo board for those who couldn't be or are no longer with us, mini espresso martini bottles etc.
Steve says his favourite detail of the day was "My wife, walking down the aisle". I swear, that's not just me writing that. He actually said it!!

I think my favourite detail, was having my mum and brother walk me down the aisle. Plus, although we didn't have any special traditions, being able to wear my mum and dad's wedding rings on my right hand was very special to me and felt like I very much had them both right there beside me.
Jesse from Beach St Photography was amazing. She had the right vibe we were looking for when it came to capturing the relaxed and natural moments. We were lucky enough to have met her on our first trip of filming up to the NT. We got a chance to take a few pre-wedding pics with her which was great to get to know how it all works before the big day.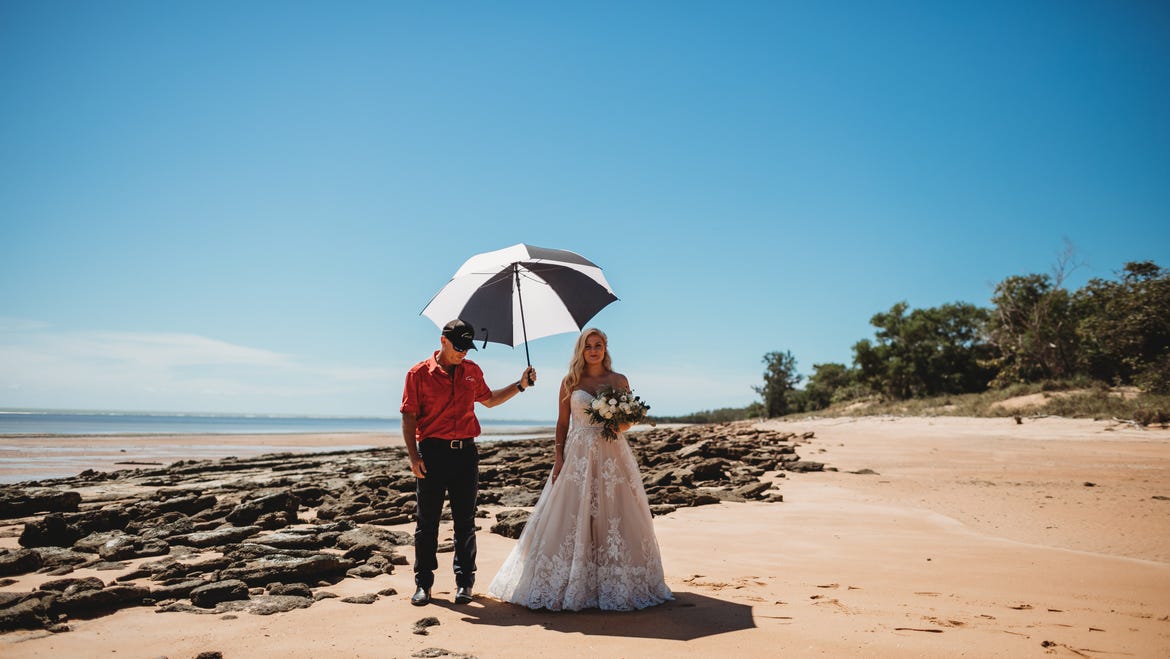 Well Steve and I both decided to go with our favourite road trip song for our first dance – You Make My Dreams by Daryl Hall & John Oates. We love it so much, we actually found a beautiful slow version of the song by Tim Halperin. So we started off our dance with the slow version, then cut into the original for a fun up-beat dance.
Since we only had 6 weeks from finding out we had won a wedding to the actual wedding day, our guests couldn't believe we had time to learn a dance! But having a strong dance background myself, I couldn't not have a choreographed dance for our wedding. So I employed the skills of an old family friend Davina to help put together the perfect mix of sexy and fun to get the party started.
Our advice to other couples is don't sweat the small stuff. I know it's easy to say from the other side, but you'd be surprised how much you don't actually care about on the day. I don't say that to down-grade anything we had. As I've said, our day was perfect and all our vendors provided the goods.
What I mean is, it doesn't matter if you have to get a smaller cake, or cheaper flowers, do your own hair, or do a lot of DIY. At the end of the day, no-one really cares about whether you had cute shoes or quirky things to line the aisle, or that their gifts weren't like the last wedding they went to. And if they do care, they must be pretty shallow peeps.
As long as you have food, drinks, music and a celebrant, the rest is up to you. After all, you get to marry your man, woman or lampshade and isn't that the whole point?
Photographer: Beach St Photography
This article was written by Lauren Wadey and originally published on Polka Dot Bride.
More articles you might like