​Crocs & other creatures of the NT
Travis Godfredson and family get close to nature — and now the kids want a pet crocodile!
Since coming home from our NT adventure, our four-year-old daughter Molly has been snapping like a crocodile all around the place, telling everyone about the amazing jumping crocodiles she met while visiting the Adelaide River.
She knows them all by name, especially Happy Feet and Casanova, who leaped up next to our boat to snap a chunk of meat from our tour guide. Now, thanks to the NT, she wants a pet crocodile!
Molly's older sister, Abbey, says her best experience of the NT was holding a baby crocodile at Crocodylus Park in Darwin.
"It was soft, like Mummy's handbag, but with sharp little teeth!" she says with a beaming smile.
I came away with a tasty souvenir: crocodile sausages. They found their way to my caravan barbecue. It looks like pork, but tastes like chicken. De-lish!
From the baby crocs of Crocodylus Park, we stepped up in size, visiting a 5m goliath called Sweetheart. This big boy is no longer alive, though — unfortunately he passed away during relocation. The 780kg behemoth got entangled with a log while under anaesthetic. It was apparently a very traumatic experience for all the staff. Nowadays, Sweetheart stands as a monument to crocodiles at the Museum and Art Gallery of the Northern Territory at Fannie Bay, Darwin.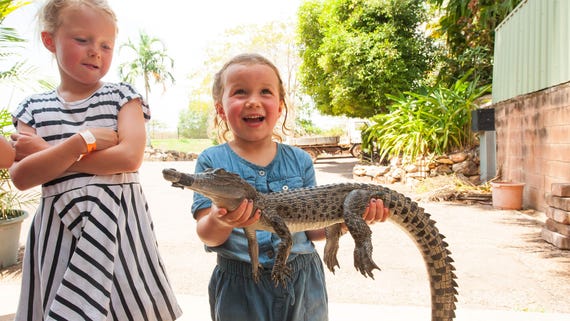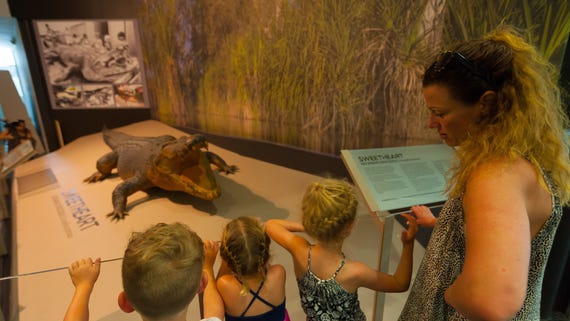 The crocs of NT's waterways have plenty of feathered friends to keep them company. Predatory birds of all shapes and sizes fill the skies. Kites soar down to take small pieces of meat from Damian, our Adelaide River guide. He's a passionate naturalist and true-blue Aussie. And he treats all the creatures of the NT like his pets, affectionately greeting them by name. Brolgas slowly dance through the shallows looking for small fish, while bright kingfishers tizz around the shrubs trying to evade our viewfinders.
We have another intimate encounter with NT creatures at the Territory Wildlife Park. Less than one hour from Darwin, it's a cross between Jurassic Park and a zoo, with zoned habitats sprawling across 625 hectares. There's the monsoon forest walk, a wetlands, a walk-through aviary, rocky ridge and nocturnal house. Our favourite zone is the flight deck, featuring birds of all size, shape and colour. The barn owl with its heart-shaped face is spectacular, soaring just centimetres over our heads. A huge wedge tail eagle with a hooked beak wins the hearts of the kids. A rescue bird with a broken wing, it loves nothing more than snuggling into its handler's chest.
At the reptile enclosure, the kids pat blue tongue lizards, bush rats and a baby wallaby. Six-year-old William gets friendly with a cute spotted quoll. Of course, when he discovers quolls are declining due to habitat loss, frequent burning, and cane toad poisoning, he wants to bring it home.
The aquarium habitat showcases 24 individual exhibits, the journey beginning in the escarpment country and progressing through waterholes and billabongs until it meets the sea. The aquarium is home to turtles, crocodiles, rays, barramundi, sharks and coral reef fish. The kids' favourite is Nemo the clownfish, naturally.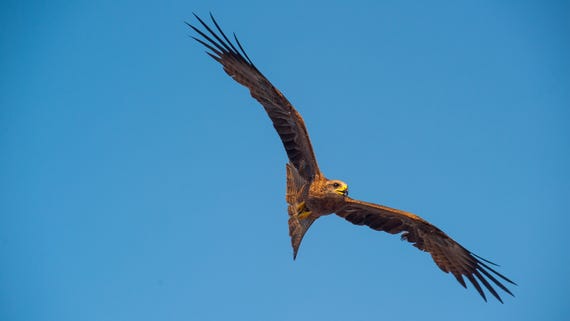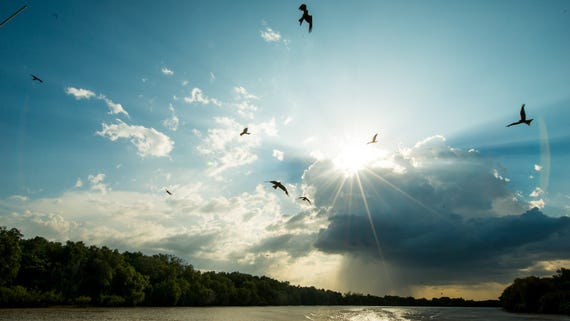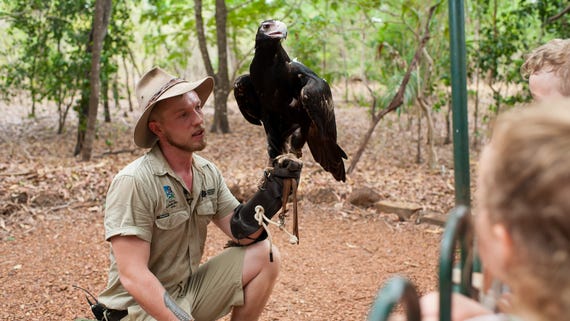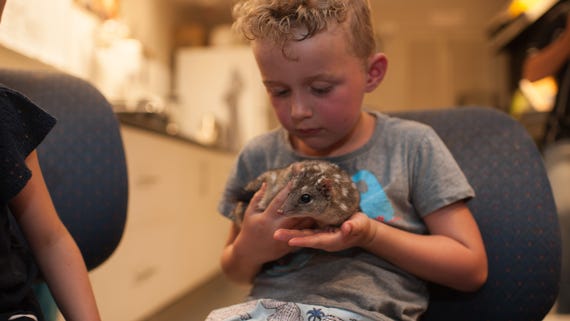 Heading south from Darwin our caravan trundles into Katherine for the Katherine Outback Experience. Horse agistment is the specialty here and operators Annabel McLarty and Tom Curtain share their expertise with kids and families. Everyone is invited to participate, patting horses and joining in with the dogs for a relay race. Tom wows the kids by playing his guitar while riding a horse. His show had the girls eating out of the palm of his hand. Soon after, the girls had sheep and horses eating out of theirs. The Outback Experience gave us a real insight into the workings of the animals which are such an important part of life at a cattle station.
Yep, the creatures of NT are truly memorable – as are the people!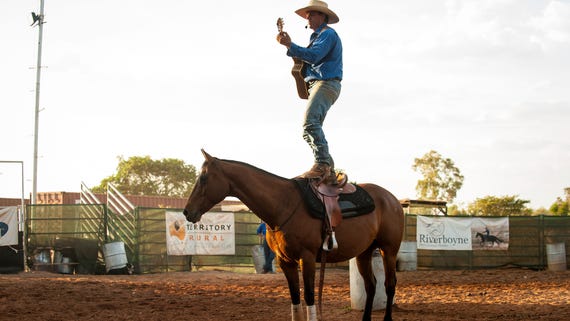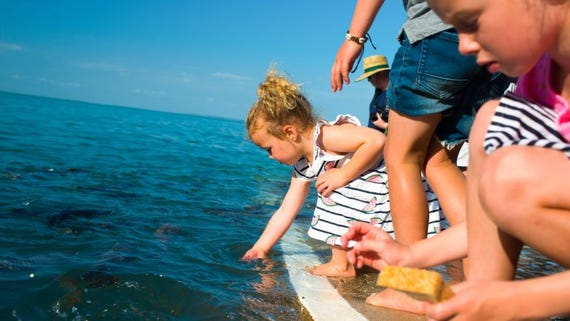 Top 5 wildlife experiences in the NT
One of the crocodile parks in Darwin
Katherine Outback Experience
A jumping crocodile cruise
Territory Wildlife Park, Berry Springs
Aquascene fish feeding, Darwin.

More articles you might like