5 ways to get down and dirty in the Territory
Explore the Northern Territory a little differently this summer and add some fun and pizzazz to your perspective. There are so many quirky and unusual ways to tackle the terrain in the Top End and the Red Centre that you'll be stoked you ditched the beach and city crowds for these once-in-a-lifetime experiences.
Whether you want to get down and dirty with mud racing, love the idea of cruising over pristine water at full throttle like James Bond or prefer to rise above such earthly pursuits and take to the blue skies to bar hop like a celebrity, strap yourself in for some awesome adventures with a Territory twist. You'll have so much fun you'll want to save up and do it all over again.
1. Feel the rush of mud racing mayhem
If you love having a dirty good time, then head out to Darwin's Hidden Valley Motor Sport Complex during the cool of the evening for an old school Territory tradition at Top End Mud Racing.
The track is always wet. The races are insane. And you'll be muddy within minutes as Mad Max-style machines hurl through a boggy mess.
Two competitors at a time run off on opposing identical 700m tracks, with drivers either progressing or being eliminated out of the finals.
It is like nothing else in the country and if you haven't been, drive the 10.5km or share an Uber with mates to get out to Hidden Valley for a fantastic night of mud mania. 
It's fun. It's crazy. And it's the best fun you'll have with your clothes on. Just don't wear white!
The night time Top End Mud Racing season runs from October 2023 to March 2024 with the Northern Territory titles in April next year. Call 0499 911 292 or visit their website for more details.
2. Go quad biking in Litchfield National Park
Indulge in an activity that will have your heart racing and your cheeks sore from smiling: a Northern Territory quad biking adventure.
Venture 100km outside the city limits of Darwin to Rum Jungle, the stepping off point for Litchfield National Park. With monsoonal vine forests, woodlands and giant termite mounds, this is wild as its best. And there's no better way for a true explorer than to bush bash from the back of a roaring quad bike with NT Adventure Park.
Ideal for novice riders and seasoned shredders alike, simply hop aboard a comfortable ATV off-road quad bike, shift into high gear and prepare to cruise through unspoiled scenery for a four-wheeled feat like no other. 
With narrow, bumpy trails, spectacular lookouts and wet season mud to add to the fun, the day will be packed full of thrills, spills and entertaining yarns. Guides will introduce you to native plants and vegetation, the rich cultural history of the Batchelor and Litchfield regions and, if you're lucky, help you spot kangaroos, frilled neck lizards and reptiles. Don't forget your GoPro.
There's also a terrific feed (and interesting local characters) to be found at the Rum Jungle Tavern.  
3. Sip and soar in style
The Top End is known for its extremes, so, it comes as no surprise that the most adventurous can find an epic, rock-star way to find the region's coldest beers with a heli pub crawl. 
Yep, you read that right. A pub crawl by helicopter is a four or five pub, five or seven-hour extravaganza (depending on which tour you choose) that you'll never forget – no matter how much beer you sample.
From the banks of a croc-infested river to the beautiful beaches of a waterside resort, not only can you party like an A-lister but you'll have amazing sky high views of Darwin and surrounds, rivers snaking through floodplains and lush, vibrant greens. 
You'll land at out-of-reach places (make sure Goat Island is included) and at the pubs you'll find quirky characters and charismatic publicans with their fair share of tall tales.  
There's two choices – Airborne Solutions and Helifish. 
If you're down in the Red Centre instead, toast the morning with bubbles after landing from a glorious sunrise flight with Outback Ballooning. Feel the rush as you float above the great outback, which turns green after the rains, and keep an eye out for kangaroos. The reliable desert weather means they can fly most of the year.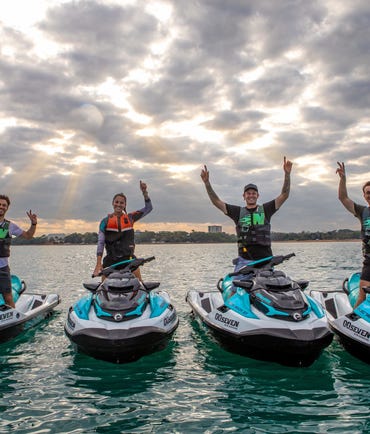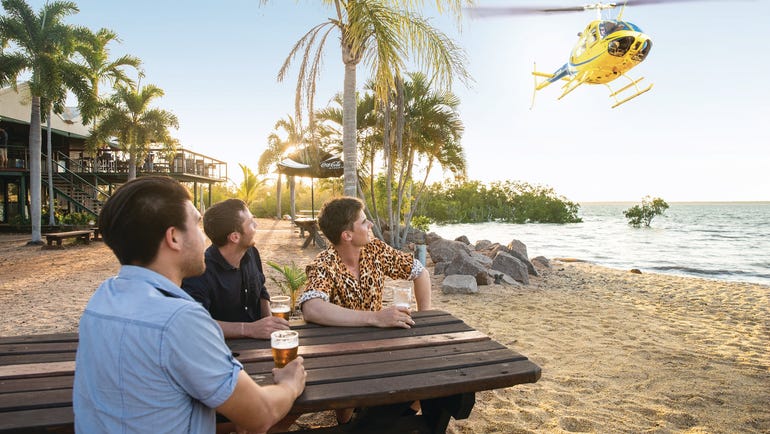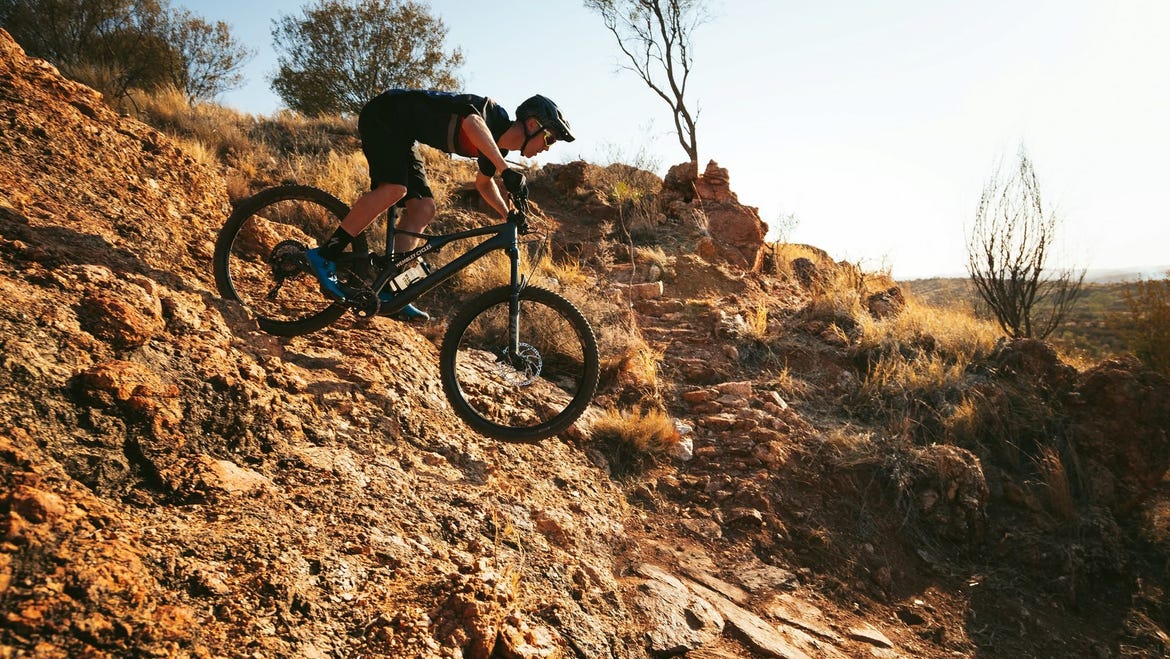 4. Jetski around Darwin Harbour
Launch yourself from 00Seven's headquarters at Darwin's Waterfront for a James Bond style jet ski adventure of a lifetime.
During fast-paced, "Secret Mission" adventure outings, cruise (or blast – you decide) along sun-drenched unspoilt coastline on guided jet-ski tours with 00Seven Adventures. 
Intercept a casino heist, uncover hidden treasures in a Darwin shipwreck or unleash your inner agent as you enjoy the thrill of bouncing over the vast open water. 
Should you accept these year-round missions, which range from 45 minutes to an hour, you'll spot teeming birdlife, dolphins if you're vigilant, and discover pristine, natural landscapes along the way.
End the evening like the Casino Royale celeb you are, watching a spectacular Territory sunset dip below the horizon, Espresso Martini in hand, at one of the many bars and restaurants at Darwin Waterfront. Thank us later. 
5. Happy trails in a mountain bikers' paradise
Central Australia is an amazing hot spot for mountain and off-road biking.  Whether you're a beginner or a pro looking for a heart-thumping, rock-jumping experience, there's something for everyone to enjoy. 
There are tracks on both the east and west-side of Alice Springs that form part of a large network of mountain bike and shared-use trails across Central Australia. Grab a helmet and plenty of H2O and enjoy spectacular desert views. 
Experience the playground of open hills and sublime single tracks just like the locals do on guided mountain bike tours by Outback Cycling. 
Whether you want a leisurely cycle around town or a heart-thumping mountain biking experience, there's a great range of bikes suitable for hire at My Ride Alice Springs.
The Alice Springs Telegraph Station is the starting point of a large mountain-bike trail system, ranging from the easy Eastside link, to intermediate, like the 6km Nturrerte (Spinifex Pigeon) track to the hard 15km Hell Line trail. The name says it all. You could also time your ride to Simpsons Gap (17km west of Alice) when it's a full moon. It's an experience you'll never forget. Download the MTB Trail Map for inspo!
More articles you might like