Katherine is right on the doorstep of the magnificent Katherine Gorge in Nitmiluk National Park, and is the kind of stunning locale you can only find in the Northern Territory.
The town is perfectly located to explore the surrounding region - there are hiking trails, canoeing options, river cruises, Aboriginal cultural experiences and even helicopter tours. Of course, the town itself boasts a number of local attractions, including the Katherine Museum and Hot Springs, as well as a thriving local art and culinary scene. Whether you're here for a day, a week or a month, there's heaps to do in Katherine and its surrounds, including visiting one of the many parks and reserves surrounding the town.
A few fast facts
An historic Outback pioneering town, Katherine township began its life as an outpost of the Overland Telegraph Line in 1872. Since then, its population swelled during the late 1800s gold rush and more recently with the growth of the tourism industry.
Katherine is on the doorstep of Nitmiluk National Park and is where the Outback meets the tropics. It is considered a part of the Top End and of Central Australia, meaning it experiences both the monsoons of the Top End along with the dry climate of the Red Centre.
Katherine gets its name from the Katherine River, which was so named by explorer John McDouall Stuart during his third north-south journey across Australia, in 1862.
We highly recommend you drive to Katherine from Darwin along the Nature's Way, via Kakadu National Park. However, it is also possible to fly into Katherine from either Darwin or Alice Springs.
The Katherine Region, at 400,000 square kilometres, is roughly the size of France and double the size of Victoria.
Here are five 'must-sees', along with a list of top tours and instructions on how to do it yourself while traversing through the Katherine Region.Five must-sees
Katherine Gorge, Nitmiluk National Park
A trip to or through Katherine would not be complete without a visit to Katherine Gorge located in Nitmiluk National Park. The pristine gorge really puts the town on the map, and continues to attract visitors from far and wide, while Nitmiluk National Park has some of Australia's most stunning scenery and bush walks. Just 30 minutes northeast of the town, there are a number of short, middle-distance or long walking trails which cover many of the highlights including wildlife, Aboriginal rock art and pristine waterholes.
There are so many possibilities when you explore Katherine Gorge, including canoeing, sunset dinner cruises, long walks, swimming stops or even helicopter flights. Due to the flooding in the wet season, some of these may not be available year-round, so check with your tour or accommodation provider about what's on offer.
Edith Falls, Katherine
After a long day traversing the wilderness of the Katherine Region, there's nothing better than cooling off in an Outback waterhole, and Edith Falls is one of the NT's many pristine swimming spots. Take a swim in the paperbark and pandanus-fringed natural pool or go for a long walk around the rocky outcrops.
Edith Falls – known as 'Leliyn' in the local Jawoyn language – is also a perfect camping location, with a number of lush, green campsites just perfect for spending the night. The main camping site has toilet facilities along with drinking water, although fires and generators are not permitted. Permits are required to use your own canoes, while you'll need to pay your camping fees at the on-site kiosk. The kiosk is the perfect spot to enjoy a long lunch after a swim at the falls - enjoy a wide selection of meat pies and sandwiches, and make sure you taste the barramundi and buffalo burgers.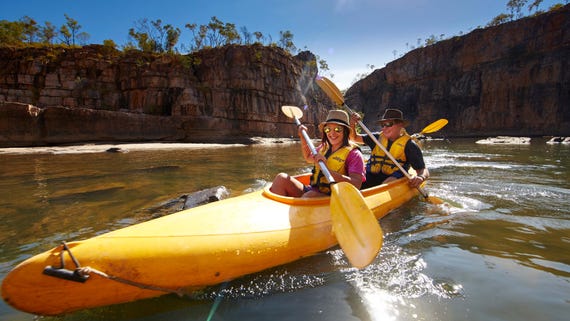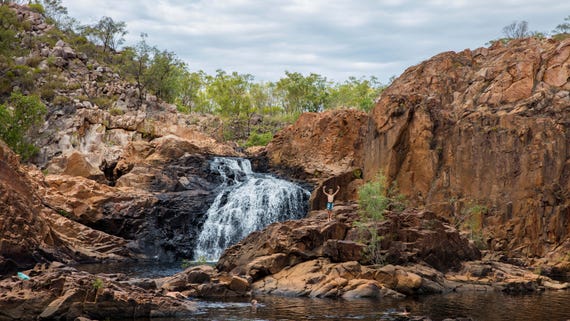 Cutta Cutta Caves Nature Park
Just 30 kilometres south of Katherine is the Cutta Cutta Caves Nature Park, a system of stunning limestone caves formed millions of years ago. The caves sit 15 metres below the surface, with affordable guided tours taking you through the ancient formations. 'Cutta Cutta' is a local Aboriginal word used by the Jawoyn people to mean 'many stars', as the caves were thought by local tribes to be the resting point for the stars during the day.
Katherine Hot Springs
Open in the dry season – from April to November each year – Katherine Hot Springs are natural thermal pools on the banks of the Katherine River. Surrounded by native vegetation and open 24 hours a day, the Hot Springs are the perfect place to warm up. Best of all, entrance is free and the springs are just on the edge of town.
Katherine Museum
Katherine has had an enthralling past that reflects the turbulent and unpredictable history of the Territory itself. Nowhere is this story told better than at the Katherine Museum.
Learn about the development of the Overland Telegraph Line, hear about Australia's first flying doctor, and see traditional Aboriginal artefacts that date back centuries. The museum building itself – a former regional air terminal used during World War II – also has a story to tell.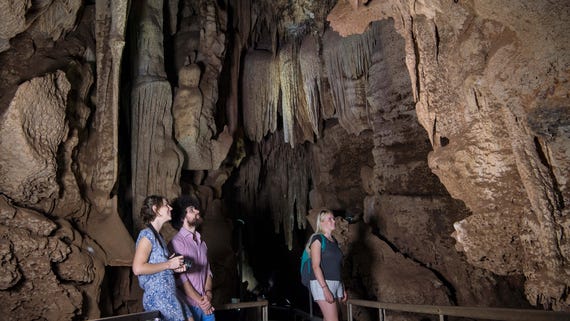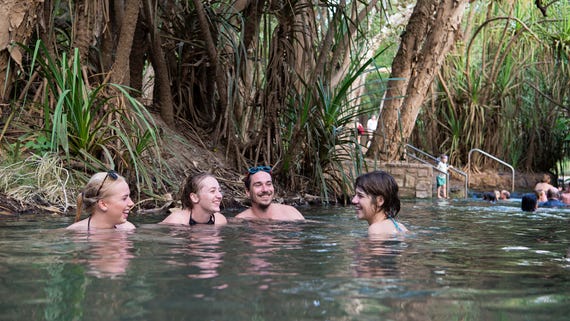 Top tours
Katherine Outback Experience
If you've checked out the stunning surrounds and are wondering what to do in Katherine, look no further than the Katherine Outback Experience. Watch local hero Tom Curtain break-in young horses and put on a working dog show, before entertaining the audience with a couple of Aussie country hits.
While it's easy to be tempted by the luxury of some of the Territory's hotels and the beauty of its natural environment, the Katherine Outback Experience gives you an insight into what life is really like for Territorians working up a sweat on remote cattle stations.
Top Didj Cultural Experience
The Top Didj Cultural Experience paints a picture of what life was like for the first Australians - you'll love tour operator Manuel, whose magnetic personality brings the whole experience to life. There's also an excellent Aboriginal art gallery, featuring some of the best art in Australia, where you can also paint your own masterpiece.
For those more inclined toward the great outdoors, you can learn to light a fire the traditional Australian way – an invaluable skill in the bush. Then perfect your Woomera and spear-throwing skills, before seeing if you can hit your target – a fake kangaroo!
Nitmiluk Tours – helicopter tour
The only thing more stunning than seeing Nitmiluk National Park up close is seeing it from the air. With a Nitmiluk Helicopter Tour, you can take in all the essential sights in the National Park while also getting a sense of its sprawling majesty as it stretches out towards the horizon.
Choose between a three-gorge, eight-gorge or thirteen-gorge tour, taking in rocky outcrops, native wildlife and a number of flowing waterfalls. Despite the apparent luxury of your own helicopter tour, the costs are affordable – particularly for an adventure you'll remember forever.
Nitmiluk Tours - Nabilil Dreaming Katherine Gorge Sunset Dinner Cruise
Another one of the excellent options from Nitmiluk Tours is the Nabilil Dreaming Sunset Dinner Cruise. This 3.5-hour cruise takes in all of the majesty of Katherine Gorge while you enjoy a three-course meal of local delicacies cooked right there on the boat – along with a complimentary glass of sparkling Australian wine.
Whether it's a romantic cruise with your significant other, a solo jaunt through the Aussie wilderness, or a chance to experience something truly extraordinary with family, the Nabilil Dreaming Sunset Dinner Cruise is not to be missed.
Nitmiluk Tours - Katherine Gorge Canoe hire
If you fancy yourself as an adventurous, do-it-yourself type, then hiring a canoe and heading through Katherine Gorge is the experience for you. When hiring your vessel you'll be able to tap the brains of your experienced local guide, meaning the best canoe trails – including a couple of local secrets – are just down the stream.
But before planning a trip, be sure to check out the river levels – canoeing through the gorge will not be available during periods of flooding.
Do it yourself: exploring Katherine's surrounds
Tours are a great way to kick back and save the energy of organising, but a do-it-yourself trek across the Territory lets you channel your inner explorer and carve your own journey. Katherine is just 3 hours from both Darwin and Kakadu National Park, meaning there are heaps of options for self-drive tours. Pack petrol, water and all your essentials, and head out on the road trip of a lifetime. Take all the time you need!
Mataranka Thermal Pool and Bitter Springs: NT likes it hot!
If you feel like taking a day trip from Katherine, the Elsey National Park – including Mataranka and Bitter Springs – is just the ticket. The distance from Katherine to Mataranka isn't far - the drive takes just one hour, so there's no need to get up before the sun does (although the Territory sunrise is always spectacular).
As always, let someone know where you are off to, take much more water and petrol than you think you're going to need, and bring something to snack on – although there are food options along the way to the swimming spots. Don't forget your bathing suit, although be sure to double check that the springs are open for swimming, as they are likely to be closed during times of flooding.
Both Mataranka and Bitter Springs are natural thermal pools, running at a guaranteed 34 degrees all year round, making them a great place to unwind and relax the muscles after a day of exploring. There are also a number of walks in and around the Elsey National Park.
After a long day of swimming and relaxing – where you've surely worked up quite an appetite – head back towards Katherine for a feed (and maybe a beer or a wine).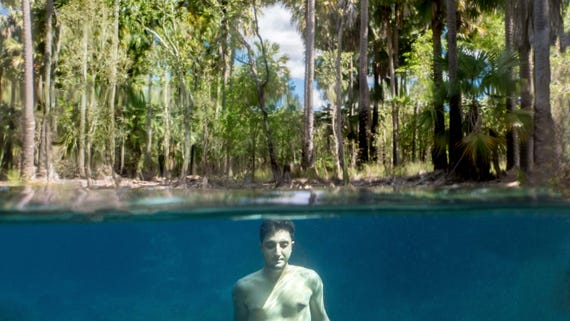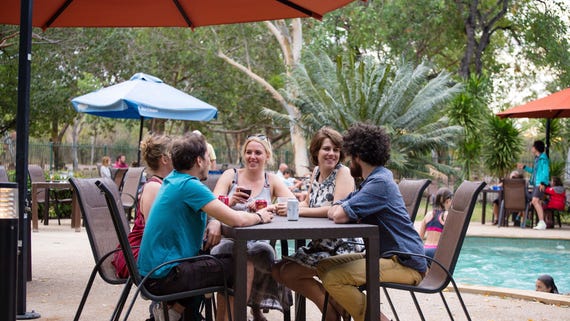 Nature's Way: Kakadu, Nitmiluk and Litchfield National Parks
'Nature's Way' is the name given to the 550-kilometre loop which takes in some of the Top End's most renowned sights, including Katherine and Darwin, as well as the Kakadu, Litchfield and Nitmiluk National Parks. If you have the time to really explore, then Jabiru, Kakadu, Batchelor and of course Darwin have a number of excellent options for an overnight stay along your journey. We recommend you take at least a week to truly enjoy the loop, stopping off for multiple days in Katherine and Kakadu National Park.
If you're starting the loop in Katherine, head towards Nitmiluk National Park to enjoy the beauty of Katherine Gorge. You can explore by foot, canoe, river cruise or even helicopter! When you've had your fill - and possibly even camped under the stars for a night or two in Nitmiluk National Park - head north towards Pine Creek, where the town's gold rush legacy is spelled out in its architecture.
Keep north along the Stuart Highway towards Darwin, stopping off along the way at Litchfield National Park and Berry Springs. Spend a night (or a week!) in Darwin, taking in the food and the culture, before taking the 3-hour drive along the Arnhem Highway into Heritage-listed Kakadu National Park. Using the town of Jabiru as your base, you can explore the surrounding wetlands and the diverse wildlife (including the saltwater crocodile), enjoy the Aboriginal rock art at the Ubirr and Nourlangie sites, or take a dip at Gunlom Falls, Maguk Gorge, Jim Jim Falls or Twin Falls. Of course, if you're swimming in the Top End, always 'be crocwise' and check the signs before swimming to make sure it is safe to take a dip. You will need at least three days to do Kakadu National Park justice.
Head down the Kakadu Highway via Pine Creek, back to Katherine, where you can rest your head after your exciting road trip. Of course, the best part about the Nature's Way route is that you can start anywhere on the loop and end up back where you started. You'll have the adventure of a lifetime!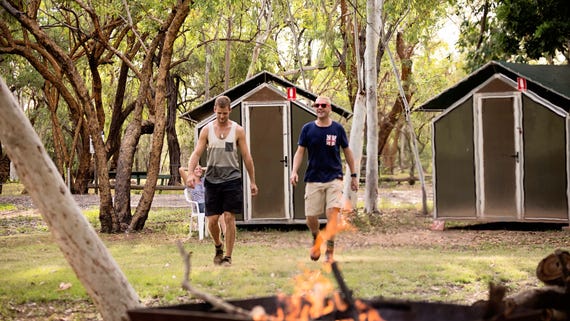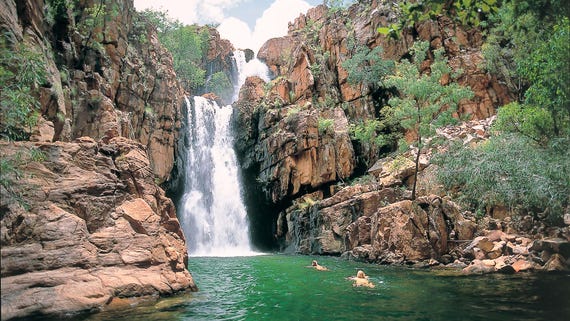 Need to know
Katherine's best time to visit: While Katherine is further inland, it is still considered part of the Top End. In the lead-up to the wet season, there's a high chance of spectacular electrical storms, while the area is prone to flooding from November to March. There's nothing like seeing the rivers and creeks of Katherine Gorge when they are full and flowing (though make sure you only swim if it is safe to do so). From March to November the weather is cooler and dryer, so tourist numbers are higher.
How to get here: There are a handful of flights per week to Katherine from Darwin and Alice Springs, although taking a car from Darwin International Airport is only a three-hour trip. Driving is a great way to get to Katherine because you can take in the many sights in the surrounding region. If you're a fan of trains, The Ghan railway travels through Katherine between Adelaide and Darwin, stopping for a few hours to let you see the sights and catch a tour or two. There are also a range of bus options including the Greyhound Bus and minibuses from Darwin. Getting around: Most of the region's sights are only accessible by car or through an organised tour.
Passes and permits: You will generally have to pay a fee if you want to camp in region, so book in advance and plan ahead. If you want to enjoy some canoeing in Nitmiluk National Park, make sure you book ahead, or obtain a permit if you are bringing your own. You will also need a permit if you are taking the overnight walk to the secluded Sweetwater pool at Leliyn (Edith Falls). If you are headed to Kakadu National Park, you will need to purchase an entry pass.
Plan ahead: Dress appropriately and carry plenty of sunscreen. When driving in and around Katherine, be sure to carry plenty of water and food, while taking a satellite phone or a UHF radio is a must. Finally, whether you are heading up towards Darwin, down towards the Alice or out to explore the Katherine Region, it is essential that you let someone know what you're up to and how long you'll be there.
Safety: Always 'be crocwise' and pay attention to local warnings, particularly when swimming or boating, or when camping around water. Only swim in areas that are clearly marked as safe for swimming. The NT Where To Swim guide is a handy reminder, although always defer to the expertise of locals when they tell you not to take a dip. In the wet season, Katherine Gorge is prone to flooding, so check with local authorities between November and March when heading out on long bush walks.
Where to go next? Katherine is perfectly located for onward travel, whether it be north – Katherine to Darwin takes just three hours – or south towards Alice Springs. Katherine is also just three hours drive to Kakadu National Park.