The 7 most epic locations for your NT wedding
Your wedding day is one of the most memorable moments of your life, and you want it to espouse your shared values and dreams in a place that feels like bliss. There's no better place to find your perfect setting in some of the Northern Territory's unique sites. The NT boasts epic wedding locations that just can't be replicated anywhere else in Australia.
Bamurru Plains – Top End
Be mesmerised by balmy evenings, romantic long lunches that flow into twilight, and starry conversations under a full moon. If you're looking for a no-fuss and down to earth bush wedding, Bamurru Plains, located on the coastal floodplains of the Mary River, is an exclusive hideaway for lovers wanting to elope or put on an intimate event under the stars. Set on a 300km² private property encompassing 10 safari bungalows and a myriad of activities within arm's reach, you'll want to turn your wedding vows into a weekend-long jubilee.
Local's tip: Celebrate your first day as newlyweds at the Bird Hide with a private picnic lunch from six metres high in the treetops.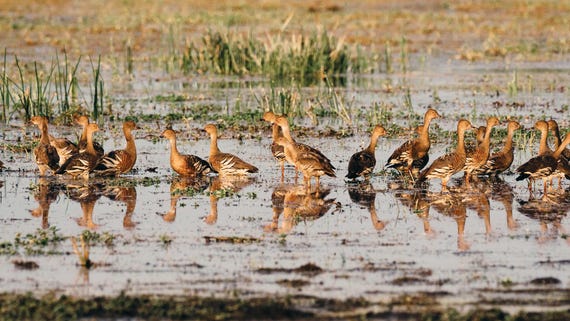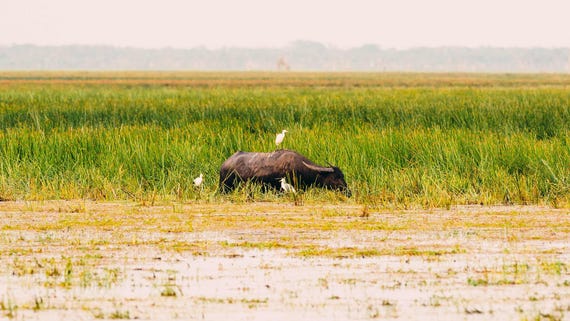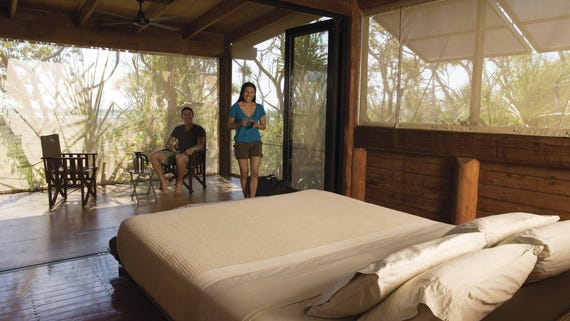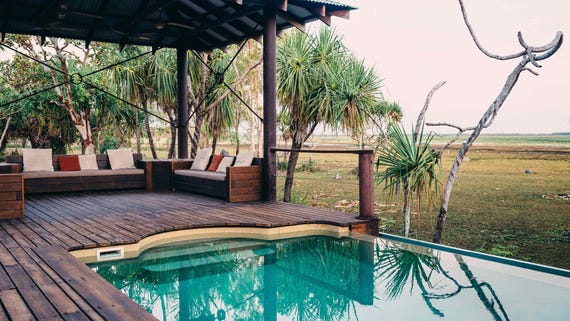 Nitmiluk National Park – Top End
Picture your ceremony with some of the most ancient and spectacular terrain on earth as a backdrop. Imagine looking into the eyes of your soul mate and repeating your vows surrounded by awe-inspiring sweeping gorge views over the mighty Katherine River. Nitmiluk (Katherine) Gorge is deeply special to the local traditional owners, the Jawoyn people, which makes it a beautifully spiritual place to hold your ceremony. Once it's official, consider holding your reception and enjoying your first night as a married couple at the eco-luxe Cicada Lodge. Celebrate with friends and family with a relaxed but delicious lunch at the award-winning restaurant on-site. With a menu that focuses on local produce and Australian native food, you'll be sure to impress your guests.
Local's tip: Contact NT Parks to ask a local ranger to find that perfect location for you to tie the knot!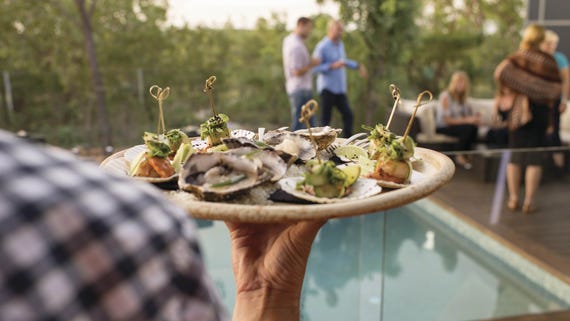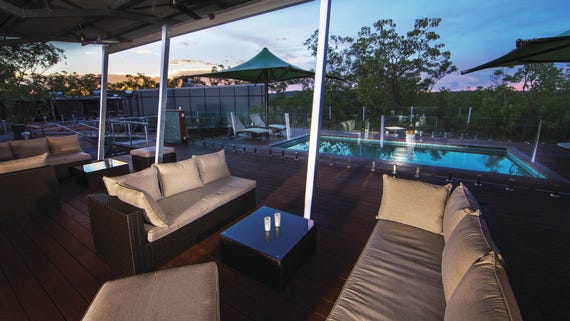 Kakadu National Park – Top End
Kakadu National Park in the Top End, just 3 hours from Darwin, offers some of the most spectacular landscapes, wildlife and culture than anywhere else in Australia. There are a select few places to tie the knot, and plenty of opportunities for the picture perfect shot that cannot be replicated anywhere else in the world.
Kakadu is a world heritage-listed national park for both its natural and cultural values. Blow your guests away by having a destination wedding amongst some of Kakadu's diverse and exotic landscapes. The Kakadu region is home to a couple of venues for wedding ceremonies and receptions – the Mercure Kakadu Crocodile Hotel and Cooinda Lodge. These low-key venues can cater for your ceremony to reception as well as accommodate your guests.
Make a holiday of your wedding by exploring the lily-covered billabongs, take a hike to the top of Ubirr overlooking the Arnhem Land escarpment, or swim amongst the spectacular waterfalls and plunge pools that Kakadu is so well known for. Your guests will be able to tick off that bucket list item of 'visit Kakadu' and at the same time witness you profess your forever love to each other.
Local's tip: April or May is a perfect time of year to marry in Kakadu. The waterfalls are still pumping and vegetation will be green and lush.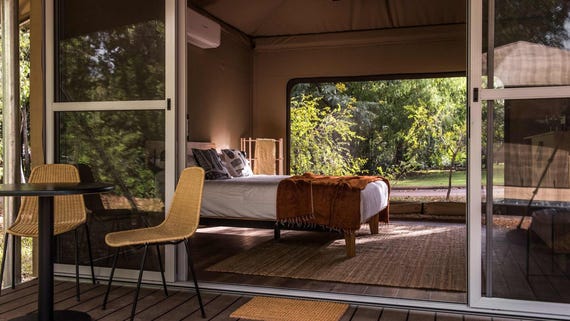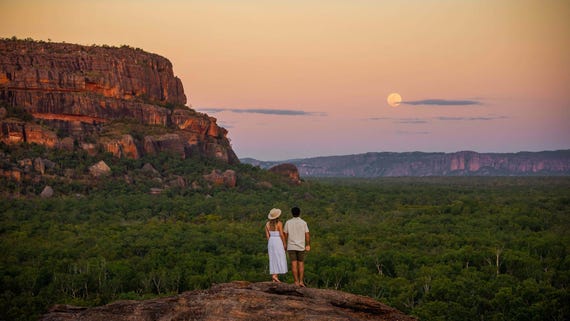 Simpsons Gap – Red Centre
Say 'I do' amongst the red dirt tracks, the ancient ghost gums and the towering cliffs of Simpsons Gap. The dramatic backdrop of the red cliff face with the sunlit hues creeping through the shade of the trees make Simpsons Gap a magical location for an NT wedding.
A spiritually important location to the local Arrernte people, you may even wish to explore the idea of a 'welcome to country' ceremony before your own wedding ceremony. A welcome to country shows the traditional land owners that you respect them and thank them for letting you marry on this beautiful piece of Australian landscape.
Local's tip: Depending on exactly where you want the ceremony, depends on how far you and your guests will have to walk. We recommend taking some thongs for the walk in and out.
Uluru – Yulara – Red Centre
Celebrate one of the happiest days of your life in one of the most epic locations on Earth, with the fabled Uluru as your backdrop. Uluru is one of the most recognised icons in the world and those that have visited will know the truly spiritual aura it exudes. Ayers Rock Resort encompasses a range of unique ceremony and reception sites that cater for intimate ceremonies for two right through to large celebrations for 300. Boasting rich sunlit and moody skies, consider a sunrise or sunset wedding atop a sandy dune or, for something truly unique, walk down a red desert aisle.
Local's tip: Uluru Wedding Photography has recently started offering bespoke wedding shoots within Uluru-Kata Tjuta National Park, creating truly unforgettable photos of your special day.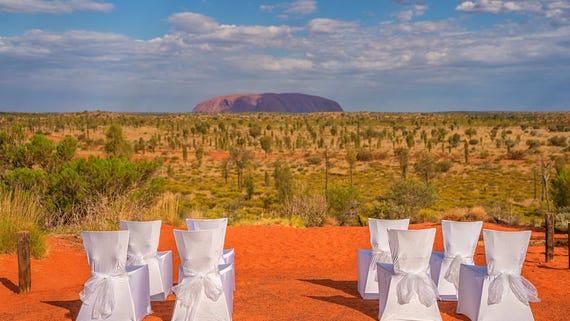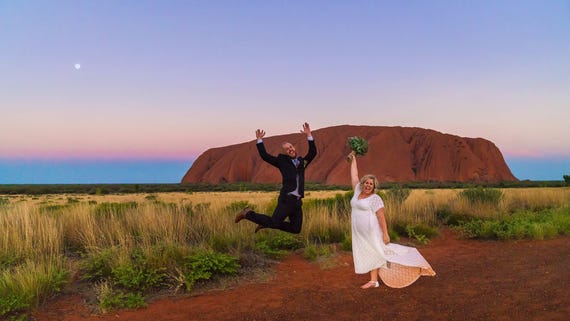 Kings Canyon – Red Centre
Fringed with ancient cultural tales, starlit skies and 400 million years of history, Watarrka National Park, better known as Kings Canyon, has plenty of picture perfect locations to begin the rest of your life with your best friend. Whether you decide to hold the ceremony at one of the accommodation venues or whether you want to hike to the top of Kings Canyon and say 'I do' in the most dramatic way (I'm not sure how keen all your guests will be to take on that challenge but good luck). This is definitely a unique location that would be hard to beat anywhere in Australia. 
Sweep your guests off their feet with a ceremony at Kings Canyon Resort with an exclusive dining experience at the venue's Under a Desert Moon restaurant. Then have you swept off your feet with the hidden oasis accommodation at Kings Creek Station at the Dreamtime escarpment. A luxury secluded 'glamping' experience with a beautifully appointed tent, quality linen and décor, private 'outdoor' bathroom and a back drop that will take your breath away.
Tie the knot in the NT
From the rugged landscapes to the starry night skies and enriching culture, the Northern Territory is a spectacular location to exchange your vows. You might be a couple that embrace the outdoors, love the idea of eloping, or simply want to do something outside of the box. No matter the reason, or the season, be warmed and welcomed by the NT as you start your lives together in wedded bliss.
Start planning with more NT wedding ideas.
More articles you might like