Top 5 Aboriginal cultural festivals & events in the Red Centre
There's something about the Red Centre of the Northern Territory that endlessly attracts people to its events and festivals.
A trip to Alice Springs in the heart of the NT will reward you with open spaces, ancient red rocks, spectacular starry skies and incredible gorges to swim in over summer. But this awe-inspiring landscape is not just full of natural wonders. It's home to an ancient culture that's been caring for this land for more than 65,000 years.
There are many ways to connect with the diverse Aboriginal cultures of the Red Centre. Here's a list of some of the unique events that allow you to delve deeper and discover the connection between Country and culture.
1. Parrtjima Festival
An extraordinary fusion of the old and new, Parrtjima Festival showcases thousands of years of Aboriginal cultural traditions through magical light displays – set against the stunning backdrop of the 300 million-year-old MacDonnell Ranges, just outside of Alice Springs/Mparntwe.
Wander through interactive light installations that bring ancient stories to life, discover more about Arrernte Country and culture in free workshops and talks, and dance under the stars to performances by some of the hottest First Nations musicians. Be mesmerised by the spectacular Central Desert landscape.
Held over 10 spellbinding nights each April, Parrtjima is a powerful and inspiring festival blanketed by stars, truly unlike anything else.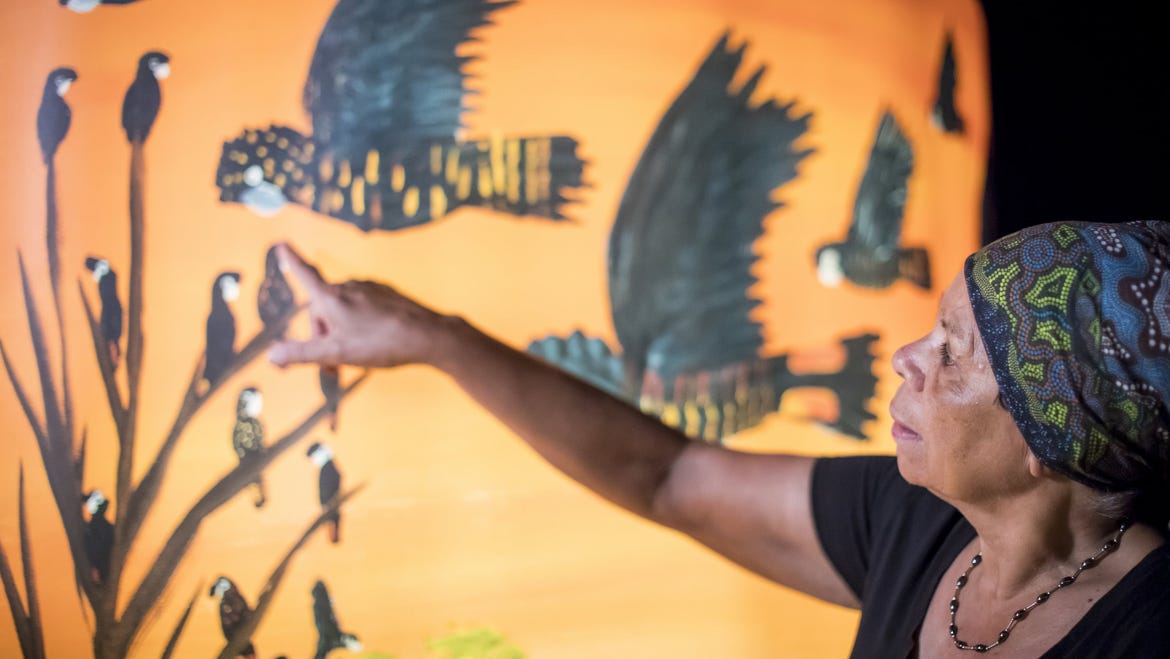 2. Desert Mob
A vibrant celebration of the creativity of Desart member centres, Desert Mob showcases artworks from more than 30 remote Aboriginal art centres from across the Central Desert region. With a curated exhibition featuring hundreds of emerging and established artists and a bustling marketplace that's perfect for wandering around and picking up some special pieces – Desert Mob is a chance to immerse yourself in the rich Aboriginal art and culture of the Central Desert region.
In addition to the abundance of amazing art, there's an engaging public program to help you delve deeper. Listen to artists and curators discuss the inspiration behind their works, expand your skills in workshops with talented artists, and be transported to remote communities by film screenings that show artists working on Country.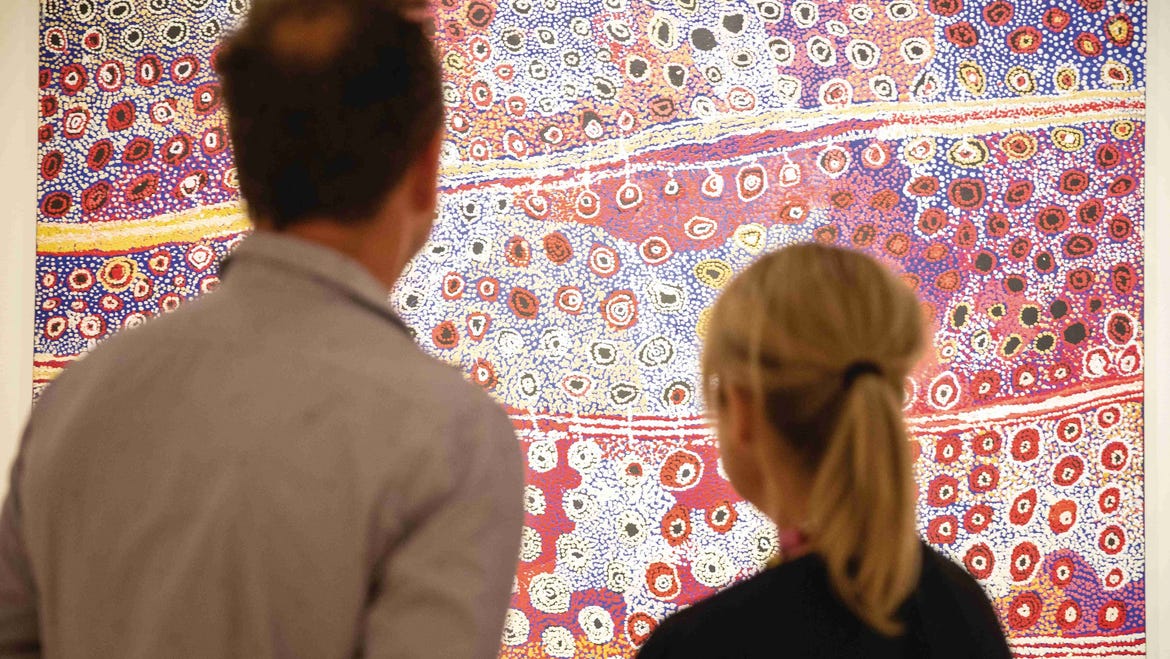 3. Desert Song Festival
Each year, across 10 days in September, glorious melodies ring out across the Central Desert region during the Desert Song Festival. Bringing together artists from the region's vibrant multicultural community with visiting interstate and international artists, Desert Song Festival is a celebration of the singer and the song, the land and its people.
With feature events in iconic locations, such as Ilwempe Ilwempe (White Gums) by Honeymoon Gap or Central Australia's Earth Sanctuary, Desert Song Festival allows you to lie back and listen to sweet tunes as you witness some of the best star gazing you'll spy with your little eye in Australia.
Discover the world-renowned artistic culture of communities like Ntaria/Hermannsburg on guided tours, and learn new skills or discuss important ideas at a range of talks and workshops. Whatever you pick from this brimming program, Desert Song Festival is a unique way to connect with the different cultures and landscapes of stunning Central Australia.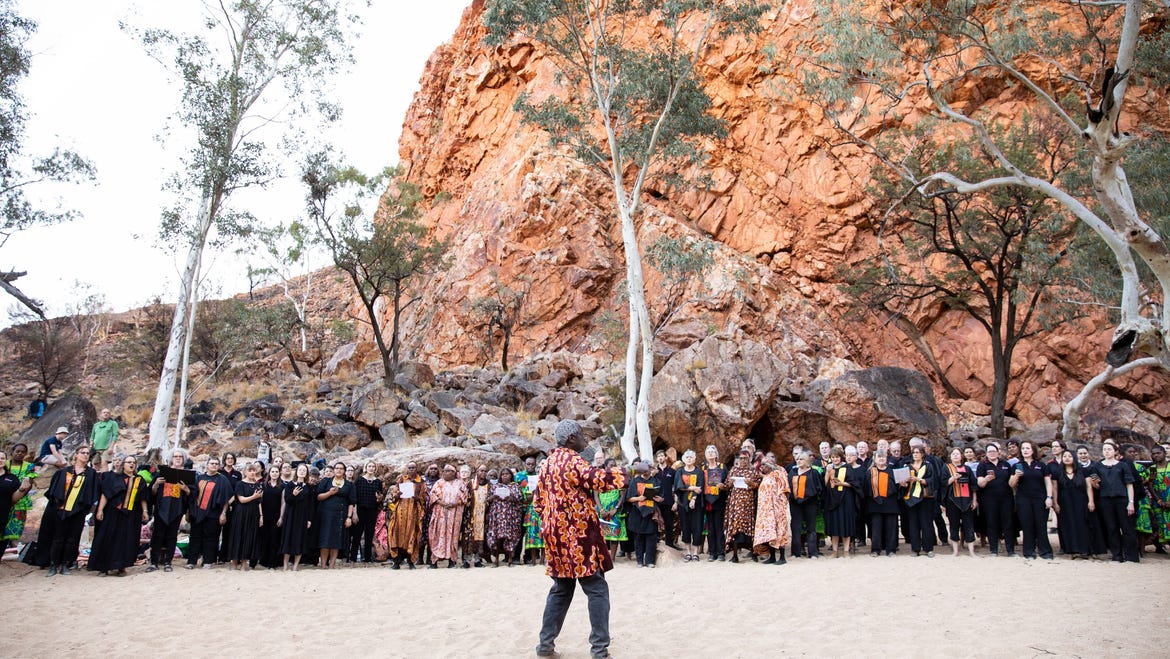 4. Desert Harmony Festival
Held over four days on Warumungu land in Tennant Creek in the remote Northern Territory, Desert Harmony Festival is the perfect event for arts and culture lovers with a love of adventure. Bringing together local creative talent with nationally recognised special guests like Casey Chambers, Desert Harmony Festival features performances, an art fair and an engaging series of workshops. Enjoy rousing spoken word, brilliant live music and circus performances at the Variety Spectacular event or rock out at BAMfest – a showcase of the best bands from Barkly and beyond.
If you're heading to the festival from Mparntwe/Alice Springs, be sure to stop off at Karlu Karlu/Devils Marbles. Take your time wandering around these ancient, gravity-defying boulders that are a sacred site for the Warumungu people.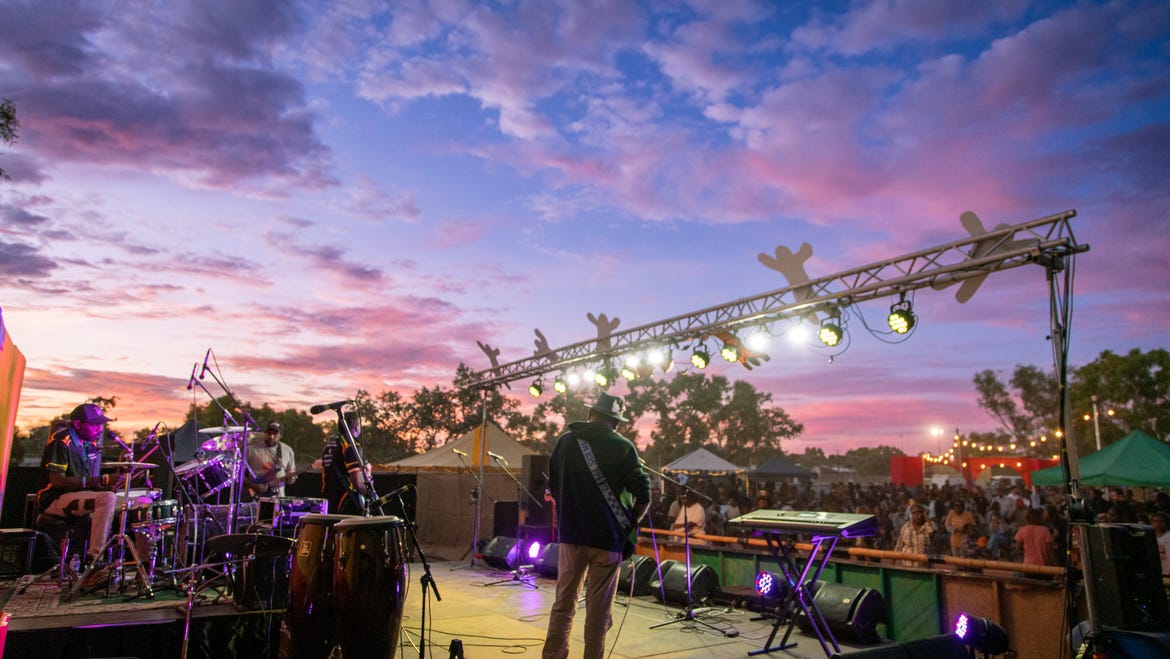 5. Bush Foods Festival
Tantalise your tastebuds with divine foods from an ancient culinary tradition at this uniquely Central Australian event. Held in Mparntwe/Alice Springs in October, Bush Food Festival celebrates the vitality of traditional Aboriginal culinary culture and its central role in caring for Country.
Enjoy educational talks followed by delicious dinners or a film screening followed by a native ingredient inspired feast. Get your hands dirty at practical workshops about desert gardening, hot composting and propagating bush foods. There's even a bush food marketplace so you can stock up on goodies for your culinary adventures back home. And, if you think you're onto a great recipe, enter the bush food recipe competition.
However you choose to get involved, Bush Foods Festival offers a rare chance to learn about the connection between land, culture, care and sustainability, from the Country's caretakers of more than 60,000 plus years.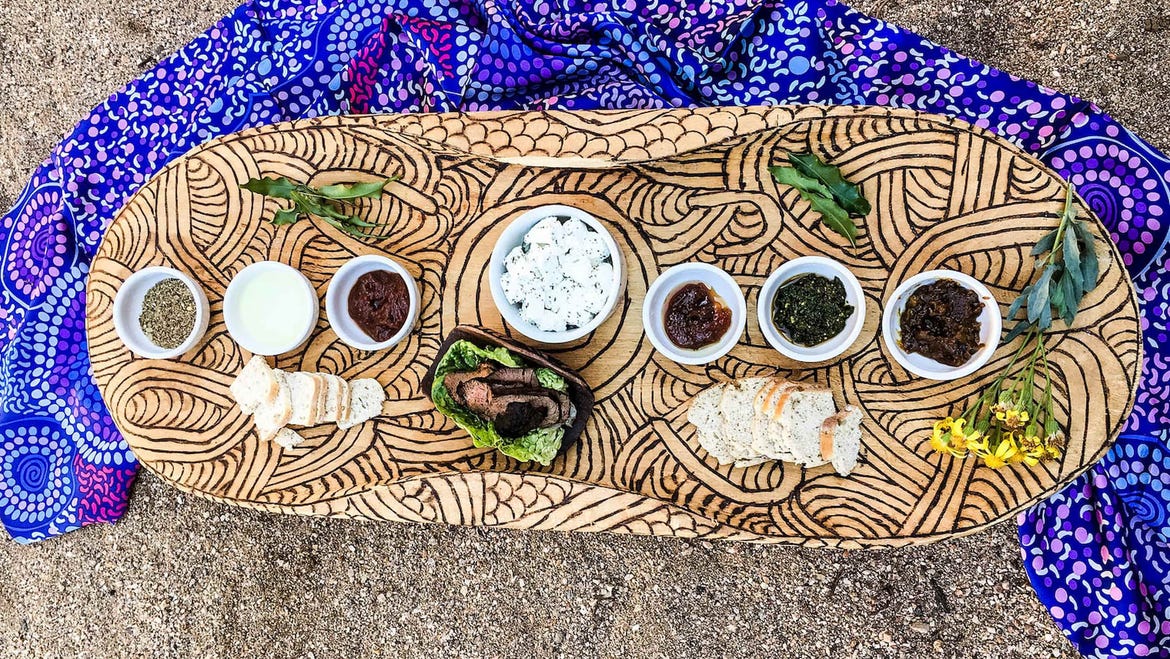 If you're seeking to experience more in the Red Centre, check out the full NT calendar of events to start planning your trip.