The best Aboriginal cultural festivals & events in the Top End
The Top End is known for adventure: lush waterfalls, dramatic gorges, iconic wildlife and wetlands brimming with birds. But this vast landscape isn't just full of natural marvels; it's connected to an ancient culture that's been passed down through countless generations.
The experiences on Country and the vibrant forms of artistic expression are endlessly evolving in the NT, combining the old and new in unique and often unexpected ways. There are so many different cultural events to engage with while learning more about the diverse Aboriginal cultures throughout the Top End.
Here's a list of Top End cultural events that allow you to connect more deeply during your visit to the NT.
Taste of Kakadu
Imagine sampling sumptuous cuisine, 65,000 years in the making, while taking in some of Australia's most spectacular scenery. That's exactly what Taste of Kakadu Festival offers – the opportunity to tantalise your taste buds with bush food in a World Heritage-listed national park. Kick back on a sunset cruise while enjoying native ingredient-inspired canapés and learn about ancient cooking techniques and their cultural significance. This immersive foodie experience is unlike anything else.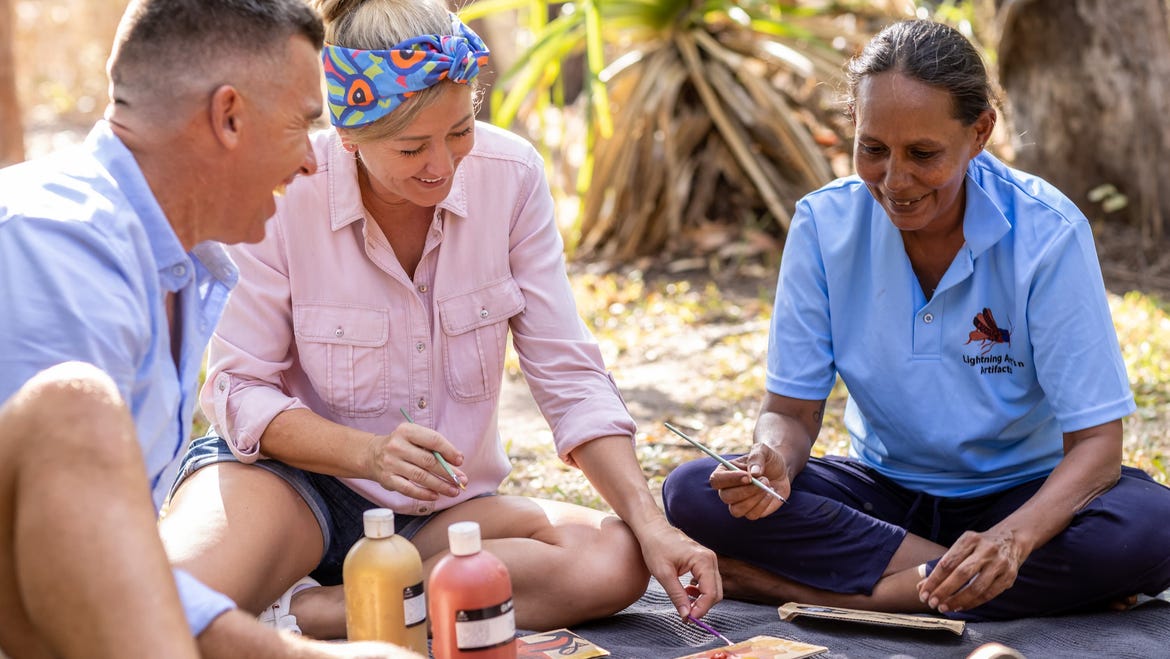 Barunga Festival
A unique blend of arts, sports and cultural events, the iconic Barunga Festival held annually each June showcases the cultural life of the Barunga community in the Katherine region. Boasting an impressive line-up of musicians and plenty of fun activities for the kids, Barunga emphasises cultural exchange and collaboration. Learn basket weaving or bush medicine, peruse stunning artworks from remote art centres, enjoy traditional dance and yidaki performances, and be wowed by the sporting prowess on display.
Barunga's setting is perfect for exploring the magnificent natural beauty of the region. Stop in at Leliyn (Edith Falls) in the world-famous Nitmiluk National Park for a refreshing dip in a pandanus-fringed waterhole, or wander up to the sparkling top pools set amongst ancient, chiselled rocks. While away the day soaking in the warm waters of Katherine Hot Springs or venture further into Elsey National Park where the turquoise pools of Mataranka Hot Springs and Bitter Springs entice you for a cheeky dip!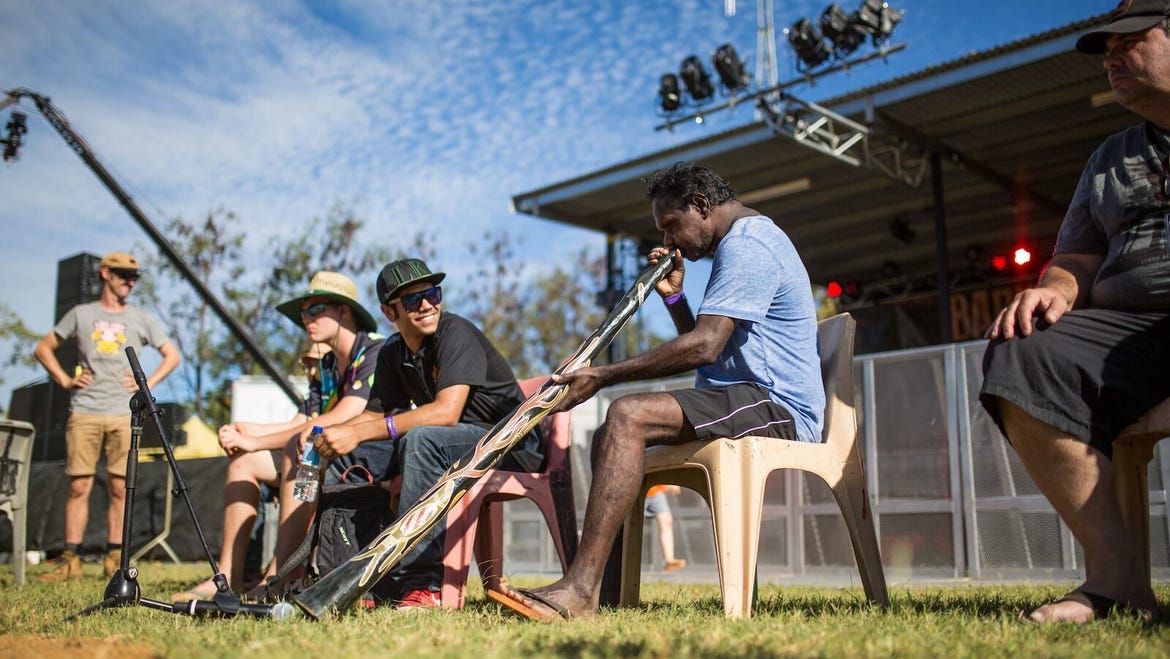 Darwin Aboriginal Art Fair (DAAF)
Wander at your leisure and treat your peepers to glorious original artworks from over 70 remote Aboriginal and Torres Strait Islander art centres from across Australia at the Darwin Aboriginal Art Fair (DAAF). Held annually in August at Darwin Convention Centre on Larrakia Country, you'll find contemporary fine art by more than 2,000 First Nations artists available to peruse and purchase.
The unforgettable experiences don't stop there. With a vibrant public program of artist talks, workshops, cultural performances and kids' activities alongside the cornucopia of beautiful art, DAAF is more than a bustling marketplace. Immerse yourself in Aboriginal culture, have a yarn with the local artists and delve deeper into the stories behind their work.
If that wasn't enough, Darwin Aboriginal Art Fair Foundation's Indigenous Fashion Project hosts two exciting fashion events concurrently with DAAF – the prestigious National Indigenous Fashion Awards (NIFA) and Country to Couture. Be dazzled by brilliant designs and unique collaborations between Aboriginal artists and high-end fashion at Country to Couture. Discover the hottest new trends from the oldest living culture on Earth at the National Indigenous Fashion Awards.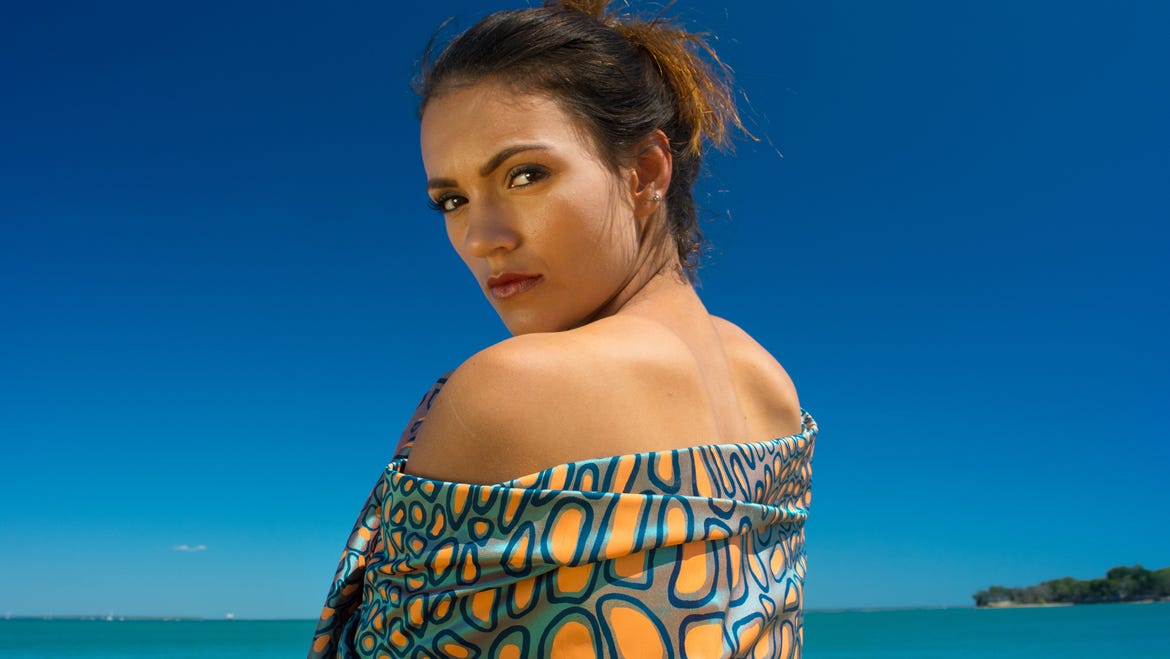 Garma Festival
The nation's premier Aboriginal cultural event, Garma Festival of Traditional Cultures, is an unforgettable celebration of the richness of Yolŋu life – held annually in July. Hosted by the Yothu Yindi Foundation, Garma brings the Yolŋu clans of Arnhem Land together to a significant ceremonial site, where freshwater and saltwater meet, to offer an opportunity for cultural exchange. In fact, the word garma is a Yolŋu word meaning 'two-way learning process'.
It's an apt name for this unique event where there's so much to see, learn and do. Be spellbound by performances from some of the country's finest First Nations musicians, gain insights through a range of engaging workshops and listen to significant discussions on the big issues of the day at the Key Forum policy conference.
Whatever you do, don't miss meandering through the stunning outdoor Gapan Gallery at night, lit by the stars, or the nightly bunggul ­– a ceremonial dance performed at sunset that's sure to take your breath away.
National Indigenous Music Awards
One of Australia's most significant music events, the National Indigenous Music Awards (NIMAs) is a must-do event on the dry season calendar, a star-studded celebration of the richness of the First Nations musical landscape held each year in August.
Kick back on a picnic rug or dance the night away beneath the stars as a line-up of some of the biggest names in First Nations music entertain you. With performances suited to just about every taste – from the likes of Saltwater Band to Jessica Mauboy – the NIMAs are a one-of-a-kind cultural experience in the atmospheric Darwin Botanic Gardens amphitheatre.
The Telstra National Aboriginal and Torres Strait Islander Art Awards
The Telstra National Aboriginal and Torres Strait Islander Art Awards (NATSIAA) exhibition is Australia's richest art awards, also Australia's longest-running, most prestigious First Nations art awards.
Each year, from August to January, the Museum and Art Gallery of the Northern Territory exhibits the work of talented finalists, showcasing the breadth and diversity of contemporary Aboriginal and Torres Strait Islander art. From intricately woven artworks made from traditional materials to vast canvases that capture the contours and colours of Country, the NATSIAAs offer an extraordinary chance to witness the calibre of talent from across Aboriginal cultures.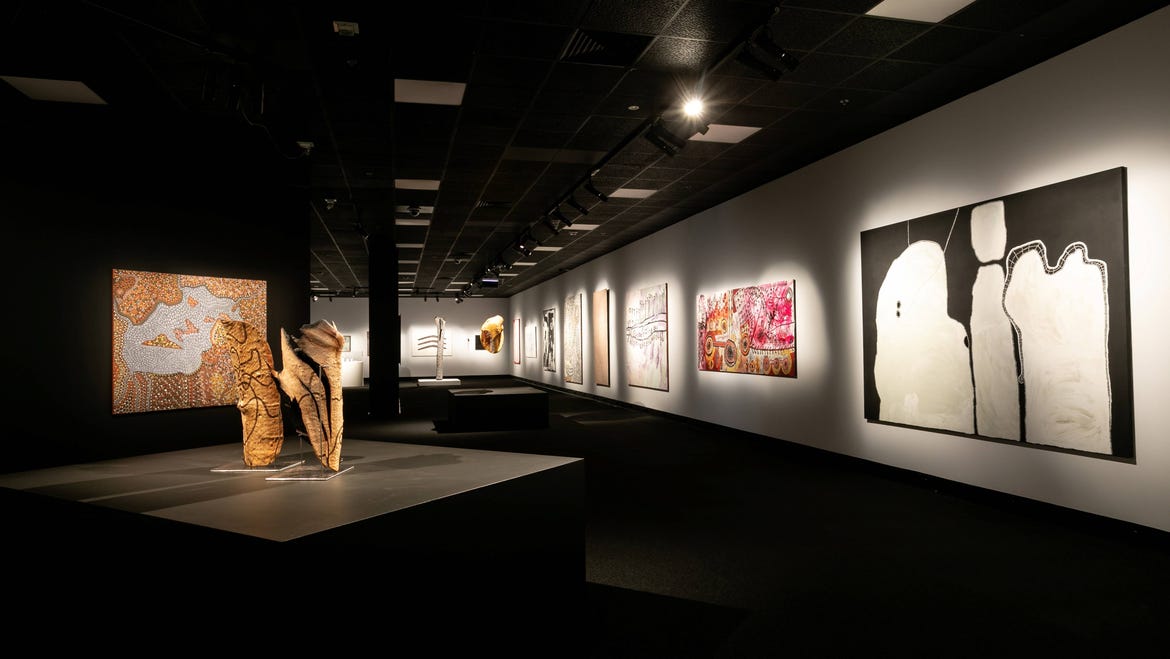 East Arnhem Live
To experience something truly different, sometimes you have to leave the beaten track behind and journey along brilliant red roads to a place like Arnhem Land. A vast expanse of untouched wilderness, bound by rugged coastline and the Arafura Sea, Arnhem Land boasts breathtaking scenery and is rich in Aboriginal cultural experiences. It's also where you'll find the Top End's freshest First Nations music festival, East Arnhem Live.
Featuring the hottest Yolŋu bands influenced by everything from reggae to rock, as well as special guests from around the country, East Arnhem Live is perfect for music-lovers with a sense of adventure. Held near the township of Nhulunbuy in October, the festival is perfectly located for you to explore the spectacular scenery, fabulous fishing and unique Aboriginal art centres of the region.
This is just a taste of what's on offer. Discover more ideas on how to experience Aboriginal culture in the Top End and start planning your trip with the full calendar of NT events.