Takeaway but not as you know it – 10 grab and go ideas in Darwin
Pubs, restaurants and cafés deserve a gold star for the way they've been able to roll with the punches. And while we can't dine out at the moment, dining in is proving to be a fun challenge, accepted by foodie fans and food businesses alike.
Here are some hot tips on where to pick-up a great feed. Or get it delivered.
1. Darwin Waterfront & Stokes Hill Wharf
There's no denying an evening at the Darwin Waterfront is an evening well spent, wining and dining and kicking back in the tropical scenery. If you're looking to bring a taste of the Waterfront into your home, try out the new GRAB & GO drive-through system, where takeaway orders from all 15 Waterfront food haunts are hand delivered to your car window. Nice.
Enjoy traditional pub fare with an Irish twist from Fiddlers Green, southeast Asian delights including spicy pho from CHOW, spiced salt and pepper NT crocodile from Snapper Rocks, Mexican tacos and margaritas from Hot Tamale, eggs benny and hot coffee from The Coffee Club, fresh-shucked oysters from Oyster Bar and pre-cooked Italian dishes and wine – yes, wine – from Il Lido.
The folks over at Stokes Hill Wharf are also coming to the party. Enjoy grilled, battered or crumbed seafood from Kim's Fish n Chips, Thai delights including curries, soups and entrees from Siam Thai, Tandoor treats, curries and seafood from Incredible India, and seafood, chicken and steak from Fusion on the Wharf.
No matter what culinary delights you're in the mood for, Darwin Waterfront and Stokes Hill Wharf eateries have you covered.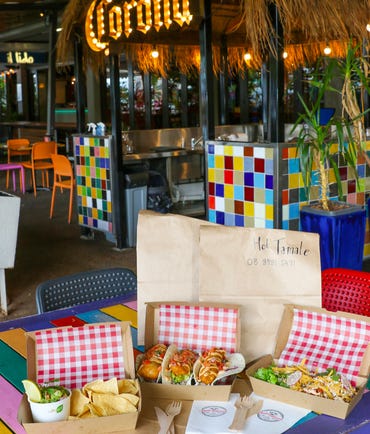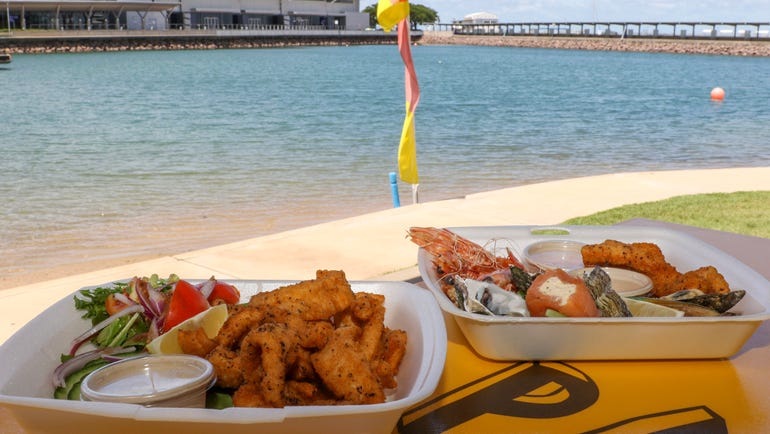 2. Cocktail delivery
If there's one thing a bunch of us are missing at the moment, it's going to the bar for a cold beverage. But what if we told you the bar could come to you? That's exactly what Dom's Bar & Lounge, Lazy Susan's Eating House and The Baravan are offering.
From 6-9pm on Thursdays to Sundays, Dom's helpful bar team is on hand to mix you some heady concoctions in your very own driveway. Enjoy a range of different options from negronis to Persian martinis, accompanied by half a dozen fresh steamed dumplings on the side. Yes please.
Lazy Susan's is also hitting the road to mix up fresh cocktails with their portable bar and bartender. Order any main meal, such as a delicious curry or stir-fry, and you can enjoy up to two cocktails per meal, including favourites like espresso martinis and mojitos.
If you'd prefer to mix your drinks yourself, The Baravan's cocktails gift bags have enough ingredients and garnishes to yield between 10-12 cocktails. Each week different options are available, from espresso martinis to mojitos. There's never been a better time to take a tipple!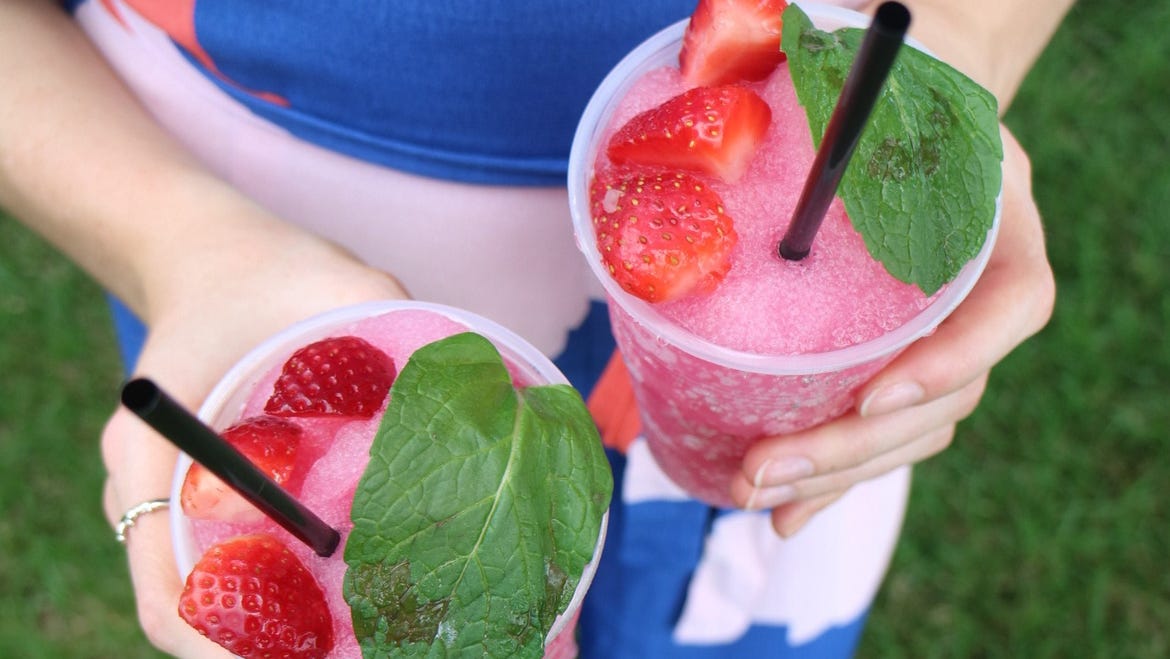 3. Baked goodies
Hot crusty bread. Flaky croissants. Fresh cakes. These are just some of the baked goodies you can score at local bakeries.
Alfonsino's offers a range of Italian-inspired delights – their toasted cornettos with ham and cheese are to die for. You can also find sugared donuts, sweet pastries, handcrafted pasta and hot pizza on the menu. Ruby G's Café and Canteen continues to offer sweet treats, catering to a range of dietary requirements. Their white chocolate and cranberry gluten free biscuits look delicious (and definitely warrant a taste test, just to be sure!) and their hot vegan pies continue to sell out.
Ray's Patisserie and Café has some sweet and savoury bites to tantalise those taste buds, including pies, pastries, sandwiches and coffee, and The Trader Winnellie Road offers a wide selection of fresh-baked cakes, biscuits, rolls and wraps. This isn't pie in the sky stuff – this is pie in your belly stuff.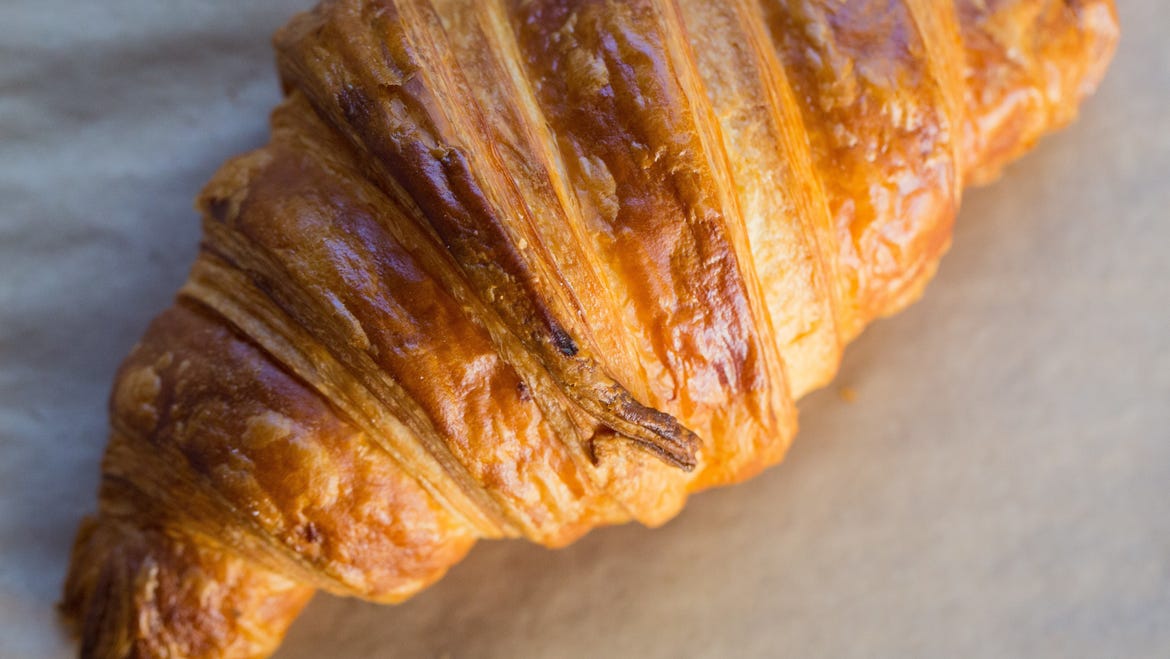 4. Food trucks
We're spoilt for choice when it comes to mobile food trucks, serving up fresh feeds in some of the most picturesque locations in town.
Nightcliff Jetty and Foreshore continues to be a favourite, with hot tots from The Potato Man and fresh-brewed coffee from Jay's Coffee Bar. On Wednesdays, Fridays and Saturdays, authentic Italian pizza is served from one of Darwin's most impressive pizza ovens, courtesy of Cucina sotto le stelle. After a short break and a decadent home delivery service, you'll find Needle in a Haystack back by the jetty serving up divine dishes, where local produce takes centre stage. If their roast chicken with potatoes, fennel, salsa verde and burnt butter yoghurt is anything to go by, you're in for a treat.
East Point also is also a popular hot spot, with Rescue Me Food Services dishing up hot fish and chips from Thursdays to Saturdays – the perfect seaside feast. Keen to discover more? Check out this map for more mobile meals.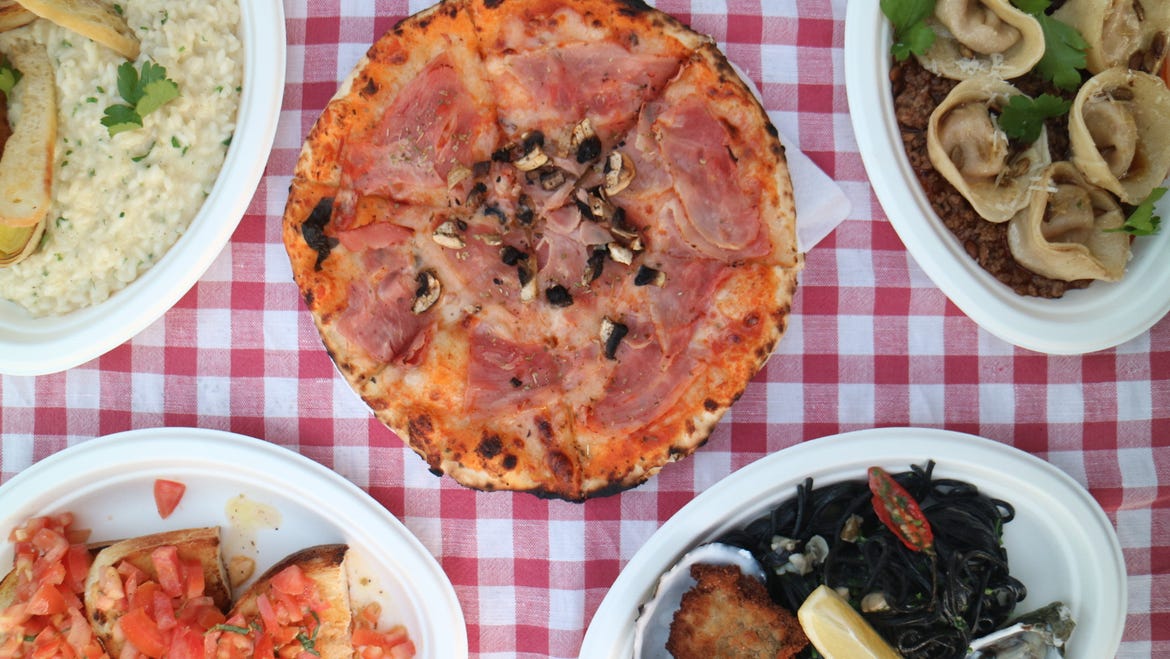 5. Southeast Asian
Jimmy Shu's much-loved restaurant, Hanuman, continues to offer a unique fusion of South East Asian cuisines for take away. Check out their lunch and dinner specials, including the Nasi Kuning – described as the distant cousin of Nasi Lemak, served with a fried drumstick, sambal and turmeric rice.
More favourites include sister venues Nirvana Restaurant and Lazy Susan's Eating House, offering Thai and Malay food with some inspo from their surrounding neighbours of India, Lao, Cambodia and Vietnam. But they've got something extra special in store for Darwin diners… cue the Dinner and show package! If you live within the 'Berrimah Line', get the works delivered to your place with your choice of two banquets, cold bevs, and half an hour of live music from a local muso. How good to be able to support local creatives as you feast?
6. Pizza
A takeaway favourite since millennia, pizza is a popular eat at home choice. Lucky Bat Café & Pizzeria continues to pump out the goods, offering hot pizzas for pick-up and delivery with the option to add a bottle of wine, a few beers or a cocktail on the side – hot tip, the Tom Yum Rum is delish.
Hungry Joes Pizza & Ribs in Palmerston boasts an impressive range of hot tucker, with 20 pizza variations, slow-cooked ribs, fried chicken and a swag of sides. Frankies Pizza Joint is dishing up pizza, house made pasta and antipasti with the quality and style they've gained a reputation for – take advantage of their special online deals. And One Mile Brewing Company gives you the chance to pick up a six pack or two of locally-brewed beer with your pizza. Ah, pizza and beer. #couplegoals.
7. Coffee
Can't function without your caffeine hit? You don't have to! Cafés all around town are giving you the option to call ahead to pick up your cuppa with minimal time out and about. Get your caffeine fix from The Trader Bar, Eva's Botanic Gardens Café, The Rabbit Hole, Roma Bar, Sweet Brew and Co., The Foreshore Restaurant & Café, Café Central, Fresh Point Co. Café and Cannons Kitchen.
Major shopping centres are on hand to serve you too. Gateway Shopping Centre and Coolalinga Central continue to offer a range of cafés and bakeries to grab a fresh brew, and Casuarina Square allows you to order ahead, with a dedicated, stay-in-your-car pick-up point.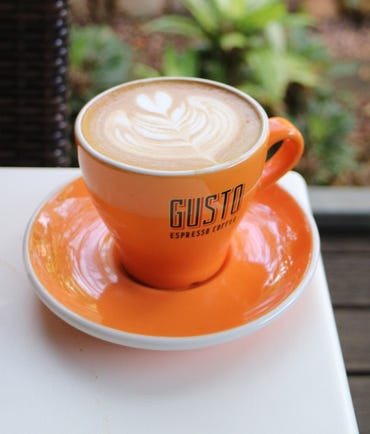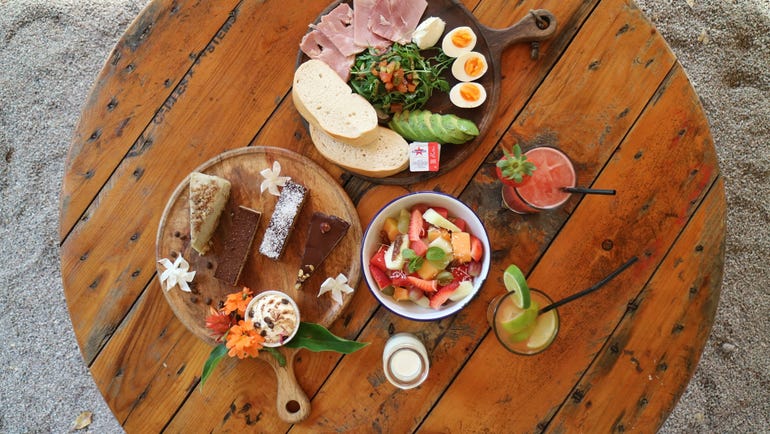 8. Pub grub
Many of Darwin's favourite pubs are still offering hot meals for takeaway, many utilising their drive-through bottle shops as a collection point.
The Cav continues to offer nightly specials, their popular Taco Tuesdays remaining a hit with regulars. The Beachfront Hotel's kitchen – Smokey J's Brew and Cue – offers a wide range of pub fare including slow-cooked burger, hot chips and pickles. And Good Times Bar & Grill have you sorted with a diverse range of meals, from parmies to laksas – if you haven't tried it yet, their pho is famous for good reason.
Rural areas can enjoy takeaway services from their favourite pubs, including the Humpty Doo, Howard Springs, Berry Springs and Darwin River taverns.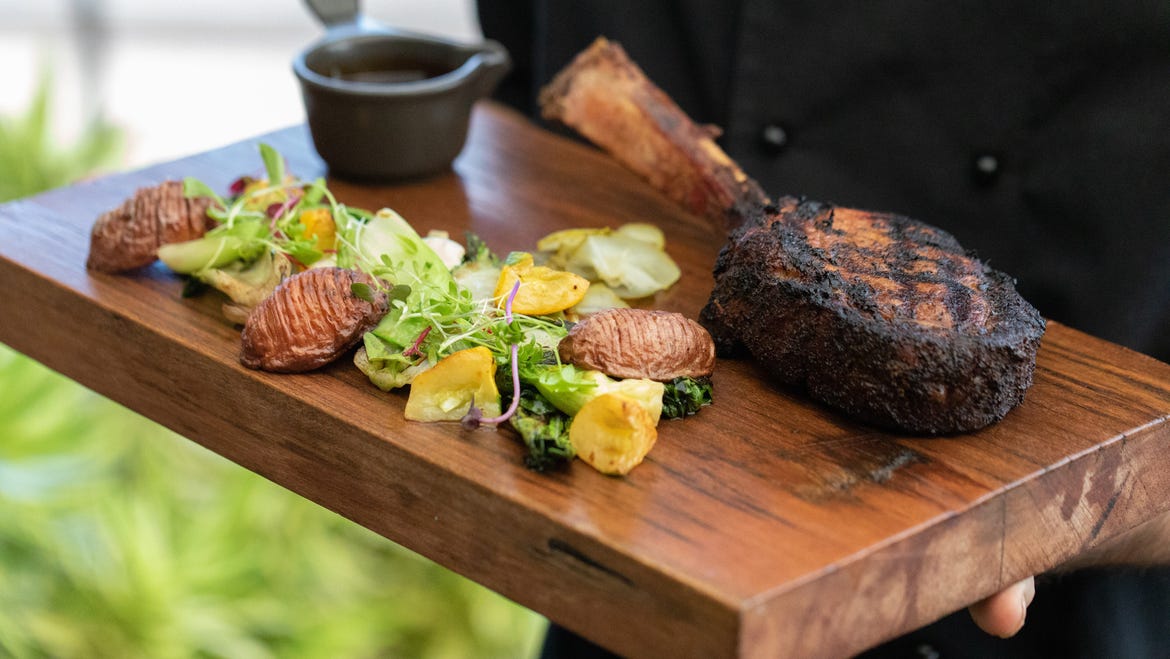 9. Eat-at-home meals
We're spoilt for choices when it comes to heat and eat meals at home, with many local businesses offering meals requiring little to no preparation before serving. Pony + Sid's delectable take home menu includes meals like beef and red wine pie, Thai green chicken curry and eggplant parmigiana – why not throw in a couple of choc brownies for dessert?
Health fan favourite Eat at Martin's is back offering vegan and vegetarian meals in five or 10 packs, their dishes include Bali curry, vegan salad and quiche. And if you're keen to boost your immunity and stay fit and healthy, The Shredded Chef continues to offer balanced, healthy meals with pickup available or delivery to the Darwin, Palmerston and regional areas.
10. Graze away
We all deserve a little treat every now and again, and what better way to enjoy the surroundings of your home than with a grazing platter? Hilton Darwin offers a grazing box to share with a bottle of French champers available on Fridays, Saturdays and Sundays. Hit up Mamma's Kitchen at Mindil for some decadent grazing boxes, packed to the brim with cheeses, deli meats, chargrilled vegetables, dips and crackers.
Pop your favourite tunes on, get the bubbly on ice and soak up the ambience of la casa.