In 1939, Alice Springs was a small, tight-knit community of less than a thousand people whose livelihoods depended upon supplying the outlying pastoral industry.
As part of the Army's requirement for an overland supply route to Darwin, the Australian Government allocated funds in 1939 for upgrading the Overland Telegraph track into a gravel, all-weather road from Tennant Creek all the way to Larrimah. Work was begun in September 1940 and undertaken by construction teams from Victoria, Queensland and New South Wales. The first troop carrying convoy was dispatched from Alice Springs in early 1941.
Although a state of war existed from 3 September 1939, it was not until a year later that an advanced party of military personnel arrived to prepare a camp for the Darwin Overland Maintenance Force (DOMF) in Alice Springs. The camp was set up at the foot of Anzac Hill in a tent city. Within a week the unit's 14 officers and 600 other ranks had arrived with 150, 3-tonne trucks. The East Side area around Spencer Hill became the location of the Spencer Hill Military Camps including the 121 and 119 Australian General Transport Company. Seven-Mile Aerodrome became a staging post for flights heading northward.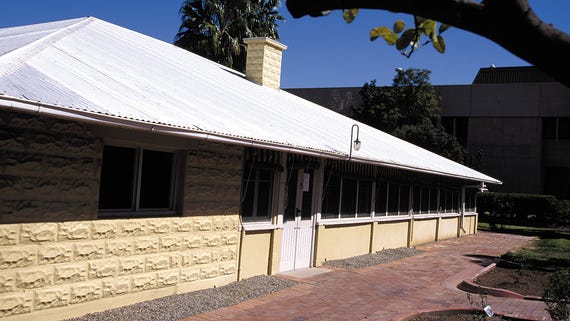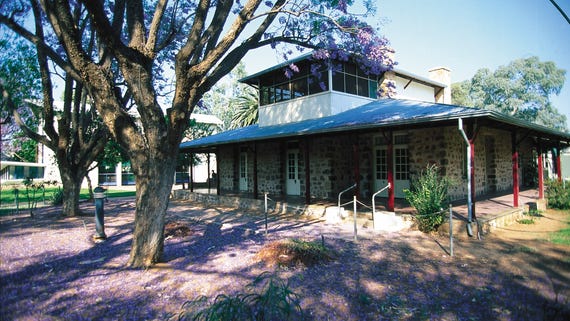 More permanent buildings soon appeared, including Sidney Williams huts, two if which were used as Regimental Aid Post and Dental Clinic. At its peak the DOMF comprised some 8,000, mostly Australian, troops and 3,000 trucks. Edgar Lather was an American journalist who travelled with the Maintenance Force in 1941.
Alice Springs became the administrative centre of the Territory and its de facto capital in March 1942 when the Territory's administrator Charles Abbott and his administration were moved from Darwin. The same year, Alan Smith found himself in Alice Springs as one of the convoy officers responsible for getting supplies through to Darwin.
The Army railhead, central troop reserve and arsenal for the North were all centered at Alice Springs. Thousands of men, staged through the town and onto Darwin to stiffen the northern defences, and later taking the fight to the enemy in occupied territory. Charles Rye was a civilian in Alice Springs in 1942 and remembers life alongside the service personnel in the town.
By mid-1942, the North-South road had begun to disintegrate under the relentless pounding of military transport columns. In 1942 work began to rebuild, and reseal the road. The sealed road was named the Stuart Highway. In a letter home a young solider from New South Wales reflected on his arrival in Alice Springs and the road he saw on his journey north.
After the war the former Sidney Williams huts were taken over by a local theatre group in 1964 under the name of the Totem Theatre, and the site of the former military camp is now Anzac Oval.
More articles you might like