A creative's guide to inspiring locations in the Red Centre
Discover through the eyes of Australian travel writer and storyteller, Michael Turtle, what it's like road tripping with other creatives, starting in Alice Springs and journeying to the iconic and awe-inspiring location of Uluru.
For thousands of years, the Red Centre has been a source of creativity, its dramatic landscape and poetic soundscape influencing arts from painting to music, modern and ancient.
So, it's no surprise that when I join five other young Australian creatives to spend a week on a road trip exploring the Red Centre Way, we find inspiration in everything we sense around us. Imagination in the sunrises; meaning in the shadows; melody in the wind.
"I'll just get inspired by the most random things, like flowers along the way or little berries I saw on the tree," artist Bobbi Lockyer says. "And it's not necessarily that I'll go and paint those berries, but I might use the colours and the feeling I felt when I saw them and put that into my art."
For this project in the Northern Territory, Bobbi will produce artworks from the journey, not just influenced by the flowers she finds in Kata Tjuṯa, but also by her own Indigenous culture. But she, like everyone in the group, will be both the creator of art and the subject of it, because travelling with us is photographer Jess Bonde, who's capturing our experiences in the dramatic natural environment.
"The way the [person] is interacting with that space gives you an idea of what you want to be shooting," Jess explains. "So, around Uluru, you could see that Bobbi was quiet and respectful, she was taking everything in at a slower pace, so then you try to capture that in the best way."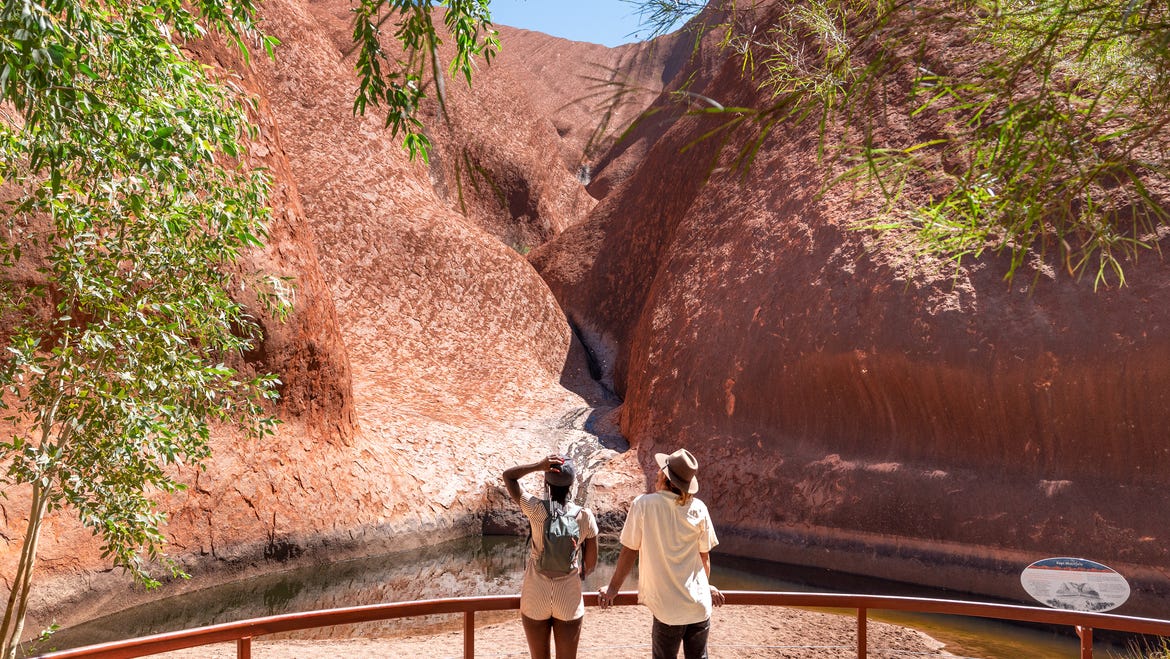 For musician AKOSIA, it's about trying to capture the magic of Central Australia in sound. She's been creating a spoken word piece as we've travelled from Alice Springs to Uluru, and on to Kings Canyon and the West MacDonnell Ranges, finding ways to tell the story of the land.
"What I've learned on this trip is how important living on the land and the love of country is for Indigenous people, and I believe it's something we need to have respect for as well, and incorporate into our daily lives," AKOSIA says. "So definitely 'sacred' and 'ancient' are words I've used in this spoken word piece."
Each of us on this journey has our own creative focus – I'm writing stories, for instance – and it's interesting to see how similar experiences sometimes produce different inspirations, and sometimes lead to the same emotions. For instance, videographer Mitch Cox has also felt how sacred things are here.
"Not many countries have such sacred landscapes, so that's been a bit tricky to capture," he tells me.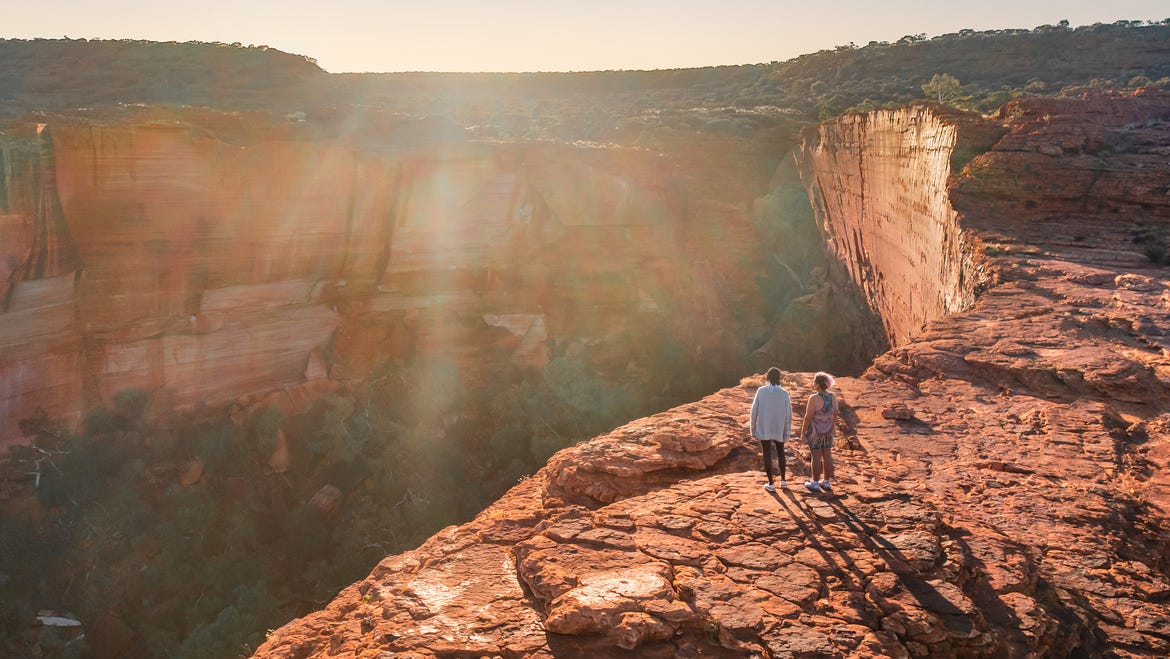 Mitch is creating several videos and one of them will feature AKOSIA's spoken word piece, which allows them to explore the idea of spirituality in different ways.
"I knew AKOSIA was going to write something, but I didn't know which direction it was going to go in. But once I heard that coming to life, I knew it was going to be much more spiritual and culturally based, and that makes the process much more creative and fluid."
Mitch is also collaborating on the videos with his partner, Shaunee Neville. From the dramatic cliffs of Kings Canyon to the waterholes of the West MacDonnell Ranges, there's plenty of imagery to capture, but there are also the cultural experiences, learning about things like dot painting, native foods, and creation stories.
"It's really rich in culture and you can feel that as soon as you get here. I didn't expect it to be as magic as it has been," Shaunee says. "But I also think the diversity in all of us who are here in the group has been so creative, and having the landscapes just enhances all of that creativity."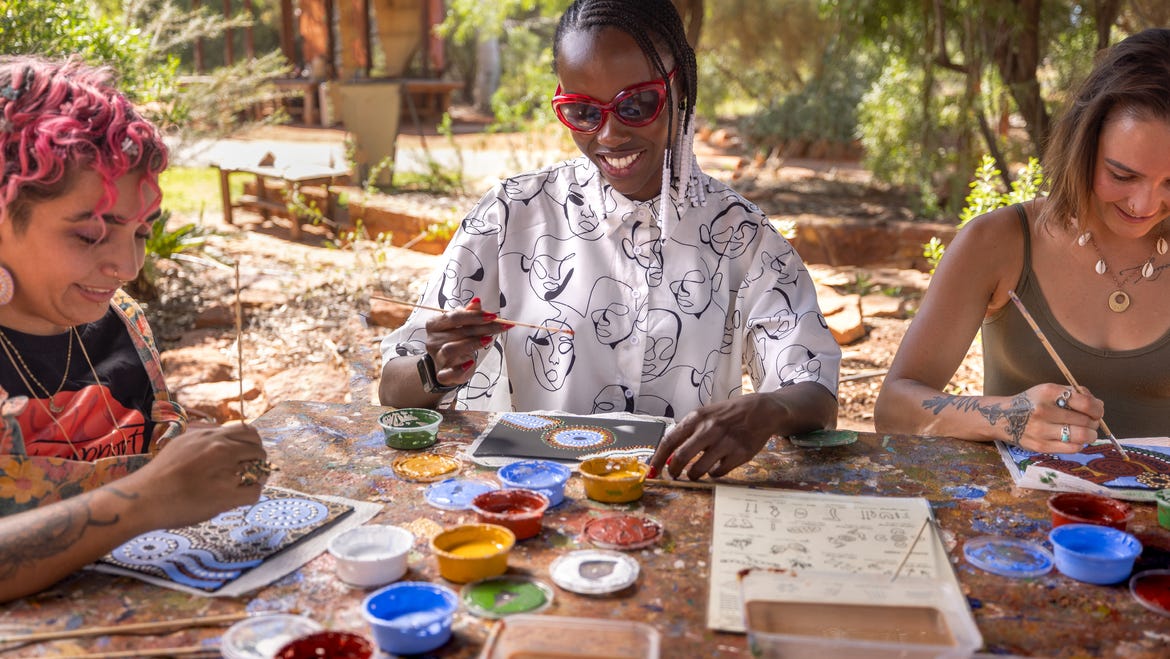 So, how do you put all of these stunning landscapes into a video that also reflects the emotional journey of a road trip on the Red Centre Way? Well, Mitch has found a way.
"Having big open spaces leaves room to think, and we've got these big skies, every sunrise we've seen massive orange and red skies," he says. "So, capturing images with a lot of empty space gives the viewers some thinking room, rather than overcomplicating the scene, and I think that helps capture the magic a bit more."
Jess is taking a similar approach with his photography here, using what nature offers to set the tone of his images.
"I'm a big fan of minimalism in my shots and I think the cool thing about this location is there's basically three colours in this landscape, which are orange, green, and blue for the sky. So, with the models you can actually isolate one of those aspects of the landscape – for instance, having AKOSIA in a white outfit up against the orange rock."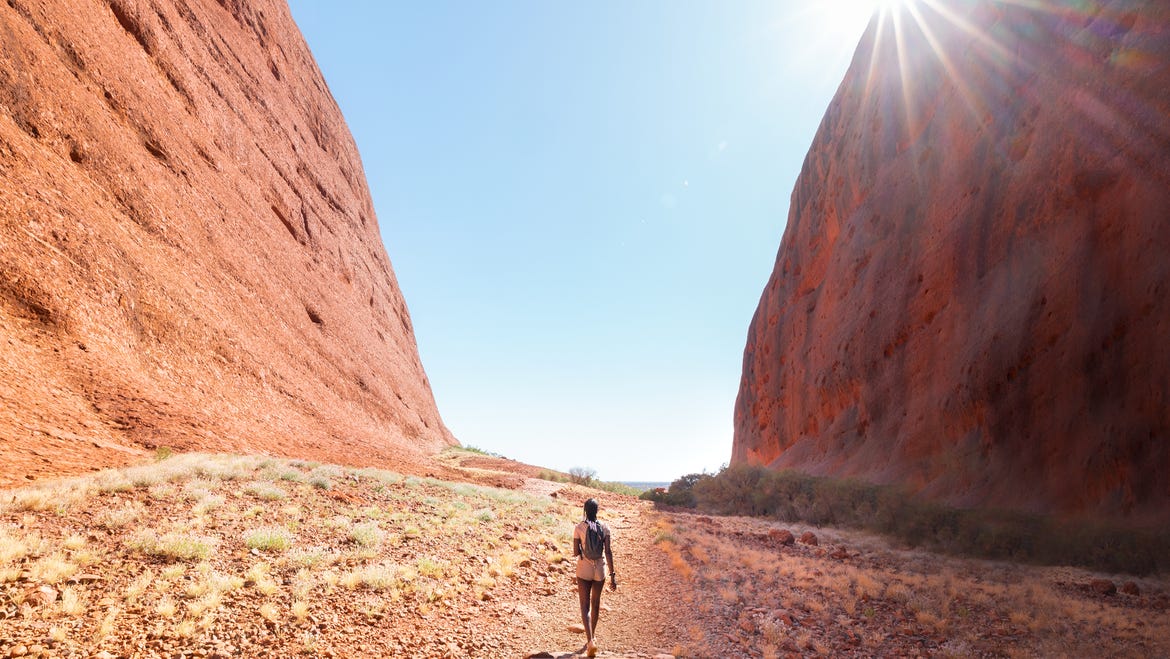 And while Jess is looking, AKOSIA is listening. It's something she often does to find inspiration for her songs, and she's doing the same thing here amongst the ancient landscapes of the NT.
"I practice this thing that I call 'open listening' when I'm preparing to create a piece, and that's listening to the sounds around me, to how my body feels, but also things that people say around me. For example, when we were on the helicopter ride around Uluru, the pilot said 'the shadow of the earth' and I included that in my piece."
When inspiration strikes, you need to be ready, and Bobbi found herself creating an artwork about Uluru as we were driving one morning, the memories still fresh of the chopper flight the day before.
"That helicopter ride just blew my mind! Seeing the sunset colours, the rock glowing, and the landscape with the ridges, I wanted to capture that feeling," she tells me.
But when I look over at what she's drawing, I notice the sky is pink and she's putting dot patterns across the image.
"I wanted to paint it how I saw it, and I saw it full and vibrant," she explains. "When I looked back at some of the photos I took, they weren't as I painted it, because that's how the camera sees it, but I see it in a whole different level."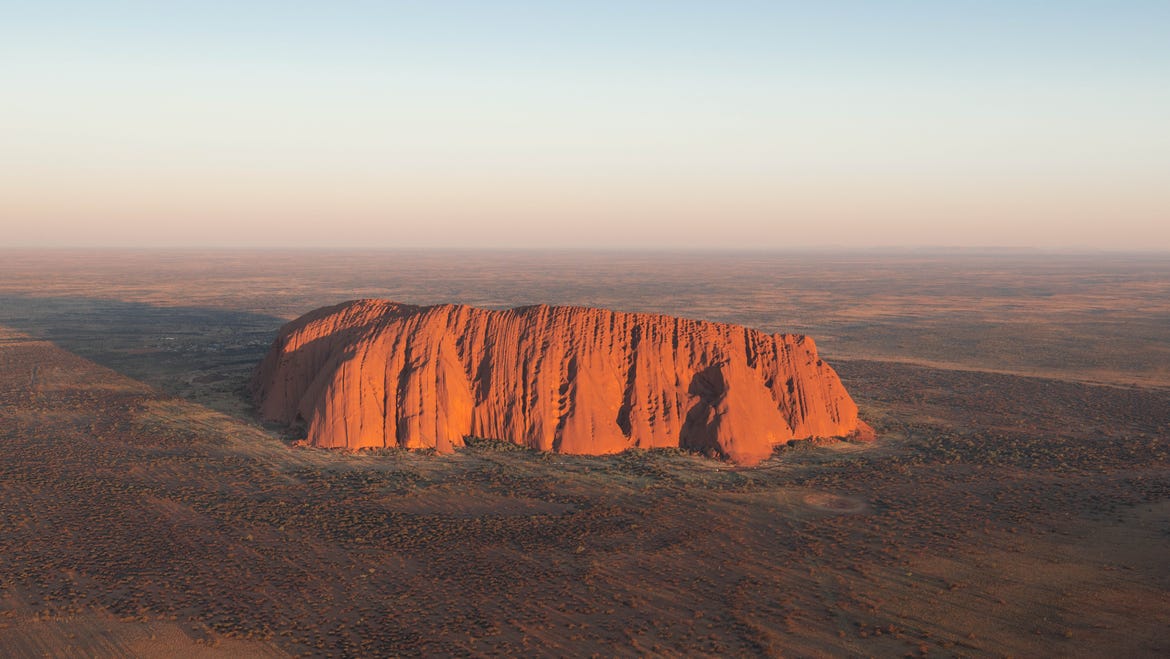 For each of us, in our own way, that rings true. We're visiting the same locations, meeting the same people, and touching the same country… but we see the textures of each landscape in a different way, hear our own personal interpretation in the stories, and feel a unique energy from the country that's meant just for us.
This is how the Red Centre inspires us, just as it inspires everyone who visits the spiritual heart of Australia. It's no wonder creating our works from this journey feels so natural.
Photography: Jess Bonde