Crocodiles
in the Northern Territory
If you've ever wanted to see a crocodile in the wild, the NT is the best place in the world to do it.
The impressive Nitmiluk National Park and World Heritage-listed Kakadu National Park provided backdrops for filming Rogue and Crocodile Dundee. You can experience these beautiful locations without concern aboard a guided tour, or in Nitmiluk hire a canoe and go at your own pace.
The NT is home to the world's largest wild crocodile population, with more than 100,000 of the predators in the wild. There are plenty of opportunities to learn more about these amazing creatures during your visit.
From crocodile parks and river cruises to adrenalin-fuelled swimming experiences, the Northern Territory can get you face-to-face as safely possible, with our oldest and most fierce inhabitants.
Given their reputation for being grumpy and dangerous, we recommend you don't attempt to find a crocodile in the wild yourself. Take a guided cruise and capture some happy snaps instead.
Saltwater vs. freshwater crocodiles
There are two distinct species of croc native to the Northern Territory. The smaller of the two, the freshwater crocodile or 'freshie' is generally less aggressive, rarely grows larger than 3 metres (10 feet), and mostly eats fish and birds. They're not usually known for attacking humans but can give a bite if they're provoked.
The more common and more dangerous species is the saltwater crocodile. These 'salties' reside along the coastline and waterways of the Territory. They have a taste for fish, but will eat just about anything including cows and buffaloes, wild boar, turtles, birds and crabs. They can grow up to 6m long (20 feet) and weigh up to 1 tonne.
While you don't want to get close enough to see, freshwater crocs have smaller, thinner heads and jaws, with teeth that are almost the same size. Their saltwater cousins have large, broad heads, uneven jaws and very prominent teeth.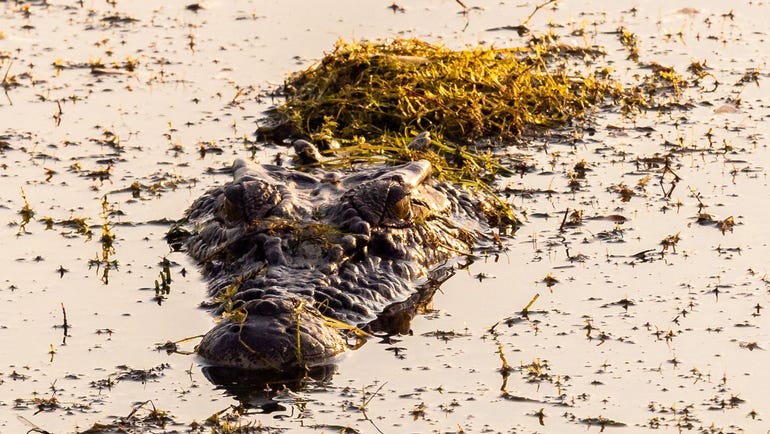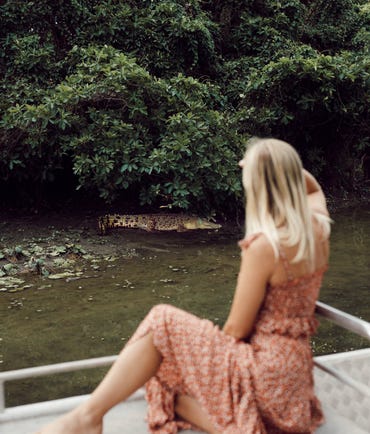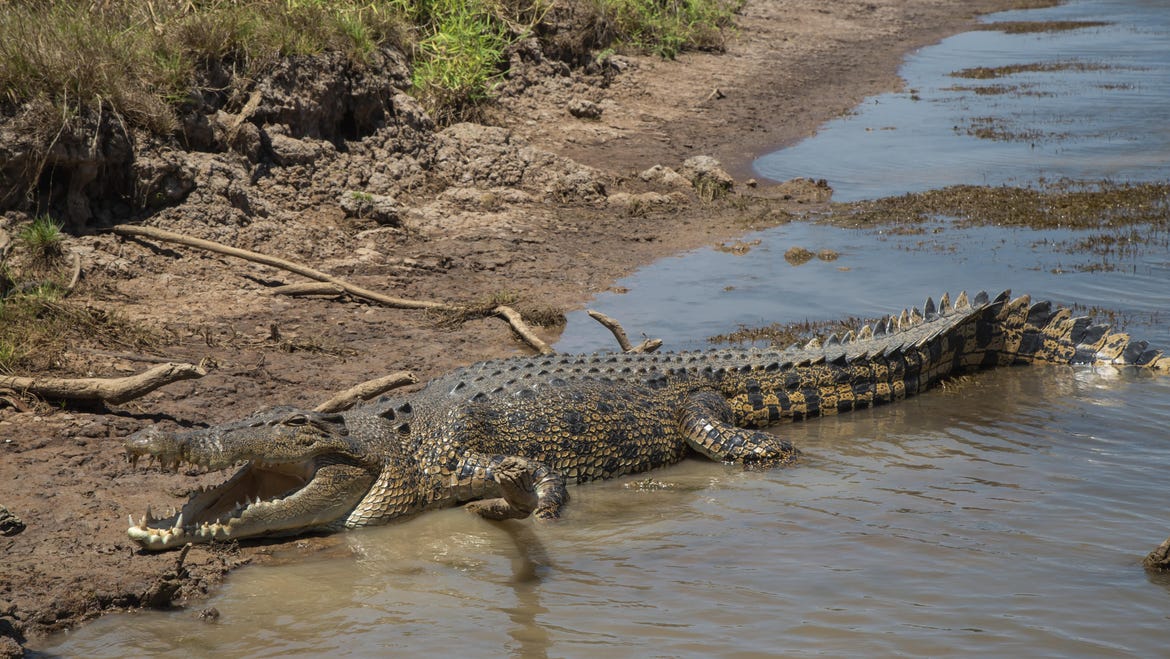 Crocodiles in Aboriginal culture
Crocodiles play a very important part in Aboriginal culture. It's believed that crocodiles represent the spirit of important people and signify strength and skill.
The Crocodile Dreaming story that originates in the Daly River region is one of power and jealousy. A legendary fisherman was believed to have been killed by jealous men when their wives became too admiring of his prowess. The fisherman was rolled in a net and left to hang over the waterway. The net marks in his skin became the scale pattern of the crocodile, and the fisherman now prowls the shoreline awaiting his revenge.
This is just one of many Dreamtime stories about crocodiles that are still told today.
History of crocodiles in the Territory
While crocodiles may be the oldest residents of the NT, it hasn't all been smooth sailing for the carnivores. From the end of WWII until the early 70's, crocodiles were hunted for their leather hides to the point of near extinction.
Since then, unregulated hunting has ceased, and a world-renowned conservation effort has ensured that over half of the Australian crocodile population are now found in the NT.
With a sustainable and protected population, crocodile conservation is a priority across the NT and numbers have recovered almost completely in the past four decades.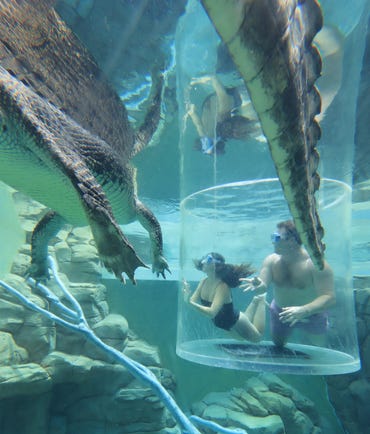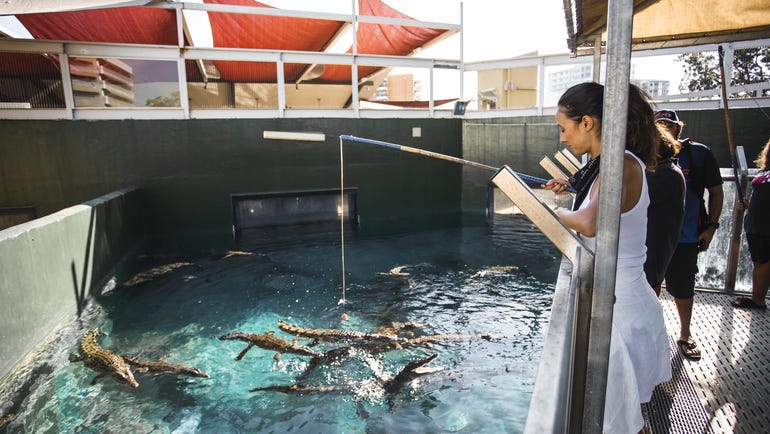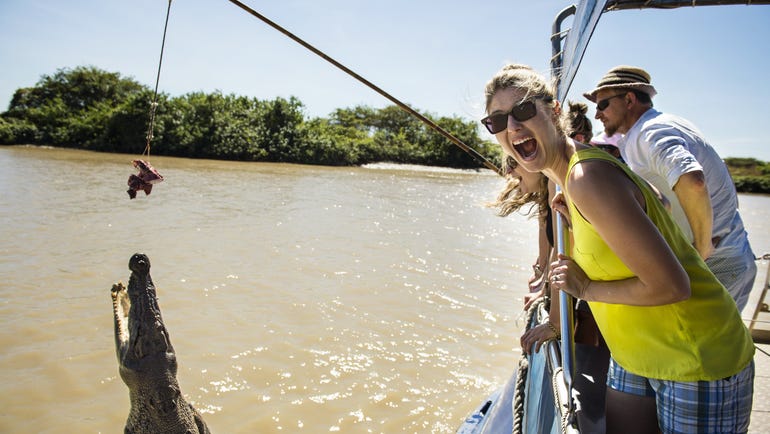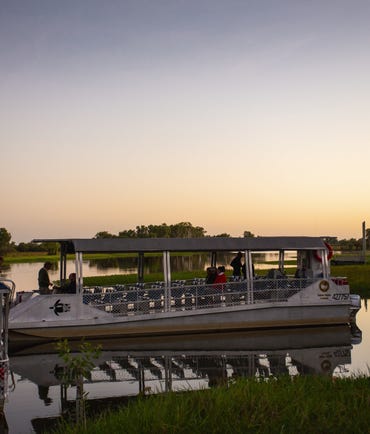 A crocodile souvenir to keep
Crocodile leather is some of the toughest and most luxurious in existence, making it highly coveted for clothing and leatherwear. Many top European fashion brands source NT leather for their premium, designer products. At local suppliers in the NT, these fine leather goods can be picked up at a fraction of the price.
The best part about shopping in the Top End: all NT crocodile leather is farmed sustainably, with the future of the industry and the crocodile population in mind. With so many crocodile souvenirs and gifts on offer in the NT, we're sure you'll find something to take home.
Crocodile safety
Even though 'saltwater' crocodiles are the most dangerous, visitors should be aware that they can be found over 200km from the coast in fresh water. Crocodiles can also travel up to a kilometre on land, remain concealed for long periods inland, stay submerged without moving during a hunt, and run incredibly fast. Just because you can't see them, it doesn't mean they're not there. Observe the signs and stay safe.
Don't attempt to feed any wild crocodiles during your stay, and don't swim in any waterway or camp, fish or walk in any area where crocodile hazard signs are posted. The best way to avoid getting hurt is to avoid crocodiles in the wild altogether. Check the Be Crocwise website for more information.
Crocodile experiences in the NT