​Top 10 things to do in Kakadu
Kakadu National Park – Australia's largest – is a global treasure and dual World Heritage-listed for both its environmental and cultural values.
Three hours' drive from Darwin, Kakadu offers many experiences: bush walking, bird watching, cruising and swimming under waterfalls to four-wheel driving, camping, scenic flights and wandering through galleries of Aboriginal art 20,000 years old. Here are 10 of Kakadu's must-do activities.
1. Walk through ancient shelters at Nourlangie
Take the 1.5km circular walk through what was the wet season home for generations of Aboriginal people. Wander past the large rock shelter and lookouts to one of Australia's most outstanding Aboriginal rock art sites that shows ancient connections between the people and their land. Between May and November visit nearby Anbangbang Billabong for an amazing view back to Nourlangie.
2. Learn about Australia's best Aboriginal rock art at Ubirr
Wander around Ubirr – the other of Kakadu's stunning Aboriginal rock art sites – to see the different art styles Kakadu is famous for. See x-ray paintings that show the abundant bush food in the area, such as fish, waterfowl, mussels, wallabies, goannas, echidnas and yams. In Ubirr's main gallery, see examples of rock art representing one of the longest historical records of any group of people in the world. Walk up to the lookout for sweeping views of the surrounding floodplains - the perfect spot to watch the sunset.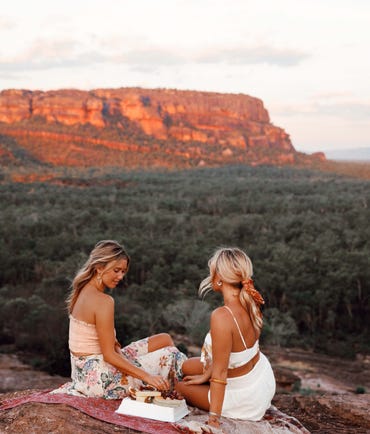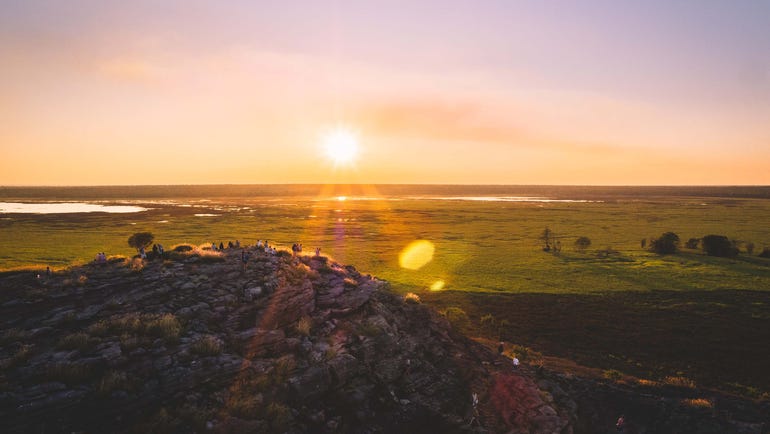 3. Cruise Yellow Water Billabong
Watch the sun rise or set on an award-winning Yellow Water Billabong cruise near Cooinda (operates year-round). Home to one-third of Australia's bird species – around 280 – Yellow Water with its bird song is a must-do in Kakadu. You'll also see crocodiles, wallabies, wild horses and buffalo that live around the lily-covered billabongs. From July to November, you can take the 1.8km return walk across the floodplains to a viewing platform on Home Billabong.
4. Trek for a swim at Motor Car Falls
This secluded waterfall is a particular favourite in the tropical summer, when Kakadu's larger falls tend to be inaccessible. Motor Car Creek is surrounded by lush monsoon forest and is a shady retreat with a single gushing waterfall. Take it easy on the 7.5 km return hike. The best time to visit Motor Car Falls is early morning.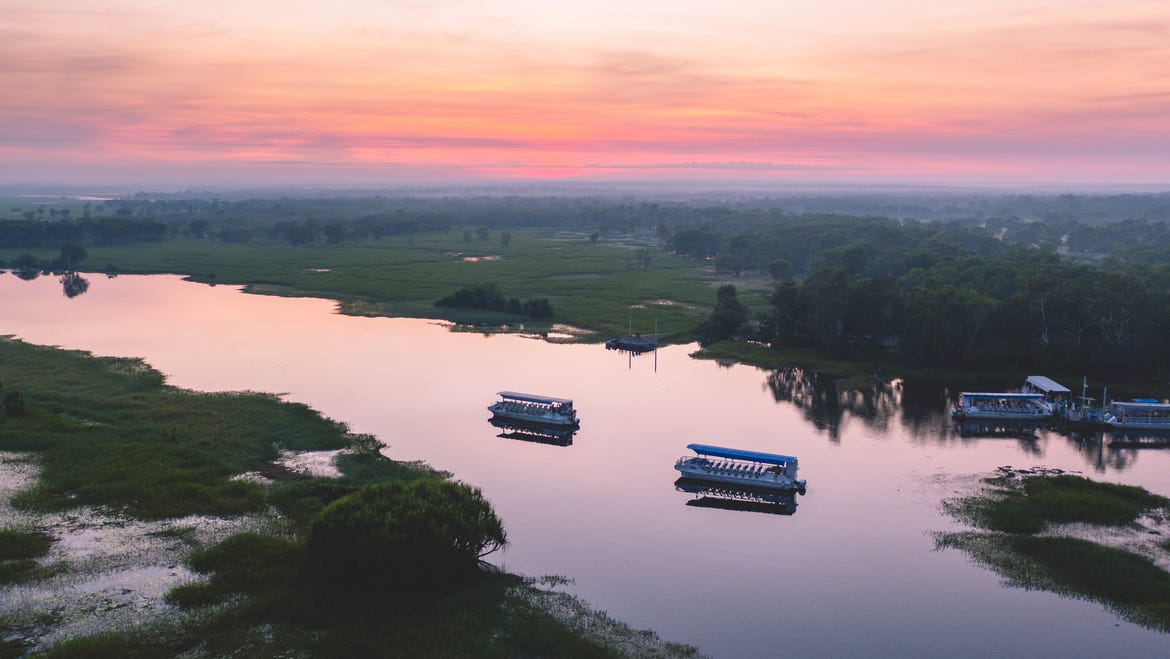 5. Take a scenic flight over the waterfalls
Kakadu's two major waterfalls are a sight to behold whether they're in full flow or reduced to a trickle during the drier months. Take a challenging four-wheel-drive tour to see Jim Jim Falls – a 200m tall waterfall – and Twin Falls up close, or take a scenic flight during the tropical summer season to see the spectacle of water thundering over the falls, flanked by a canopy of lush green foliage.
6. Four-wheel drive to Jarrangbarnmi (Koolpin Gorge)
Join a tour or jump in a high-clearance four-wheel drive to explore one of Kakadu's least-visited attractions: Jarrangbarnmi (Koolpin Gorge) in the south-east corner of the Park. You'll need to be fit for the walk in, but the reward is idyllic waterholes and waterfalls flanked by sandy beaches you might have all to yourself. Organise your permit early—only a small number of people are allowed in at any one time. Click here for more. Always check road access by contacting the Bowali Visitor Centre or visit www.kakadu.com.au/access
7. Jump into clear plunge pools at Maguk
Walk through monsoon rainforest and slip into the crystal-clear rock pools at Maguk (also called Barramundi Gorge), a secluded natural swimming hole in Kakadu's stone country in the southern end of the Park. Enjoy a back massage under the falls then hike to the top of the waterfall to its rocky platforms and another clear, deep plunge pool flanked by tall cliffs. Spend the night in Maguk's bush campsite. Four-wheel-drive vehicle is required.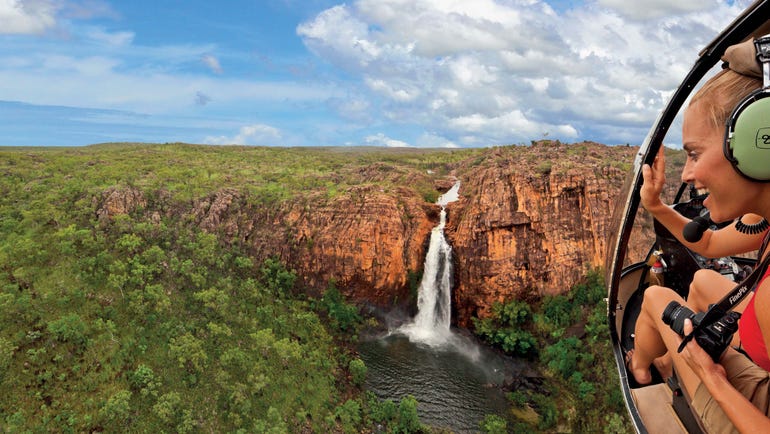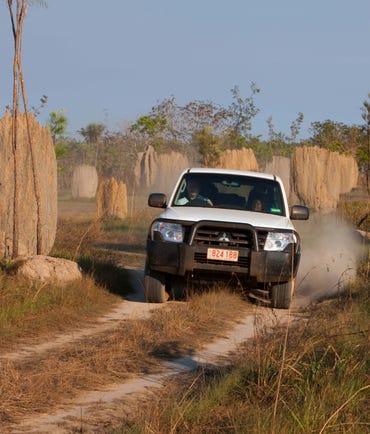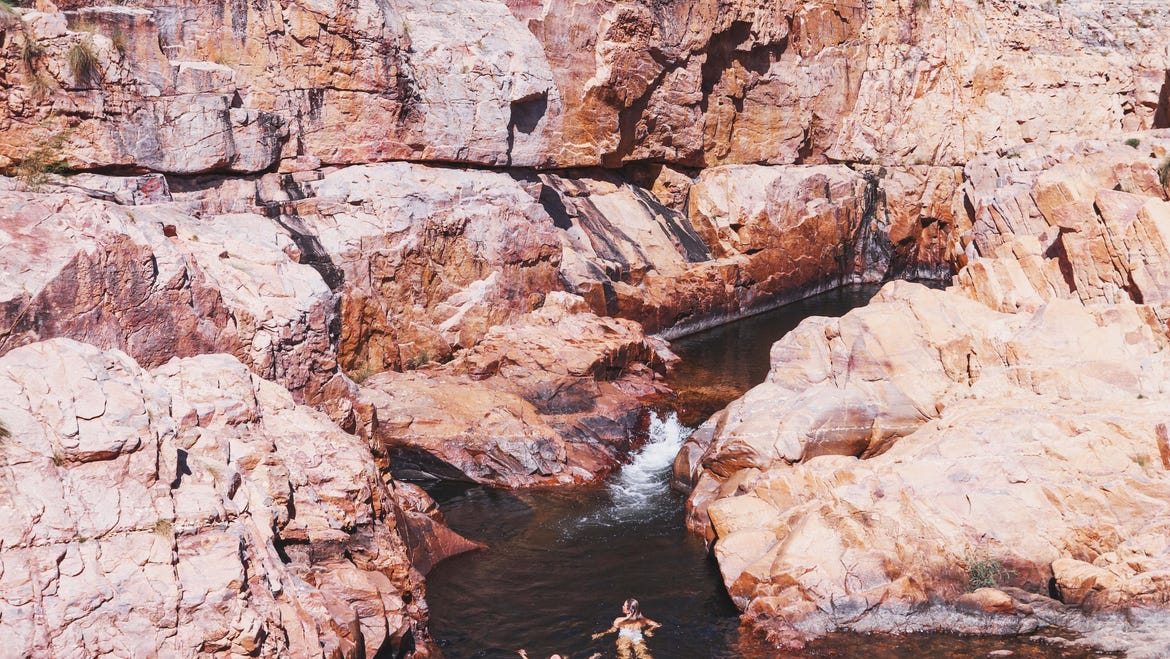 8. Bushwalk in Kakadu
Lace up your boots and choose from more than 30 established walking trails throughout Kakadu, from short, easy strolls to challenging multi-day treks. Roam the world-class rock art sites, climb to the top of waterfalls and plunge pools, hike along escarpments or spot birds and wildlife on a stroll around a billabong. Keep to the designated paths and take plenty of water, a hat and sunscreen. A must-do is the free guided walks through Kakadu's Aboriginal rock art galleries where park rangers share stories behind the paintings. They run every day from April to October.
9. Bird watch at Mamukala wetlands
Take the easy walk to an observation platform hidden in the paperbarks at the Mamukala wetlands, one of Kakadu's best bird watching spots (30km from Jabiru). Watch quietly as kites, comb-crested jacanas, cormorants, purple swamp hens, finches and kingfishers feed. A mural shows the seasonal changes throughout the year. The wetlands are beautiful year-round but most dramatic in the late dry season (September to November) when tens of thousands of honking magpie geese dig for water chestnuts.
10. Learn about Kakadu at its visitor centres
Wander through the Bowali Visitor Centre in Jabiru to learn about the flora and fauna, habitats and geology of Kakadu through interactive displays, videos and an extensive library. Afterwards, browse the art and craft, books and gifts at the attached Marrawuddi Gallery. In Cooinda, visit the Warradjan Cultural Centre for an insight into how the Aboriginal people lived in Kakadu for thousands of years. Find out about upcoming free ranger talks at both centres, which should be your first stop in Kakadu.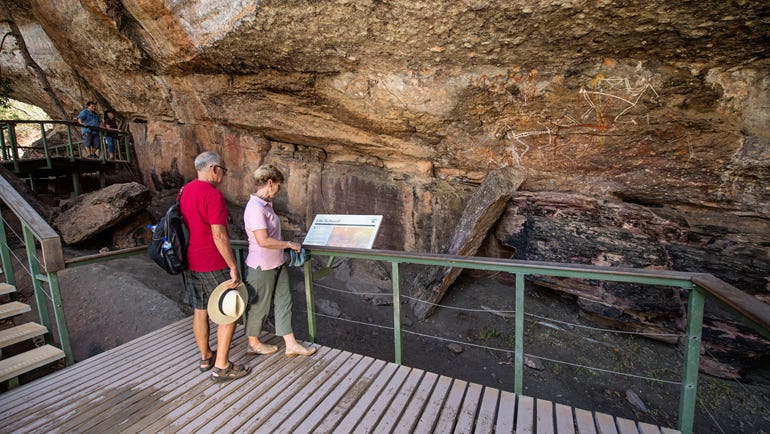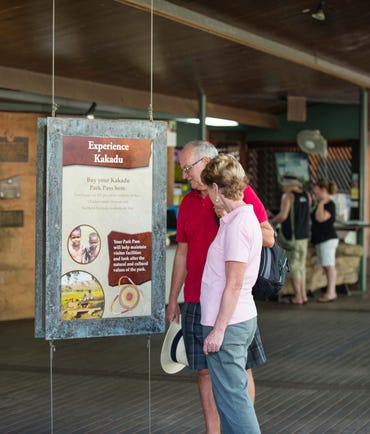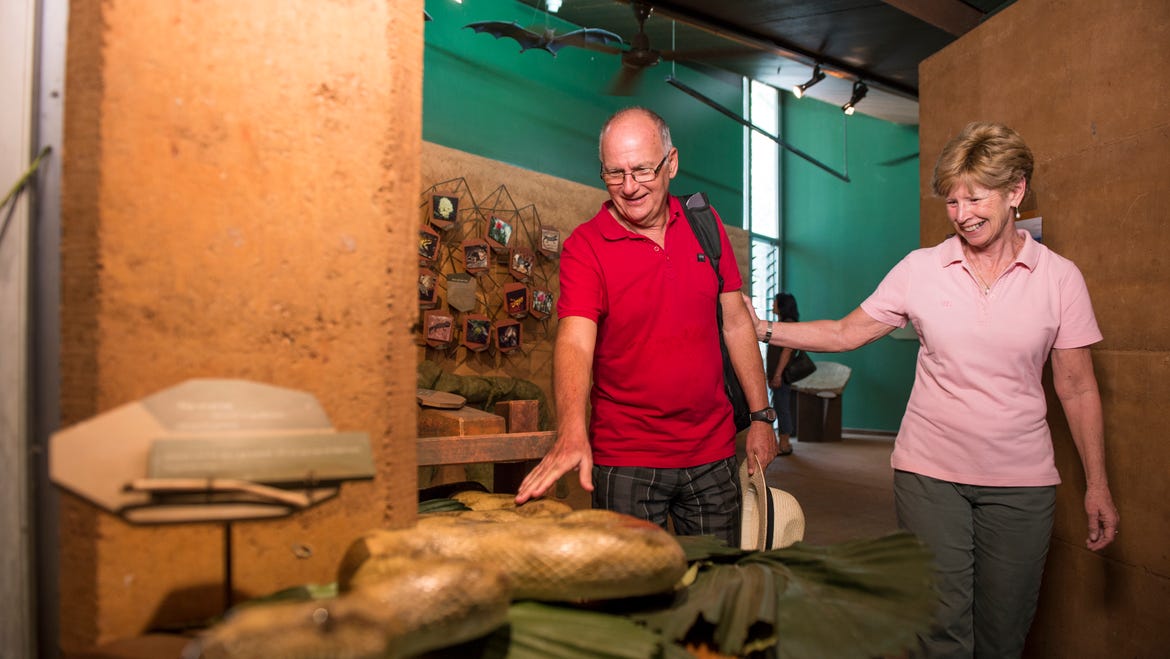 More articles you might like