Art galleries
in the Northern Territory
Learn about the oldest continuous living culture and our wartime history through guided tours and stunning art exhibits. Enjoy the many artistic takes of the modern world at the Northern Territory's art galleries.
The Northern Territory is lucky to have the best Aboriginal art in Australia. Our stunning landscapes have inspired some of the most recognised names in the art world: Albert Namatjira, Emily Kame Kngwarreye, George Tjungurrayi and Minnie Pwerle.
But it's not just Aboriginal art where the Northern Territory shines. We're home to a fascinating and inspiring bunch of contemporary artists creating artworks, sculptures, film and performances that rival the best in Australia.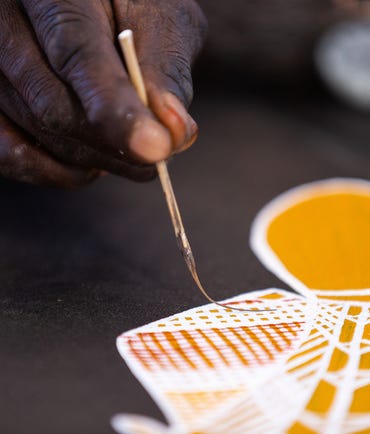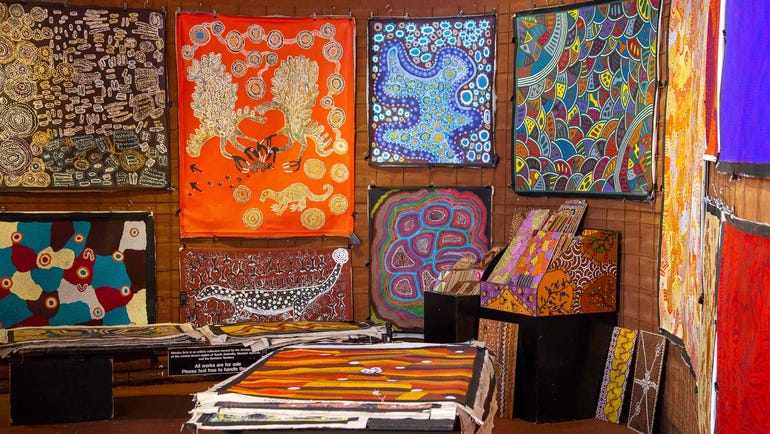 The artwork of Uluṟu-Kata Tjuṯa
In the shadow of Uluṟu, the best Aboriginal art is on display at Maruku Arts and Walkatjara Art. Both galleries exhibit the work of local artists as well as the artists from nearby communities of the Central Desert region. Come see the stunning paintings, woodwork and carved tools exhibited there. Learn all about the Dreamtime stories first hand from the Anangu people. Remember to stay around if you want to hear about the cultural geographical significance of Uluṟu and Kata Tjuṯa in their sacred ceremonies.
Art galleries in Alice Springs
Alice Springs has an enormous number of art galleries. It could take you days to examine them all.
Araluen Arts Centre has over 1,100 artworks in its permanent collections. They also regularly open their gallery spaces to artworks from artists across the country. It hosts the annual Desert Mob exhibition, the Beanie Festival and a range of performing arts and cultural events through the year. Local artists also sell their wares in the Central Craft retail outlet. Everything from ceramics and woodwork to silk paintings and lapidary are on sale.
Aboriginal art galleries are on every corner in Alice Springs. Each boasting of their own unique range of artists, styles and materials.
Art galleries in Alice Springs include:
Leaping Lizards Gallery
Out crop Gallery
The Waterhole
If you'd like to purchase some art to take home with you, most galleries provide free or low-cost postage and handling straight to your own home.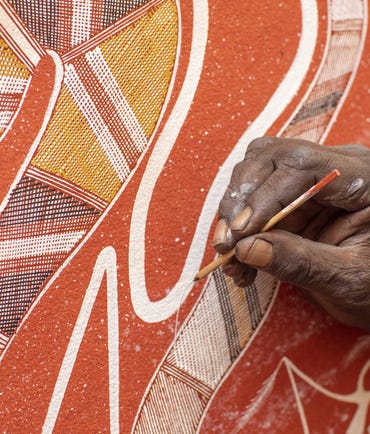 Art finds in Tennant Creek
In Tennant Creek, the Nyinkka Nyunyu Art and Culture Centre is the home of the Barkly region art and cultural scene. The centre's permanent collection showcases an extraordinary range of styles from local artists past and present. Paintings, dioramas and artefacts from times gone by line the space. You can easily spend a whole afternoon taking it all in.
Katherine art galleries
In Katherine, Godinymayin Yijard Rivers Arts and Culture Centre hosts art exhibitions by artists from all backgrounds and in all styles. It's not just paintings that you'll find here. The gallery is full of other visual artworks as well for an experience to excite your senses. The K Space gallery is dedicated to the work of local artists and puts on small exhibitions to support up and coming artists.
Mimi Aboriginal Art and Crafts puts the spotlight on artists from the Katherine region. Being 100% Aboriginal owned, the gallery showcases a dynamic range of painting styles. From the Top End desert to river, its artworks are a true reflection on the changing landscape through Katherine. Weavings, didgeridoos and carvings are also on show and available for purchase.
Top Didj Cultural Experience and Art Gallery hosts an impressive collection of artists form the desert and Katherine region. Some of which include Gloria Petyarre, the King sisters, Lorna Fencer Naparulla, Wallala Tjapaltjarri and the artists of Injalak Arts.
Outside of Katherine in the town of Mataranka you'll find the Stockyard Gallery. It's a small local gallery that specialises in local art and artefacts reflecting the rich past of Katherine and the local people.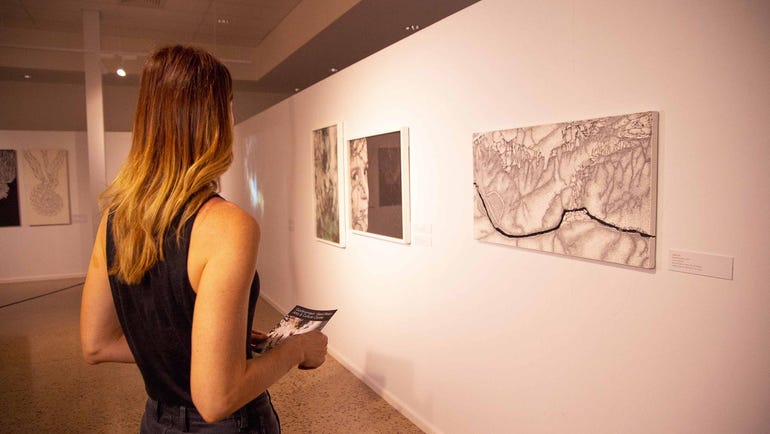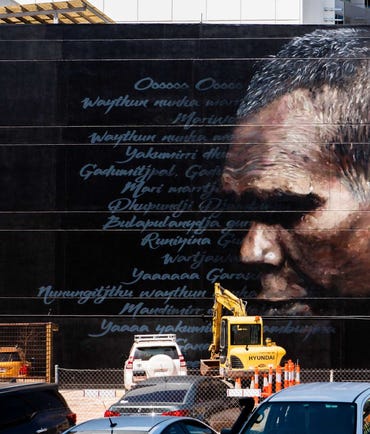 Darwin City art galleries
Darwin is home to the most extensive mix of art galleries. Darwin's galleries include photography, contemporary art and objects from important moments in the city's history.
The Museum and Art Gallery of the Northern Territory is the Territory's flagship museum and art gallery. Located on picturesque Fannie Bay, its permanent collection holds thousands of artworks and historical artefacts from artists across the Territory.
As well as stunning Aboriginal art, the art gallery is home to Tactile Arts – contemporary sculptures and pieces. The Colin Jack-Hinton Maritime Gallery displays traditional boats and canoes reflecting the seafaring past of Darwin.
Darwin Visual Arts is a not-for-profit organisation established to provide spaces for the exhibit of art. Within the space, there are three galleries for local artists which are open Thursday to Saturday during exhibition runs. Check their website for the latest information on upcoming exhibitions.
The Northern Centre for Contemporary Art is located in Parap and as the name suggests, it's the place to find unique and thought-provoking contemporary art. Come and examine their paintings, photographs and other pieces form the year-round exhibitions.
Galleries worth checking out in and around Darwin City include:
If you're looking to see art outside of a gallery space, the works from the Darwin Street Art Festival are sure to impress. Follow the streets and lanes of Darwin City and see huge buildings transformed into canvases with both realistic and abstract street art.
Your search returned no results. Please try again.
Explore art galleries by region