​How to do the TripAdvisor Top 10
There's no shortage of things to see and do in the Northern Territory. TripAdvisor's list of the 10 best places and activities will take your breath away! Here's how to get the most out of each experience.
1. Enjoy the grandeur of Uluru at Uluru-Kata Tjuta National Park
When you think of Australia's Red Centre, nothing is more iconic than Uluru, the giant majestic monolith that stands watch over the Simpson Desert. Uluru, formerly known as Ayers Rock, is found in Uluru-Kata Tjuta National Park in the Red Centre.
The 348m high natural wonder is only 4.5 hours' drive from Alice Springs, and just a few hours' flight from all the major cities. But if you're in the mood for adventure, take a self-guided road trip with the family!
No matter the time of year, you'll love Uluru. The peak time to visit is in the winter months (April to September) due to the cooler temperatures – but remember that nights can drop below freezing, so make sure you pack a jacket! Of course, you'll avoid the crowds during the warmer months.
The best times to view the massive monolith are at sunrise and sunset when the hues of the rock appear to change colour. It's truly an unforgettable sight.
There are plenty of other things to see and do around Uluru, with Kata Tjuta just a 20-minute drive down the road, as well as scenic flights, festivals, Aboriginal cultural tours and more. Meanwhile, you'll find a range of accommodation options to suit every style of traveller, from the Ayers Rock campground through to 5-star luxury at the Sails in the Desert Hotel and Longitude 131.
2. Marvel at the other-worldly Kata Tjuta at Uluru-Kata Tjuta National Park
Just a 20-minute drive down the road from Uluru is Kata Tjuta, also known as The Olgas. Kata Tjuta means 'many heads' in the local Anangu language – it takes its name from the dazzling rock formations that emerge from the flat surrounding desert.
Best known for its wondrous hiking trails, spectacular scenery, abundance of wildlife and cultural significance, Kata Tjuta should be at the top of the itinerary for any traveller to the Red Centre. Grab a map, pick a track and start exploring!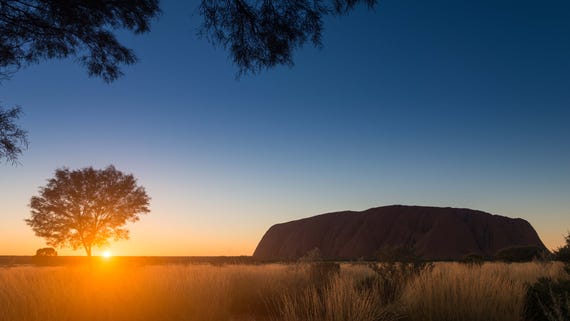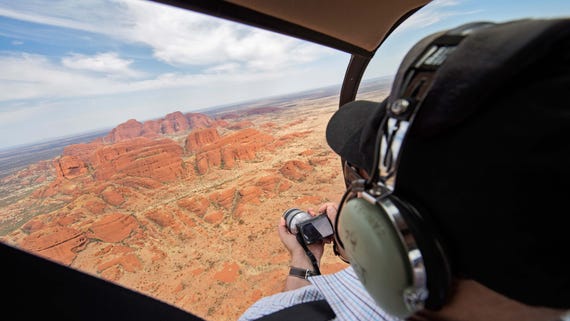 3. Get close & cuddly at the Alice Springs Kangaroo Sanctuary
No trip to the NT is complete without a kangaroo experience, and you won't find any better than the globally renowned Kangaroo Sanctuary in Alice Springs. Made famous by the documentary series Kangaroo Dundee, and no. 1 on Trip Advisor's list of things to do in Alice Springs, the Sanctuary is truly an inspiration.
Join caretaker Brolga as he looks after his huge mob of rescued kangaroos, while educating and encouraging the public about caring for injured wildlife. This is only available through guided afternoon trips from February to mid-December, so make sure you book ahead, because the tours fill up fast.
4. Get your nature fix in the Red Centre at Kings Canyon
If you're heading to the Red Centre, be sure to explore Kings Canyon in Watarrka National Park. Just 4.5 hours drive from Alice Springs and 3 hours from Uluru, the region's natural beauty must be seen to be believed!
The 3-hour return Kings Canyon Rim Walk is a hiker's dream, while the Karrke Aboriginal Cultural Tour is one of the best in the Territory. If you head to Kings Creek Station, just 20 minutes from Kings Canyon Resort, you can enjoy everything from quad bike tours to helicopter flights to bird watching experiences.
Regardless of your budget, there are heaps of accommodation options, from glamping at the Dreamtime Escarpment tents, to sleeping at Kings Creek Station, to relaxing at Kings Canyon Resort.
If you're in the mood to relax, grab a drink and watch the sunset over Kings Canyon from the viewing platform at Kings Canyon Resort. They also offer a range of dining experiences, from the Outback BBQ to the fine-dining Under a Desert Moon experience.
5. Bask in the wilderness of Kakadu National Park
Jump on a guided tour or drive yourself to the World Heritage-listed Kakadu National Park, about 3 hours from Darwin along the Nature's Way Drive. Home to magnificent wetlands, an array of wildlife and ancient rock art, it's no wonder Kakadu National Park is a favourite among travellers and locals alike.
After settling down in your accommodation in Jabiru or one of the park's numerous lodges or campgrounds, there's an endless list of must-sees in Kakadu National Park.
The Aboriginal rock art and lookout at Ubirr is a major drawcard, along with cascading waterfalls such as Jim Jim Falls and idyllic waterholes like Gunlom Plunge Pool. Each place is more stunning than the last.
Flora and fauna enthusiasts will certainly get their fix – the wetlands are home to more than 2,000 types of plants and a plethora of animals, including 10% of the NT's entire population of crocodiles! You'll have to pay a seasonal entry fee, which helps with the park's upkeep, but it's worth every penny.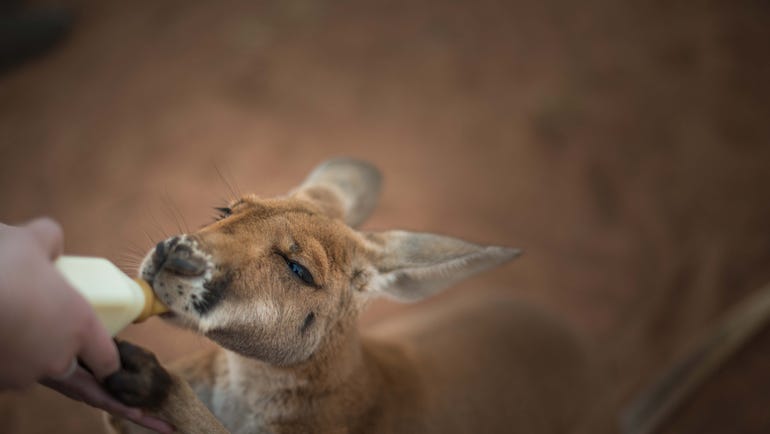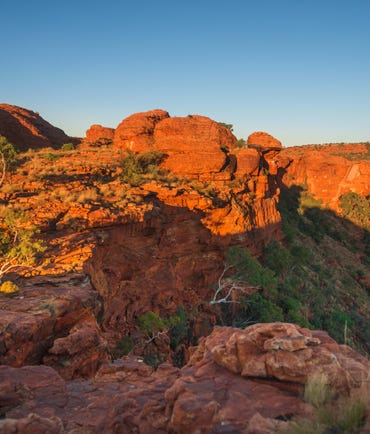 6. Unleash your inner explorer at Litchfield National Park
Just an hour and a half drive from Darwin, you'll find yourself in Litchfield National Park. Being so close to Darwin, Litchfield is popular for day trips and overnighters. There are lots of options for those who need to be back in Darwin for dinner that night or a flight the next day.
Swim at waterfalls like Florence Falls or Wangi Falls, splash about in oh-so-cool pools and swimming holes like Buley Rockhole, or stop to see the iconic magnetic termite mounds. Litchfield is all about taking it at your own pace, which is why it's one of the most popular NT National Parks! Better yet, entry is free.
7. Experience culture at Darwin's Museum & Art Gallery
Darwin is an art-lover's dream, and without a doubt the most popular Darwin art gallery is the Museum & Art Gallery of the Northern Territory. Located in beautiful Fannie Bay less than 10 minutes' drive from the centre of town, it's the place to go for Aboriginal art.
It also features over 1.2 million natural history specimens and over 30,000 items of art and material culture, not to mention an always-exciting line-up of visiting exhibitions. Popular attractions include the Cyclone Tracy exhibit and the giant 5m crocodile 'Sweetheart', which caused a ruckus in the 70s by attacking local fishing boats.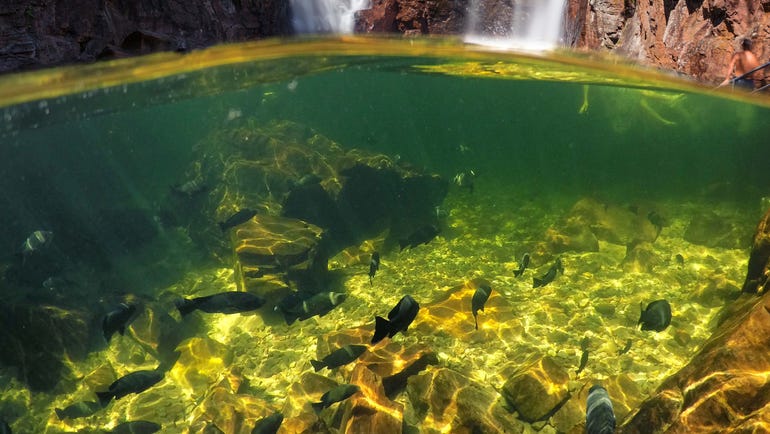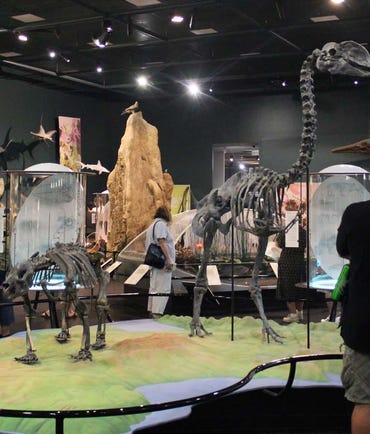 8. Get your history fix at the Defence of Darwin Experience
A 5-minute drive from Fannie Bay is East Point, home to the Defence of Darwin Experience, one of Darwin's main points of interest and a drawcard for the history buffs. Take an interactive multimedia tour and learn about Darwin's role in WWII.
Enjoy the many artefacts, videos, photos and more from some of the most important years in Darwin's history. Step inside the Bombing of Darwin Theatre, where you'll discover what it was like to be in Darwin on the 19th February 1942 when the city was bombed.
9. Have fun with the whole family at the Alice Springs Desert Park
There's a good reason why Alice Springs Desert Park is no. 2 on TripAdvisor for Alice Springs tours. All pre-conceived notions of the desert as a barren wasteland will fly out the window as you experience this desert wilderness which supports a rich array of plant and animal life.
All of the Territory's rare and most interesting wildlife are on display in a natural setting. Make sure you visit the Nocturnal House and check out the bilbies, owls and snakes. Or better yet, come back at night for a Nocturnal Spotlighting Tour available from Monday to Friday. The kids are going to love it!
10. Explore the stunning Nitmiluk Gorge in Nitmiluk National Park
About 3 hours' drive south of Darwin lies the Katherine Region and Nitmiluk National Park, best known for the majestic Nitmiluk (Katherine) Gorge. Explore the area by foot, canoe, boat or helicopter.
There are plenty of safe swimming holes, but please always be Crocwise and remember to only swim where it's clearly marked safe for swimming. There are also low-cost accommodation options which make camping and caravan parks in Katherine a good choice. Of course, those in the mood for luxury will love the 5-star Cicada Lodge.