Red Centre Local's Tips: Mountain biking in Alice Springs
Think off-road transportation in the rugged terrain around Alice Springs and what usually pops into mind is the four-legged variety. Camels were used to build the telegraph line linking north and south and now they're taking visitors across this stunning but forbidding landscape.
Those who prefer to move around under their own steam and with a bit more speed and a whole lot more thrills are opting for peddle power — climbing onto a mountain bike, tearing along the hundreds of kilometres of trails encircling Alice Springs and taking in scenery that would stop the most ardent traveler in their tracks.
Other mountain biking locals around the country require hours of transportation just to get to the start line. However, the Alice Springs Mountain Bike Network is so close to town you'll be leaping over rocks, racing down hills and blissing out on the changing hues of the Red Centre not long after checking into your accommodation.
The diverse landscape, the eye-popping scenery and the easy access to well-maintained trails is why Alice Springs is enjoying a mountain-biking boom, according to local off-road enthusiast Jennifer Rajher.
"Riding in Central Australia is unlike anywhere else in the world. When you're riding through the bush the only sounds you hear are the tyres on the dirt, the birds above and the wind in the trees. All your stress just drains away and you have a real connection to nature," says Jennifer.
Canadian-born Jennifer came to Australia on a one-year working holiday visa. So taken by Alice Springs, she stayed on and now works at Outback Cycling, taking visitors on tours and introducing them to the unique way of appreciating the history, culture and beauty of Australia's mysterious heart.
"Riding a bike is such a wonderful way of engaging with Alice Springs and the beautiful country around it," says Jennifer. "You cover a lot of terrain, you can stop and take in the amazing scenery and you get to do a little bit of exercise."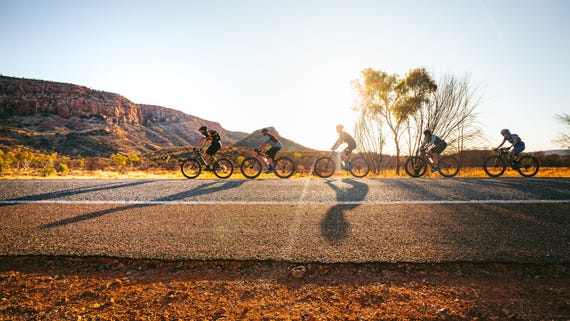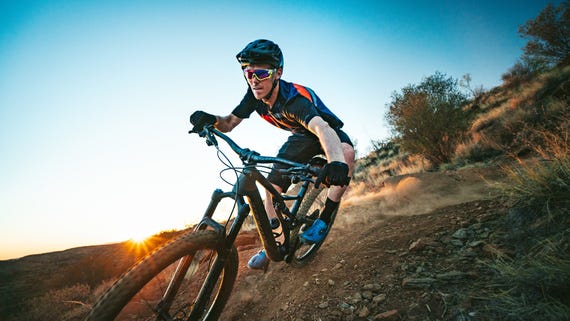 Before you go
While the trails around Alice Springs are well-marked and there's little chance you will get lost, Jennifer still recommends riders are well-stocked with water.
"It's a bit deceiving on the trails, especially when it's a bit cooler during winter. By the time you get thirsty you're probably already dehydrated. We encourage riders to carry lots of water and to drink about a litre per hour," advises Jennifer.
Jennifer also recommends a repair kit (spare tube, levers, multi-tool, pump), a map and a cellphone. "I haven't heard of anyone getting into trouble out there, but it is always good to be prepared," says Jennifer.
Choose your path
The big surprise for mountain bikers hitting the trails around Alice Springs for the first time is how varied they are and how well they've been organised into a series of circuits suitable for riders of varying skill, experience and fitness levels.
The 200km or more of trails (nobody is quite sure the total length) range from old dirt roads and access trails to handmade singletracks that weave through outcrops and fast tracks that take riders through tall bush grass, many of them following the natural lines taken by wildlife.
"The variety is incredible," says Jennifer. "In an easily manageable area you could find yourself on a sharply twisting climb as you scale a ridge, rolling down a rock face into a gully or powering through a sandy singletrack surrounded on all sides by eye-level high vegetation.
"All the trails are colour-coded so riders can choose their level of difficulty. There are beginner's trails with small obstacles and shallow climbs, intermediate trails where the ground is a little lose and the gradients steeper and trails that offer real challenges for more advanced riders."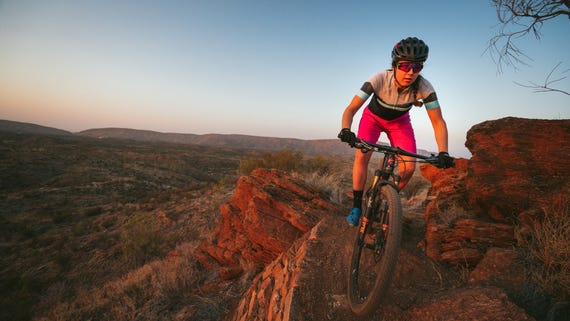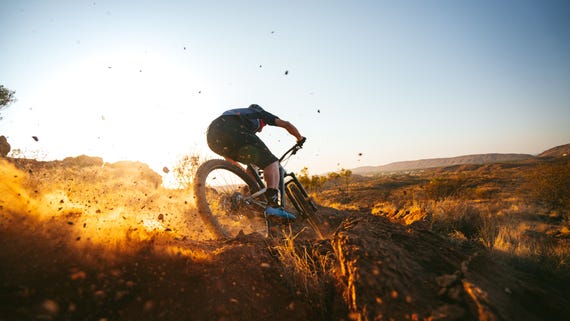 Slow down for a gander
While the tracks offer a variety of challenges, what makes Alice Springs so unique for those who want to get off the beaten track is the scenery, especially when bathed in the early morning or late afternoon sun.
"The sunrises and sunsets are unlike any I've seen anywhere in the world. They are breathtaking," says Jennifer. "There's nothing like just pulling over your bike and looking out over the desert as the colours change. It's the main reason why people come to Alice to bike."
One of the most popular stopovers for mountain bikers is the Telegraph Station, which is located in the Historical Reserve. Within this protected area there are 28 kilometres of handmade singletracks that cater for riders of every level, with signposts all along the way to allow you to relax and fully enjoy the experience.
The Telegraph Station, which was the site of the original European settlement in Alice Spring and has a museum and a café, is also the home of the Alice Springs Mountain Biking Network. Most of the mountain biking trails begin at the Telegraph Station so its a great point to kick off your Alice Springs mountain bike adventure.