Now's the time to go fishing in the Northern Territory
I have the best job in the world filming our country's top fishing destinations… Like most of you who love fishing, soon after starting to relax and absorb the scenery you want that electrifying big fish to join you. There's one place where I never wait long for this to happen… the Northern Territory!
Why so many big fish?
The country's biggest flood plains, the warm climate and the vast open spaces means that fish in the NT thrive like nowhere else.
After the Top End has welcomed the best tropical summer rains in 25 decades, the fish have gone absolutely berserk.
Our finest fishing guides have gravitated to the Northern Territory – they love the place, they love their work, and they make it easy for locals and visitors to step on and get into what's out there…because even when the fish are bountiful, you still need to know where, when, and how to catch them. I can't overstate how much time, effort and money experienced guides will save you in finding a swag of big fish.
Here's a few recommendations from my recent fishing trip to the Top End.
Heli fishing for Barramundi
Barra are the most popular Aussie fish for good reason – they grow huge, inhabit beautiful sheltered waters, take bait, lure and fly, and never fail to perform breathtaking jumps. They're remarkable creatures, and the NT has the best barra fishing on earth.
There's lots of brilliant bookable day fishing charters in the NT and heli-fishing with Airborne Solutions is also a particularly good option if you're short on time and want to see as much as possible. It also allows you to land in places no one else can get too!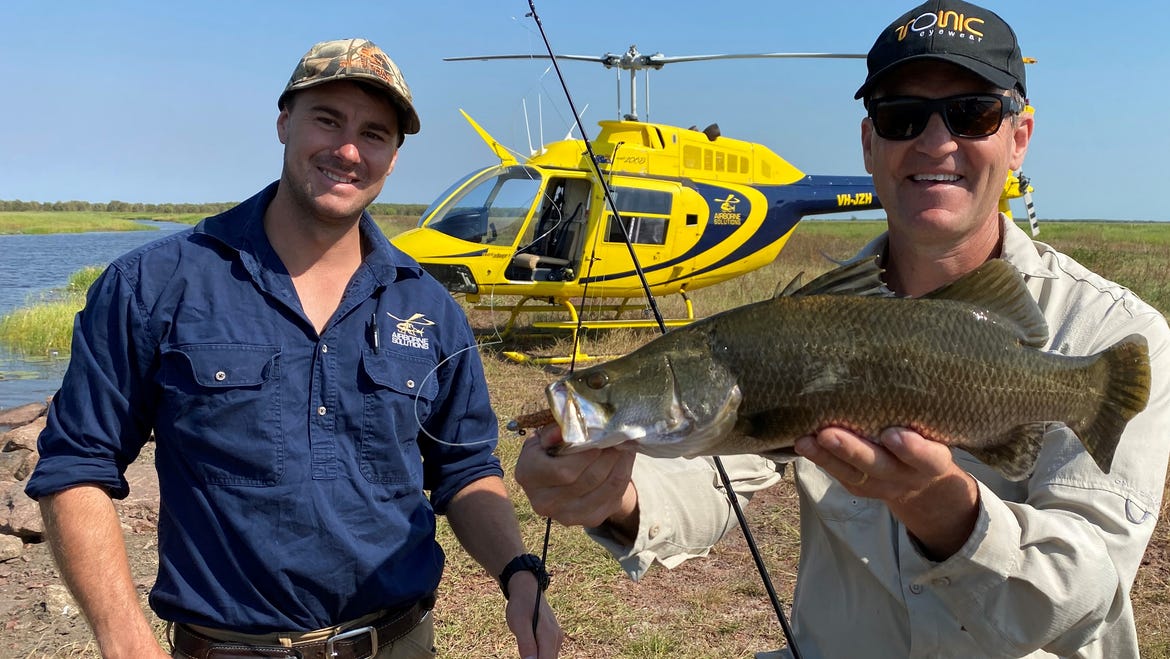 The run-off season, which is normally early Autumn, was still going during our winter (dry season) visit thanks to vast amounts of water that is still draining off the flood plains… so that's where we're headed.
Our trip started 10 minutes' drive from Darwin CBD at the Airborne Solutions base. You can grab an Uber or taxi here from the city for under $30.
Once in the air, we had a superb view of Darwin and surrounds and then it was off to the famed Mary River Flood Plain to the east. It's always beautiful out that way but it's so green now it would even make Shrek blush! The bird's-eye view revealed flora, fauna and water everywhere.
First spot, pilot Finn and I cast in at the same time and bang a double hook-up on 75cm Barra! The onslaught of bites from larger and smaller fish continued from there – it was extraordinary even by Northern Territory standards. I could've stayed all day but Finn wanted me to see more spots just five minutes' flight away… and they delivered even better action.
How the fish breed and feed in these conditions has set things up for an incredible build up (Spring) barra season, even the locals are excited! I'll be sneaking back with a couple of close friends and one of my daughters.
You can book your heli fishing experience here.
Pro tips:
Barra love hiding in the shade or where clear water meets murky water. They also love bubbling water and foam lines.
Take a couple of friends and do the full day if possible. But even on the half day it's still one of the best fishing charters you can have.
Airborne Solutions supply tackle but if you want to bring your own here's what's best:

Multi-piece rod with a maximum length of 105cm
Single hook, soft plastic lure around 75-150mm with jig heads. Use 3/0 size hooks and be sure they are sturdy for big barra
Weedless frogs for lily pad surface fishing
Keep your kit small, 1 rod and 20 lures are more than enough.
Barramundi Adventures
Barramundi Adventures is the ultimate family, budget and time friendly option, as well as being easily accessible. Just 45 minutes' drive from Darwin and you're there – and the Barra are waiting. Owners Tommy and Dorian have stocked several of their private lakes with loads of barra of all sizes, and have put in a comfy wheelchair friendly deck with a shaded area, BBQ's and a bar.
This is my second visit and I can't recommend it highly enough – you can see the barra swimming around and fish for them on bait, lure or fly. Anglers and kids will be entertained for as long as you want, while non-fishos can relax in the shade right nearby. It's a brilliant set up!
You can also try your hand at feeding the giant barra. There's also the options of bird watching or taking pics from the eight-metre high viewing deck.
Popular with all sized groups and increasingly becoming an event venue, Barramundi Adventures are continually expanding the list of cool things to do. It really is a great outback and fishing adventure on a budget. All tackle is supplied but this is also a great place to bring your own gear and test it on some big ones.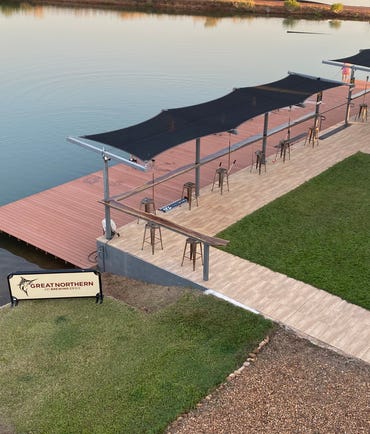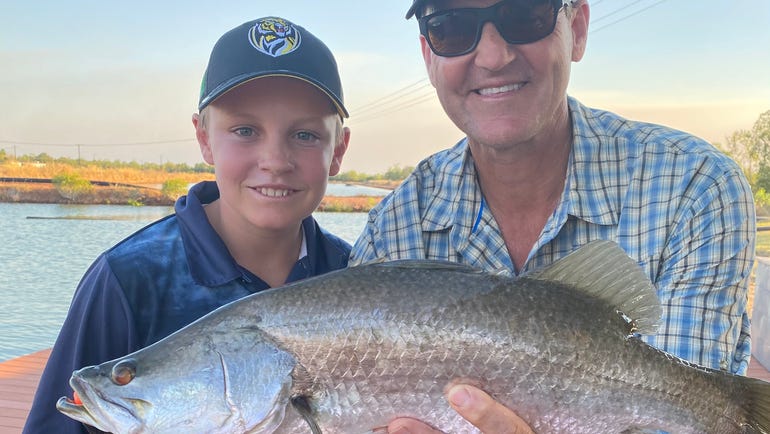 Pro tips:
If you want to bring your own gear, bring similar tackle as the heli-fishing experience. Single, barbless hooks are compulsory
If you're into fly fishing, bring your fly gear… you'll have a ball
The fishing is brilliant, but if you need extra help then talk to Tommy, Dorian, Mitch or any of the team-they have lots of tricks up their sleeve to get you onto some barra.
Arafura Bluewater Charters
Arafura Bluewater Charters ticks all the boxes: big boat, roomy deck, uncluttered, clean, comfy, organised and has all the right tackle ready to go. Add in the crews beaming smiles and love of their work and you know it's going to be a good day.
There are three boats in their fleet – two of them do day trips and the third does extended overnight and multi night charters. We did a half-day option and got some quality fish – golden snapper, tusk fish, the popular stripey and some coral trout to name a few. All good fighters and first class table fish.
It was a little breezy on our trip so we couldn't go too wide – but fear not, the area is blessed with lots of sheltered water options. Besides the fish we saw dolphins, lots of turtles, manta rays and sharks. It's like a wild 'Attenborough doco' world out there.
All fish are expertly filleted and bagged – all you have to do on return is fire up the BBQ or get one of the local restaurants to do their thing, (book in advance if you're doing the later). Breakfast, lunch and refreshments are supplied. You can book your Bluewater fishing charter here.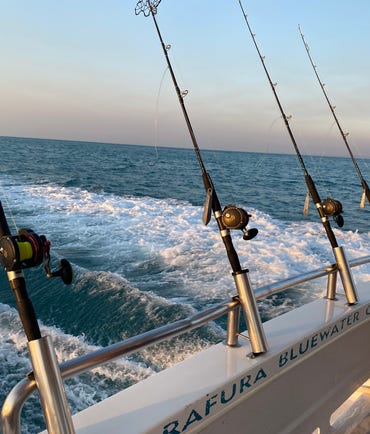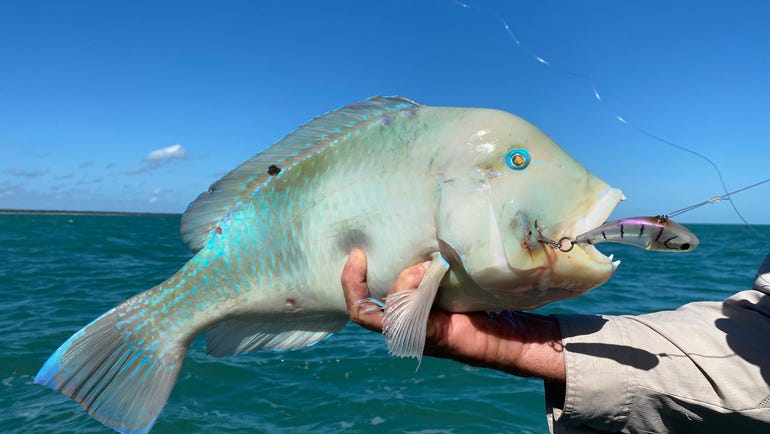 Pro tips:
If you're getting little nibbles don't hook them – wait for a bigger fish to come along and bite properly, you'll know when this happens. When you hook a large fish, shorter 'lift-ups' and 'wind-downs' is more effective. However you must keep the rod bent at all times, this helps stop the fish shaking the hook
Within deeper waters, fish coming up from 10 meters or more are likely to suffer Barotrauma (which is essentially the result from rapid changes in atmospheric pressures). The fish has very little chance of surviving if released. Thankfully the industry have implemented some very progressive rules which holds NT fishing guides and anglers alike, accountable around possession limits to help keep this remarkable fishery flourishing
The crew have ice on board but bring an esky so you can transport your catch home from the boat – these are first class table fish and you want to keep them that way.
For the non-fishing family members there's plenty to do
For those who decide to stay back in town, there are a variety of uniquely Territorian experiences to try. Crocosaurus Cove, Doctors Gully Fish Feeding, Stokes Hill Wharf Precinct, World War II Navy Oil Storage Tunnel Tours and loads more spring to mind.
Lots of markets, arts and craft and sensational boutique restaurants offering local produce! It's a compact city you can get around on foot or on the electric scooters dotted around the place. Leave at least couple of days to explore – you won't regret it.
See you on the water.