Litchfield National Park
Destination guide
Just 90 minutes from Darwin, Litchfield National Park is a true wonder of the Top End, replete with idyllic waterfalls, pristine swimming spots, beautiful walking trails and hidden natural wonders. Visitors to the park will remember it for a lifetime.
Litchfield National Park's proximity to Darwin means it's an excellent day trip location, but overnight stays are also recommended.
A few fast facts
Adelaide River township, on the edge of the park, played a crucial role in World War II. It's now home to the third biggest wartime cemetery in Australia
The first European settlement here was established in 1870 as part of the development of the Overland Telegraph Line
Camping is the only option inside the national park but there are a handful of accommodation options in Batchelor, a township on the edge of the park
The magnetic termite mounds of Litchfield National Park – which are up to 100 years old and stand two metres high – are built facing north to south to minimise exposure to the sun
The Marranuggu, Koongurrukun, Werat, and Warray Aboriginal people all consider Litchfield National Park to be a significant cultural site.
Here are six must-sees, along with some top tours and DIY trips with plenty of info about things to do at Litchfield National Park.
Six must-sees
Wangi Falls
Wangi Falls adorns many a Territory postcard. With picturesque walking tracks and stunning waterfalls coming from sandstone cliff faces, you'll be sure to remember your time here fondly. Camping is the only option to stay overnight. You'll find all the facilities you need, including a kiosk, hot showers and barbecues. There are a number of walking tracks of varying difficulty, or you can simply lie back in the relaxing fresh water.
Florence Falls
Florence Falls is Litchfield National Park's best kept secret. The secluded plunge pool is located right in the middle of monsoon rainforest, providing plenty of shade from the sun. From the lookout you can survey the surrounding location, while there are a number of walks that provide a different perspective of the area. Florence Falls is open for swimming for most of the year.
Buley Rockhole
Beautiful swimming hole fed by waterfalls in the middle of a tropical rainforest? Yeah, there's certainly a pattern emerging! Litchfield National Park is popular among tourists and locals alike as a place to cool down in the Territory heat, and Buley Rockhole is no exception. There are picnic and barbecue facilities, while you can also lie back and relax in your own private rock pool.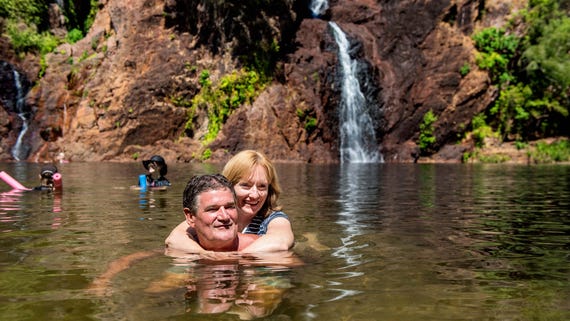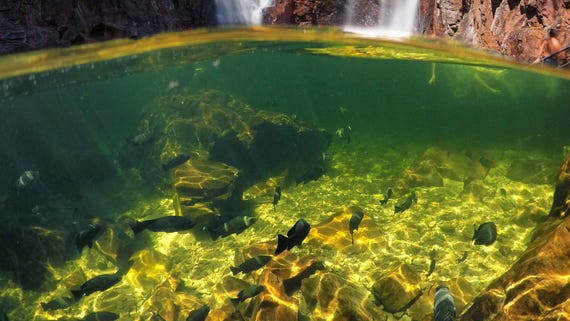 Sandy Creek Falls (Tjaynera)
After a 4WD trek and a short 1.4km hike through the rainforest, there's nothing better than cooling down in the waters of Sandy Creek Falls/Tjaynera. Wherever you sit at Sandy Creek, there are stunning views of the surrounding nature – including cascading waterfalls and rocky outcrops. Once you make it here, you might not want to leave – but don't fear! The Sandy Creek camping ground welcomes you to stay the night. If you're going for a dip, only do so in areas that are marked safe for swimming.
Lost City
After all that swimming and relaxation, you're probably in the mood for adventure. The Lost City of Litchfield National Park lets you channel your inner Lara Croft and discover what looks to be the ruins of an ancient civilisation. These 'ruins' are in fact a unique rock formation. Before you head off, be sure to check with local authorities if the road is open – a four-wheel drive is essential.
Magnetic termite mounds
The lost city theme continues with the magnetic termite mounds, which resemble giant, 2-metre-high tombstones. Scientists believe that their structure and construction are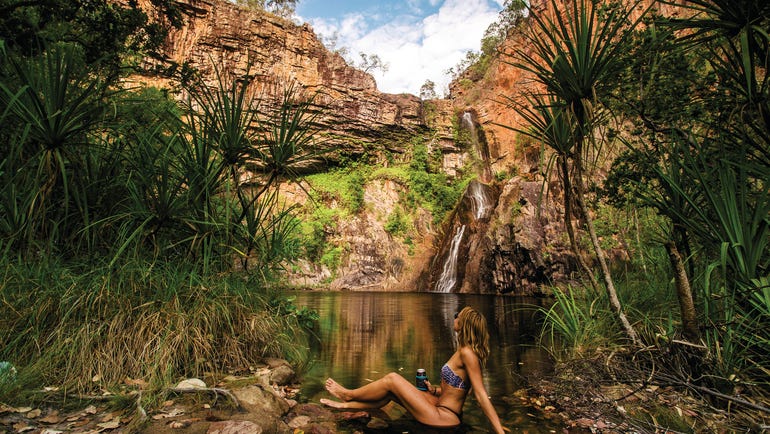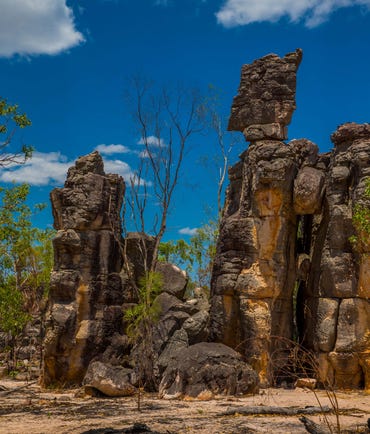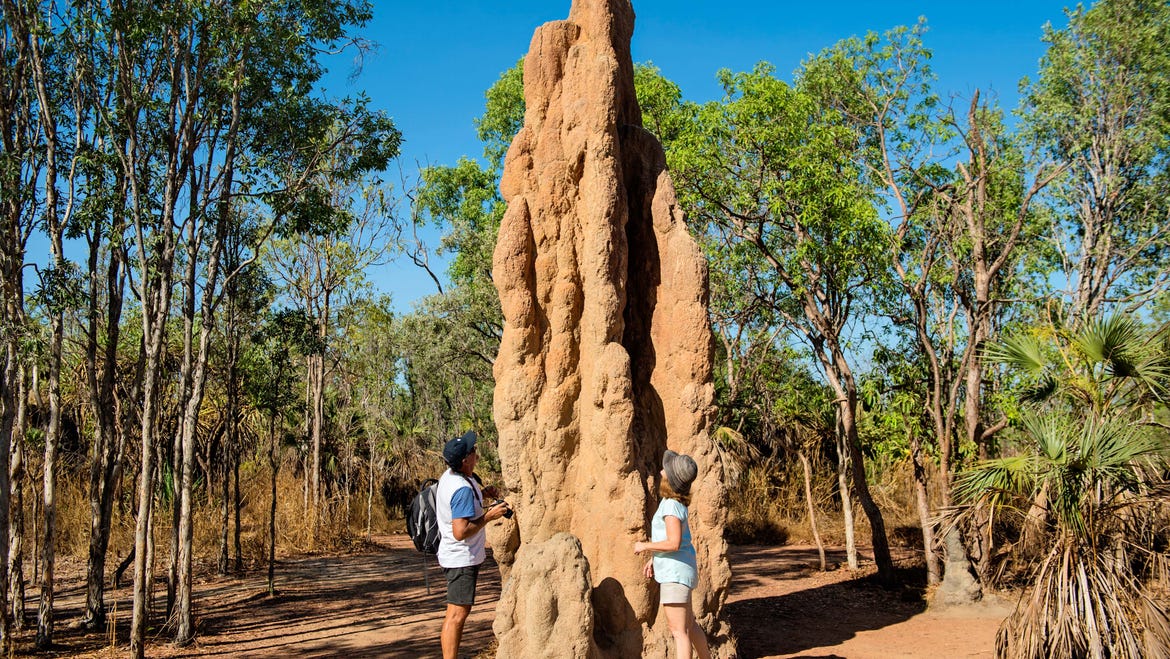 Top tours
Litchfield Helicopters
The views certainly don't get any better than from a helicopter. Litchfield Helicopters operate a range of tours, from shorter, more affordable trips to longer, more comprehensive tours. The deluxe option is a 60-minute flight to your own private waterfall for a quick dip. That's a surefire way to blow your work colleagues' holiday stories out of the water.
Indigofera Ecotours
The Territory bush is beautiful and delicate. This means being environmentally conscious is very important. Indigofera Ecotours are developing an international reputation for both the quality of their tours and their commitment to environmental awareness and sustainability. Experience Litchfield National Park while learning about the essential environmental balance in the park.
Litchfield Tours
It's all in the name – Litchfield Tours do a number of great tours that cover all the essential aspects of the park. Litchfield Tours are famous for their one-day option, which includes a pick up from your Darwin accommodation and a number of important sights – including Wangi and Florence Falls, along with a jumping crocodile cruise, which needs to be seen to be believed.
Ethical Adventures – Litchfield Wanderer
Another tour operator gaining a reputation for outstanding tours with a commitment to sustainable operations is Ethical Adventures. Their Litchfield Wanderer tour takes you through all the must-see areas of Litchfield National Park, while explaining their core message of ethical tourism – both from an environmental standpoint and also culturally.
Litchfield National Park Day Tour from Darwin – AAT Kings
AAT Kings run tours across the Northern Territory, from the Top End to the Red Centre. Although there are a number of day tours to Litchfield National Park which run out of Darwin, few are more action-packed than these pros. AAT Kings have a wide variety of tours throughout the Top End which suit every budget and timeframe.
Do it yourself
Litchfield National Park's excellent location is just a short drive to and from Darwin or Katherine. If you're on a road trip, we recommend taking your time and spending at least a night in each place you visit.
Whether you're heading back to Litchfield National Park at the end of the day, or continuing on your journey elsewhere, a DIY trip in and around the area is easy.
Berry Springs Nature Reserve
While there are no shortage of swimming spots in Litchfield National Park, Berry Springs should also be on your list. Berry Springs Nature Reserve is under an hour from Litchfield National Park and has a number of pristine waterholes situated in secluded rainforest. Incredibly popular with locals, Berry Springs swimming hole is a great place to cool off or just lie down under the trees and let that stress melt away. Grab yourself some lunch from the Berry Springs kiosk before finding that picturesque picnic spot.
On your way back to Litchfield National Park, pop in to the Batchelor Butterfly Farm and Petting Zoo to see some delicate Aussie wildlife up close. If you're hungry, the Butterfly Restaurant has some great local dishes, along with a number of Indonesian specialties.
Nature's way
Nature's Way is one of the NT's most popular self-drive routes that takes in Litchfield National Park, Kakadu National Park and Katherine Gorge. We suggest a seven-day itinerary to make sure you don't miss out on anything. After heading south from Litchfield National Park, your first stop is Katherine, from where you can explore Katherine Gorge and Nitmiluk National Park. Whether you canoe or cruise through the gorge or sit back and enjoy one of the many other tour options, we recommend getting to Katherine early and staying for at least a couple of nights.
The 3.5-hour drive from Katherine to Jabiru in Kakadu National Park is replete with spectacular scenery that will ensure you never get bored. See the red dirt and rocky outcrops transform into full wetlands, with rainforest quickly surrounding you. Once in Jabiru, check out the Bowali Visitor Centre, before travelling 40 minutes to Ubirr to check out Aboriginal rock art sites and to watch a spectacular sunset over the wetlands.
When you're looking for a place to rest, one of the more popular accommodation options is Cooinda Lodge, next to the world renowned Yellow Water Billabong and near the Warradjan Aboriginal Cultural Centre. Just outside of Jabiru are a number of excellent tour options, including the Guluyambi Cultural Cruise or the Yellow Water Cruise, both of which let you kick back and take in the sights and sounds. Nearby spots to check out include Nourlangie Rock, Maguk, Gunlom Plunge Pool and Jim Jim Falls. After a meal at the Barra Bistro at Cooinda, have a good night's sleep before heading out early the next day for the 2.5-hour drive to Darwin.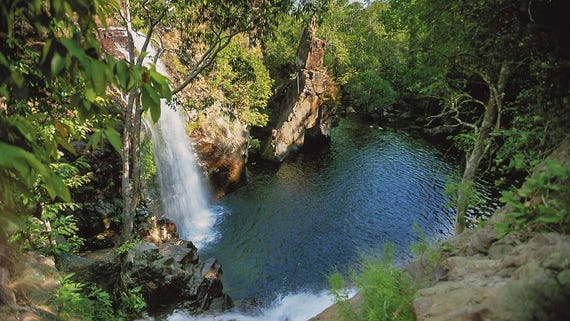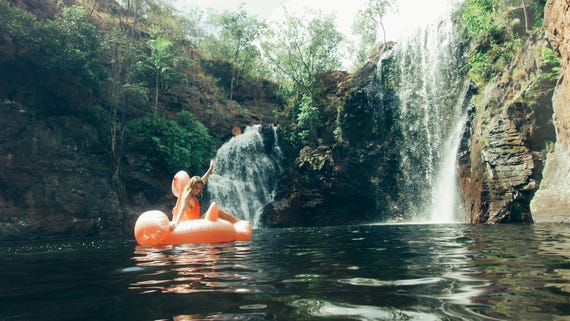 Need to know
Best time to visit: As with most of Australia's Top End, the dry seasons are temperate and the wet seasons are wet. If you've got limited time and are perhaps concerned about the potential for flooding, then the dry season – from April to October – is the best time to visit. But as any local will tell you, there's nothing like the Top End during and after a monsoonal downpour, with rivers flowing and creeks bulging at the seams.
How to get here: With Darwin 90 minutes away, flying into the NT's main airport is the best entry point. From Darwin, rent or drive your own car down to Litchfield National Park. Meanwhile, Litchfield National Park is 2.5 hours from Katherine and 3 hours from Jabiru.
Getting around: Once you're in Litchfield National Park, a rental car is probably the best option, while there are a number of great tours operating out of Darwin.
Passes and permits: Information regarding permits is available through the park headquarters in Batchelor.
Plan ahead: Litchfield National Park isn't as large as Kakadu National Park, but planning is still necessary. Have an idea about where you want to go and if you plan on staying overnight. In the wet season, there's a good chance that roads could be closed – so be sure to check the Parks website.
Safety: Heed local advice and pay caution when swimming - always Be Crocsafe. Please only swim in areas clearly marked as safe.
Where to go next: If you're in Litchfield National Park, you've probably already been through Darwin – so the question is whether you'd like to go east or south? To the east, Kakadu and Arnhem Land are astonishing in their natural wonder – and only a few hours drive away. To the south, Katherine and Nitmiluk National Park are well worth the 2.5-hour drive.
More articles you might like