Secluded swimming holes in the Red Centre
…that you need to jump into
Put wild swimming and the Northern Territory together in the same sentence, and you might think it's hard to get there. Think again.
We recently travelled through the Red Centre with Tourism NT. As experienced secluded swimmers, our snouts alert to all manner of waterholes to cool off in. What we found in the region blew us away. Here are our faves:
Ellery Creek
Aboriginal Name: Udepata – a special meeting point for the Arrernte people on the fish and honey ant dreaming trail.
Nestled within the secluded swimming wonderland of the Tjoritja West MacDonnell National Park, Ellery Creek is quite remarkable. With easy access via a sealed road and plenty of places to chill and relax within the towering red cliffs that surround the waterhole, it's somewhere you could easily wallow away a day doing some hardcore chilling (there's also a campground here). Don't try and swim to the bottom though, rumour has it it's over a 1km deep. #holdontoyourgopro
How to get there: 88km West of Alice Springs on Namatjira Drive
Glen Helen Gorge
Aboriginal name: Yapalpe – named by the the Arrernte Aboriginal people.
Glen Helen pole-vaults the concept of a roadhouse into road tripping Narnia. A short stroll from the car park guides visitors to a serene hideaway with shaded banks set beneath huge quartzite cliffs that transform in colour as the sun does her thing. You'll share the spot with a throng of birds, reptiles and marsupials. For the tougher-fingered there are deep-water soloing opportunities, as well as a cheeky rope swing and secret beach if you swim through to the right.
How to get there: Glen Helen is located 132km west of Alice Springs on Namatjira Drive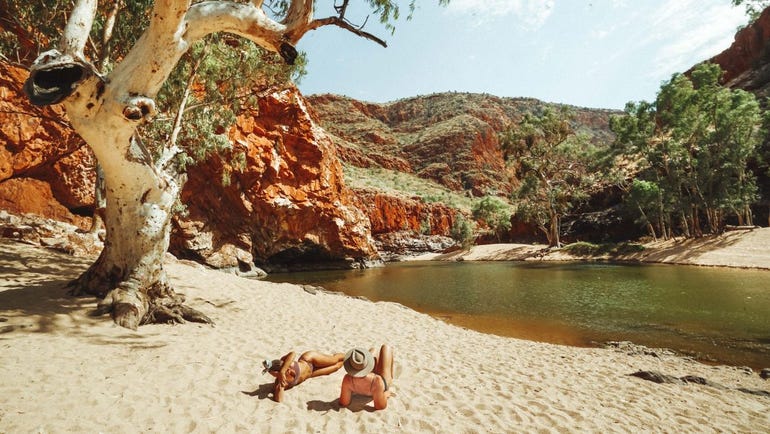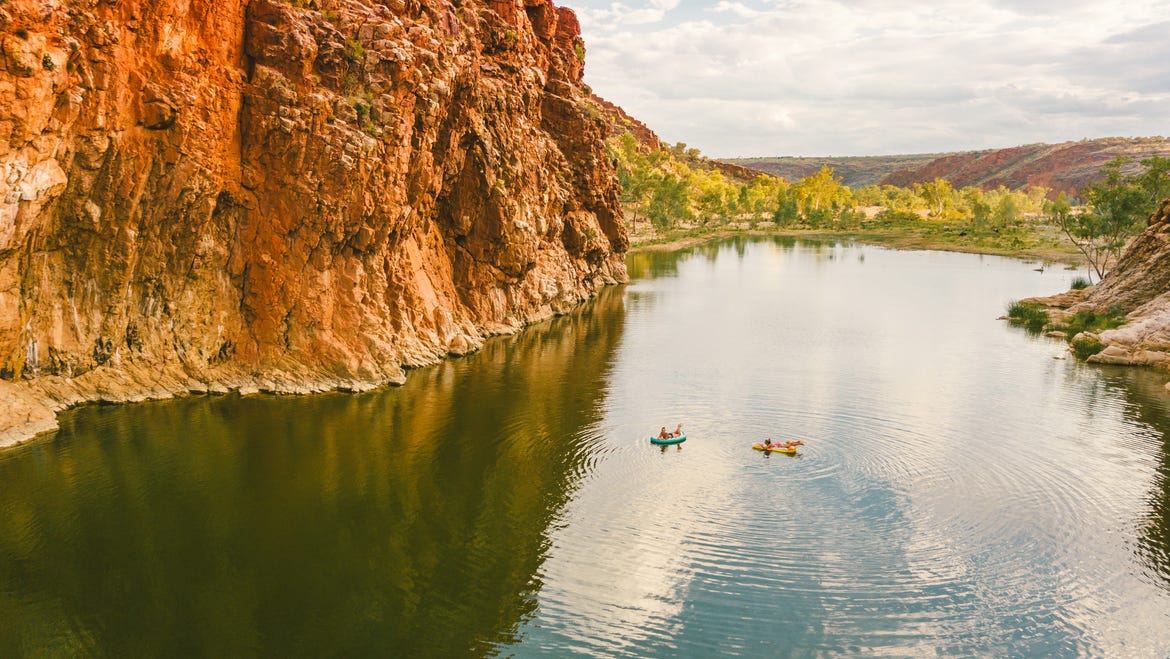 Ormiston Gorge
Aboriginal name: Kwartatuma – a sacred site of the Western Arrernte people.
Only 500m from the car, Ormiston Gorge has a large open area to stick your metaphorical flag into. A huge pool surrounded by sandy verges creates the perfect opportunity for a group charge into the water. To truly earn a dip though, you should attempt the 3–4 hour Ormiston Pound Walk, a loop hike from the car park. You can rely on this one to deliver the goods all year too: it's a permanently filled waterhole.
How to get there: Drive 135km west of Alice Springs.
Redbank Gorge
Aboriginal name: Yarretyeke
If you're starting to get a little picky on your magical mystery swimming hole tour, then maybe a slot canyon would tickle your fancy? There are plenty of hiking and camping options nearby too so give yourself plenty of time here to discover the area. Redbank Gorge is also a bird watching paradise. Tip: pack a floatie and enjoy the sunshine.
How to get there: Drive 156km west of Alice Springs via Larapinta and Namatjira Drives and you'll find Redbank Gorge at at the base of Mt Sonder (Rrewtyepme).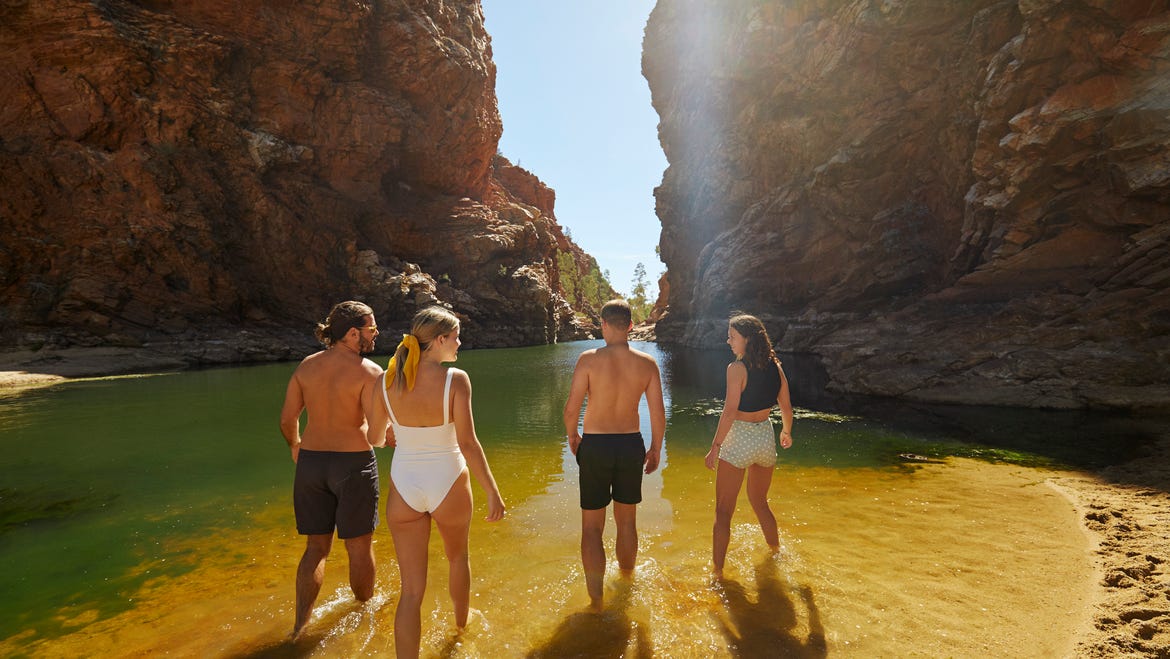 Look but don't touch (sacred waterholes you can visit but not swim in)
Simpsons Gap
Aboriginal name: Rungutjirpa – a mythological home to giant goanna ancestors.
Only a short drive from the city, Simpsons Gap is a wonderfully convenient stop over on the road to or from Alice. As one of the most unique gaps in the whole mountain range, it's really impressive to stand within. You'll have to pack a cold one though as it's the only refreshment allowed here – no swimming is allowed.
How to get there: 17km from Alice Springs
Serpentine Gorge
Aboriginal name: Ulpma – There is a Dreaming Story linked to an Eaglehawk ancestor, but only initiated Aboriginal men can share this story.
Follow a 1.3km walk from the car pack and you'll find a sneaky little waterhole within the rock formations, Serpentine Gorge. Whilst dwarfed by neighbouring waterholes, it's no less impressive with an array of wildlife and hiking off-shoots.
How to get there: 100km from Alice Springs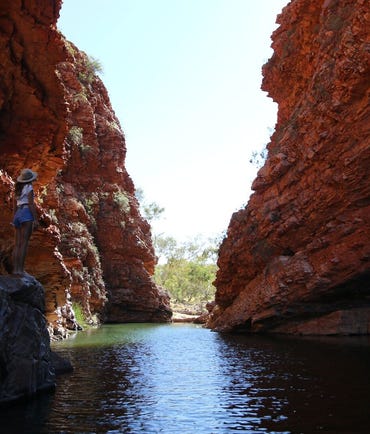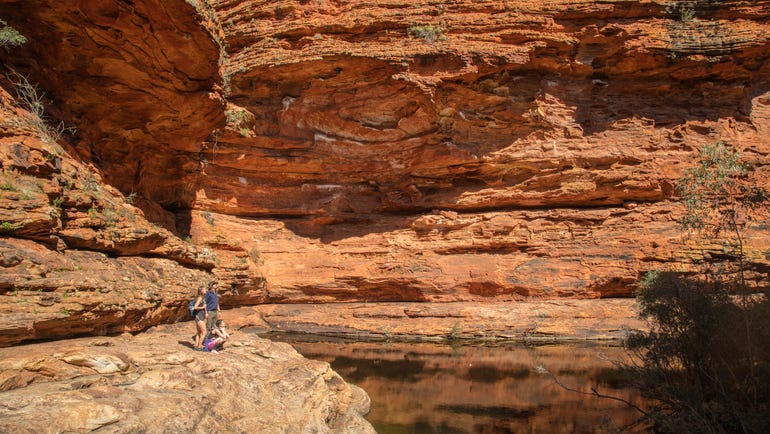 Garden of Eden
Like a surrealist painting, this place has the power to freeze you where you stand to marvel at its beauty. Tucked away in the depths of Kings Canyon in the Watarrka National Park, the lush greenery around the pool is of stark contrast to the looming orange cliffs. It's a 6km hiking track to access the pool – like finding a pot of gold at the end the rainbow.
How to get there: 470km from Alice Springs via the Stuart and Lasseter Highways and is accessed from the Luritja Road. Or only 145km via the Mereenie Loop, a four-wheel drive only track that takes you through the Tjoritja West MacDonnell National Park.