The ultimate Kakadu accommodation guide
Need to recharge the batteries and escape the hustle and bustle of the city? No matter your taste or budget, Kakadu National Park has accommodation options to suit every type of holiday experience.
Looking for wild-bush luxury accommodation or a romantic escape? Seeking a holiday with the family? Needing to get away from it all on a solo or group adventure? Want a budget-conscious yet enjoyable escape?
To help you find what you're looking for, we've created this epic list of Kakadu National Park accommodation options to suit your needs, timeline, budget and plans.
Luxury accommodation
Outback luxury lodges are exclusive by virtue of their remoteness, their special location and intimate size. Let all your worries wash away in a secluded and intimate escape at Bamurru Plains or Wildman Wilderness Lodge.
From the evocative safari bungalows to the divine beds overlooking the wetlands, you'll adore every inch of this private paradise. Time moves slowly here, and there's nothing to distract you from enjoying the moment as a couple or reconnecting with yourself. What could be more perfect?
Bamurru Plains
Bamurru Plains is an extraordinary bush experience on the edge of Kakadu National Park. Focusing on environmental sustainability and key luxury standards, this nine room camp exudes 'Wild Bush Luxury', bringing a touch of style to a remote and beautiful region. Each suite blends seamlessly with the surrounding bush, with a focus on the key luxury comforts, a supremely comfortable bed, innovative Australian cuisine and premium wines (no TVs, minibars or telephones to distract from the wildlife outside).
It's the soft touches that surprise in this remote bush location, and the understated luxury is very much in tune with the environment.
Wildman Wilderness Lodge
Amidst the lush wilderness of Australia's breathtaking Top End, Wildman Wilderness Lodge offers an extraordinary wetlands safari experience. Situated in the Mary River Wetlands area half way between Darwin and Kakadu National Park, Wildman is a small-scale, high quality safari lodge featuring a variety of boutique and environmentally sensitive touring options, including tours of Kakadu National Park and cruising on the Mary River.
It's teeming wildlife and unique tours offer a world far removed from your own, yet with all the modern comforts of great accommodation, delicious meals and wine to enjoy at the end of each day.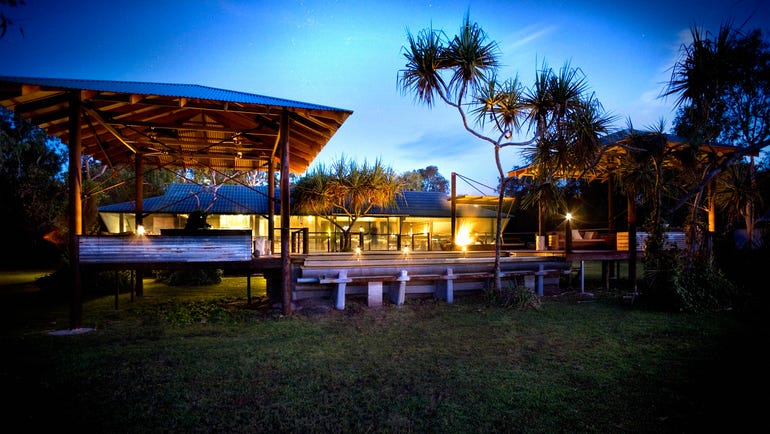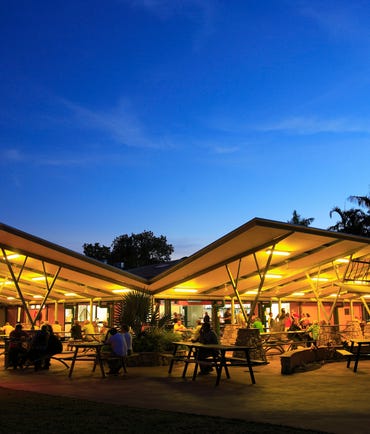 Perfect getaway
Below we've listed the best quality budget accommodation options that won't break the bank. Whether you're holidaying with the family, needing a getaway with friends or a solo adventurer, these picks will make for an unforgettable stay.
Aurora Kakadu
Marvel at the wildlife roaming the spacious and lush grounds from the comfort of this tropical property right in the heart of Kakadu National Park. Aurora Kakadu hotel is the perfect place to unwind and relax while enjoying the many attractions in the World Heritage-listed park. Aurora Kakadu hotel is set in attractive, spacious and lush tropical surroundings offering a range of accommodation options, from hotel rooms and cabins to shady, grassed camping sites.
Kakadu Lodge
Set in tranquil tropical surrounds, Kakadu Lodge is an ideal place to experience all that Kakadu National Park has to offer. The fully-landscaped gardens provide shady grassed camping areas and comfortable accommodation in self-contained cabins. Recharge for the next day's wild adventures with a dip in the pool and a sleep in the comfortable cabins, caravan and campsites.
Anbinik Kakadu Resort
Immerse yourself in unforgettable Kakadu from the tranquil tropical gardens and architecturally designed self-contained cottages.
Lakeview Park Kakadu offers unique, architecturally designed self-contained accommodation set in tropical surroundings. The park is central to most of Kakadu's iconic attractions and is within walking distance of the Jabiru Town Plaza. Choose from cabin accommodation, bush bungalows or caravan and camping sites.
Mercure Kakadu Crocodile Hotel
Step inside the belly of Kakadu's most famous inhabitant: the crocodile, spending days roaming the north of Kakadu and nights in the pool and gardens.
Indigenous-owned Mercure Kakadu Crocodile Hotel is deluxe accommodation in Jabiru. It's ideally located for visitors to explore the north of Kakadu, including Ubirr, Cahills Crossing and Magella Creek. See Aboriginal art including paintings and didgeridoos in the hotel art gallery and on the lobby and interior walls.
Cooinda Lodge Kakadu
Plant yourself at the entrance to the Yellow Water Billabong with Kakadu National Park surrounding your air-conditioned room and private courtyard. Indigenous-owned Cooinda Lodge Kakadu is an ideal place to stay to witness the natural beauty of this World Heritage-listed site. The hotel boasts a variety of accommodation options. Choose from spacious superior lodge rooms, or camping and dorm accommodation for the budget conscious.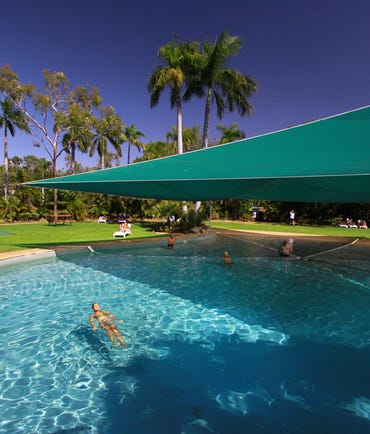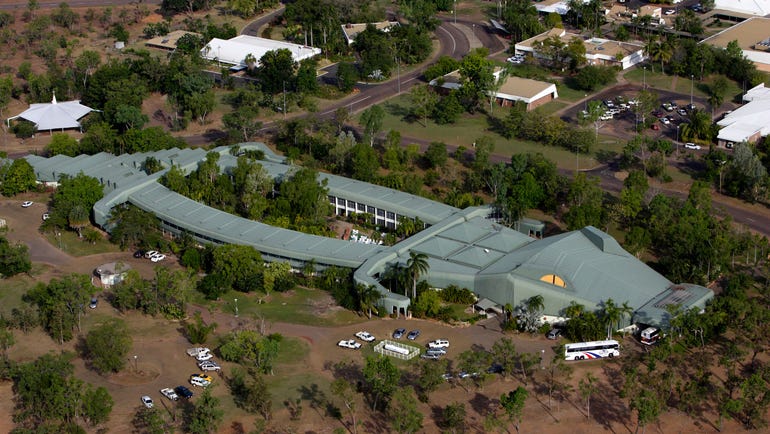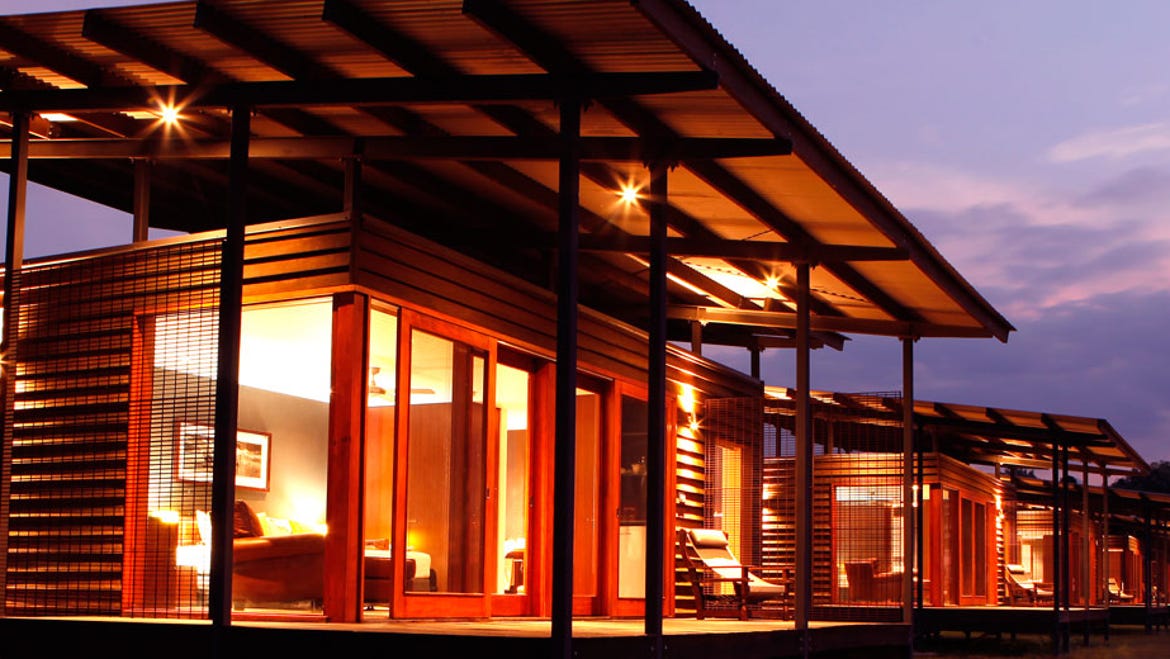 Sleeping under the stars: Caravan and camping grounds
Get off the beaten track and keep it self-sufficient. There's a raft of great spots throughout the NT for those wanting to get away from it all. Kakadu National Park boasts some of the Top End's most picturesque and untouched camping grounds to pitch a tent.
The park-run campsites have no booking system – places are allocated on a first-come, first-served basis. For camping outside of designated camping areas you'll need a camping permit. Settle in for some serious relaxation and some of Australia's best night-sky dining and peaceful surroundings.
Alligator Billabong camping area
Reached via the track to Red Lily Billabong by 4WD, this campsite is 26km south of the Arnhem Hwy. There are no facilities, toilets or drinking water.
Graveside Gorge camping area
You need a permit to use this basic bush site, which has no toilets or other facilities. The track in is suitable for experienced 4WD drivers only. The camping area is 44km south-east of the Kakadu Hwy, with access 73km south of the Bowali Visitor Centre. The site is sometimes closed to allow for cultural use by Aboriginal traditional owners.
Bucket Billabong camping area
No toilets or drinking water are available at this site, just 2km past Red Lily Billabong camping area. You'll need a 4WD.
Burdulba camping area
This camping area is near the turn-off for Nourlangie Rock, which has a number of impressive rock-art sites. Various walks link these sites, and there's also a track to the Nawurlandja Lookout, which gives good views over the surrounding countryside. There's no caravan access to Burdulba, and some campsites require a short carry-in, so are suitable for tents only. You'll need to bring your own drinking water. Look for the sign 15km south of the Bowali Visitor Centre.
Four Mile Hole camping area
This 4WD site may be inaccessible in the wet season and has no toilets or drinking water. To get here, continue past Two Mile Hole for another 22km.
Garnamarr (Jim Jim Falls) camping area
This is the closest campsite to the spectacular Jim Jim Falls. It can cater for 200 people, with showers and drinking water. It's accessible only in the dry season, and is a 60km journey by 4WD on gravel roads. Turn east off the Kakadu Hwy, 43km south of the Bowali Visitor Centre.
Black Jungle Springs camping area
You'll need a 4WD to reach this basic site on the Old Jim Jim Rd, which links the Arnhem Hwy to the Kakadu Hwy. There are composting toilets but no drinking water.
Gungurul camping area
There's year-round access for camping and caravans here. There are picnic tables and toilets but bring your own drinking water and firewood. It's a 4km bushwalk to the South Alligator River. Access is signposted off the Kakadu Hwy, 47km north of the Mary River Roadhouse.
Most visitors to Kakadu National Park choose to stay at least three nights in the park – after all, there's far too much to see and do here to fit into just one day. Check out some more Kakadu accommodation options.