Top End lodge adventure
5-day self-drive itinerary
Looking for luxury with a difference? Top End lodges are a great option to connect with nature whilst still experiencing all the comforts that make you feel like you're on a holiday.
Day 1
Depart Darwin for your 3-hour drive to Cooinda Lodge – located within the green heart of Kakadu National Park. Cooinda Lodge offers a variety of accommodation including glamping tents, cabins and powered camp sites. The lodge has an inviting shaded swimming pool and bistro-style dining with the local barramundi being a favourite on the menu!
Stop at Adelaide River on the way to Kakadu and hop aboard a jumping crocodile cruise.
The Yellow Water Cruise experience, located next door to Cooinda Lodge, is a must for anyone visiting Kakadu National Park. Spot wildlife along the banks of the river in the early morning or crocodiles sun baking in the late afternoon. It's an ever-changing living ecosystem which is both beautiful and fascinating. Every cruise is different and offers a unique experience.
After your cruise, make sure to stop in at the Warradjan Aboriginal Cultural Centre to learn more about the traditional owners and the natural cycles of the flora and fauna of the area.
Day 2
Get an early start, and depart the lodge to visit the highlights of the World-heritage listed sites around Kakadu: the waterfalls and ancient rock art.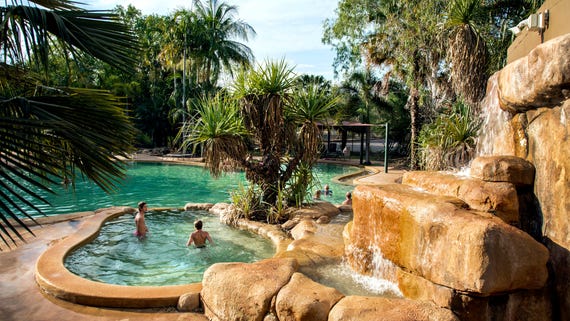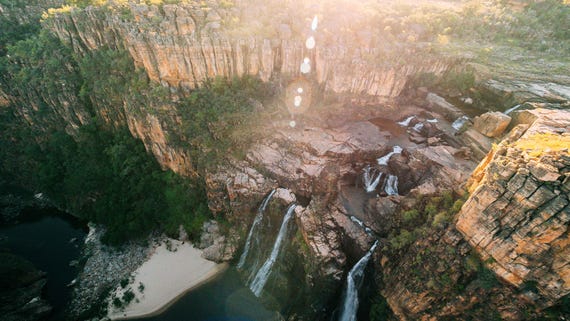 Day 3
Depart Kakadu National Park and make your way to Cicada Lodge in Katherine (around 4 hours).
Cicada Lodge is your sanctuary from which to embrace the ancient landscapes and Aboriginal culture in the iconic Nitmiluk National Park. The lodge is a joint venture between the Jawoyn people and Indigenous Business Australia (IBA), and the perfect base to explore Nitmiluk Gorge and the National Park.
Day 4
Take advantage of the morning light for a 1½ hour adventure swim helicopter tour. Fly over the 13 gorges of the Nitmiluk system and land at a remote waterhole. You and your guests can enjoy the serenity of your own pristine swimming hole – crystal clear waters and not a soul to disturb the peace.
Relax poolside before heading off for the Nabilil Dreaming Sunset dinner cruise. Sit back and relax as the tranquil surroundings transport you into a spiritual world of the Jawoyn culture and history. Discover the stories and ways of the Jawoyn people against the magnificent backdrop of the Nitmiluk Gorge, changing colour with the setting sun. Experience the spectacular beauty of the gorge by candle and starlight whilst enjoying delicious Australian cuisine.
Day 5
Depart Cicada Lodge for 3 hour return drive to Darwin along Stuart Highway. Stop and explore the waterfalls at Litchfield National Park on the way back.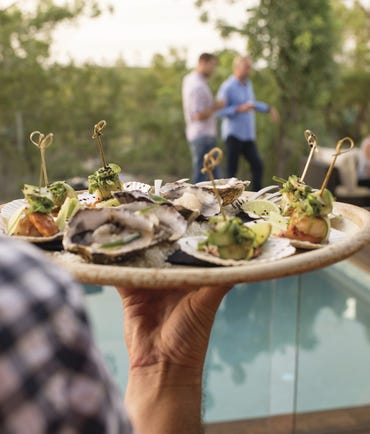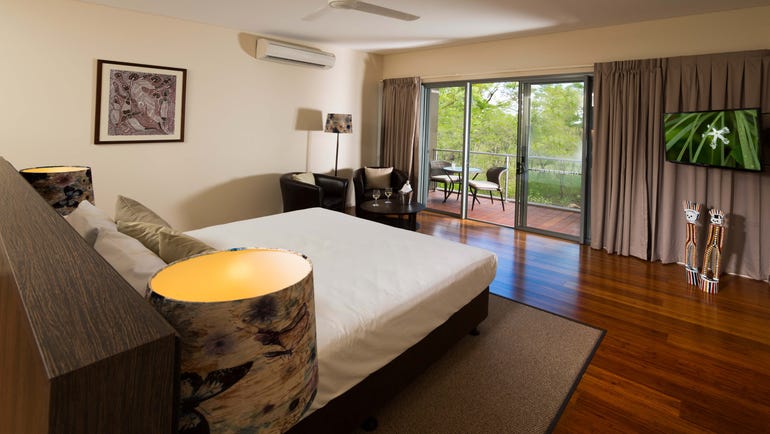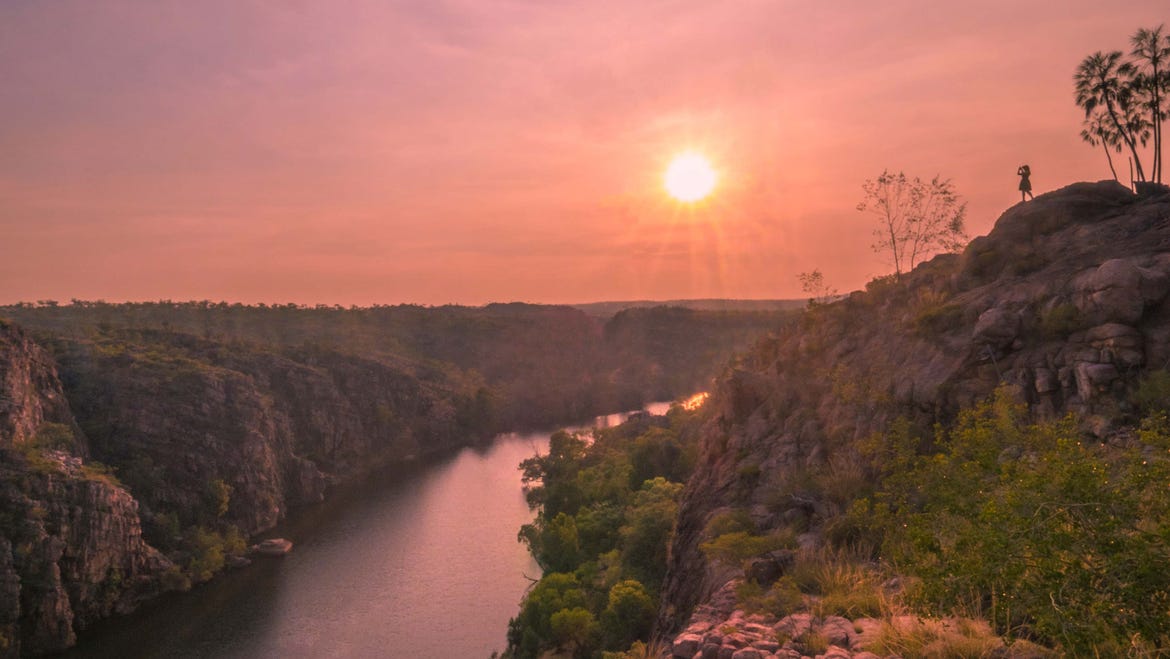 More itineraries you might like