​The Romance Guide: Uluru
Why Australia's beating heart will set yours on fire...
Let Australia's heart bring you and your beloved closer. Sacred Aboriginal site Uluru is a spiritual place to connect. Be dazzled by breathtaking landscapes, abundant wildlife and the star-filled outback sky.
Ready to pack your suitcase? We've put together a lover's itinerary for your travel diary.
What to do
Embrace Australia's Red Centre by cycling around the 15km base of Uluru with your companion, all while appreciating the Aboriginal culture and natural surroundings. This ride can be completed at your own pace, so breathe in the fresh bush air and enjoy contemplative moments.
If cycling isn't your thing, why not hitch a ride on somethingmore animated? Cosy up to your loved one on a sunset camel ride with Uluru Camel tours and watch the sky transform from a daylight blue to twilight purple.
Explore beyond the rock and take in the monumental site of Kata Tjuta. Don your trekking boots and head off for a 3-hour adventure on the Valley of the Winds walk. The breathtaking views are worth the effort.
Continue your cultural journey together by immersing yourself in awe-inspiring Aboriginal art culture at Maruku Arts. Work alongside the locals and colour your holiday by creating traditional dot painting artwork together. If you want to take home something special for your someone special, you'll be pleased that all profits go to the local Anangu people.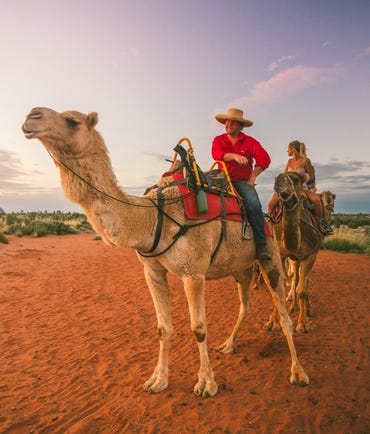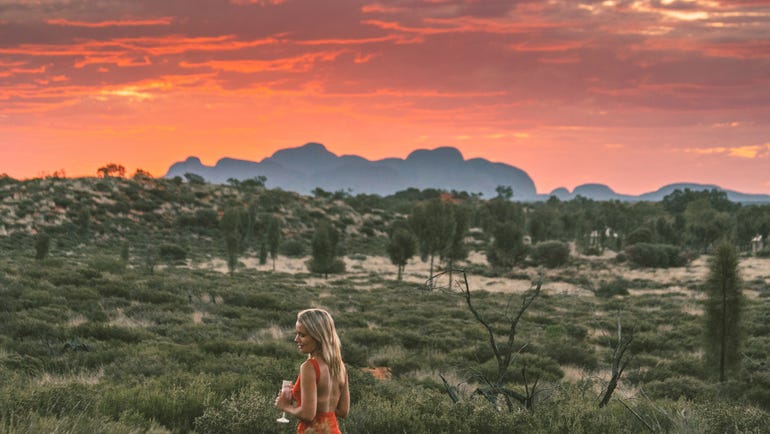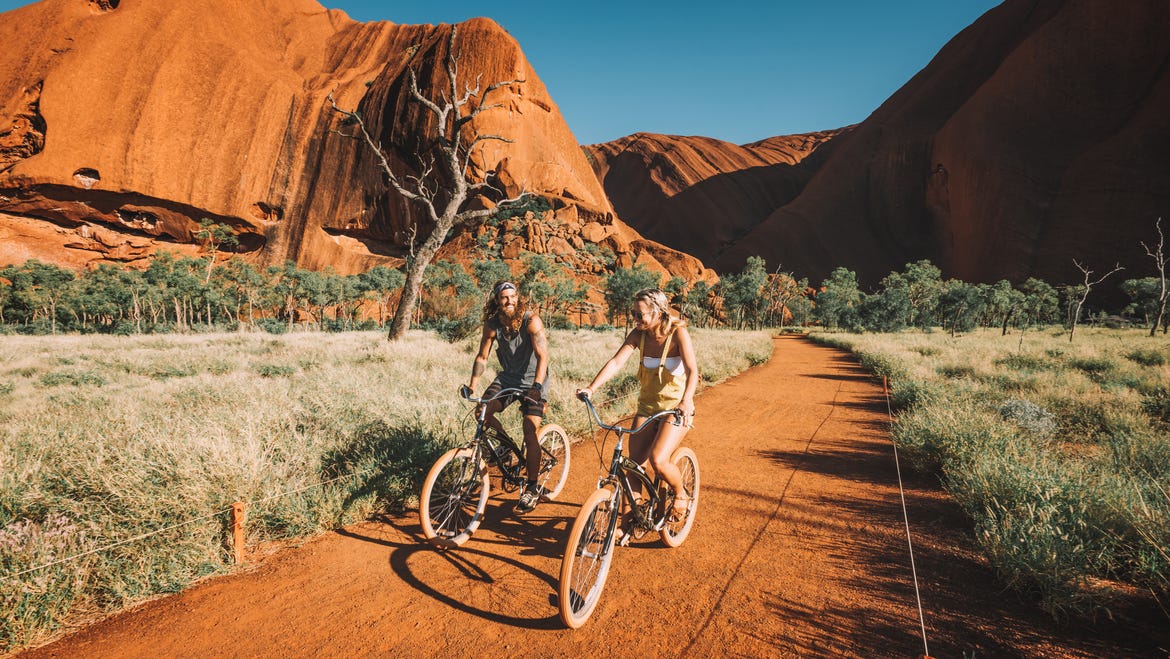 Ready to take a leap of faith with your lover? Get ready for a wild ride as you (and sparks) go flying with Skydive Uluru, with transfers departing daily from Ayers Rock Resort. If jumping out of an aircraft isn't for you, stay buckled up on a helicopter flight over the outback courtesy of Ayers Rock Helicopters. The best view of Uluru is from the sky, so sit back and float over the Red Centre with your sweetheart.
Where to wine & dine
When the moon hits your eye in the vast field of light, that's amore. Catch the twinkle in your lover's eye during A Night at Field of Light. Indulge in sparkling wine and canapes as the ochre-red sun settles down for the day. Be charmed by the soothing sounds of the didgeridoo and witness 50,000 individual sphere lights come to life at nightfall. Be spoilt by a delicious buffet dinner as your hosts share the history of the light installation.
For an intimate culinary experience, consider Tali Wiru. Serving no more than 20 diners at a time, you'll feast on a 4-course dinner paired with Australian wines in the open-air, perched upon a sand dune. As you clink your champagne glasses, marvel at Uluru and the distant domes of Kata Tjuta in view. After dinner, finish your evening together with captivating stories of the land told by an Aboriginal storyteller.
Breakfast marks the start of a new day, so why not treat your love to a personalised experience? At Ilkari Restaurant, guests may enjoy an extensive international breakfast menu with egg and pancake stations manned by cook-to-order chefs. At dinner, tantalise your taste buds with a mouth-watering 3-course meal including the freshest seafood, cured meat, antipasto and soup inspired by Indigenous flavours. If you've got room for dessert, share a chocolate fountain.
Rev up the romance with an intimate a la carte dining experience at Arnguli – a restaurant that celebrates Australian produce in spectacular surroundings. The conversation will flow while you gaze over the restaurant's garden grounds surrounded by quintessential ghost gums.
Where to relax
Pamper yourselves at the luxurious Red Ochre Spa, located at the Sails in the Desert Hotel. With tranquility in mind, the Red Ochre treatments will leave you both feeling renewed and relaxed. Impress your sweetheart with a 2-hour 'Desert Awakening' package or, if you're really wanting to recline for a while, consider the 'Sacred Journey' package which is 3 hours of pure bliss, head to toe.
After floating out from your spa treatments, unwind poolside with sundowner cocktails and tapas share plates under the sunset. The Pira Pool Bar, also located at the Sails in the Desert Hotel, is the ideal place to recount the holiday memories you've made together.
Where to stay
Uluru offers an array of accommodation options with the cultural heritage, native wildlife and stunning celestial displays at the heart.
There's no better way to start and end your day than overlooking the prodigious rock at Longitude 131. These 'grandeur tented pavilions' are the most opulent way to stay during your romantic holiday with your love. Cuddle up in luxury, gazing at Uluru at the foot of your bed.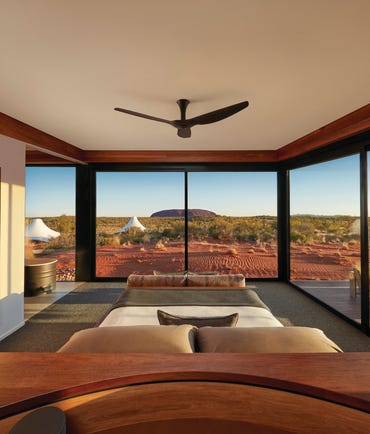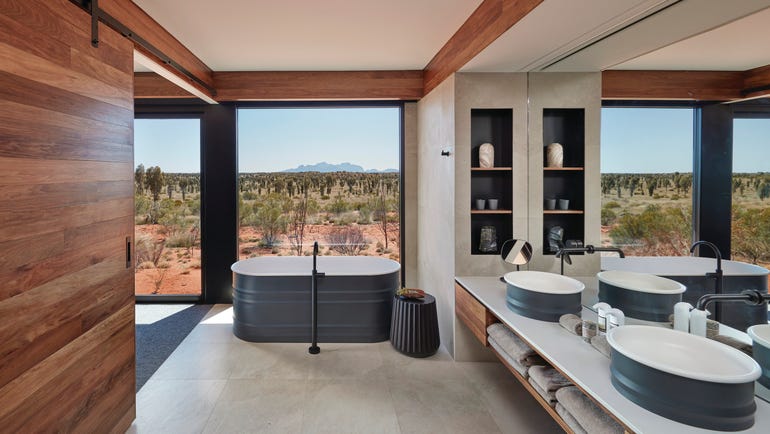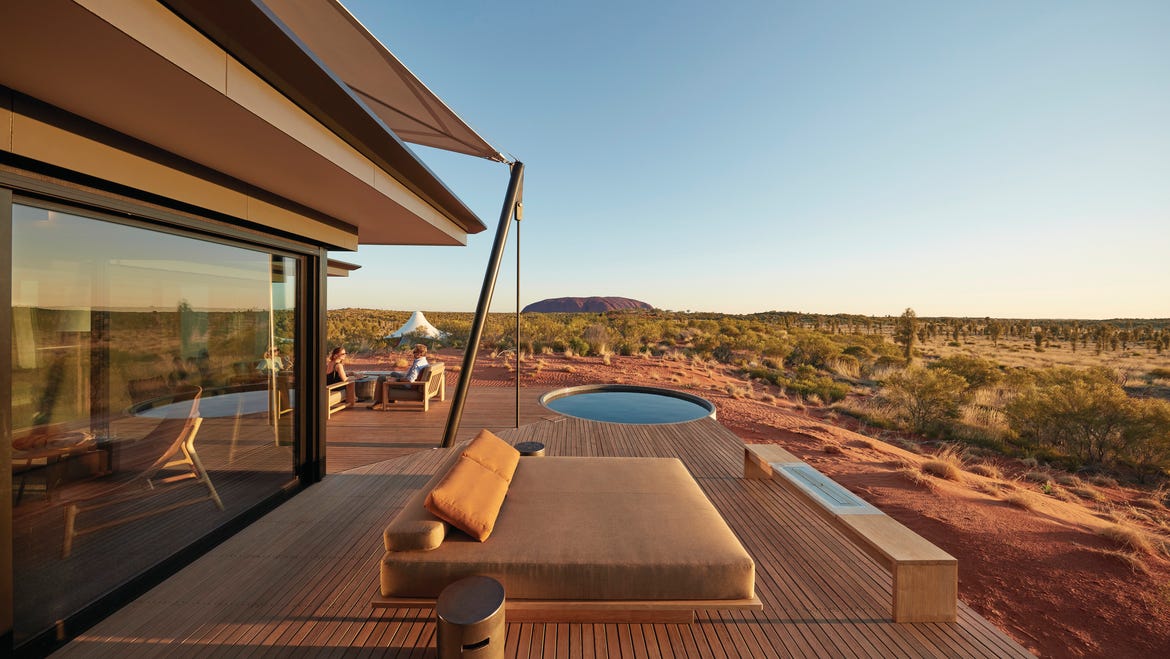 If you and your partner want to experience Uluru in style, settle yourselves under the sails of the elegant and classy Sails in the Desert. Submerge yourselves into the gumtree-lined heated swimming pool and clink your glasses to the start of something beautiful.
Settle into the natural allure of the Red Centre at the Desert Gardens Hotel, located amongst the native flora around Uluru-Kata Tjuta National Park. Embrace each other in your private balcony or courtyard and breathe in the crisp, garden air.
Cosy up with your honey in the modestly styled Emu Walk Apartments. Located only 20km from Uluru, these modern serviced apartments offer a home away from home in the magical Northern Territory.
Or, relax in comfort at Lost Camel Apartments. This contemporary boutique styled hotel is a fun way to enjoy the profound culture Uluru has on offer. Embrace your inner child in the hotel's central swimming pool or stroll hand-in-hand around the conveniently located shops and cafes nearby.
If you're outback dreaming, rest your heads under a blanket of stars at the Kings Creek Dreamtime Escarpment Tents and 'glamp' in style. Be welcomed with a decadent cheese platter and a 2-course, self-cook barbecue dinner and breakfast hamper waiting for you on check-in.
Set your heart alight in Uluru
Are you both ready to experience a piece of Australia's heartland? The pulse of Northern Territory's centre is sure to leave you pinching yourselves at every moment. Plan your trip, pack your bags and set off on an adventure together that you'll never forget.
More articles you might like