Northern Territory Art Trails Guide – Alice Springs to Darwin
Road tripping the Territory Art Trails is an opportunity to immerse in the oldest living culture on Earth. The canvas of the Northern Territory is as vibrant as it is vast. As it unfurls before you on the 1,500km drive from Alice Springs to Darwin, there's an urge to connect to the land, its people and their traditions.
Aboriginal art centres and galleries across the regions of Alice Springs, Katherine, Tennant Creek, Kakadu, Darwin and the Tiwi Islands present a unique and authentic journey into Australia's Indigenous past and present, where the pictures paint a thousand stories.
Days 1 & 2: Alice Springs
The Araluen Cultural Precinct, in the heart of Alice (Mparntwe), is recommended as your first acquaintance to the region's art and culture. A large-scale mural and sculpture garden, featuring the impressive 3m high Yeperenye caterpillar, one of the major creative ancestors of Alice Springs, greet guests on arrival, and the foyer features a floor-to-ceiling stained-glass window depicting Arrernte stories.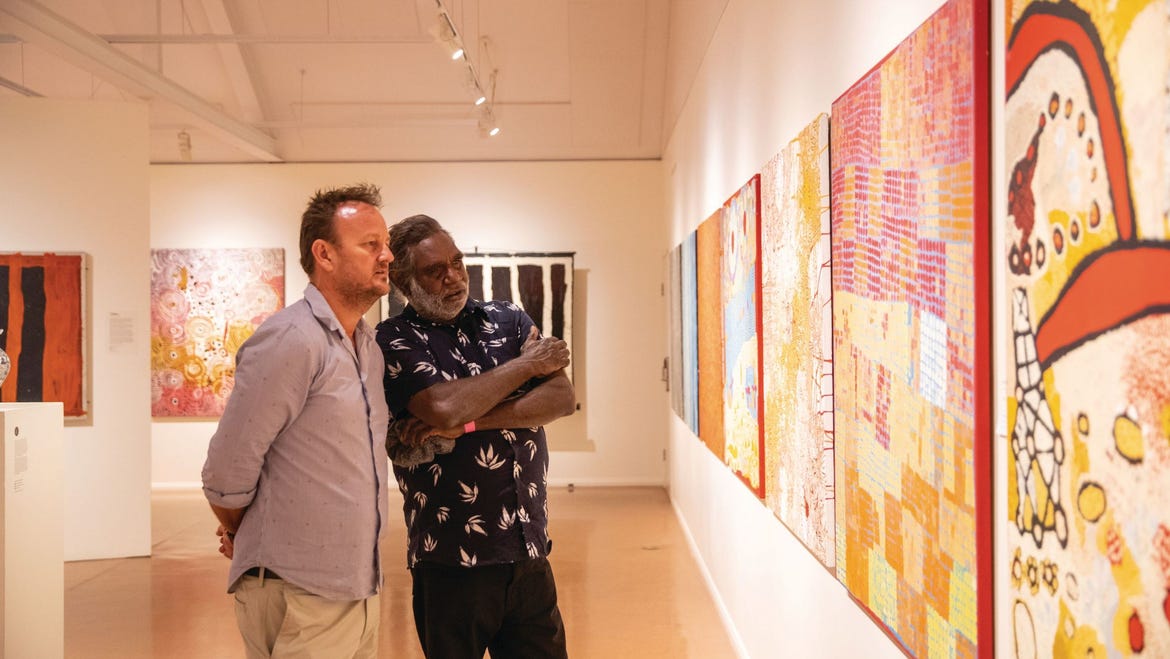 Inside the gallery you'll be introduced to Australian Aboriginal art through an eclectic display of Central Australia and Western Desert artworks from Araluen's 1,000-plus regional collection, alongside an ever-changing mix of touring exhibitions. Original watercolours from iconic Indigenous landscape artist Albert Namatjira and his family members are a highlight.
Just a three-minute drive up the road, you can't miss the bright colours of the Tjanpi Desert Weavers. Tjanpi specialises in fibre art, bringing together the work of more than 400 women artists across the Ngaanyatjarra Pitjantjatjara Yankunytjatjara (NPY) Lands. Here you'll discover genuinely unique and joyful baskets, jewellery and sculptures created from a quirky fusion of natural native fibres and brightly dyed materials.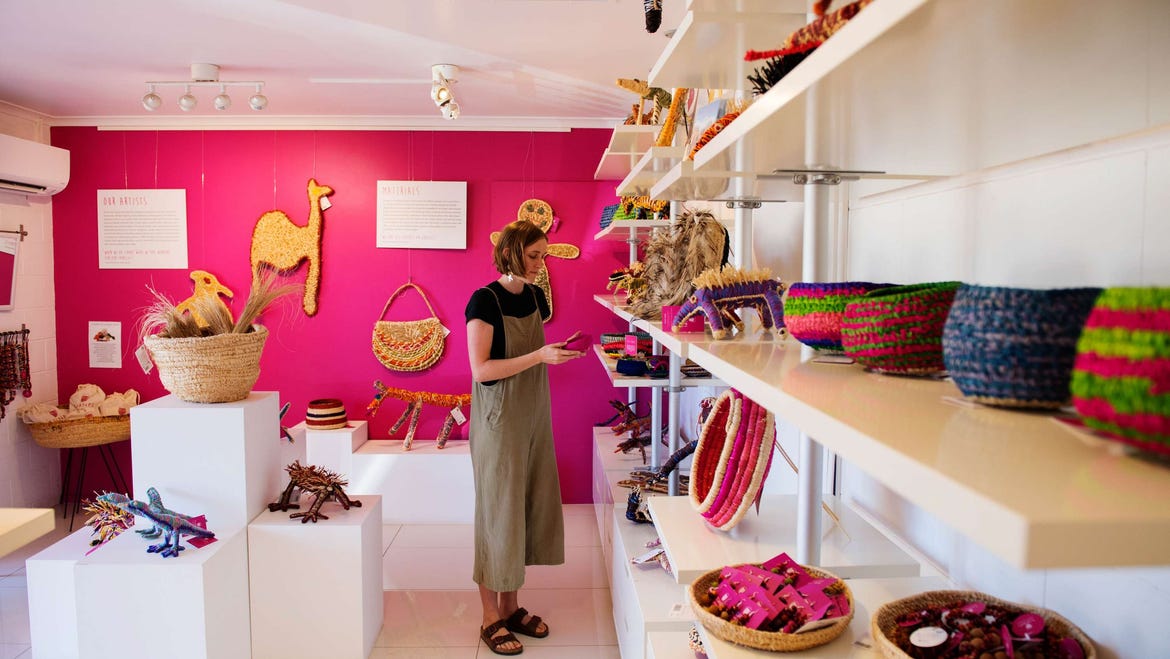 The next feel-good stop is Tangentyere Artists, less than 5-minutes' walk from Tjanpi. The centre focuses on the creations of Town Camp Artists, which brings with it a mix of traditional and contemporary pieces. Depictions of town camp life are often created on recycled objects and Tangentyere is becoming increasingly well-known for its collection of tin jewellery.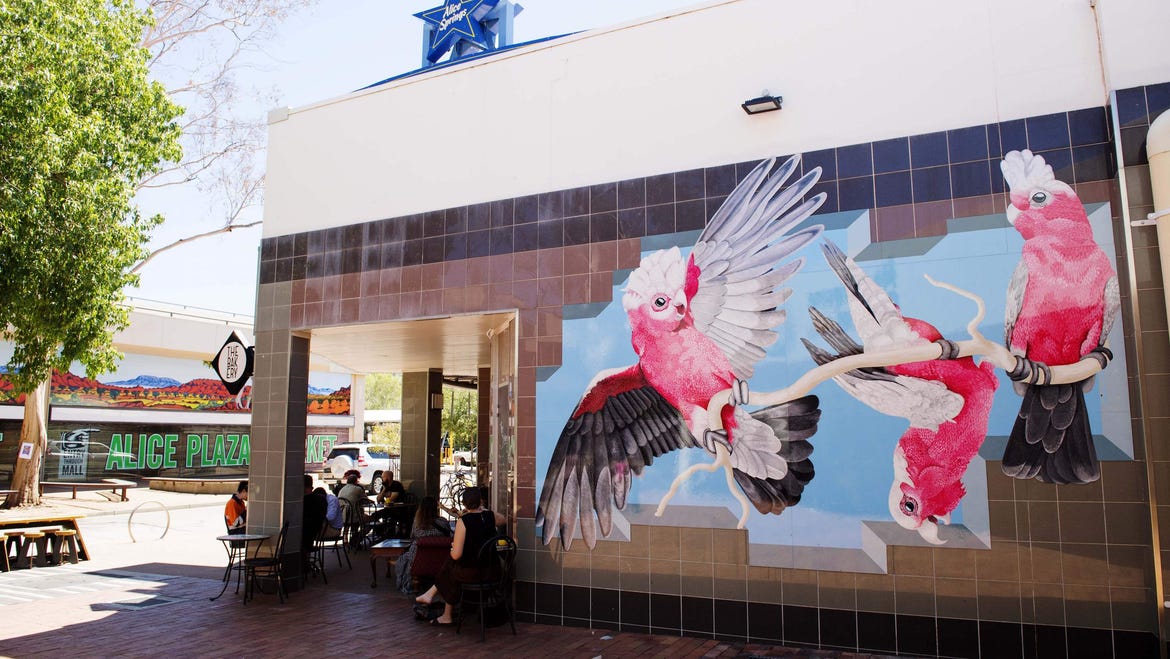 Back in the town's centre, the Todd Mall is brimming with local artwork, from public art lining the walls and footpaths to the myriad of galleries. Mbantua Alice Springs specialises in art from the Utopia (Urapuntja) region, known for its vibrant, contemporary abstract works representing old culture.
Day 3: Tennant Creek
500km north of Alice Springs in Tennant Creek (Jurnkkurakurr), Nyinkka Nyunyu Art and Culture Centre is a place of cultural significance. The art a cultural centre is located next to a sacred site for the Warumungu people, and is shaped like the goanna after which it is named. It features work from local artists, touring exhibitions and a modern museum showcasing the area's Indigenous stories through displays of plants, wildlife and traditional artefacts.
For genuine insight into the local culture, Nyinkka Nyunyu runs cultural tours which explain the significance of the sacred site and introduce visitors to bush tucker growing just outside the centre's doors. If the wild berries and lemongrass don't fill your belly, the centre's café definitely will.
Day 4: Beswick & Katherine
Before you reach Katherine, take a 60km detour along the Central Arnhem Road to discover the distinctive art on offer at Beswick (Wugularr). Djilpin Arts and the adjacent Ghunmarn Cultural Centre were established by the late actor and musician Balang TE Lewis. Founded on his belief that art could change the world, Djilpin Arts is overflowing with fibre art, hand-cut didjeridus, paintings, carvings, jewellery and textiles.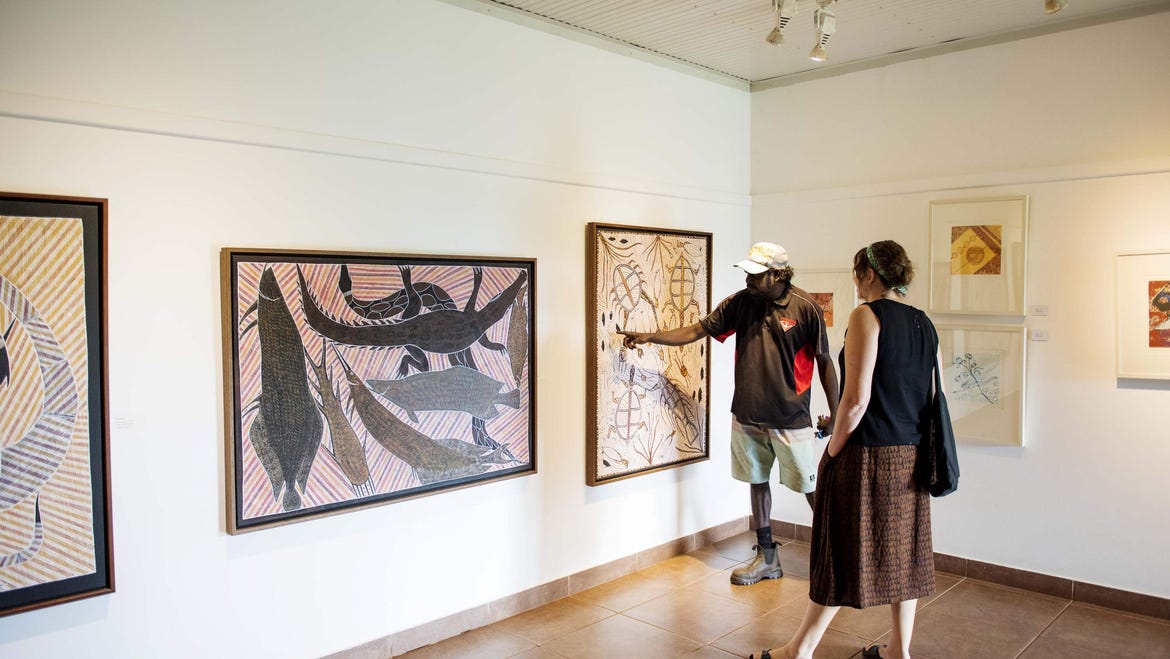 Local artists are on-hand explain traditional stories and techniques behind significant works by community elders in the incredible collection at the cultural centre. You can also take a cultural tour out bush where you'll learn to harvest sugarbag (native honey), natural dyes and pandanus for weaving, and be shown how to cut a didjeridu. With a local as your guide, you can also visit the area's spectacular secluded swimming holes. If it all sounds like too much to pack into one day, accommodation is available at Djakanimba Pavilions – a work of art in their own right, located right beside the art centre.
Back on the road, it's only around 100km to Katherine, where the Godinymayin Yijard Rivers Arts & Culture Centre is your next stop. A hub for local art, in Godinymayin's exhibition spaces you will find everything from photography to textile arts and local landscapes.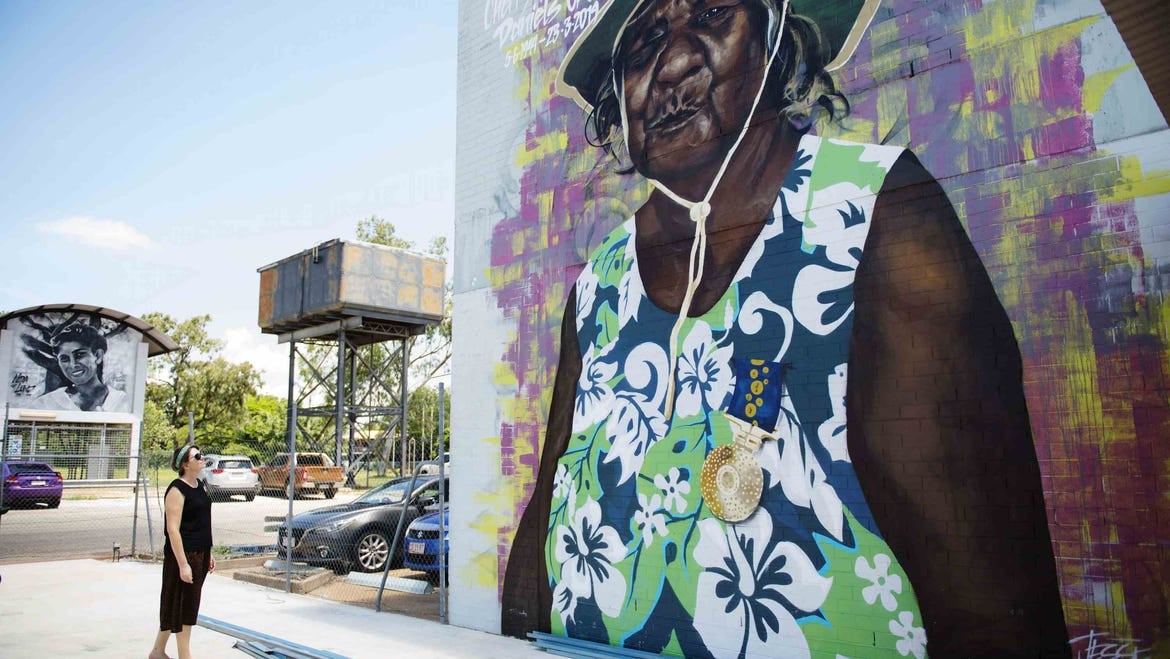 In the centre of Katherine there's more art from around the region and beyond at Mimi Aboriginal Arts and Crafts, Gallop-Thru-Time Gallery & Framing, and Top Didj Cultural Experience & Art Gallery. Before you skip town, take a walk along the main street and Railway Terrace for incredible street art featuring portraits of local Indigenous identities.
Day 5: Kakadu & Surrounds
Ancient rock art is synonymous with Kakadu National Park, and inside the Heritage-listed park's art centres there's even more to discover. Detouring from the Stuart Highway and entering the southern part of Kakadu, close to Cooinda Lodge you'll find the Warradjan Cultural Centre. Learn the tribal elder stories from the Bininj Traditional Owners of the area, and take home some hand-crafted authentic local made arts and crafts from the shop.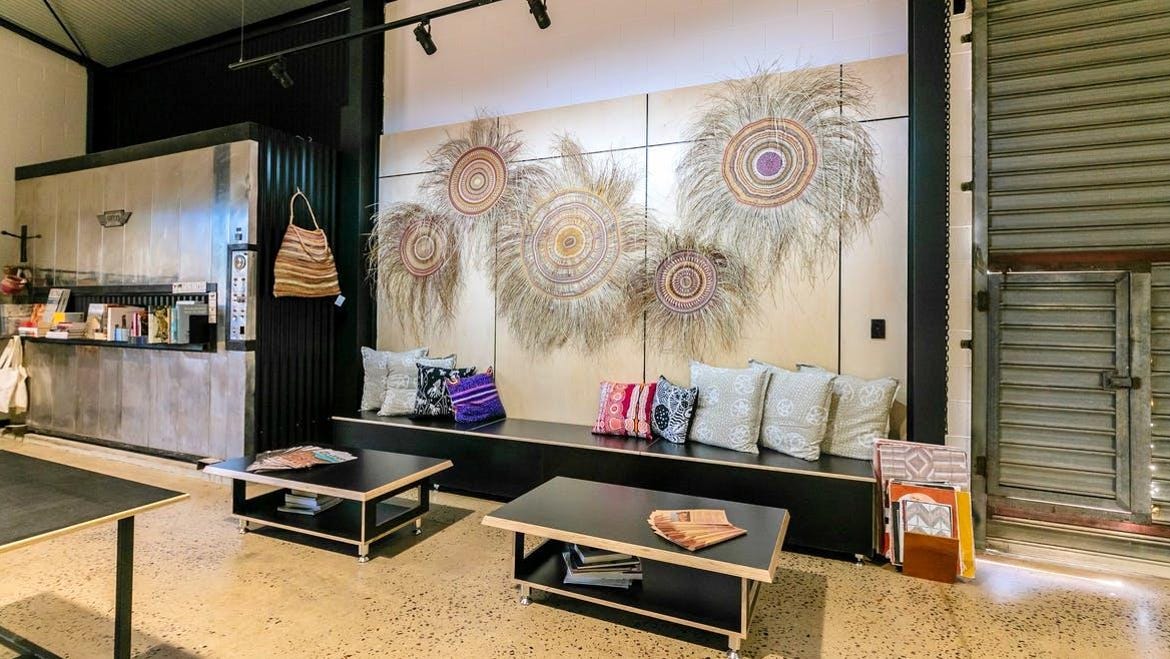 Following the Kakadu Highway north-east 60km to Jabiru, Marrawuddi Gallery has found a new home in the town's old bakery. Visitors are greeted by a striking mural painted by local and interstate artists which mirrors what you'll find inside the vibrant community art centre. Prepare to be spellbound by local artists weaving or painting in the gallery's outdoor creative space.
Looking to experience Indigenous art and culture on country? Book a visit with Pudakul Aboriginal Cultural Tours to explore the local wetlands with the traditional owners – Pudakul also offers overnight cultural experiences to Kakadu and Litchfield.
Day 6: Darwin
From Kakadu, the Northern Territory capital is a 250km drive north. Once in Darwin, start your Top End art quest at Aboriginal Bush Traders, housed in the historic 1925 Lyons Cottage. Here you'll find an eclectic mix of the NT's best regional art all under one roof. Exhibitions focusing on a particular artist or community rotate through the gallery space every six weeks, resident artists work on the grounds and engage with tourists, and the shop offers everything from show-stopping large canvases down to affordable 'bush bling' jewellery, books, candles and soaps. The adjoining bush-tucker café will introduce you to local superfoods like Kakadu plum, lemon myrtle, quandong, desert lime and wild rosella.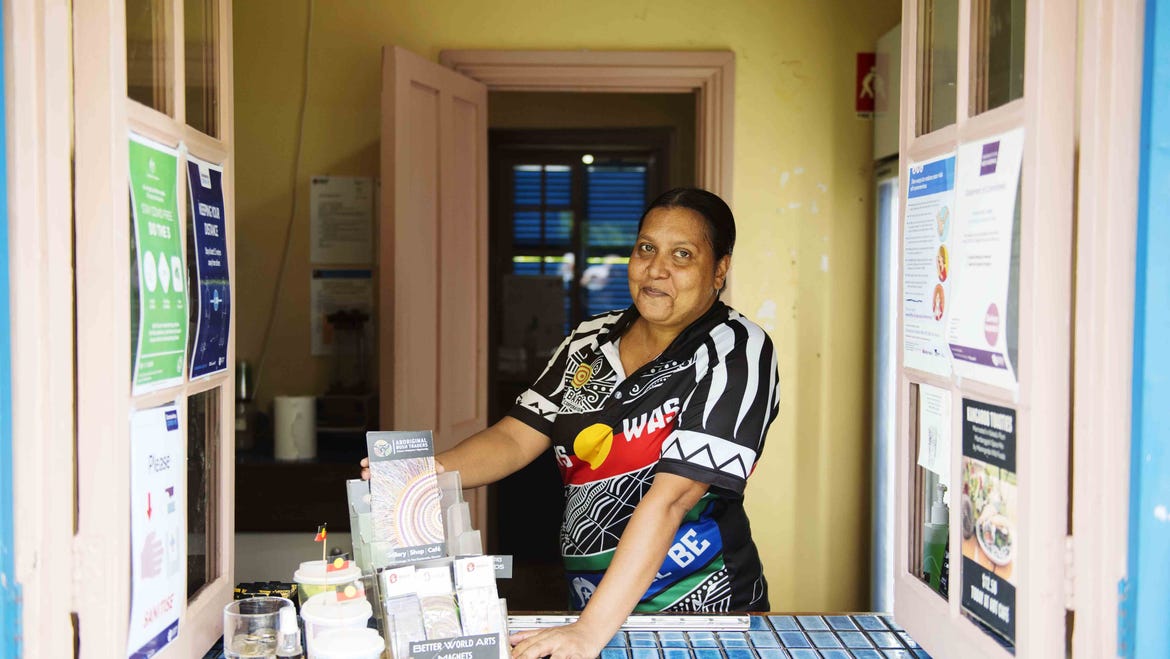 While visiting Darwin, make sure to stop in at a few of the art galleries around town to check out the latest exhibitions. Make your way up Knuckey Street to Sister7 – Darwin's first women's-only gallery – for insights to sacred women's business, then onto the Smith Street Mall, where you'll find Darwin's own Mbantua Fine Art Gallery, home to a wonderful selection of paintings and crafts. Mbantua specialises in art from the Utopia Region of Central Australia and the gallery is proud to represent a small group of non-indigenous artists as well.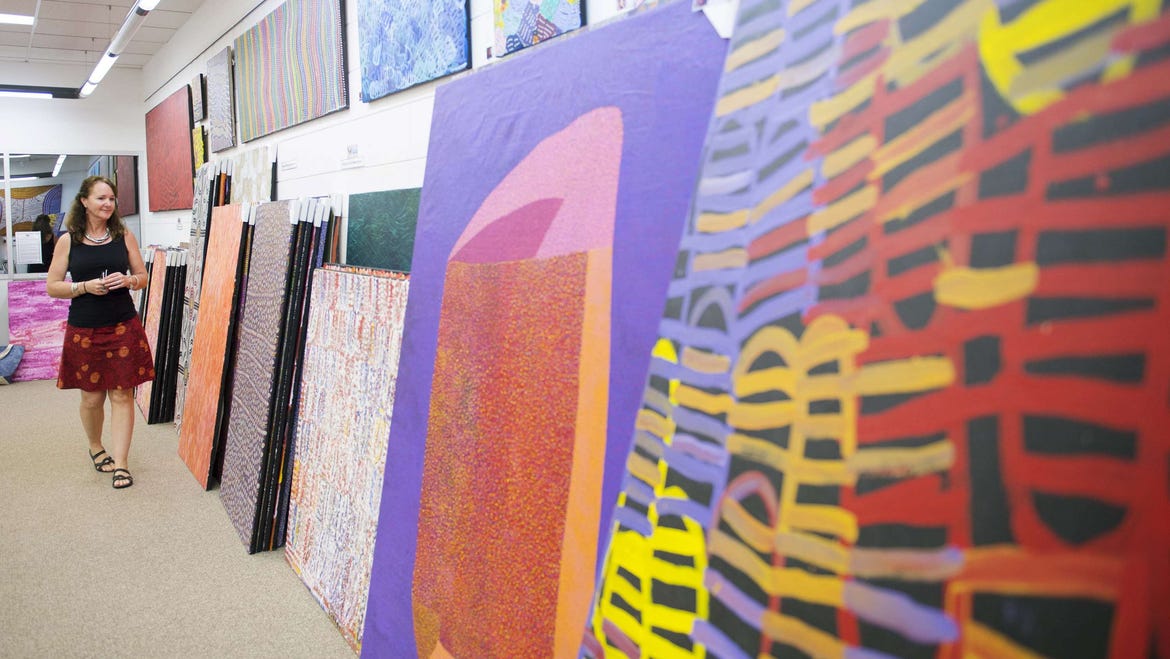 For more Aboriginal art exhibitions, head to Outstation Gallery in Parap Village and remember to check the Museum and Art Gallery of the Northern Territory – home to the annual exhibition of Telstra National Aboriginal & Torres Strait Islander Art Awards.
Day 7: Tiwi Islands
Accessible from Darwin via a charter flight or SeaLink ferry, the Tiwi Islands (Bathurst and Melville) are lauded nationally and internationally for their distinct art. From the moment you step inside the Ngaruwanajirri art centre, located at Wurrumiyanga on Bathurst Island, you can see why the island's artists command such attention. Impressive murals look down on visitors from the ceiling and artists utilise the inspiring space to create work in a range of mediums including natural ochres on paper and canvas, silk batiks, natural ochres on carved iron wood, linocut and monotype ink prints and gouache paints on paper.
A couple of kilometres up the road, Tiwi Design is best known for its printing workshops and wearable art. At its textile printing workshop, original artworks are translated onto screens, colours are hand-mixed and matched to designs, and fabrics printed by hand. Local artists are happy to demonstrate the process, so you take home some knowledge as well as fabulous prints.
At Pirlangimpi, on neighbouring Melville Island, the artists from Munupi Art Centre cover a diverse range of works, from painted furniture to pottery, and everything in between – all inspired by the Tiwis' unique natural environment and creation stories. On the other side of the Melville Peninsula, Jilamara Arts & Crafts Association is the Milikapiti community's creative and cultural hub, featuring a carving workshop, a textile printing and painting studio and the Muluwurri Museum Collection. Artworks showcasing the natural Tiwi palette of red, yellow, white and black are for sale at Jilamara's Kutuwulumi Gallery. Remember to check permit requirements with the arts centre or tour operator before visiting.
For more trip ideas, check out these Northern Territory itineraries.
More articles you might like