How to experience Uluru
(without walking on it)
Unless you've been hiding under a rock, you've probably heard the news that as of October 2019, the climbing of Australia's famous rock has been permanently closed.
There are a plethora of other ways to appreciate the magnitude of this natural phenomena and Aboriginal icon that we reckon are way better than trampling up and down it anyway. The best times to visit are sunrise and set when it's a cooler and the colours are beyond any artist's palette.
Bicycle
Two-wheeled travel using leg-engines is the way forward in our opinion - they'll get you around quicker than walking, give high-5's to the environment en route, and create much needed wind-flow in the desert heat.
Outback Cycling is a mobile bicycle shop conveniently located next to the car park at the Uluru-Kata Tjuta Cultural Centre. It's up to you to decide how far you want to ride, a full lap of the rock (10.6km) has a nice ring to it though #tourderock.
Camel
Speaking of trusty steeds, camels take desert travel to a whole other level.
You can't help but gain a deep appreciation of these animals; how they adapted to their environment but also in the vital role they played in discovery and exploration. There's also something pretty cool about cresting a red dune atop a ginormous 4-legged "ship of the desert".
Uluru Camel Tours are the go-to at sunrise, and in addition to the ride itself, you'll also get to scoff down home made beer-bread damper and local jams.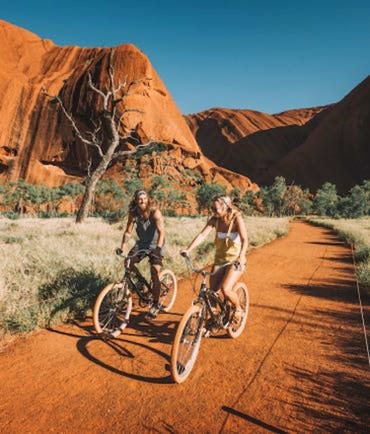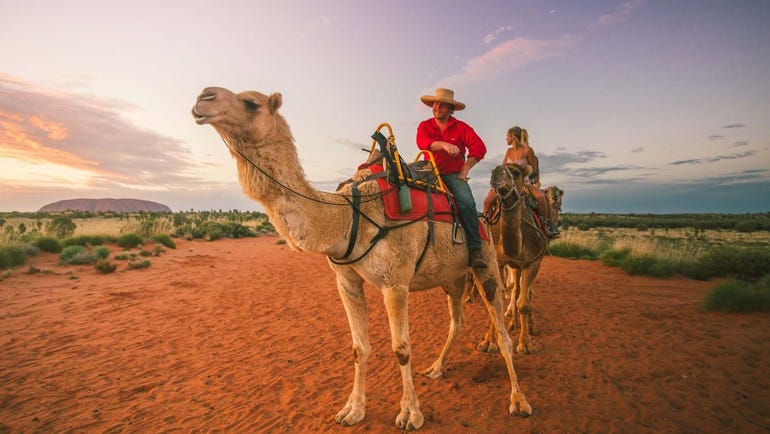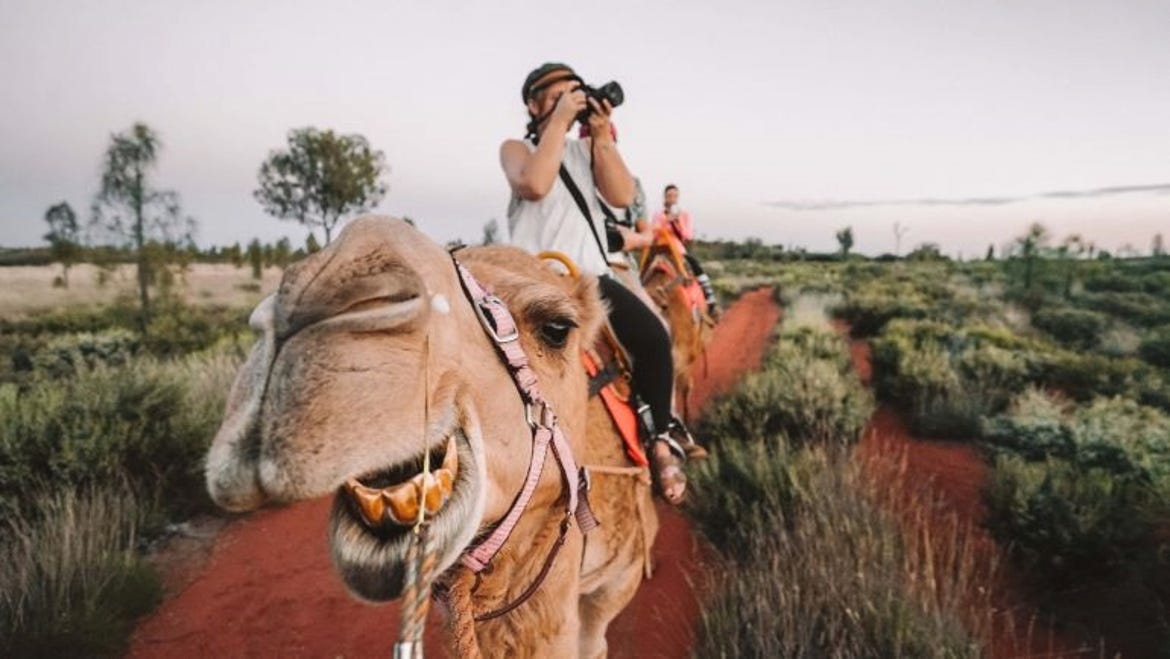 Skydive
We all strive to fill our lives with new experiences and curate a mind-bank of awesomeness (we are explorers after all). Hurtling towards Uluru at terminal velocity falls into this category. It's not something you'll be forgetting in a hurry
Skydive Uluru are the only operator in the area, and with thousands of jumps under their belt (and a clean safety record), you're in more than capable hands with this mob.
Hiking
Trails weave around Uluru and even into the rock itself. The base walk is the most common, a 10.6km loop that takes around 3.5 hours to complete, depending on how much you gawp at the rock art. The other options are significantly shorter (up to 4.5km) and each offers a different rock experience. Time it right after rainfall, and the Kuniya Walk guides visitors to the Mutitjulu waterhole, an experience that'll make you question everything you thought possible at Uluru.
None of the walks are particularly challenging (for the most part they're relatively short and flat) but it's the heat that can get the better of travellers who don't kit themselves with commonsense supplies: water, sunscreen and hat. For a full list of walks, check this out.
Field of Light
The brainchild of British bulb wizard Bruce Munro, this ambitious art installation is like nothing else on earth.
Known locally as Tili Wiru Tjuta Nyakutjaku, it means 'looking at lots of beautiful lights' which perfectly encapsulates the experience. As the light gives way to darkness, a sea of 50,000 solar lights illuminate across a spectrum of pulsing colour beneath the backdrop of the mighty Uluru.
The light installation has now been extended to run indefinitely.
There are so many ways to ensure your trip to Uluru is one you'll never forget. If you're looking to splurge for one of those once-in-a-lifetime experiences then there are a number of dining experiences, where you can enjoy dinner out under the outback night sky... need we say more?