7 unique foods to try in Australia's Northern Territory
…and where to find them
One of the greatest joys of visiting other cities and other countries is the food. I've always said the best ways to get to know a place are to eat it and walk it, so when I was invited on a hosted 2-week exploration road trip to Australia's Northern Territory and Outback, I brought my most forgiving pants.
The Northern Territory of Australia has over 100 nationalities with roughly 140 social and cultural groups, so the flavors found in the Northern Territory is as diverse as its peoples. From Aboriginal indigenous peoples to a heavy influx of Asian, Malaysian, and Indonesian peoples to Greek immigrants, the dishes in Darwin, Alice Springs, and Uluru-Kata Tjuta National Park are just as adventurous as the hardy, wild spirit of the land.
From curry dishes to big fat grubs to fresh barramundi, Australia's "Top End" is ripe with creative dishes, high-end cuisine, and adventurous flavors. Here are the 7 unique foods to try in Northern Australia and where to find them.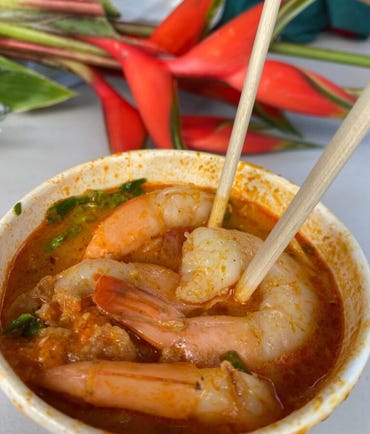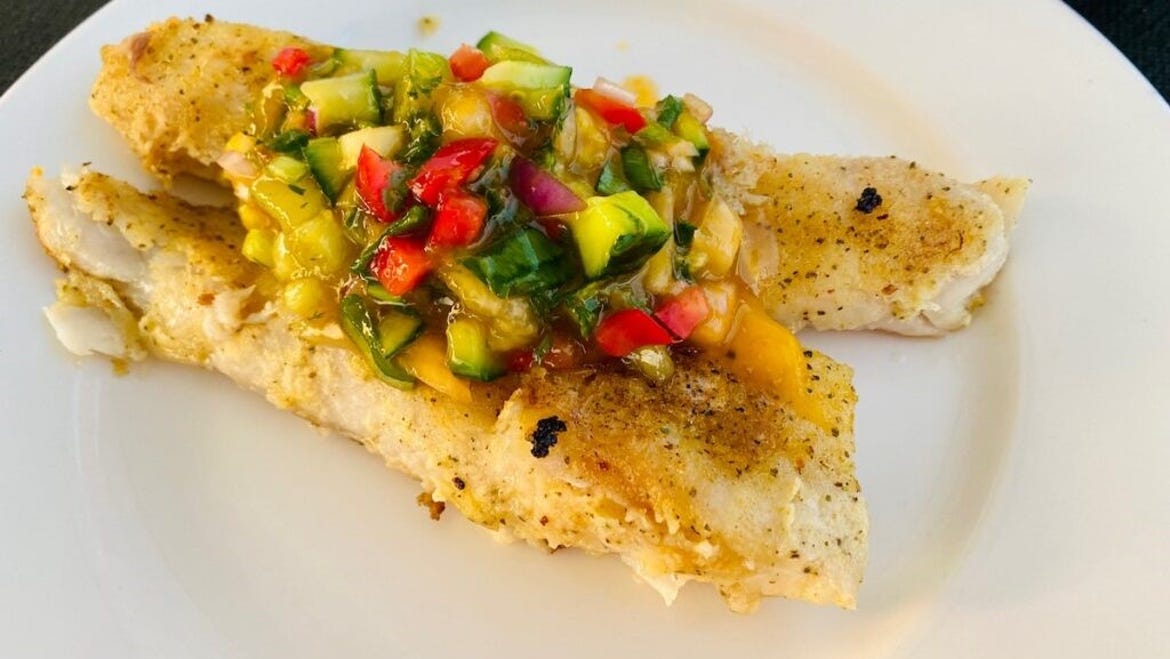 1. Laksa
On any given Saturday, Darwinites rush down to the Parap Village Markets in Darwin to line up at Mary's Laksa. Rich with the smells and flavors of Asian cuisine, The Parap Village Market is a type of "farmers market with an Asian flair". Many locals go every weekend to dine on food truck servings of satay, fresh tropical fruits and vegetables, traditional and authentic Asian delicacies, and, most importantly, laksa.
Being located closer to Jakarta than to Sydney, Australia, Darwin is arguably the Laksa Capital of Australia. This rich coconut milk and curry soup thick with noodles and scented with the heady flavors of lemongrass, chilies, galangal, and other sweet and sour spices can be made with chicken, prawns, tofu, and other proteins.
Many Darwinites swear by a bowl of spicy rich laksa for breakfast (especially after overindulging the night before), but it's a great dish any time of day.
The Parap Village Markets and the Mindil Beach Sunset Market are the best places to score authentic laksa, but if you want to try Mary's Laksa, be prepared to wait in line. Other places serving up award-winning laksa include Yati's Laksa at the Parap Market and the Laksa House, located just down the Stuart Highway and owned by Indonesian West Timor refugee Amye Un.
2. Barramundi
The largest number of wild barramundi in Australia is found in the Top End, so you won't have any problem finding this territory's food treasure. Many restaurants in Darwin, Alice Springs, Adelaide, and beyond list barramundi on the menu, which is served whole or as cutlets. Often, this flaky, firm fish is fried, barbecued, baked, steamed, grilled, or served up in a lemon and dill butter sauce or Asian-style stir-fry.
For top-rated restaurants in Darwin and beyond, check out Pee Wee's At the Point, Barra On Todd Restaurant and Bar at the Mercure Alice Springs Resort, and the Sunday sunset fish fry at La Beach Fish and Chips in Darwin.
Pro tip: Barramundi is a popular game fish, and Darwin is full of fishing charters that will happily take you out to score one of these big, tasty giants. For more information on fishing charters in Darwin, check the Northern Territory website.
3. Kangaroo
I didn't see a single kangaroo during my 2 weeks in the Northern Territory, but I ate a few! Kangaroos, which are cute and adorable, have been hunted for meat by Aboriginal tribes for generations, but the legalization of kangaroo meat for human consumption occurred only in 1980 in Southern Australia, followed by other states in 1993.
This healthy red meat, which is low in saturated fats and high in iron, is made into steaks, burgers, and sausages, often cooked from rare to medium. To me, the flavor was much like beef, but I only had a small sample on a sampling platter at the Barra Bar and Bistro at the Cooinda Lodge at Kakadu National Park.
Many restaurants in the Northern Territory serve kangaroo in various ways. If you're in Darwin, try the Roo Filet at Shenannigans Restaurant & Bar or The Moorish Cafe's Berber spiced kangaroo in tomato jam.
4. Crocodile
Like kangaroo, crocodile is just one of those exotic dishes you have to sample in Northern Australia. With 7 commercial crocodile farms in the Northern Territory, crocodile is often served fried on many menus.
After a day of croc watching or swimming with crocodiles at Crocosaurus Cove, give these toothy predators a taste of their own medicine by sampling the crocodile schnitzel or crocodile spring rolls at Tim's Surf and Turf or the crocodile skewers at Crustaceans Steak and Seafood, both in Darwin.
At the indigenous-owned Cooinda Lodge, the Barra Bar & Bistro Taste of Kakadu platter includes crocodile spring rolls, but also bush delicacies like barramundi pie and buffalo served with Kakadu plum chili sauce and bush tomato relish.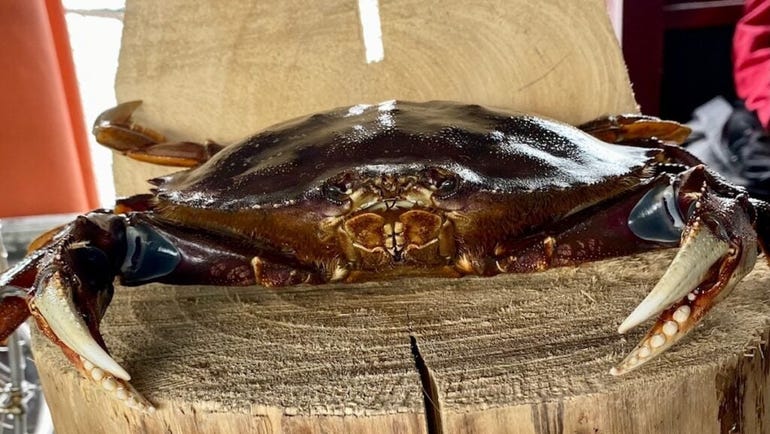 5. Witchetty grubs & ants
Western countries haven't caught on to the "eating bugs" as part of a balanced diet like other cultures have, but grubs, grasshoppers, ants, crickets, and more are packed full of protein and flavor.
Australia is home to indigenous and Aboriginal cultures and traditionally they have relied on a fat, white, thumb-sized juicy grub called witchetty grubs. One of Australia's bush tucker staples, witchetty grubs live in the roots of the witchetty bush and are the larvae of the cossid wood moth.
These protein-packed superfood squiggly grubs can be eaten raw, cooked on hot ashes, or barbecued, making their skin crispy and the insides not so… gooey.
I saw my first witchetty grub on the Karrke Aboriginal Cultural Experience Tour, a one-of-a-kind tour hosted by brother-and-sister team Peter and Natasha. This 1-hour cultural experience highlights the culture and traditions of the local Luritja and Pertame people of Central Australia.
Natasha dug out a couple of fat witchetty grubs from a root to let us taste it, but I'll be the first to admit that I passed on eating them raw.
The Tali Wiru open-air dining experience is based upon an exclusive dune facilitated by Voyages Indigenous Tourism. The curated dinner under the golden red sunset of Uluru, included an appetizer of melon with Australian green ants. Green ants are found in Australia's tropical north and have a sharp, tangy lemon flavor that is being incorporated into high-end dishes throughout the territory.
6. Camel burgers
Did you know that Australia is home to the largest population of feral camels in the world? Neither did I, but when explorers and colonizers began populating the Northern Territory and Outback, they found these humped desert ungulates were especially suited to the climate of Australia.
Today, an estimated 100,000 feral one-hump camels are thought to roam the Australian desert, and more than eight commercial camel farms provide products like camel milk, camel meat, skincare creams, and more.
Kings Creek Station, located on The Explorers Way highway between Alice Springs and Uluru and near Kings Canyon, serves up a mighty camel burger at its facilities that's absolutely delicious.
7. Mud crabs
Talk to the locals in Darwin, and they'll tell you that despite the dirty name, mud crabs have some of the best-tasting and sweetest meat you'll ever taste. Found wild in shallow waters and tidal flats, mud crabs can be found along most of the Australian northern coast.
Cathy's Place in Darwin is known for its mud crabs, but most seafood establishments will offer up these delicious crustaceans.
Pro tip
If you're visiting Uluru-Kata Tjuta National Park and staying at the Ayers Rock Resort, I highly recommend the Tali Wiru dinner experience. In addition to world-class gastronomic excellence, this dinner served at the top of a private dune spotlights Aboriginal culture and respect.
The 4-course dinner is infused with native herbs and spices, local ingredients, and unique plants. Book early because this dinner experience under the stars sells out fast each night.
For more on Australia, explore these articles: