​Top free things to do in Uluru & Surrounds
Uluru is known as the spiritual heart of Australia and should be on everyone's bucket list. There are a variety of once-in-a-lifetime experiences, including many for budget travellers or those looking for to fill a few extra days.
Bush food experience
Ayers Rock Resort daily free guest activities
The Bush Food Experience is a 45-minute free tour that gives you the opportunity to learn about the local native foods. You'll be able to taste seasonal seeds, fruits and spices. Your guide will explain how certain plants, fruits and spices were prepared for different purposes. This tour is a great introduction for learning about Australian and local native bush foods.
Bush Yarn
Ayers Rock Resort daily free guest activities
Located in Yulara Town Square, the 30-minute Bush Yarn lets you hear stories about Aboriginal history, culture and traditional techniques used on the land. You'll learn about bush tucker and view traditional hunting weapons such as spears and boomerangs.
Ecology & museum tour
Ayers Rock Resort daily free guest activities
Be escorted by an Aboriginal guide through the Wintjiri Musem, which provides an educational display highlighting Aboriginal culture, geology, flora and fauna. Learn about the Anangu land conservation and management practices, the history of Uluru and the development of tourism at Uluru.
Garden walk – Desert Gardens hotel
Ayers Rock Resort daily free guest activities
This tour allows you to explore the gardens filled with local flora that surround the Desert Gardens Hotel. Your Aboriginal guide will teach you how Aboriginal people traditionally lived using the bush for food and medicinal purposes. Pick up a Garden Walk Pocket Guide from your hotel reception and explore at your own leisure.
Walk around the base of Uluru
Although there's an entry fee for Uluru-Kata Tjuta National Park, the value you'll get from visiting the Park and being so close to Uluru is priceless.
Once inside the Park there are a number of walks and experiences that take you up close to explore this monolith. You can walk the trackaround Uluru, which is 10.6km in distance. We recommend you start in the morning when the weather's cooler, and remember to always carry enough water.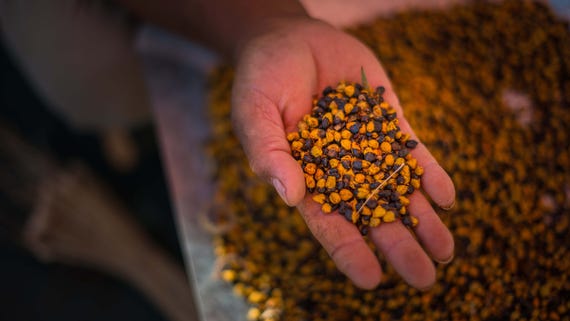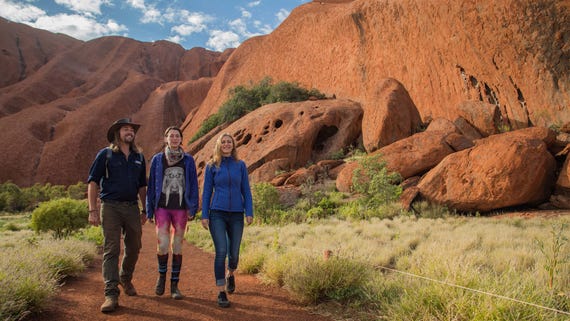 Walk to Mutijulu Waterhole
The walk to the Mutijulu Waterhole is much shorter walk and takes you into the waterhole where you can spot a variety of birds. Signage along the walk tells the Aboriginal stories of Liru and Kuniya and why it's such a special place for the local Anangu people. There are a number of other great walks around Uluru that allow you to explore the monolith up-close.
Walpa Gorge
Only a 20-minute drive from Uluru and equally as impressive is Kata Tjuta, which means "many heads" in the local Pitjantjatjara language. The Walpa Gorge walk is an easy 2.6km return walk that takes you through the domes to Walpa Gorge.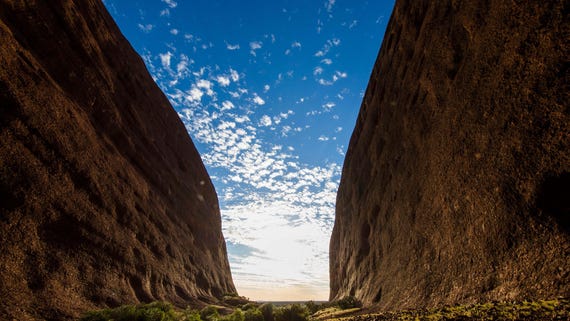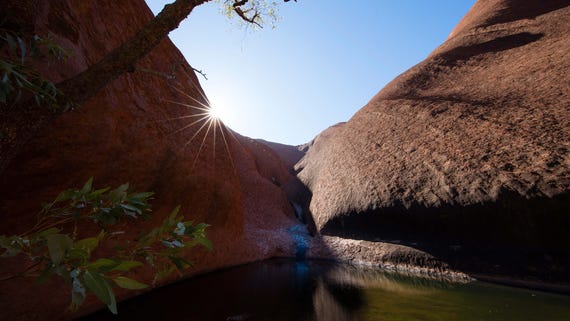 Valley of the Winds walk
Get away from the crowds and explore the Valley of the Winds walk. This 7.4km track takes approximately 4 hours, and winds through the domes into a valley and creek beds. It can be challenging in some sections, but it's worth the effort. There are a number of lookouts along the way offering breathtaking views. Remember to wear appropriate footwear and always carry water with you.
Sunset viewing platform / Ayers Rock Resort look outs
The sunset viewing platform in Uluru-Kata Tjuta National Park is one of the best places to enjoy sunset. Be sure to get there early, as it can get quite busy. You'll see the colours of Uluru change from bright ochre to deep purple as the sun sets. It's truly an unforgettable experience and one you need to see to believe.
There are a number of look outs located around Ayers Rock Resort. You can pick up a map from the reception of your hotel.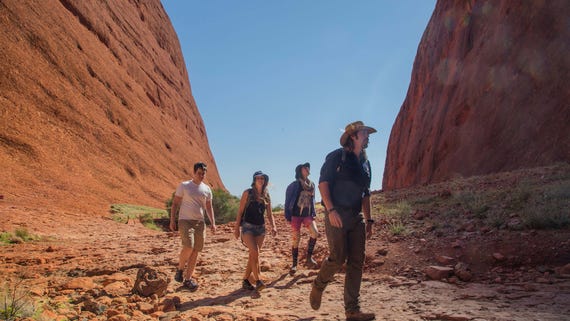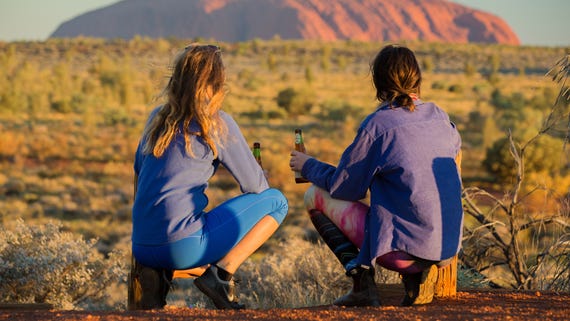 Kings Canyon rim walk
While visiting Uluru, don't miss the opportunity to see Kings Canyon, which is only a three hour drive away. Climb the iconic hike to the top of Kings Canyon, which takes you on a 6km journey with some incredible views. Stand atop Kings Canyon and be left in awe by the sheer size of the canyon and the geological formations along the trail. The hike takes approximately three hours at a leisurely pace. There are a number of great photo opportunities along the way. Make sure to wear proper hiking shoes and always carry enough water with you. It's recommended that you wake up early to complete the walk in the early morning when it's cooler. Free wi-fi is available to upload your snaps to social media.
Kings Creek walk
For a gentler hike, take the Kings Creek walk. This 2.6km track follows a trail between two soaring canyons. You're still treated to spectacular views of the canyon and the sheer cliff face. Free wi-fi is available.
Kings Canyon sunset viewing platform
Located at Kings Canyon Resort, the sunset viewing platform is an ideal spot to unwind after a long day and enjoy a drink at the outdoor bar. Sit back and unwind while the colours of Kings Canyon change during an unforgettable sunset. Free wi-fi is available.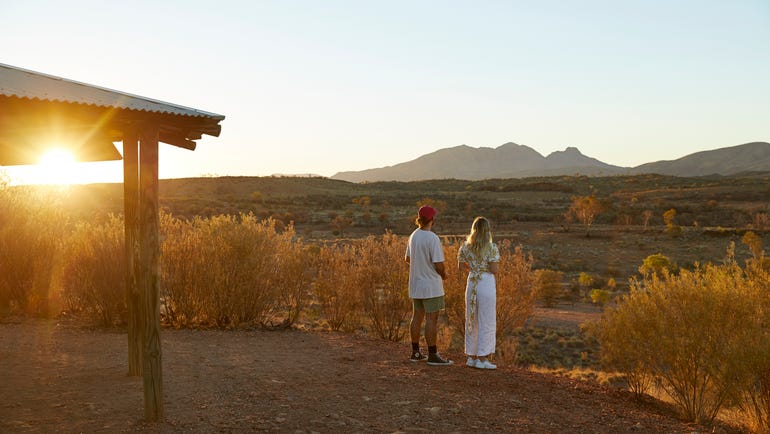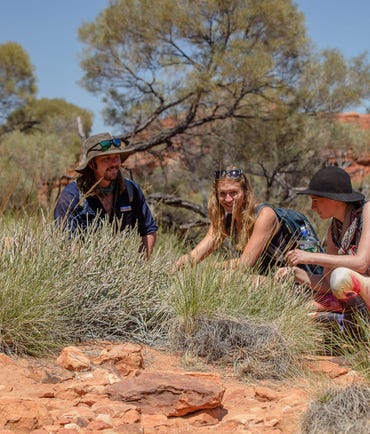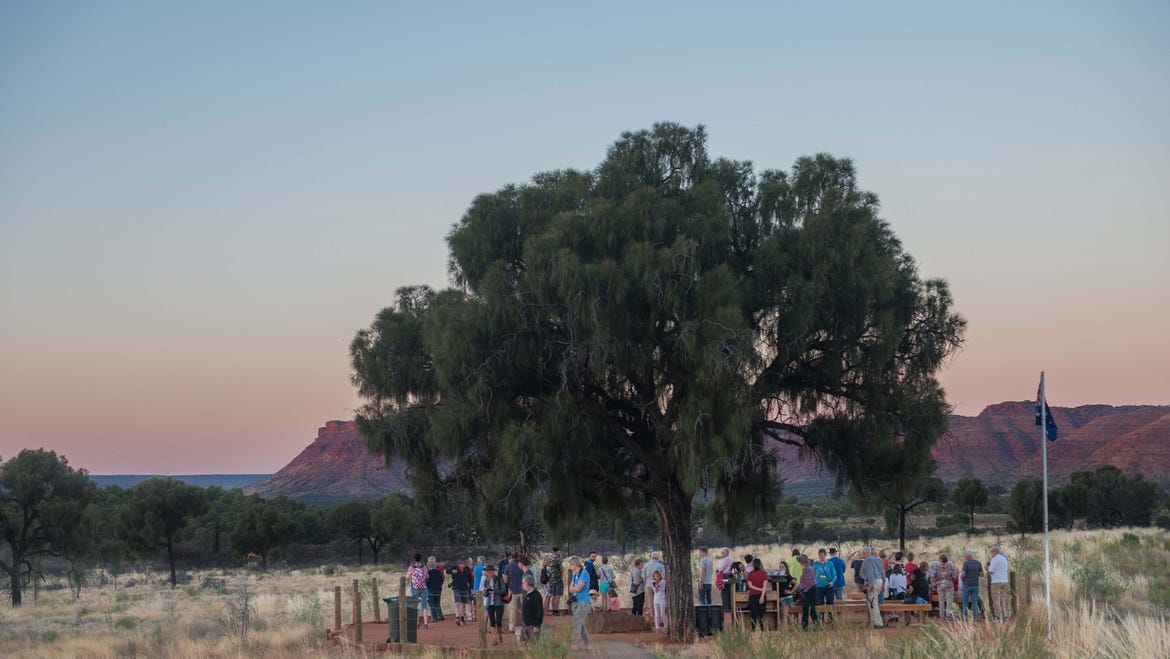 More articles you might like