Experience a Red Centre adventure like Elyse Knowles & Josh Barker
The Red Centre is the real Australia – your basecamp for adventure. This itinerary will take you on the epic journey recently travelled by Elyse Knowles & Josh Barker – experiencing the wonder of Alice Springs, the MacDonnell Ranges, Kings Canyon and Uluru Kata-Tjuta National Park.
Day 1
Start your engines
If you've arrived in Alice Springs by any other means than driving, it's highly recommended that you hire a vehicle. There's so much to see and do in and around Alice Springs that your own transport will be well worth it.
Experience local Aboriginal art
Spend the morning learning about local Aboriginal Art at the Araluen Arts Centre. The centre also plays host to the annual Desert Mob marketplace & exhibition, a vibrant celebration featuring hundreds of new, innovative artworks from emerging and established artists – an unmissable opportunity to experience and share in the art, stories and vitality of the world's oldest living culture.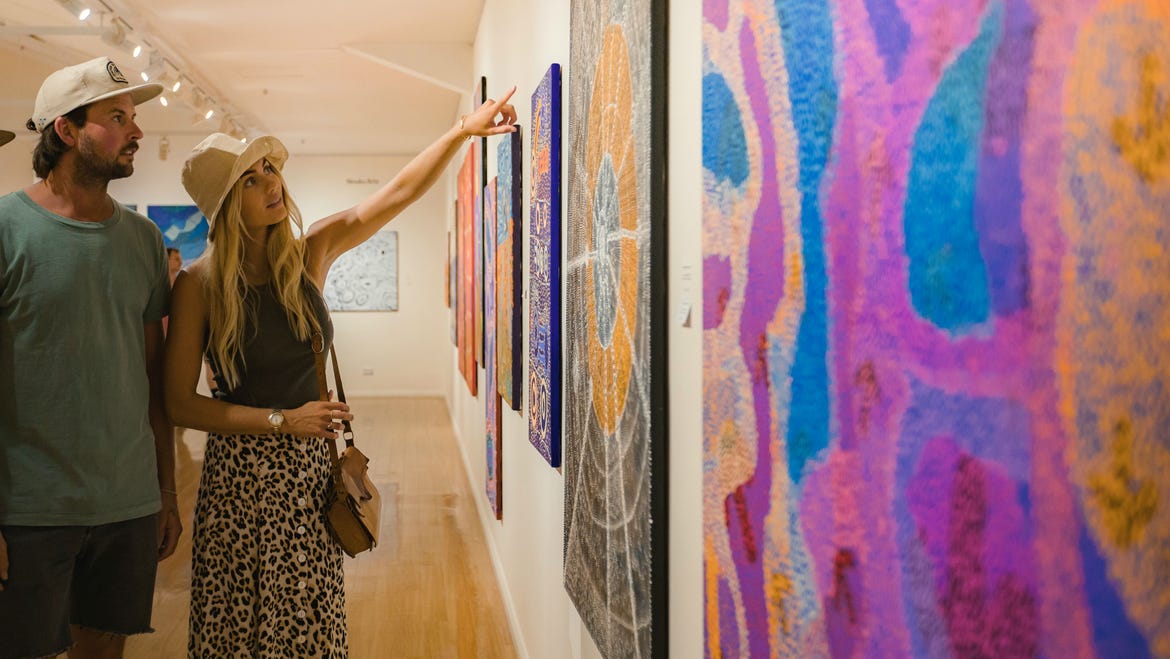 Alice Springs Desert Park
Situated on Larapinta Drive, the Desert Park is a must-see for every visitor to the Red Centre.
Spot rare and endangered animals in the low light of the nocturnal house and discover the star attractions at the free-flying birds of prey show. Here you'll see the desert come to life. We recommend a visit here before you venture into the outback so you know what desert flora and fauna to keep a lookout for.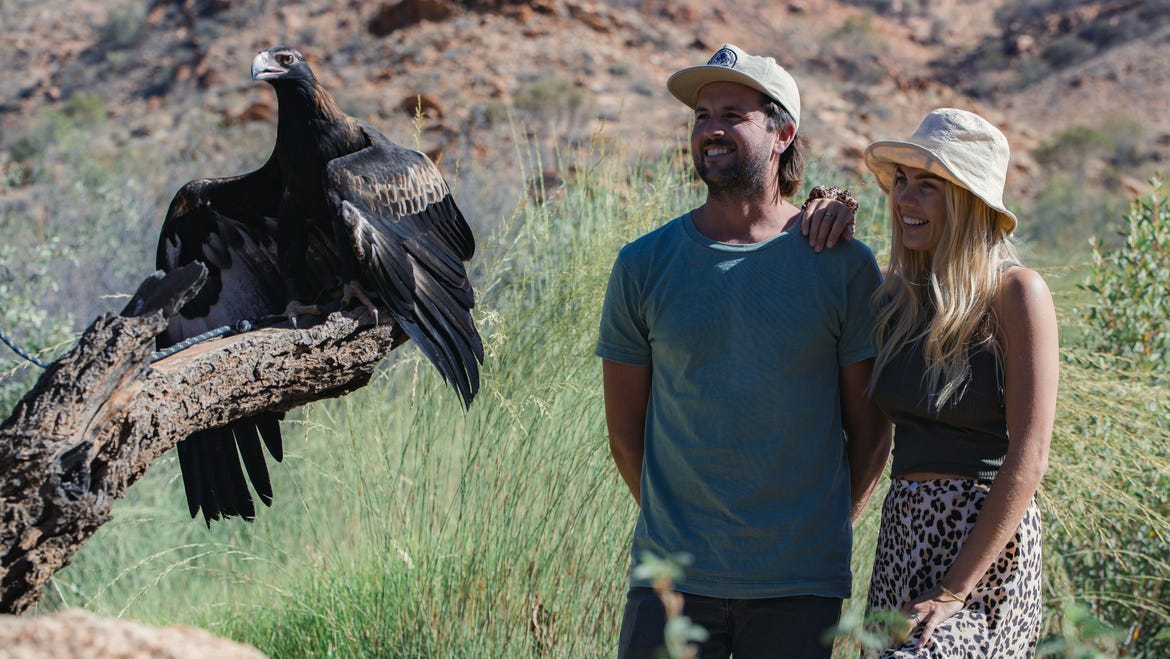 To finish off an epic first day of culture and wildlife, head to Epilogue Lounge. Described by Lonely Planet as the coolest place in Alice Springs, it brings together everything you need in an eating and entertainment venue: stylish retro décor, a vibrant atmosphere, food served all day, a decent wine list and a great location right in the Todd Mall.
Turn in at your accommodation at Crowne Plaza Alice Springs Lasseters – the perfect place to unwind and relax in comfort after big days exploring the desert.
Day 2
Fuel up for a day of adventure
Adventure down the Fan Arcade, which you'll find hidden off the Todd Mall. A cute, trendy café named Page 27 is the go-to in Alice Springs for brunch and coffee – it's time to fuel up for a day of adventures.
Head out west
Get to know the outskirts of Alice Springs and hit the road driving towards Tjoritja/West MacDonnell National Park. Pack a picnic for a day trip to explore the West MacDonnell Ranges.
Drive 18km west of Alice Springs along Larapinta Road to Simpsons Gap, an impressive opening between the towering cliffs of the West MacDonnell Ranges. The area is an important spiritual site to the Arrernte Aboriginal people, where several dreaming trails and stories cross.
Grab your beach towel and hit the outback beach, Ormiston Gorge. This near-permanent waterhole is surrounded by the towering red walls of the gorge and is a great place for a cool dip, kick of the footy or relax on the sandy banks.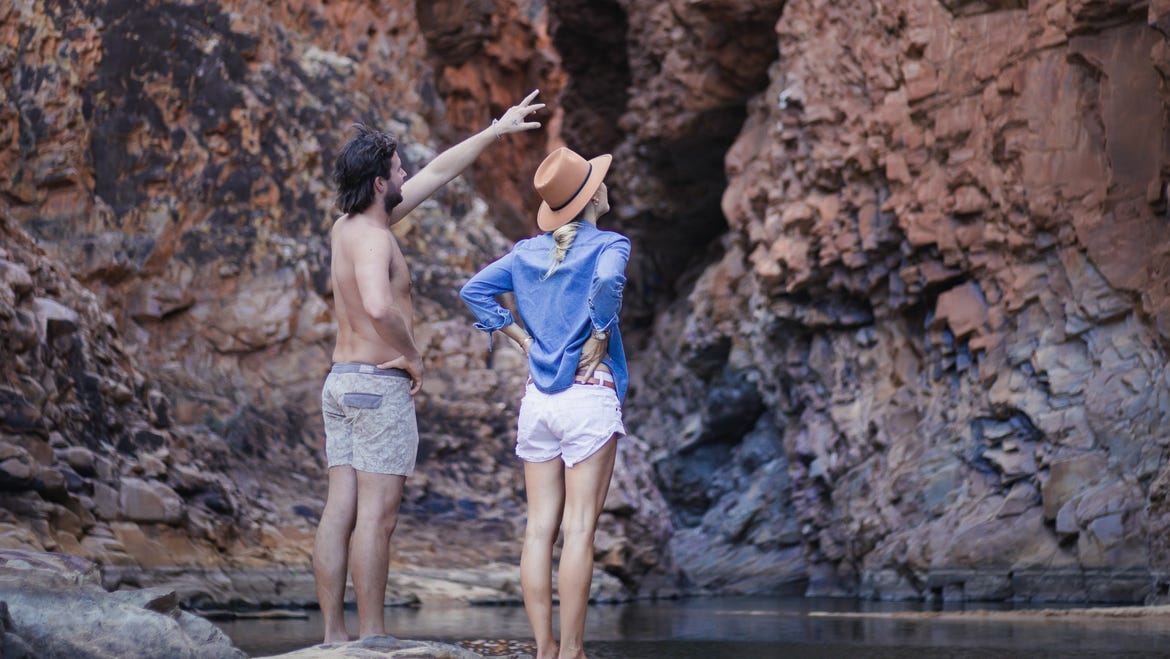 Next stop is Redbank Gorge (Rwetyepme, pronounced 'roo-chip-ma'), a stunning gorge and chasm that is a refuge for many threatened plant and animal species. Located 156km west of Alice Springs in the West MacDonnell Ranges and nestled at the base of Mt Sonder, it's also a popular stop for travellers following the Red Centre Way.
Take the 2km, 1.5-hour return walk/scramble from the car park over some rocks and along the creek bed – the cool, deep water of the gorge is worth it!
Dinner at the Brewery
Mingle with the locals at the Alice Springs Brewing Co, the town's only operating brewery. Local brewing means that customers can drink beer that hasn't travelled across the desert. Tantalise your tastebuds with a tasting paddle and sample their Centralian Ale, Post Office Pale Ale, Almost Summer Ale and ASP IPA (to name a few). Stay for dinner and take your pick from their extensive pizza menu.
Day 3
Drift away on a hot air balloon ride
Get up before dawn to experience a sunrise balloon ride with Outback Ballooning. Witness the remarkable colours of the early morning dawn over the MacDonnell Ranges. Most days, you'll spot Australian wildlife, particularly red kangaroos, in their natural environment.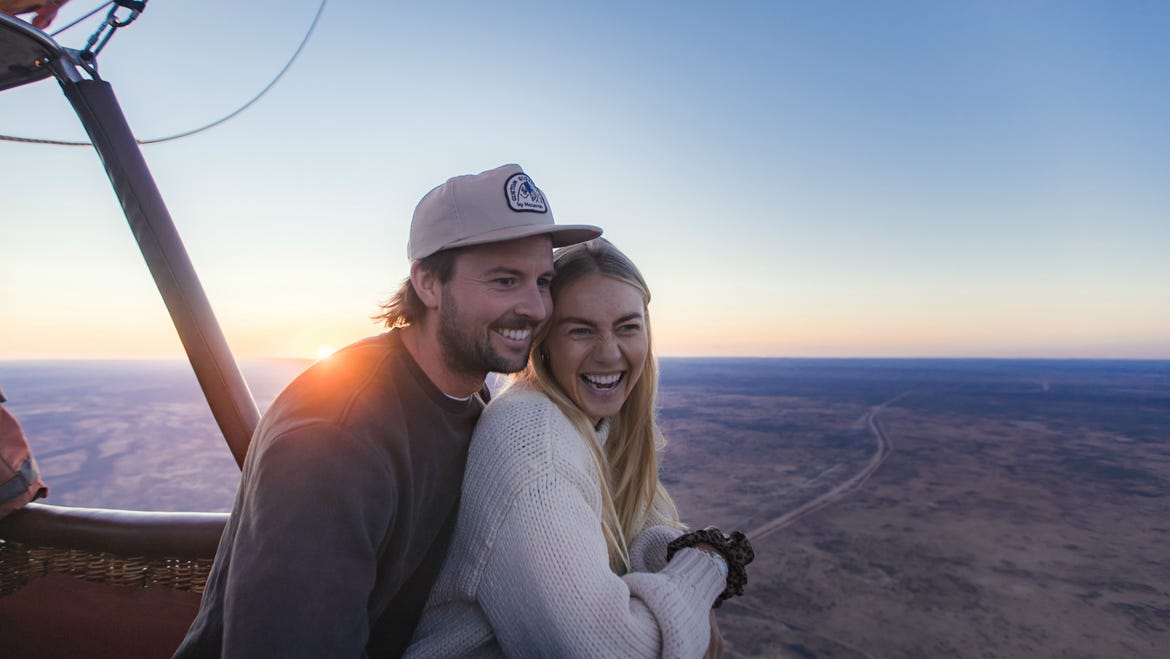 Set off for Kings Canyon
After a delicious breakfast at House of Tallulah, set off for Kings Canyon in Watarrka National Park. If you have a 2WD head down the Stuart Highway towards Uluru and turn off onto Luritja Road – but if you've got a 4WD and you're game, we suggest tackling the Mereenie Loop or the Ernest Giles Track to get the real off-road experience.
On arrival, check into the glamping style accommodation with all the hotel embellishments you could ever need. The canvas tents blend in with the beautiful Northern Territory landscape, with premium linen, a modern lounge area, dining space, outdoor deck with seating, split air-conditioning system, and a private ensuite bathroom stocked with Australian made skincare products.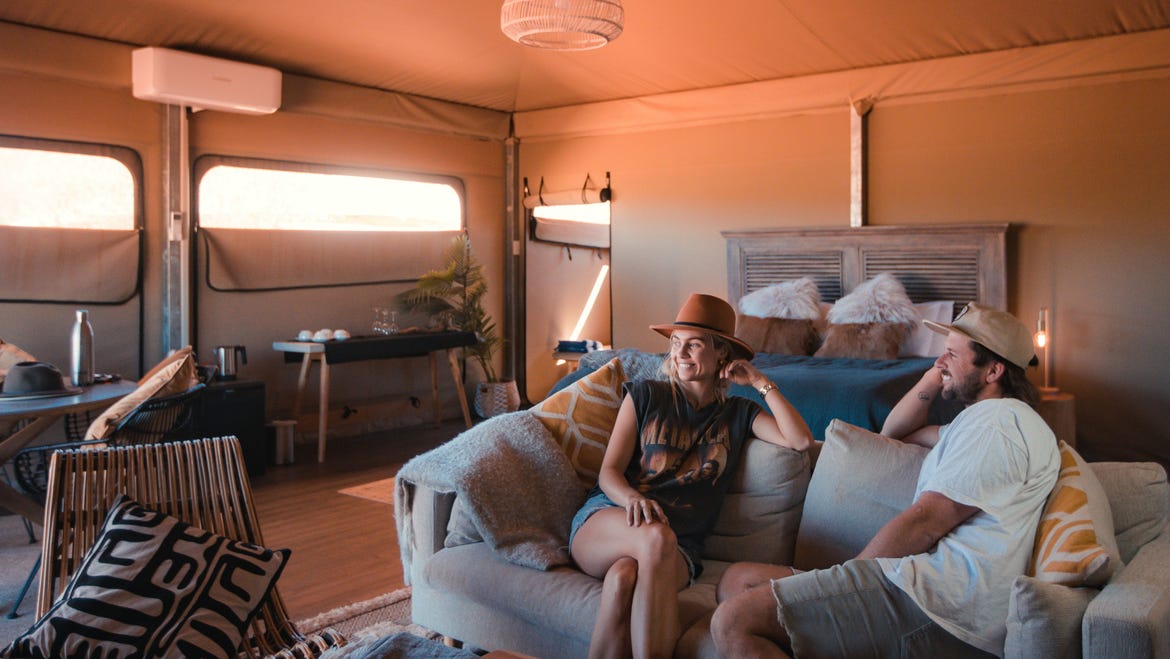 Head over to the sunset viewing platform at Kings Canyon Resort to enjoy a drink as you watch the canyon come alive with colour. As the sun dips behind Carmichael's Crag and the George Gill Range, watch the spellbinding changing colours of the sandstone and sky before the stars come out.
Day 4
Experience the Kings Canyon rim walk
Rise and shine early to watch the sunrise and walk around the Kings Canyon rim to take in awe-inspiring views of the weathered domes of The Lost City and the protected lush valley below in the Garden of Eden. Allow three hours to complete the circuit.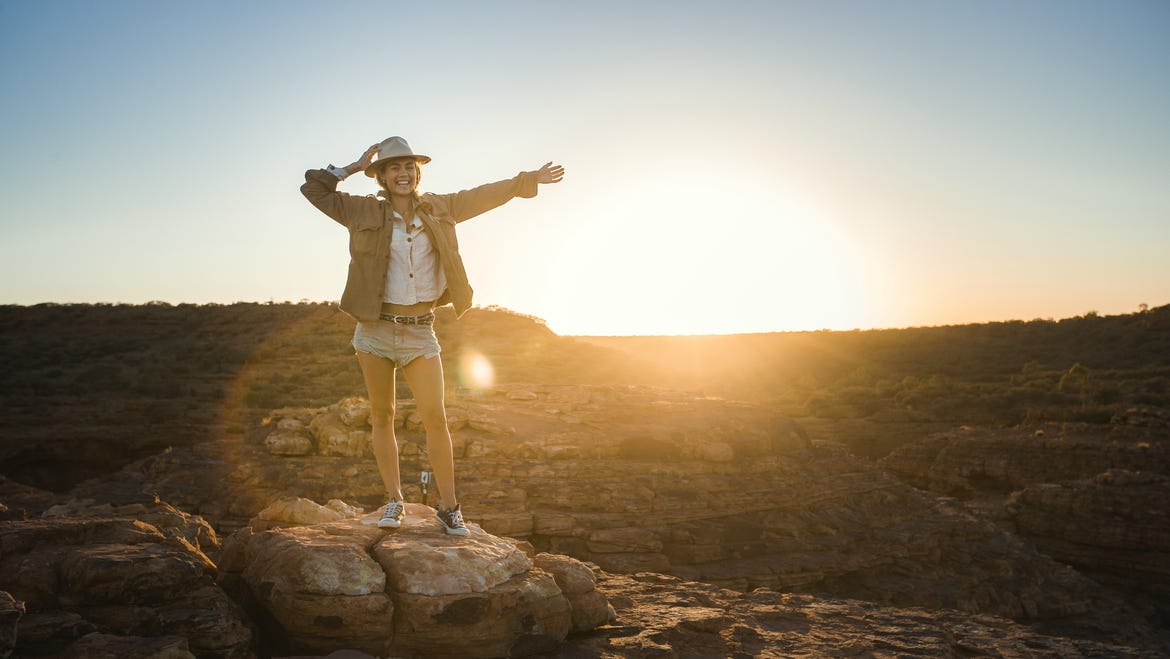 Embark on an adventure to Uluru
Leave the canyon and follow Luritja Road and Lasseter Highway to Uluru-Kata Tjuta National Park. Along the way you'll pass Mt Conner, commonly known as 'Fooluru', as it's often mistaken for Uluru. Once you arrive at Uluru, settle in at Ayers Rock Resort, where there are accommodation and dining options available to suit all budgets and tastes.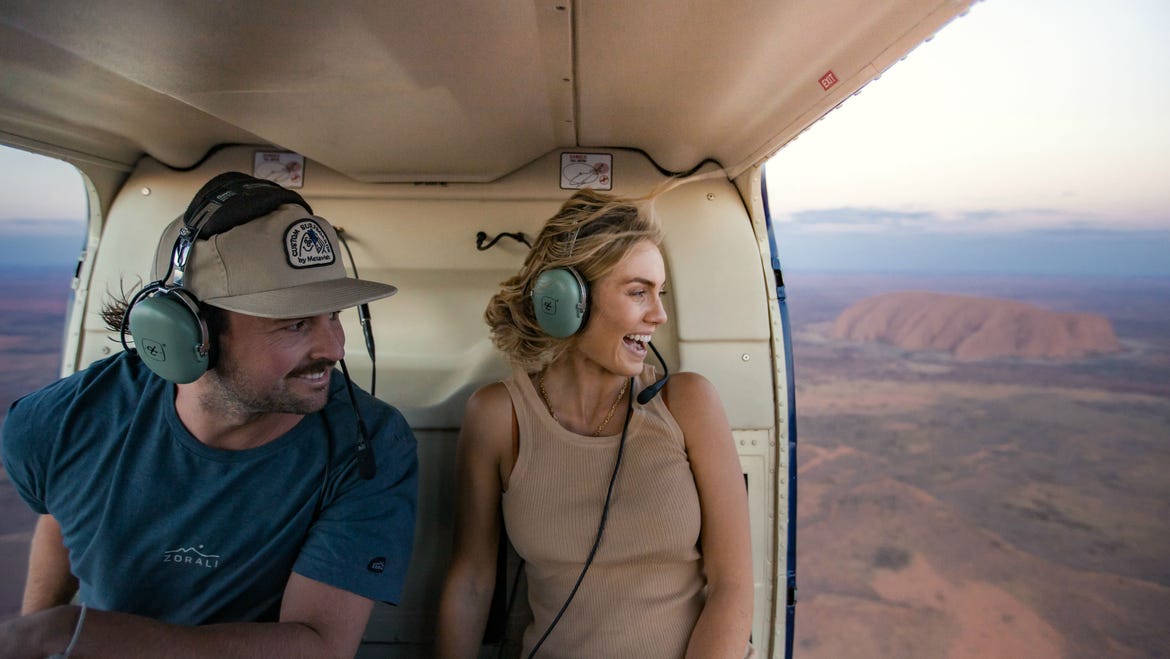 See it first from above at sunset
The best way to see Uluru for the first time is by getting above it – combine the beauty of Uluru and Kata Tjuta in one unforgettable flight.
Day 5
Ride around Uluru – with a difference
Uluru Segway Tours offer a tour that can't be beaten anywhere in Australia. Enjoy stunning views of Uluru as you join knowledgeable guides and tour the full base of Uluru on a Segway. Get up close to the picturesque landscape and immerse yourself in the history and culture of Uluru and the region.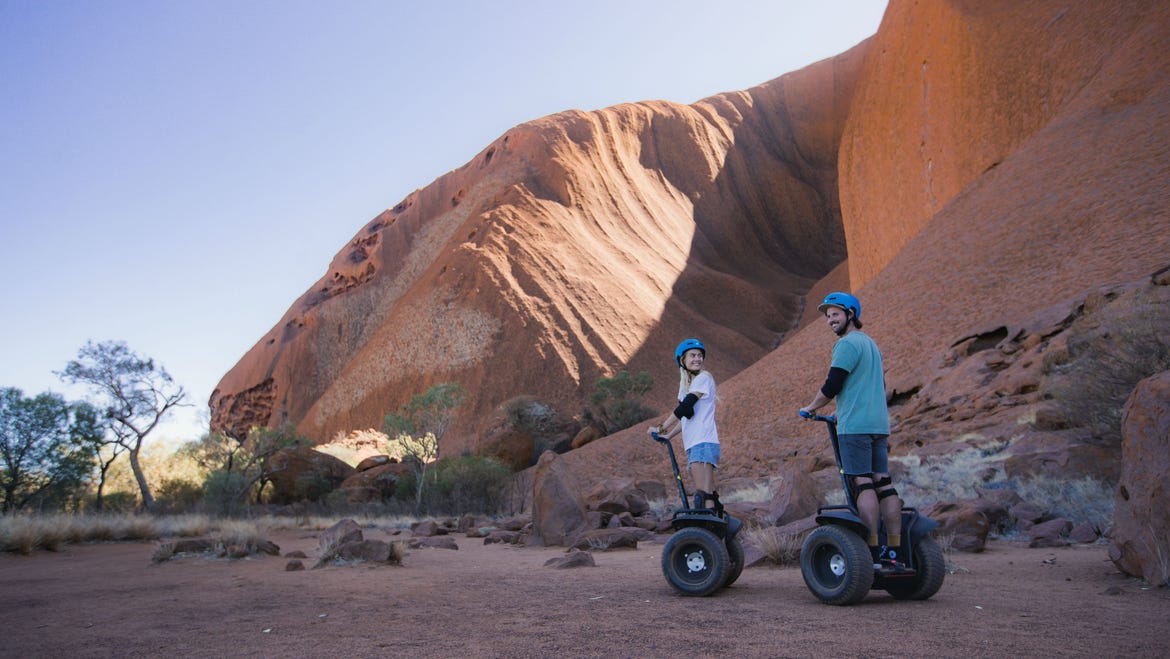 Explore the magic Walpa Gorge of Kata Tjuta
Leave Uluru and embark on a short drive down to the other big rock formation in the park: Kata Tjuta (the Olgas), which means 'many heads'. Kata Tjuta is a series of enormous rock domes that date back 500 million years. The Walpa Gorge Walk is an easy walk which takes an hour return and follows a stream to a grove of flourishing spearwood.
Field of Light Star Pass
This is your ticket to experience an incredible light installation designed by internationally renowned artist, Bruce Munro.
Enjoy sparkling and canapés while watching the sunset over Uluru, before walking the Field of Light trail surrounded by more than 50,000 solar powered glowing stems and admire the scene under the desert night sky.
Day 6
Wake up early to watch an Uluru sunrise with a new friend
Watch the sun rise over an illuminating Uluru atop a camel for a unique perspective. Climb aboard for a one-hour leisurely walk and make the most of the impressive morning photo opportunities. Indulge in a true-blue breakfast of billy tea and freshly baked beer bread, prepared by your guides.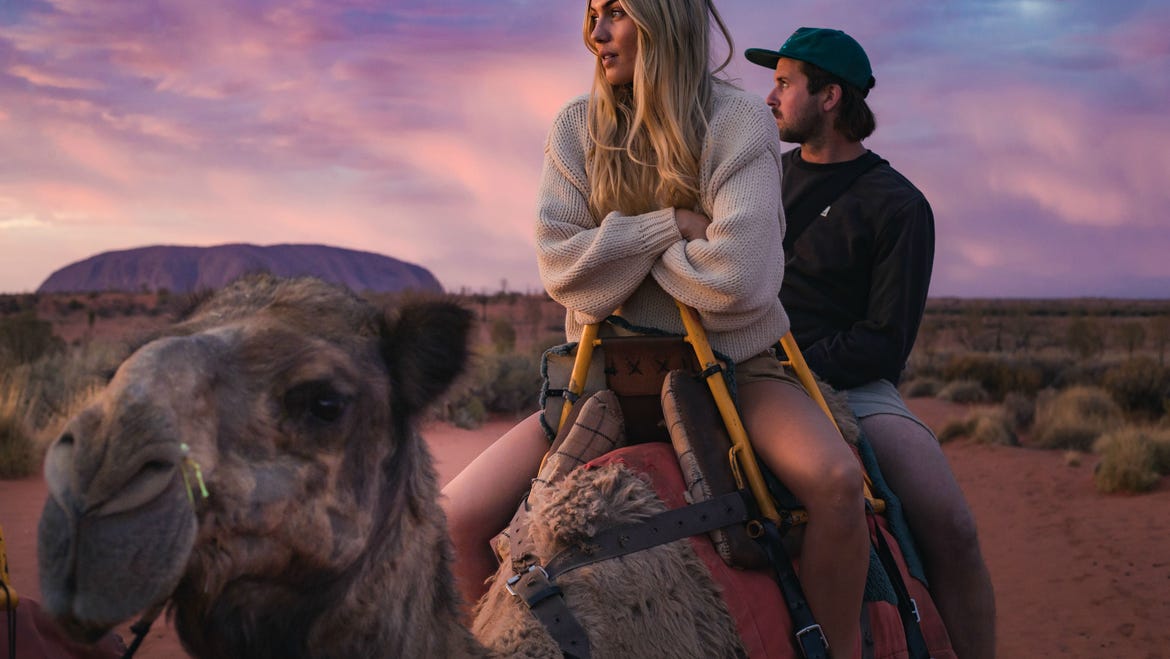 Sounds of Silence
Sounds of Silence is a unique dining experience with a 360 degree view of Uluru and Kata Tjuta at sunset. Start the night with canapés followed by a gourmet barbecue of native game, bush salads and fine Australian wines. Finish your evening with an Aboriginal dance performance and an explanation of the night sky, guided by the resident 'star talker'.