A budget-friendly guide to a Top End road trip
Discovering the secrets and exploring the Top End of Australia should be on everyone's bucket list. The incredible landscapes, stunning waterholes and contrasting scenery really encapsulates what outback Australia is all about.
One of Trip in a Van's favourite road trips in the Northern Territory is the Nature's Way loop , driving through to World Heritage-listed Kakadu National Park and Nitmiluk National Park, before returning to Darwin via Litchfield National Park. A 735km scenic and adventurous journey into gorges, waterfalls and swimming holes – making the drive a budget-friendly and wondrous 7-day trip!
Day 1: Darwin – Kakadu National Park
Darwin has so much on offer, from the vibrant night life to free activities for kids, it's here where you can kick off your trip with a bang!
Begin your journey to the World Heritage-listed Kakadu National Park; the 250km trip will have you exploring waterways, Aboriginal art, spotting crocodiles, waterhole swimming and hiking to mind-blowing lookouts. A place like no other –  Kakadu is an iconic destination. I'd recommend staying at Cooinda Campground and Caravan Park. It's a great base to explore all the attractions in the area. There's plenty of shade, a pool and a relaxing bistro, children camp for free and depending on the time of the year, the cost of a powered site is from $20.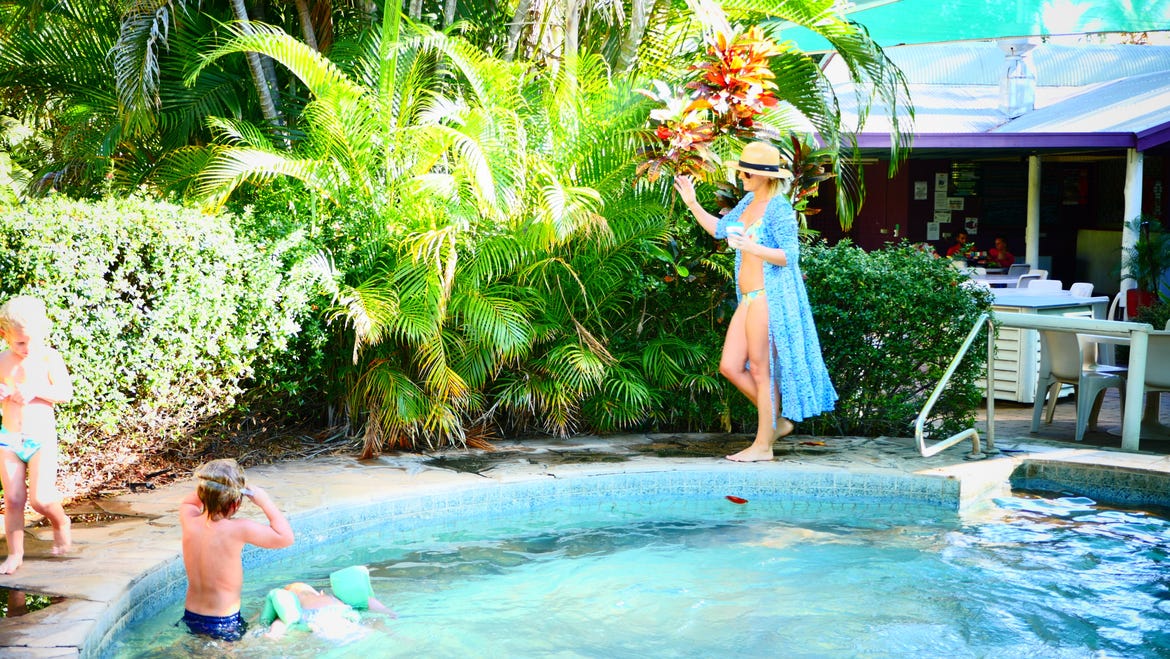 Day 2–3: Kakadu National Park
The rugged escarpments of Ubirr lookout has to be seen to be believed, truly breath-taking scenery. It's here that you'll have an opportunity to view Aboriginal art sites and immerse yourself in the culture. Only a short walk up to the lookout where you can gaze out over the floodplains and take in the spirit of Kakadu.
Tip: Do this at sunset as it's an incredible experience, you'll be amazed at the colours that emerge as the sun sets.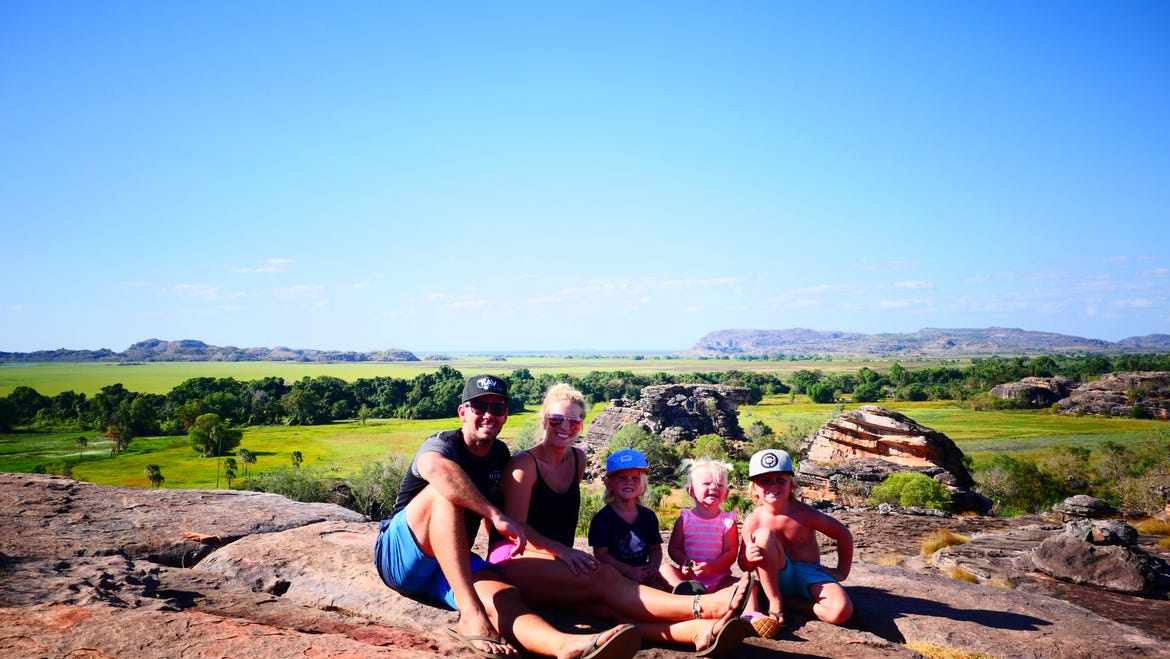 One of the most popular attractions in Kakadu is Maguk (Barramundi Gorge) during the dry season – May to October. There's a campsite located nearby that's great for families wo have everything they need with them on the road.
Your Kakadu Park Pass covers access to all waterholes and Aboriginal rock art sites. Don't forget to stop in at the Bowali Visitor Centre (in Jabiru) to check road conditions and find out the times for free ranger-guided activities.  
Day 4: Kakadu – Katherine via Pine Creek
Katherine in the dry season is full of atmosphere and activity with plenty of travellers passing through the area. A great opportunity to grab some groceries, however, Katherine and surrounds has a lot to offer! The 300km drive can be broken up with a rest stop in Pine Creek, which is an old gold mining town with plenty of history. Heading south from Pine Creek, a must see is the stunningly clear and warm Mataranka and Bitter Springs.
Both are equally impressive, set amongst palms and tropical woodlands, you'll find it is hard to leave this epic attraction, especially if you've been floating down Bitter Springs (which is our pick as it's a lot clearer and deeper). Did I mention its completely free.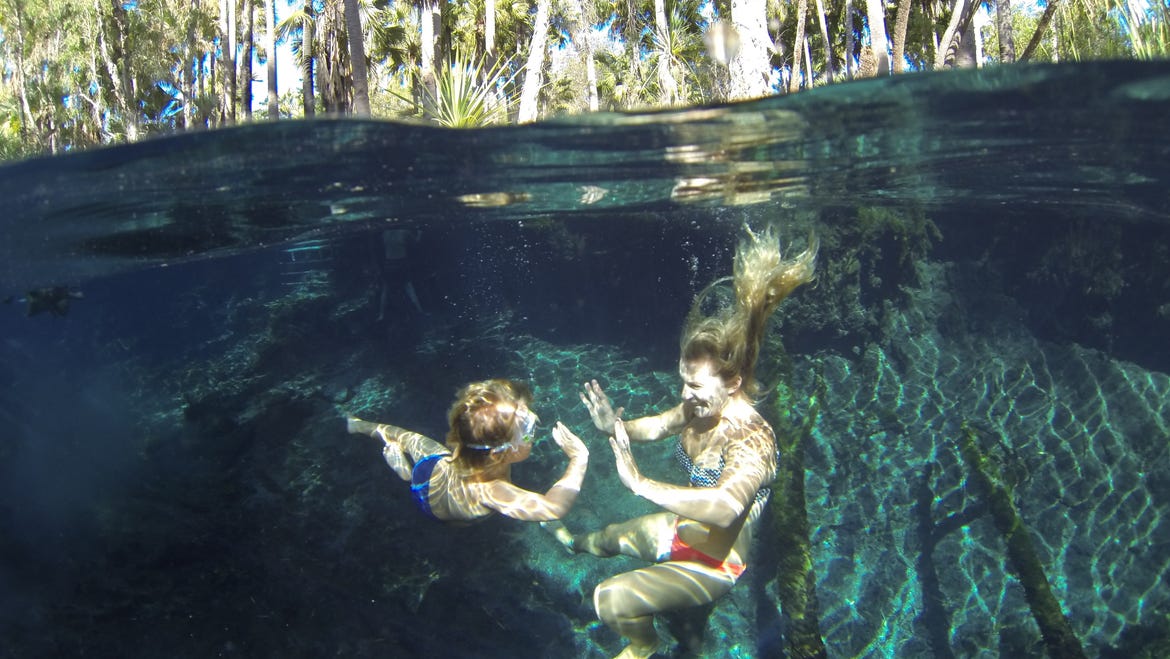 Only 100km to Katherine and we always choose to stay at the Riverview Tourist Park. They have large sites, a pool and it backs onto Katherine Hot Springs where you can take a short stroll to enjoy yet another relaxing soak in nature.
Katherine Outback Experience, only 10 minutes from the towns centre, will get you to this amazing outback show! It gives you an insight into how a horse is broken in and trained for cattle stations. They have the most intelligent working dogs who also join the show with singer and Golden Guitar winner, Tom Curtain. A great mix of entertainment, bush tales and a horseman extraordinaire. A great show for all. Kids under 6 free, 6–17 years is around $30 and adults $55 for the 90-minute show (which we recommend with kids).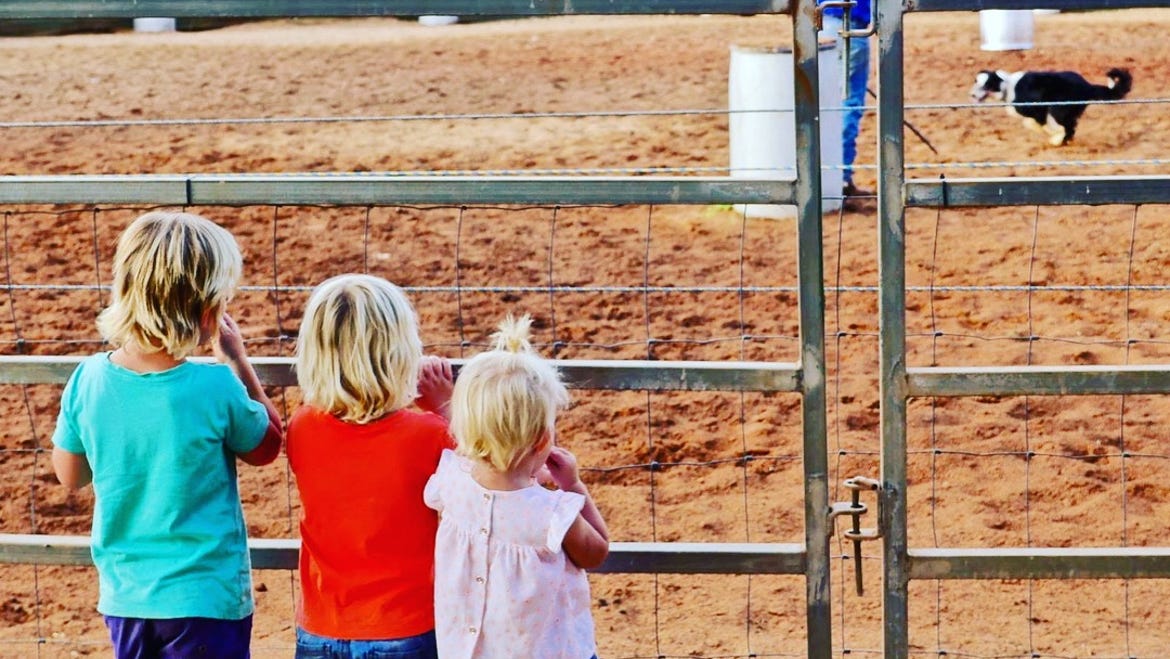 Day 5: Explore Nitmiluk National Park
Nitmiluk Gorge (previously known as Katherine Gorge) in Nitmiluk National Park is a significant cultural site and the jewel of the Katherine region. It features deep valleys and carved through ancient sandstone is the Katherine River. Alongside raging waterfalls and abundant wildlife, there are plenty of activities to do in this natural playground.
Take a gorge tour at sunrise or sunset for stunning scenery and if you're keen to stay in the area, I recommend staying at Nitmiluk Caravan Park. A well-maintained campground with plenty of opportunity to interact with the wildlife, especially wallabies. Unpowered campsites start from $16 an adult and $9 a child. Family rates start from $40 a night. 
Day 6: Katherine – Litchfield National Park
Around 30 minutes driving north from Katherine to Litchfield, make time to stop in at the majestic Edith Falls. Not only is the scenery here out of this world, there are a series of rock pools and swimming holes to take a dip in. There's a café onsite to grab yourselves some lunch or a coffee and plenty of grassy space to take a picnic. The top pools are a 2km return trek and well worth it!
Day 7: Litchfield National Park – Darwin (150km)
Litchfield National Park is home to lush waterfalls, plunge pools and dramatic landscapes. Our favourites when visiting were the misty Florence Falls and Buley Rockholes, which are cascading waterfalls with plenty of area to freely jump into the clear waters. Be sure to get a view of Wangi Falls too.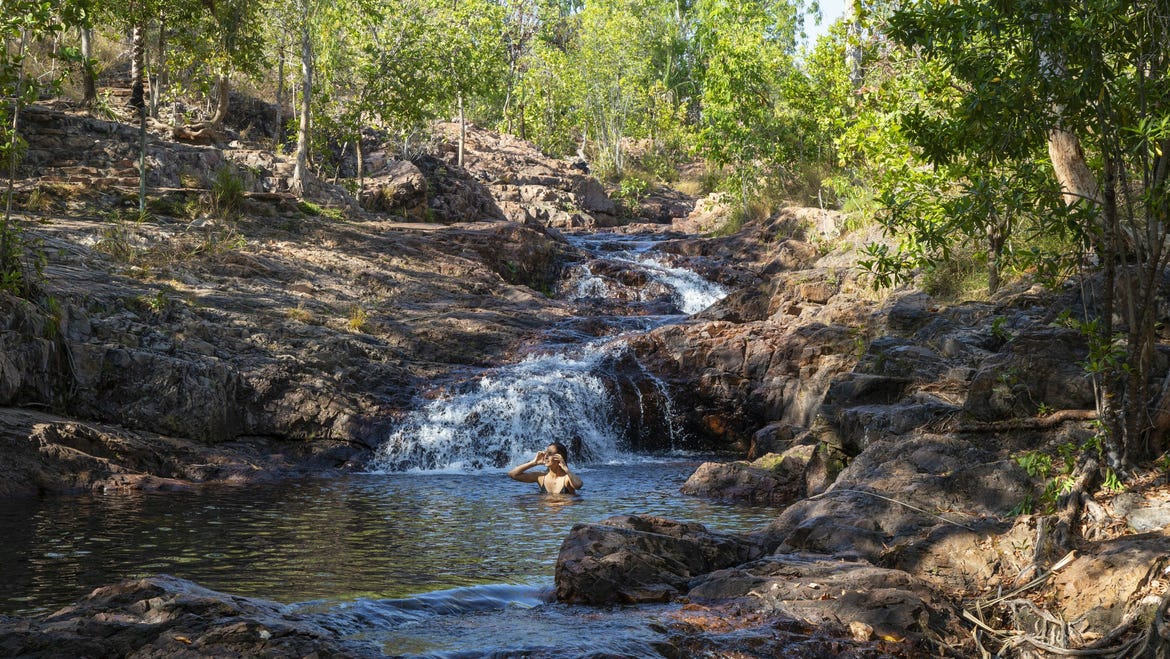 If you're keen to stay in the area and really soak it all in, Florence Falls Campground is an excellent bush setting and only a short walk to Florence Falls. It's a fantastic budget-friendly campground with amenities and campfires permitted.
Fees for this campground start from $6.60 an adult and $15.40 for a family.
If you must get back to Darwin, the 150km trip will have you back there in no time, appreciating the absolutely incredible and sheer size of the Top End and all its beauty. Tell ya mates, because the Natures Way trip is one heck of an adventure.