Region guide
for Uluru & Surrounds
There's a whole lot more to Uluru beyond the grand red rock – although it's one of the biggest highlights in the majestic Red Centre. Here's a detailed destination guide which answers all your questions and more.
There are plenty of things to do in Uluru Kata Tjuta National Park – you're limited only by your time and imagination, so pack plenty of both before you head off.
A few fast facts
Uluru is around 600 million years old and used to sit at the bottom of an ancient seabed
Uluru is the world's largest single rock, and second largest monolith. Mt Augustus in Western Australia is the world's largest monolith
Like an iceberg, most of the rock sits underground. No one knows just how deep it goes
Uluru is 348m tall – 48m taller than the Eiffel Tower
Uluru's red colour comes from its oxidised iron content.
Here are 5 must-sees, along with some top tours and DIY trips with plenty of info about things to do at Uluru and the surrounding region.
Five must-sees
There's a whole lot more to Uluru than just the grand red rock – although it's certainly the brightest star in the Red Centre galaxy.
1. Uluru
Uluru, also known as Ayers Rock, is the 600 million-year-old monolith that has attracted curiosity for thousands of years. From bushwalking and segways to helicopter rides, scenic flights and skydives, there are a number of ways to see Uluru. In summer, it's advised to head out early and finish exploring by 11am. Most tours are based around sunrise and sunset, as this is the best time to view the rock, when its colours appear to change.
The easiest way to explore the monolith is to walk around the base of Uluru. There are multiple bushwalks with great vantage points. They're easy to moderate in difficulty, and most are wheelchair accessible. The Mala Walk (1.5 hours) is a free walk guided by a local ranger, where you can learn about the management of the park, along with information about the Anangu – the traditional owners of the land. The Kuniya Walk (45 minutes), which finishes at the Mutitjulu waterhole, has some great views of Uluru. Walkers channel the spirit of Wanampi, an ancestral watersnake who was believed to live in the waterhole. The full base walk, which takes 3.5 hours, takes in many of the important sites in and around Uluru.
2. Valley of the Winds (Kata Tjuta)
Kata Tjuta, also known as the Olgas, is another popular natural wonder. Kata Tjuta, which means 'many heads' in the local Anangu language, is made up of a series of soaring rock domes and is a 20-minute drive from Uluru. There are a number of excellent walks, which let visitors see the full colour spectrum of the rock formations and learn about its history and significance to Aboriginal people. The 3-hour Valley of the Winds walk has 2 lookouts and gives you a range of perspectives on the rock formation. Early mornings are the best time to see local wildlife like kangaroos.
3. Walpa Gorge
You'll be amazed at how many plants and animals flourish in the Red Centre. Nowhere is this more evident than Walpa Gorge. The Walpa Gorge walk is the best place to see unique flora and fauna up close. The walk takes an hour all up, so bring sunscreen and drinking water.
4. Kings Canyon & Watarrka National Park
Just 3 hours' drive from Uluru is Kings Canyon, a stunning rock formation which is worth a couple of days' visit. Kings Canyon and the Watarrka National Park have a number of bushwalking options which take in the sights and let you marvel at the sheer natural beauty.
5. Uluru-Kata Tjuta Cultural Centre
To understand the significance of Uluru to the local Aboriginal people and learn about the Anangu culture, a visit to the Uluru-Kata Tjuta Cultural Centre is a must. It's the most comprehensive of Uluru's cultural centres, and discusses the ongoing connection with the land which has endured until the present day.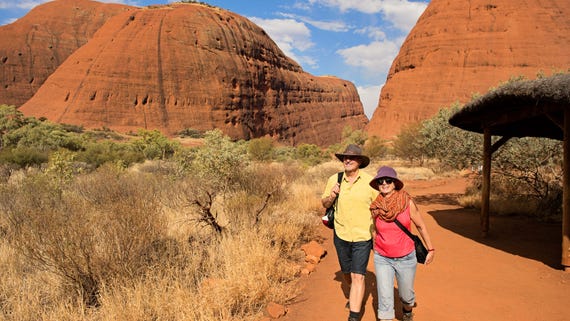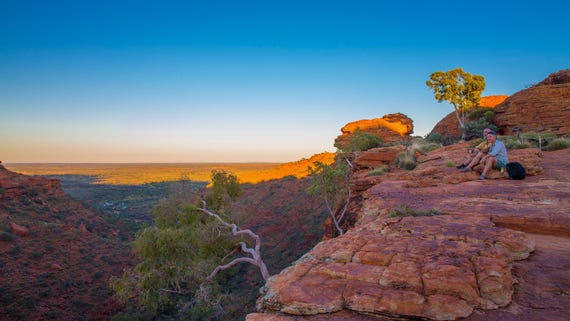 Top tours
Uluru Segway Tours
Hop on a Segway and let yourself become immersed in the unique landscape and culture of the area. Uluru Segway Tours will take you on a guided tour around the base of Uluru and has a number of tours operating throughout the day.
Ayers Rock helicopter tours
Uluru is so gigantic that you can see it from everywhere, but there's no better vantage point than from the air. Options include Professional Helicopter Services and Ayers Rock Helicopters, which offer a range of tours at affordable rates.
Uluru sunrise or sunset tour
Seeing Uluru at sunrise or sunset is the best way to see its magical colours transform. There are a number of tour options which take you to the best vantage points at the crucial moments. One popular tour is run by AAT Kings, while there are other sites which provide a great view and can be accessed via your own transport.
Uluru Camel Tours
Camels might be an introduced species, but they look right at home in the Red Centre – and their height and smooth movements make them perfect tour guides. There are different camel tours through the day, while sunrise and sunset options are the most popular.
Field of Light sunrise or sunset tour
While the Red Centre is all about the age-old sights and surrounds, new on the itinerary is artist Bruce Munro's Field of Light – an outdoor light gallery made up of over 50,000 solar lights, which works with the natural environment to create a truly breathtaking experience.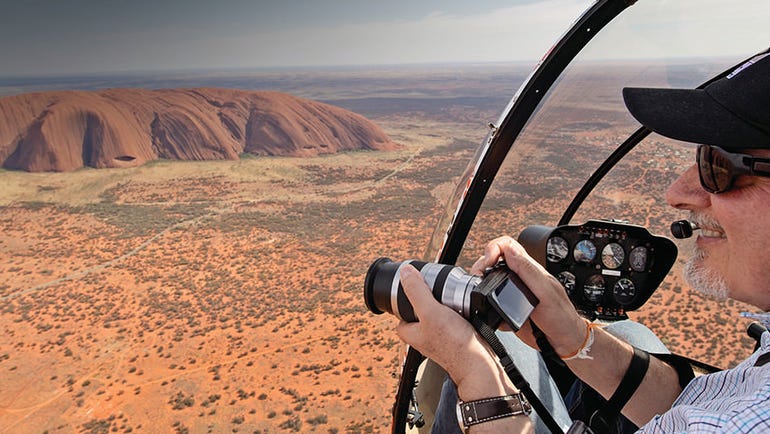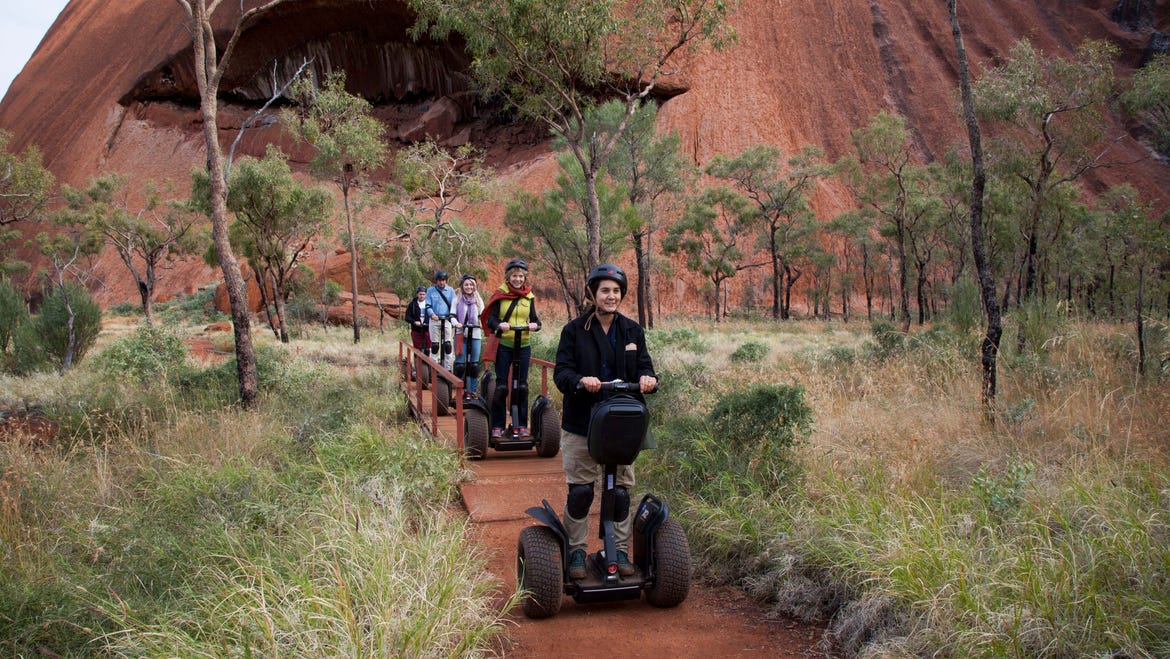 Outback Cycling
You can see Uluru from a camel and a helicopter – but what about from the comfort of your push bike? Outback Cycling Uluru is a great way to see a different perspective of the rock in an environmentally friendly fashion. You and the family will love exploring the region in a cost effective way at your own pace.
SEIT Outback Australia Sunrise Tour
Dawn and dusk truly are the best times to see the big sights like Uluru and Kata Tjuta. The tour includes breakfast and coffee as the sun comes up, and a walk through Walpa Gorge. Pick up from Ayers Rock Resort is included. SEIT Outback Australia offer a range of other tours as well.
Sounds of Silence Dinner
How's the serenity? Ayers Rock Resort's Sounds of Silence dinner is a remarkable experience, serving up some of the best food under the shimmering stars, with Uluru as your backdrop.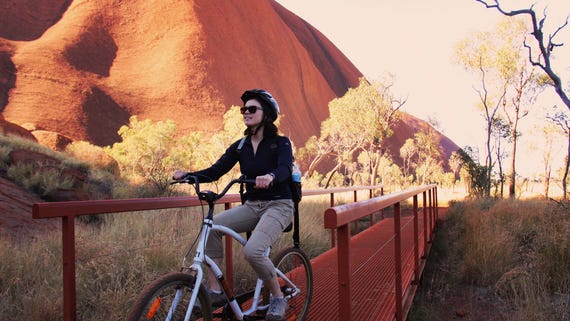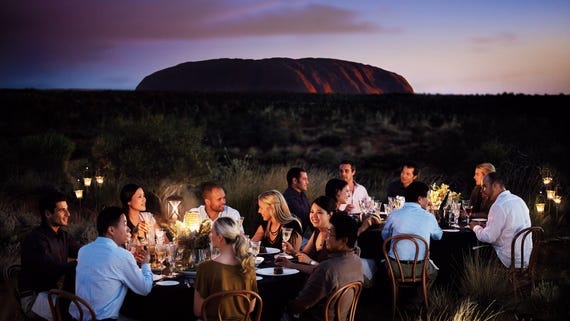 Do it yourself: Uluru
You've seen Uluru and now it's time to explore a little more. What about doing it yourself? If you have more time, there are a number of great self-drive options, including Kings Canyon, Curtin Springs and Alice Springs.
Kings Canyon
Uluru to Kings Canyon is a 3-hour drive, so you should spend at least a night. The high cliffs and dipping valleys hide stunning walks which give different vantage points of the canyon. The 3-hour Kings Canyon rim walk is a great way to see the sights.
The Kings Canyon Resort is renowned for its comfort and culinary excellence, while Kings Creek Station – a working cattle station 30 minutes down the road – gives an insight into life in the Red Centre. Due to the consistently good weather, there is no 'best time to visit Kings Canyon', but make sure you give yourself enough time to see all the sights.
When driving long distances in the Northern Territory, remember to fill up the tank and pack plenty of water. Due to the popularity of Kings Canyon, booking accommodation ahead of time is recommended.
Curtin Springs
Just 1.5 hours from Uluru is Curtin Springs, a privately-owned cattle station of over one million acres. Curtin Springs has a reputation for producing some of the best beef in Australia. Curtin Springs is more than just a stop off point, it's a great location in its own right. There are multiple accommodation options – including free unpowered camping sites and comfortable hotel-style rooms.
Curtin Springs run workshops in their paper mill, showing how paper can be made from purely Australian Outback plants and grasses. There's also Mount Conner, a huge monolith that appears to have been chopped off along the top. Curtin Springs run different walks in and around the station, taking in salt lakes, Mount Conner and the vast expanse of the one-million-acre property. The full moon walk under the Territory stars is a crowd pleaser.