Region guide
to Kakadu & Surrounds
The World Heritage-listed Kakadu National Park is an absolute must on your visit to the Northern Territory. The diverse attractions on display in the park mean there's something for you, however long you stay.
Whether it's Aboriginal rock art, local wildlife, a relaxing swim with a view or much, much more, you'll find it in Kakadu National Park.
A few fast facts
The traditional Aboriginal owners manage Kakadu National Park in partnership with Parks Australia to keep the local culture strong and conserve the environment
Aboriginal people have lived in the region for more than 50,000 years, making it the oldest culture on Earth
The name 'Kakadu' is thought to be a European interpretation of the word 'Gagudju', which is the name of one of the primary languages traditionally spoken in the region
One third of all Australia's bird species are found in Kakadu
There are estimated to be 10,000 crocodiles in Kakadu – even more reason to 'be Crocwise' before taking that dip! Please only swim in locations that are clearly marked safe to swim.
Here are six must-sees, along with a list of top tours, and instructions on how to do it yourself while making your way through Kakadu.
Five must-sees
Nourlangie Rock Art Site
Kakadu is home to some of the best examples of Aboriginal rock art anywhere in Australia. Nourlangie Rock Art Kakadu takes you on a spiritual journey through Aboriginal traditions and mythology in one of the world's oldest – and best – art galleries.
Maguk Gorge
Maguk Gorge, a secluded swimming spot which appears through a rocky gorge, seems too beautiful and mythological to be true. An hour south of Cooinda, Maguk Gorge requires a four-wheel drive to access, but once you're there it's just a 1km walk to crystal clear pools and ancient rocky outcrops.
As with much of Kakadu National Park, if you visit from November to March, check with local authorities to see if Maguk Gorge is open.
Warradjan Aboriginal Cultural Centre
The traditional owners of Kakadu National Park have an unbroken 50,000-year connection with the land and no trip to the region would be complete without learning more about this fascinating culture. At the Warradjan Aboriginal Cultural Centre, located only 1km from Cooing Lodge, you can see the connection Aboriginal people have traditionally had with the land and the way this continues today. The Cultural Centre includes a diverse gallery of arts and crafts produced by artists from the Kakadu region.
Jim Jim Falls & Twin Falls
You might not have ever been to Jim Jim Falls or Twin Falls before, but you've surely seen the spectacular waterfalls on a dozen postcards or travel shows about Kakadu National Park.
here are plenty of things to do at Twin Falls and Jim Jim Falls, including bushwalking, birdwatching and swimming (although check the signs before jumping in to make sure the water is safe for a dip and always be Crocwise).
If you're driving yourself, you'll need a 4WD to get across unsealed roads so make sure you check the conditions before setting off. There's also a Jim Jim Falls tour option that'll do all the hard work for you.
Ubirr
Among the stunning Ubirr rock formations, you'll find two of Kakadu National Park's best Aboriginal rock art galleries. The depictions include a number of native animals whose stories have been interwoven with Aboriginal history, while Aboriginal legends such as the Rainbow Serpent and the Namarrgarn Sisters can also be found.
If you've got time, stick around for sunset and soak in one of the Territory's truly amazing experiences. You won't regret it!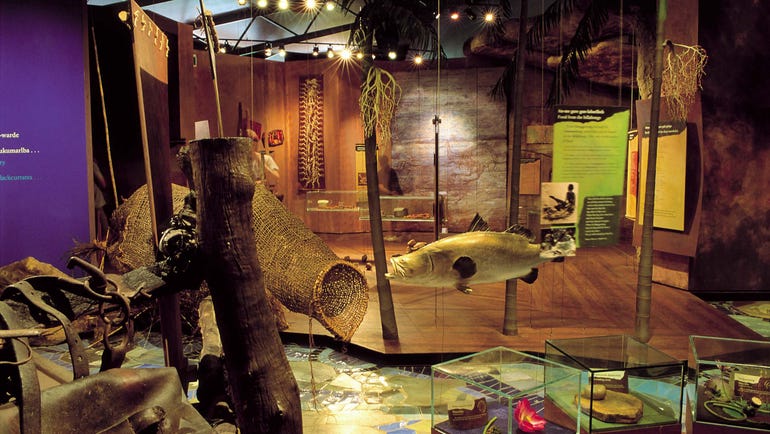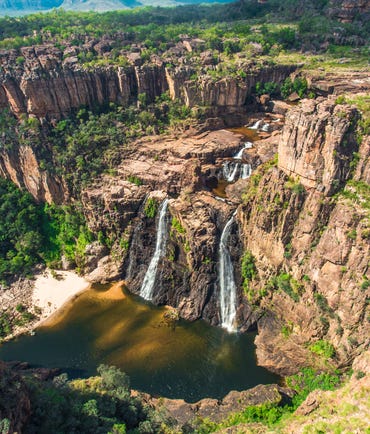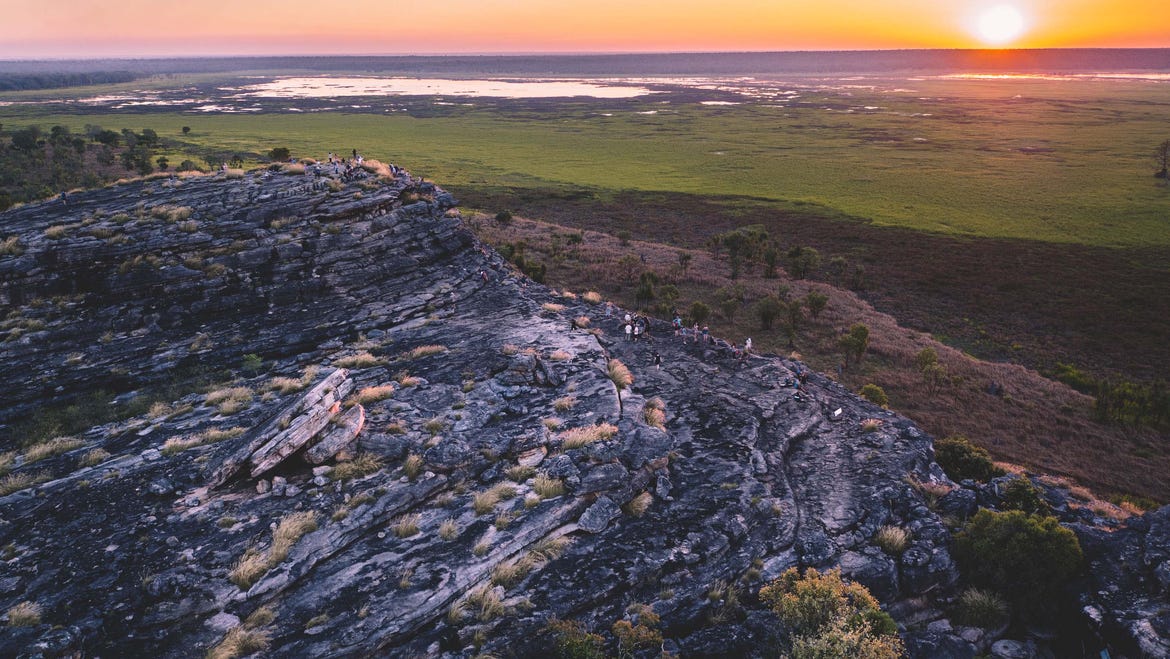 Top tours
Yellow Water Cruise
Kakadu Tourism's Yellow Water Cruise sets sail from Cooinda, just over 50km south of Jabiru. The boat will take you across the Yellow Water billabong, at the end of Jim Jim Creek, which feeds into the South Alligator River.
Cruise through the wetlands and observe the multitude of bird species found in the park, including the native eagles and the magpie geese, while catching a glimpse of the King of Kakadu – the saltwater crocodile. The tour operation is 100% Aboriginal-owned and is simply a must. Cruises operate throughout the day but the most popular tours are at sunrise or sunset.
Guluyambi Cultural Cruise
Just 45 minutes from Jabiru is the East Alligator River, one of the Territory's most pristine and untouched waterways. The Guluyambi Cultural Cruise takes you down the river, past the stunning rock formations, along the secluded inlets and coves. You'll observe a number of local birds and reptiles, and there might even be a special guest appearance from a water buffalo.
Tours are conducted by an Aboriginal guide, who'll give you an insight into local Aboriginal culture and mythology, along with the traditional uses for many plants and animals.
Yellow Water Fishing
Alright, you've come so close to the flora and fauna of Kakadu National Park – now it's time to throw out a line! The Yellow Water Fishing tour takes you to some of the world's best and most picturesque fishing spots.
Whether you're an expert angler or an absolute novice, you'll get the inside scoop from professional fishermen about how to snag yourself a barramundi – and if you do manage to reel in a big fella, you'll have the choice of keeping him for dinner or thanking him very much for the experience and throwing him back.
Kakadu Tourism Adventure Tours
While we encourage you to see as much of Kakadu National Park as possible, some of it's simply too hard for regular vehicles to access. This is where Kakadu Tourism 4WD Adventure Tours comes in. Set off in a modern four-wheel-drive to check out the scenery, swimming holes and waterfalls that are denied to all but a precious few.
Do it yourself: the Nature's Way self-drive route
Tours are a great way to kick back and save the energy of organising, but a do-it-yourself trek across the Territory lets you channel your inner explorer and carve your own journey. There's more than enough to see and do in Kakadu National Park, but if you want an amazing self-driving adventure, one of the best loops in the Top End is the Nature's Way self-drive route. It takes you through Kakadu National Park, Katherine, Litchfield National Park and Darwin, and if you want to do it right, we recommend you take at least a week. Of course, a fortnight is even better!
Most people start the journey in Darwin, but that's the best part about Nature's Way – you can begin the adventure anywhere on the loop and end up back where you started. The drive from Darwin to Jabiru in Kakadu National Park is about three hours – just take a left from the Stuart Highway onto the Arnhem Highway and you're on your way. There's heaps to keep you occupied along the way, such as the Fogg Dam Conservation Reserve, or the Adelaide River Queen Cruises jumping crocodile experience – get up close to Australia's most impressive predators. Once you get to Jabiru, we recommend staying three nights, so you can fully explore Kakadu National Park.
On day 4 of your week-long journey, take the 3-hour drive to Katherine via Pine Creek. Head down the Kakadu Highway in the direction of Pine Creek, a pioneering town which hit its boom a century ago in the gold rush. Check out the traditional buildings before stopping in to Mayse's Café for lunch. You'll feel like you've stepped back in time – the place is decorated in Elvis and Marilyn Monroe posters – but the portion sizes are true Northern Territory. Once you've filled up, check if you need to do the same for the petrol tank and then head off towards Katherine and Nitmiluk Gorge.
Settle down for the night in Katherine, then spend the following day exploring Nitmiluk Gorge and Nitmiluk National Park – you can discover the area by foot, cruise boat, canoe or even helicopter! Cool off at Leliyn/Edith Falls or warm yourself in the Katherine Hot Springs, thermal pools on the bank of the Katherine River (open from April to November).
Spend another night in Katherine then it's time for the 3-hour drive to Litchfield National Park. Once there, follow the local signs to swimming holes and walking tracks – or take a look at Litchfield's 'Lost City' or its famous magnetic termite mounds. As with everywhere in the Territory, be sure to check local updates and see if swimming is permitted – particularly from November to April.
On your last day, before you drive to Darwin, stop off at Berry Springs, a secluded swimming hole known mostly by Territory locals, which is a great place for a refreshing dip. Grab some lunch at the local kiosk then complete the loop in Darwin. The week-long journey (or longer!) will be an unforgettable Outback adventure.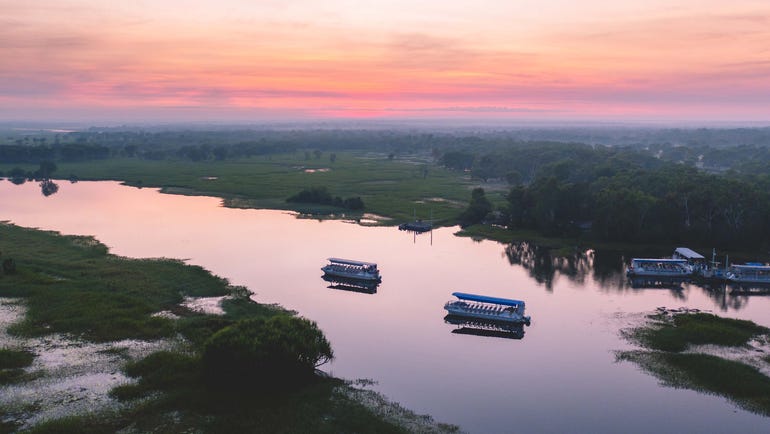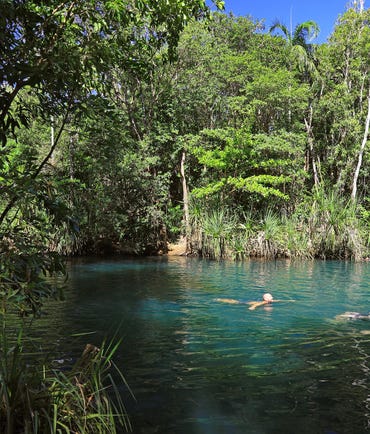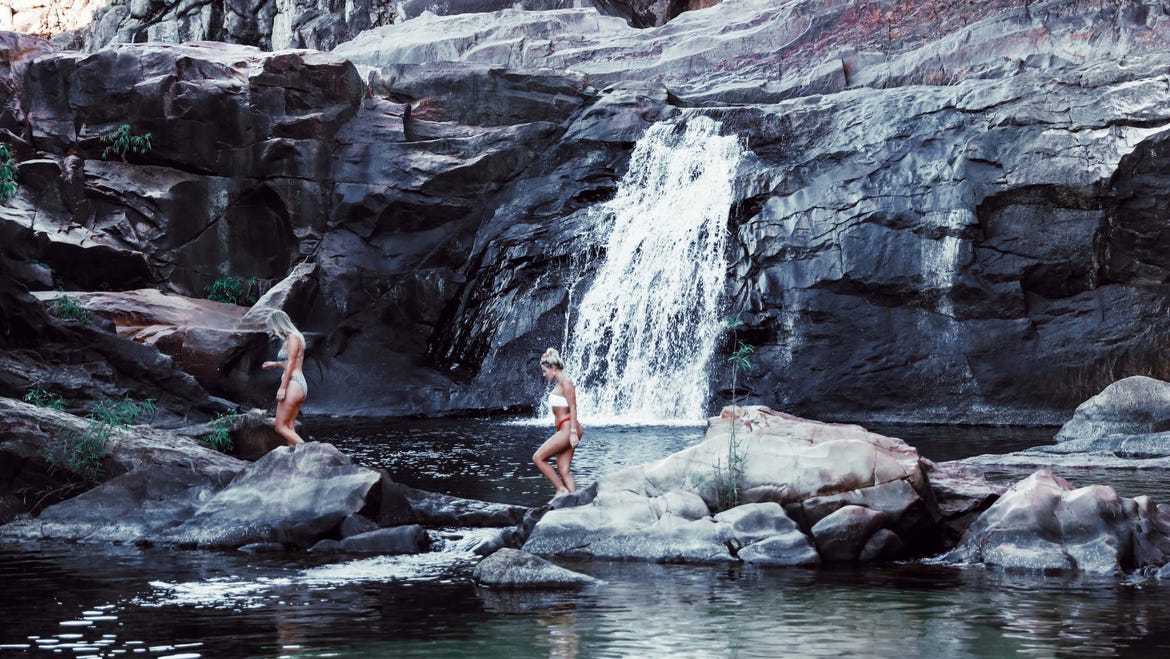 Need to know
Kakadu's best time to visit: April to October is the best time to visit Kakadu National Park due to cooler weather and minimal rainfall. November to March is the tropical wet season, which brings the waterfalls and floodplains to life, however some roads are closed due to flooding. The wet season is when the waterfalls are at their best, so why not enjoy a helicopter tour?
How to get here: While Kakadu National Park is an untamed wilderness, it's close to Darwin, the Territory's capital. There are international and domestic flights into Darwin International Airport from a variety of locations, and the trip into Kakadu National Park is just a 3-hour drive on sealed roads. There are a number of tour options which will cover the highlights of Kakadu National Park, and most leave from Darwin.

Getting around: Due to the sheer number of highlights and must-see destinations in Kakadu, we recommend either renting or taking your own car, or booking an organised tour. Fuel stops can be found at Kakadu Resort, Cooinda, Mary River Roadhouse and in the township of Jabiru.
Passes and permits: All visitors to Kakadu require a park pass. Your pass includes entry to the park, ranger guided walks and talks, and interpretive materials. Remember to check the app available for download. It's easy to purchase your pass online.

Stay connected: You'll have so many photos of your time in Kakadu National Park that you'll want to share everything on Instagram and Facebook. You can access free wi-fi at various locations around the Park.

Plan ahead: Kakadu National Park covers a large area, so be sure to tell someone where you're going, and take plenty of essentials like petrol, sunscreen, water, walking shoes, a hat and so forth.

Safety: As with anywhere in the Top End, you need to be aware of crocodiles when boating or camping around water. Remember to be Crocwise and only swim in locations that are clearly marked safe to do so. The NT Where To Swim guide is a handy reminder, although always defer to local signage and information, and familiarise yourself with crocodile safety before you enter Kakadu National Park.
Where to go next? You've taken in the sights of Darwin and explored Kakadu National Park, so where to next? There are still many more wonders of the Territory to discover as you head south. Katherine – which sits on the edge of Nitmiluk National Park and Nitmiluk Gorge – is an absolute must, while heading further south towards Alice Springs and Uluru will give you the true Red Centre experience.