​7 reasons why you'll come home from the NT in a better state of mind
Going through a monotonous cycle at work? Looking for some excitement? Or need a bit of relaxation? It's probably time you took a holiday. There are countless reasons why you'll come back from the Northern Territory in a better state of mind. Here's just a few…
1. You'll be relaxed and carefree
Life is all about the simple things. But these can be hard to enjoy when the stresses of modern life are constantly knocking down your door. Territorians are proud of their laid-back lifestyle and it's easy to see why. There's no better way to recharge the batteries than by combining the NT's remote wilderness with a luxury accommodation escape. It's the perfect antidote to big-city living.
You won't be thinking about work when you're 'glamping' in one of Kings Creek Station's Dreamtime Escarpment tents, complete with air conditioning and private sunset viewing deck.
Take a trip to one of Kakadu's secluded getaways like the Wildman Wilderness Lodge and just try to think about traffic, deadlines and alarm clocks, as you gaze in awe at the array of wildlife that call these vast wetlands home.
Or enjoy the Outback in luxury at the Bamurru Plains bush lodge, where you can experience Barramundi fishing, river cruises or take the ultimate bird watching tour where you can watch flocks of egrets, ducks and magpie geese nesting in the trees, above huge billabongs that feed life into these remote areas.
If you're looking to relieve some stress, look no further than the NT.
2. You'll feel energised & excited by life
If you're too energetic to spend the entire holiday relaxing, then one of the Territory's many adventure experiences is the way to go. Just a taste of the great outdoors, the vibrant culture and the local bush tucker will give you a new lease on life.
Get the adrenaline going by taking a dunk with a saltwater crocodile at Crocosaurus Cove in Darwin. Don't fret, they only call it the 'cage of death' – you're perfectly safe in this submerged underwater viewing pod that lets you get up close and personal with a 5-metre saltie! Or if jumping out of a plane 12,000ft above the Red Centre is more your style, then Skydive Uluru is sure to excite.
In fact, there's more NT adventures than you could ever imagine – from riding camels through the desert, to gliding through floodplains on an airboat, to flying high over Alice Springs in a hot air balloon.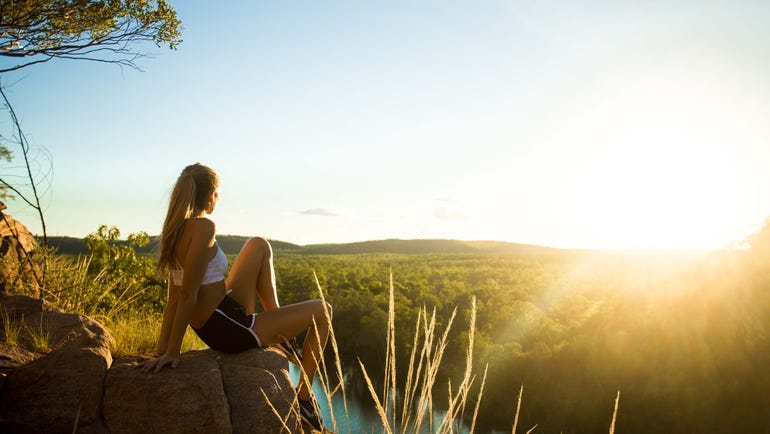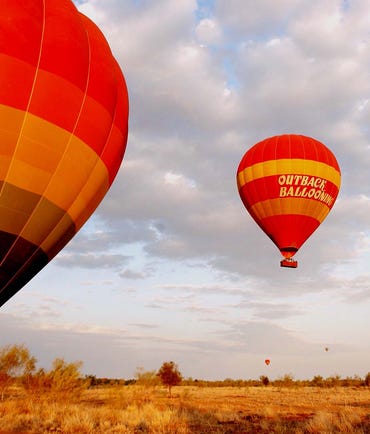 3. You'll connect with your loved ones
What's a holiday if it's not shared with those closest to you? Whether it's with friends, family or that special someone, the Territory is the perfect place to connect. There are countless NT adventures and activities to share with loved ones.
You could hire a car and take the whole family on a self-guided road trip on the Nature's Way drive, exploring Darwin to Katherine via the stunning tropical beauty of Kakadu National Park. If you'd prefer a guided tour, take the family on a half day tour to Kata Tjuta (the Olgas) in the Red Centre, where the kids will love exploring the many trails and Uluru-Kata Tjuta National Park's otherworldly natural wonders.
Or maybe you're thinking of reconnecting with your significant other? Take your pick of places that are sure to spell romance. A chopper ride over Honeymoon Gap with Alice Springs Helicopters should do the trick. Or maybe an intimate outdoor dinner at Tali Wiru, where you can profess your love under the Outback stars as the sun sets over magical Uluru.
4. You'll reconnect with yourself
Nature therapy doesn't get much better than this. When you visit natural wonders like Kakadu National Park and Uluru-Kata Tjuta National Park, there's a certain feeling – something spiritual, something magical – that truly makes you reflect on life and appreciate the beauty around you. You need to feel it to understand it, but trust us, the NT leaves its mark on everybody.
Sometimes we need to get back to bare basics without all the distractions of modern life. What better way to find yourself than by taking one of the Territory's countless hiking trips, like the Kings Canyon Rim Walk – you'll hike to the summit, before staring across vast expanses of desert wilderness. Or what about a trip to one of the Territory's many remote islands like Njulbitjlk (Bare Sand Island), where you can take the Turtle Tracks cruise and see nesting turtles from April to September.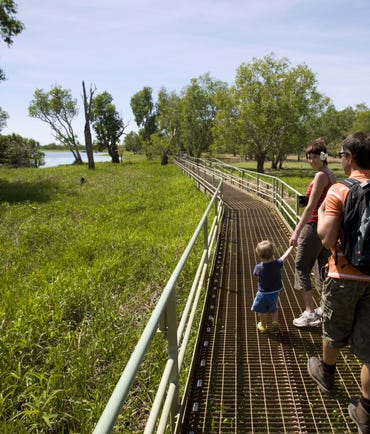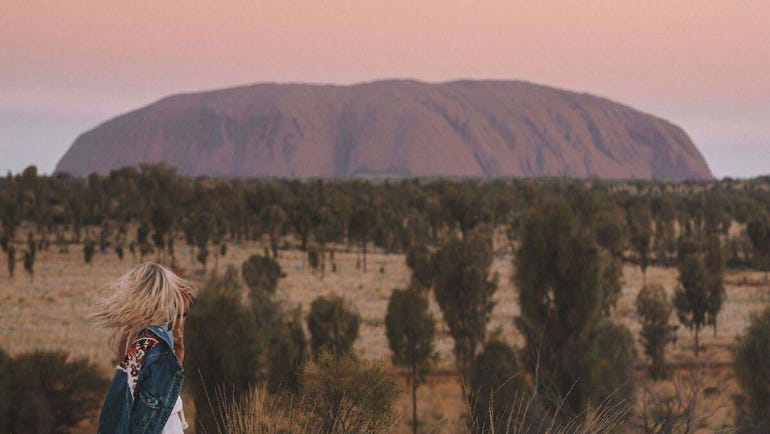 5. Your mind will be brimming
The Northern Territory is one of the best places to immerse yourself in Aboriginal history and culture. Watch a bunggul (a traditional ceremonial dance) at Australia's largest Aboriginal festival, the Garma Festival in Arnhem Land, or maybe a traditional smoking ceremony and art tour on the Tiwi Islands.
You'll be sure to learn a bundle with local Aboriginal tour operators such as Pudakul Aboriginal Cultural Tours on the Adelaide River Flood Plains, or at the Top Didj Cultural Experience and Art Gallery in the Katherine region. Hear stories from Australia's traditional owners and learn about their culture.
For those fascinated by traditional art, a dot-painting display on the Karrke Aboriginal Cultural Tour is something the kids will love; and while you're there, why not sample some bush tucker, like a witchetty grub! They taste like buttery popcorn. Yum!
Meanwhile, if you head to the remote paradises of Arnhem Land or Groote Eylandt, not only will you sample world-class fishing, you can meet the locals and learn about their historical connection with the region.
6. You'll have heaps of new friends & stories to tell
The experiences and stories you share with colourful characters will be a highlight of your trip. In fact, the Northern Territory has the longest pub crawl in the world that starts in Darwin and finishes at Uluru, and if you're looking to make new friends then this is a great way to do it.
Sample buffalo, crocodile and kangaroo at Cooinda Lodge with a cold beer, while chatting with both locals and fellow travellers. Then head 6 hours south to one of the Outback's oldest pubs, the Daly Waters Pub, where you'll meet some outrageous outback characters and find out why all the bras are hanging on the walls! After your last leg you'll want to quench your thirst and say goodbye to your new friends with a beer at the Todd Tavern in Alice Springs.
Meanwhile, plenty of animals will want to get up close and personal in the Territory. Not all of them want to be your friend, but they'll all give you an amazing story to tell. Keep your hands and feet inside the boat on an Adelaide River jumping crocodile cruise, cuddle a furry friend at the Kangaroo Sanctuary in Alice Springs or take a stroll through the Territory Wildlife Park near Darwin and see the bird and animal life in a pristine natural setting. Whatever you choose, you'll go home more inspired than ever.
7. You'll know that you celebrated in style
Territorians are known to celebrate regardless of the occasion and there's a fair chance you could do some celebrating on your trip.
If you're in Darwin, you can enjoy an afternoon beer at one of the many seaside venues like the Darwin Ski Club, before heading in to Darwin Waterfront and grabbing a quick taco and tequila at Hot Tamale, or maybe something upmarket at Wharf One. Catch all the live sport and banter you can handle at Shenannigans before heading to Monsoons to party the rest of the night away. If you need to cure a hangover the next morning, head to Laneway Specialty Coffee for the best coffee and Eggs Benedict in town.
But Darwin bars and restaurants are just the start of the NT scene. In Alice Springs, you'll love partying the night away at Monte's Lounge, Epilogue Lounge or the Juicy Rump.
Meanwhile let your hair down at one of many exciting Northern Territory festivals and events, like the Wide Open Space Festival in Alice Springs, BASSINTHEGRASS music festival in Darwin, the Uluru Camel Cup or Parrtjima Festival in the Red Centre.
Start planning your trip to the Northern Territory. We assure you you'll leave in a better state of mind.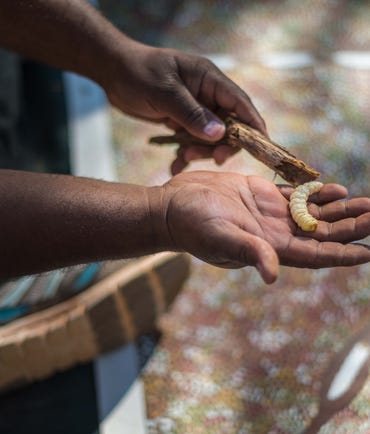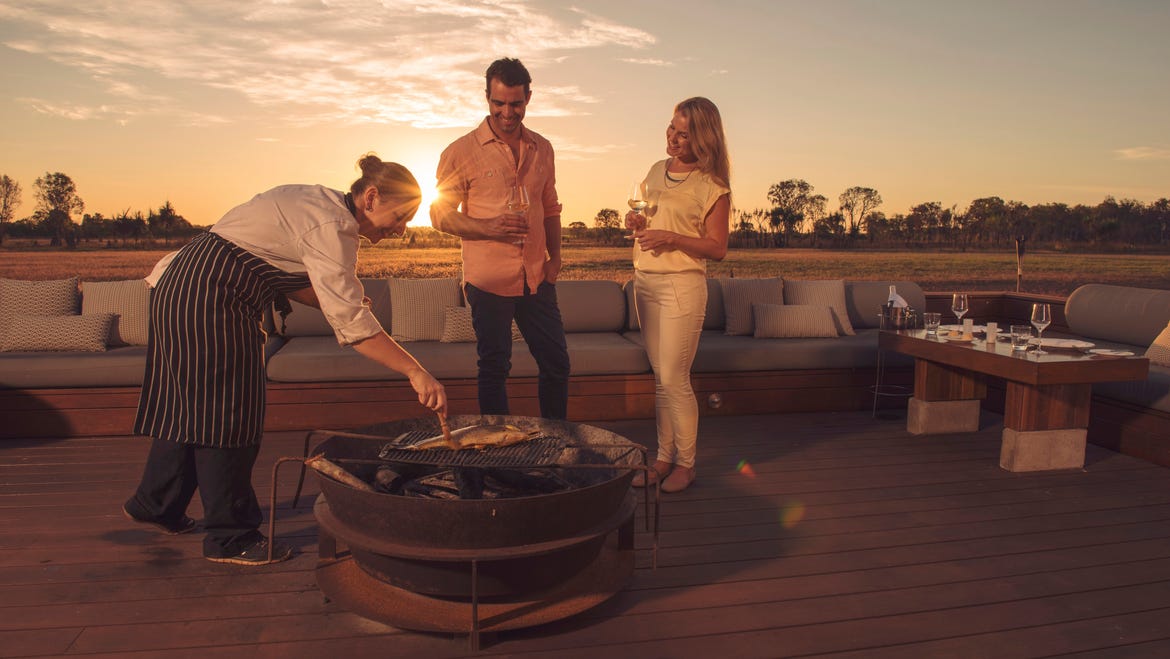 More articles you might like