Up the track: the Stuart Highway
Locally known as 'the Track' or 'the Bitumen', the Stuart Highway is the Territory's most valuable legacy of World War II.
For many years, what is now the Stuart Highway was little more than a track beside the Overland Telegraph Line. Known as the North-South road, it followed in the footsteps of John McDouall Stuart who crossed the continent in 1862. Darwin, key to Australia's northern defence, was reliant on supplies from sea-lanes, which were vulnerable to enemy attack. An overland supply route was desperately needed to sustain the vital northern port.
With the outbreak of World War II, the Commonwealth Government implemented a program to upgrade the track, and by mid-1939 a coordinated military road and rail freight service had been introduced between the railheads at Alice Springs and Larrimah. In a remarkable feat of engineering, the rough track was turned into a highway in the space of a few months.
By September 1940, the first military convoys were taking men and supplies through to Darwin. It was a four-day journey from Alice Springs to Larrimah and each night the North-South convoys were accommodated in staging camps a day's drive apart at Barrow Creek, Banka Banka, Elliott and Larrimah.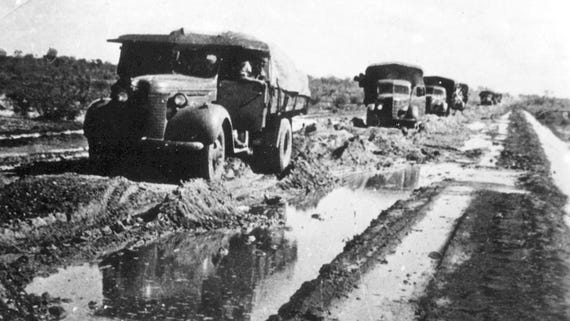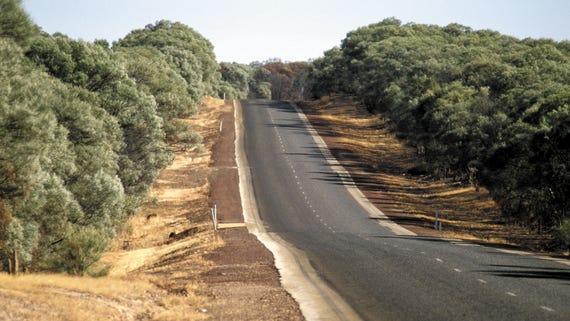 The Stuart Highway was the scene of almost unimaginable activity during World War II. Servicemen and women were carried up the highway in the hundreds of thousands. Millions of tonnes of supplies, critical to the war effort, were hauled up the track. Aircraft from roadside airstrips and airfields intercepted enemy planes and launched long range bombing missions against Japanese positions overseas. Wounded were cared for in field hospitals along the route, and beside the track the fallen were laid to rest. Alan Smith found himself in Alice Springs as one of the Convoy Officers responsible for getting supplies through to Darwin.
By mid-1942 the all-weather North-South Road had begun to disintegrate under the relentless pounding of military transport columns. The possibility of building a rail link between Alice Springs and Birdum was ruled-out as the cost was too excessive. A decision was made in August 1942 to rebuild and seal the road.
It could be said that the Stuart Highway, which traverses two distinct climatic regions, and pushes up from the central desert to the tropics, through some of Australia's harshest natural environments, is an Australian road like no other. It's a pioneer's road that played a unique role in the defence of Australia in its time of greatest need. In a letter home, a soldier from New South Wales recalls his journey north along the Stuart Highway.
As you travel along the Stuart Highway, or imagine a voyage along this famous highway, you are journeying in the footsteps of men and women who made great sacrifices, who fought the war here in Australia – men and women who made history in the skies and landscapes of this vast Territory.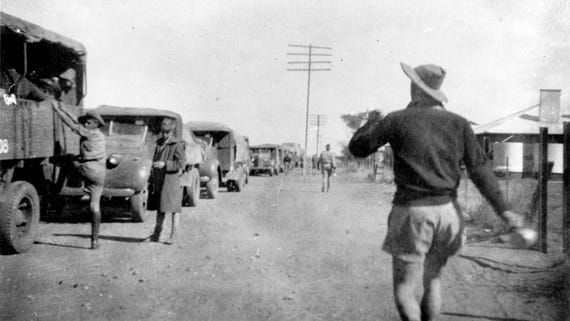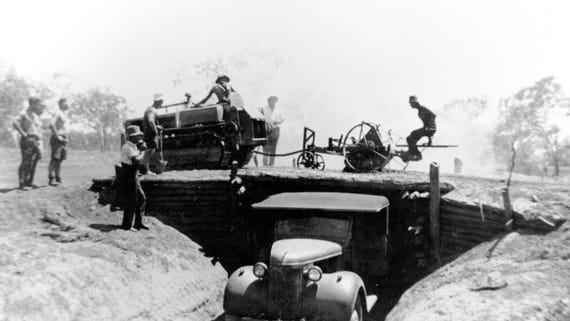 More articles you might like