NT Guide: The Savannah Way in 14 days
Discover the Savannah Way in this 14-day itinerary with Australian travel photographer, Sean Scott. His most recent trip saw him travelling for two weeks from Borroloola to Timber Creek in the Northern Territory.
Day 1–2: NT border to Borroloola (262km)
I recommend allowing around a week to travel from Cairns in Queensland to the Northern Territory border as part of this trip. This allows you plenty of time along the first leg of the Savannah Way. Once you reach the NT border you'll start the 262km journey heading towards Borroloola. This is along red dirt roads with several water crossings, but nothing too challenging if you have a 4WD. Travelling through to the Gulf of Carpentaria, you'll find a great area for fishing and nature watching. Be sure to make a stop at Seven Emu Station to enjoy camping, fishing, birdwatching, and Aboriginal culture on this genuine outback cattle station.
Day 3: Borroloola
On arrival, make your way to the Old Police Station Museum and Waralungku Art Centre to get familiar with the history of the area. Borroloola is a must-do for fishing enthusiasts. McArthur River Caravan Park is the perfect spot in town to park up with your caravan and/or boat with fresh water plus powered sites available. Another option is the King Ash Bay Fishing Club which is right on the bank of the McArthur River.
Well-behaved dogs are welcome at the caravan park, there's an easy access boat ramp and if don't feel like cooking, Groper's Bar and Grill have you covered. It's a great spot to land an iconic Barramundi and explore the Sir Edward Pellew Group of Islands. The fishing opportunities are endless here. If you don't have the luxury of owning your own boat, there's another option for you. McArthur River Fishing Charter offers an excellent charter that will give you lots of local tips and guide you into some epic spots. Maybe even getting you a coral trout for dinner!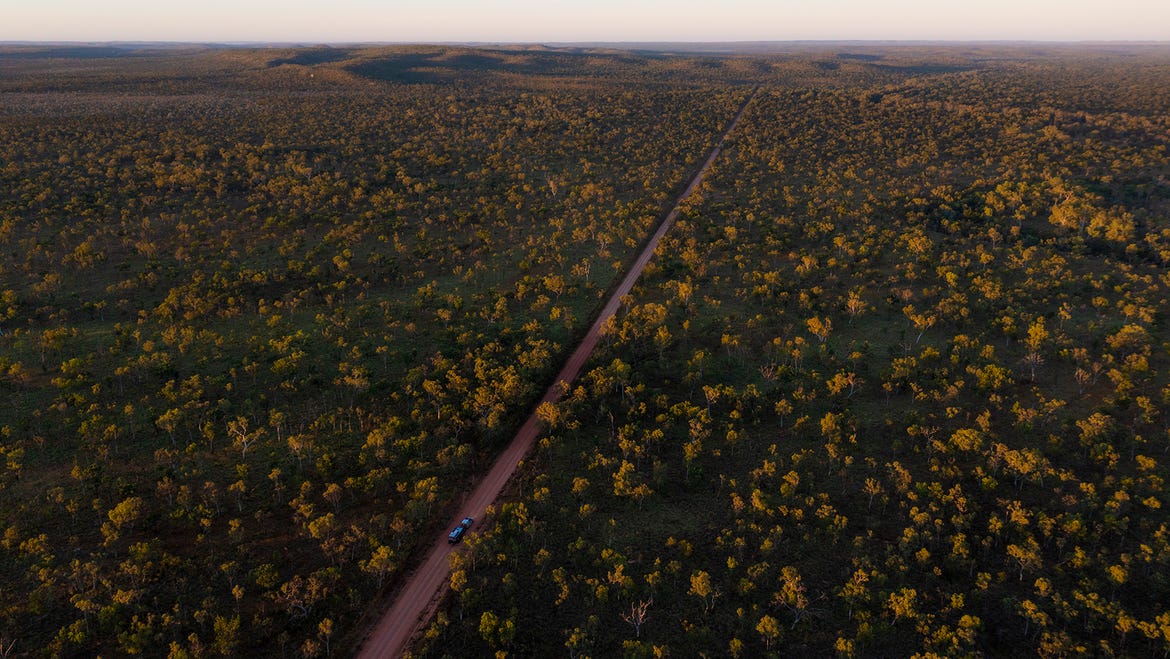 Day 4: Borroloola to Lorella Springs Station (166km)
On your way to Lorella Springs Station, drop into Caranbirini Conservation Reserve, just 46km south of Borroloola. It's an excellent spot for bird watching, bush walking and you can get some stunning views of the pinnacle-shaped structures.
The kingdom of Lorella Springs has just about everything you could dream of for an adventure. Hot springs, waterfalls, swimming holes, fishing, canoeing, beach driving along the Gulf of Carpentaria, 4WD tracks (easy to hard levels) and 1 million acres of wilderness park to explore.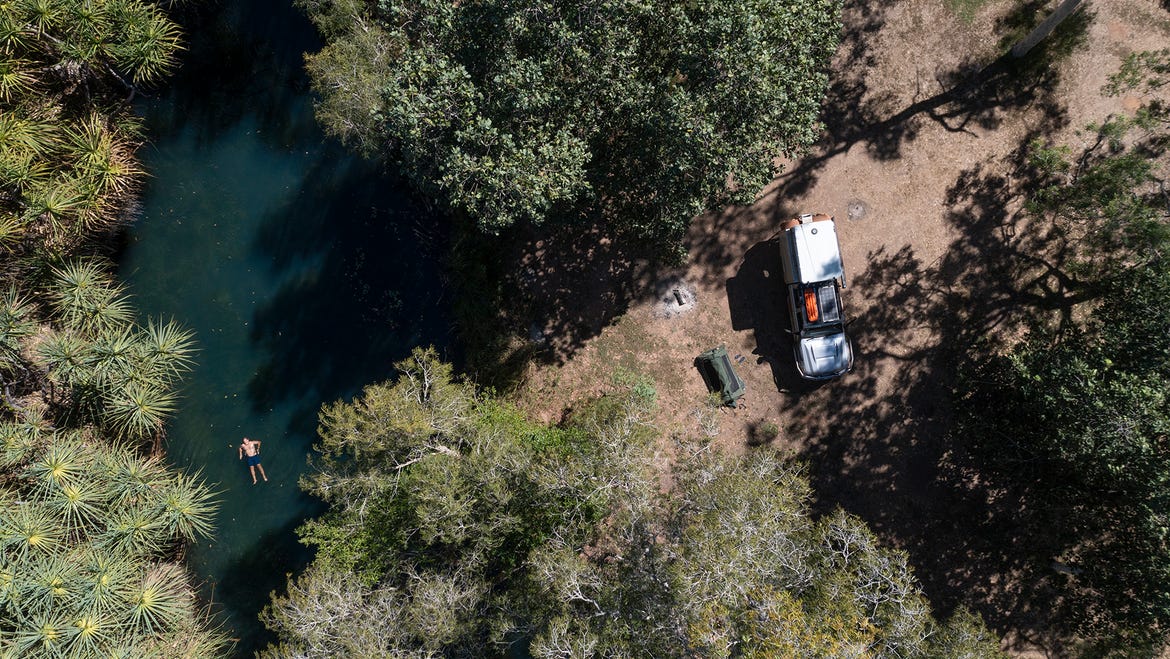 The family-owned untouched remote Northern Territory coastal wilderness sanctuary is twice the size of the ACT and larger than Italy. It's a place I highly recommend putting on your bucket list with the diverse, open savannah, to coastal floodplains, salt flats, mangroves, caves, chasms, gorges, escarpment and dense forest.
Lorella Springs is also abundant with birds and other wildlife. The station is virtually untouched and with so much to do here that some people stay for months at a time. There are heaps of campsites available around the homestead base/bar with even flushing toilets and showers under the stars.
Definitely do the remote camping option they offer. You can essentially camp anywhere on the property and with the amount of room to roam around, you're certain to find an epic spot to yourself with no light pollution whatsoever. It gives you a true Australian Outback experience.
Day 5: Explore the iconic Lost City in Limmen National Park (50km)
Just a 30-minute drive away from Lorella Springs Wilderness Park is the Southern Lost City, part of Limmen National Park, that you can hike all around the pinnacles. No light pollution and the crisp clear dry season air, the night skies are incredible in this part of Australia. The camp facilities are great and if you're lucky, you might even have the whole place to yourself like we did. I also recommend taking a chopper flight through the Lost City that you can book through Lorella Springs, it gives a whole other perspective of these incredible sandstone structures. The fly-in tours also offer on-the-ground access to walk among the giant sandstone pillars.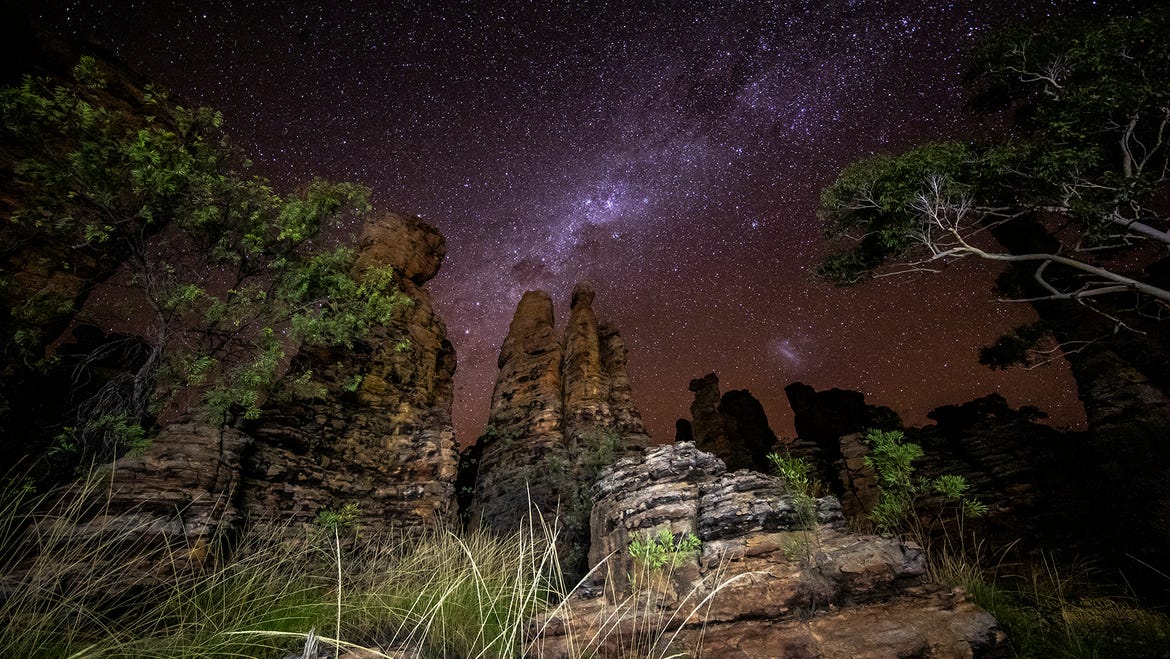 Day 6: Limmen National Park to Roper Bar/Daly Waters (392km)
For the four-wheel drive route, travel north to Roper Bar, on the tidal pandanus-fringed Roper River for more spectacular fishing action and stay the night at the Munbililla (Tomato Island) campground. If you're after an alternative sealed route, head to Daly Waters and check out Australia's war and exploration history. Call in for a cool drink and outback meal at the always entertaining Daly Waters Historical Pub.
Daly Waters Pub offers a heap of choices for accommodation, whether you just want to roll out the swag or there are powered caravan park sites starting from $16 a night per person. The pub also offers stays in safari tents to deluxe 2-bedroom cabins where you can have a moment of silence from the kids. It's an awesome Australian pub with a great choice of food and beer, staff make you feel like family plus there's live entertainment.
Day 7: Roper Bar/Daly Waters to Mataranka (183/168km)
There are so many great swimming spots along the Savannah Way. From hot springs to secluded rock pools that you can have all to your own. You do need to be croc wise while in the Top End of the Northern Territory, but there are still loads of safe places to wash the dust off from the day's adventures.
Mataranka is a great place to plunge into the thermal pools and crystal-clear streams (great spot with kids). Otherwise, only 5 minutes from town, the lesser-known Bitter Springs that sit among the massive palm trees is a beautiful spot. Both located in Elsey National Park. It's a short walk and easy access to the water – the perfect place to relax and unwind.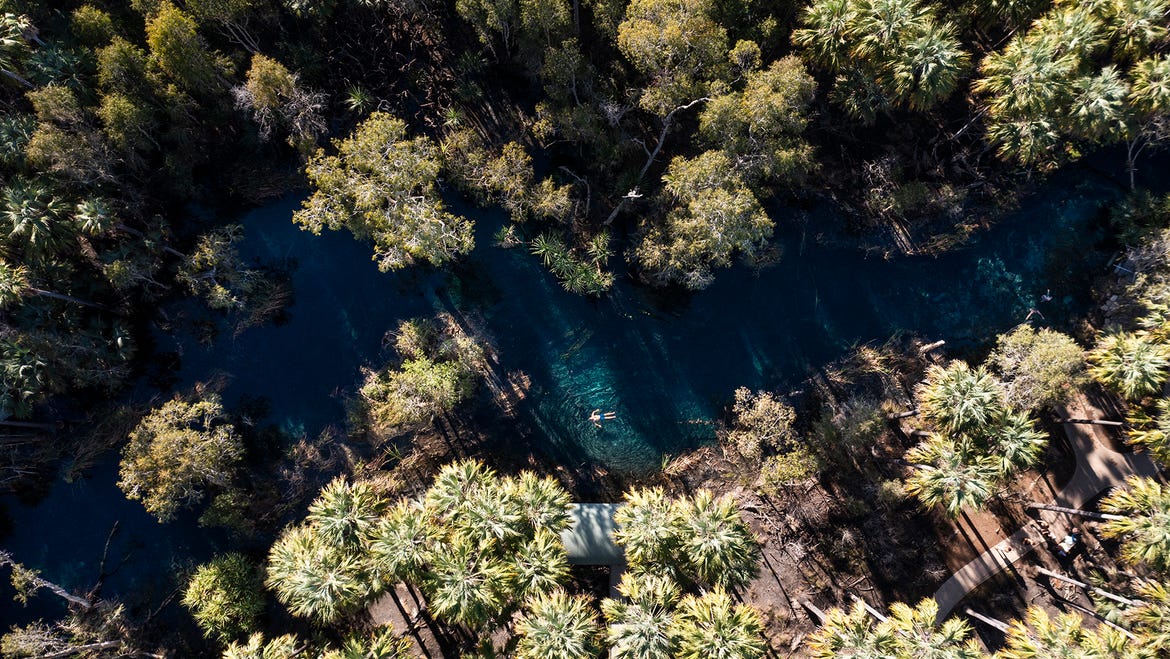 Day 8–9: Mataranka to Katherine (106km)
Next up, head north to explore Nitmiluk National Park just near Katherine. There's a lot to do here with multiple swimming spots, canoeing (both in the dry season), scenic helicopter flights or take a guided boat cruise through the incredible Nitmiluk (Katherine) Gorge, the jewel of the Katherine region. You can stay at the Nitmiluk Caravan Park with well-equipped facilities that offers a great spot to stay with the family. Otherwise, there's Cicada Lodge if you'd rather a more luxurious stay. It's worth spending two nights in Katherine to have enough time to explore the area.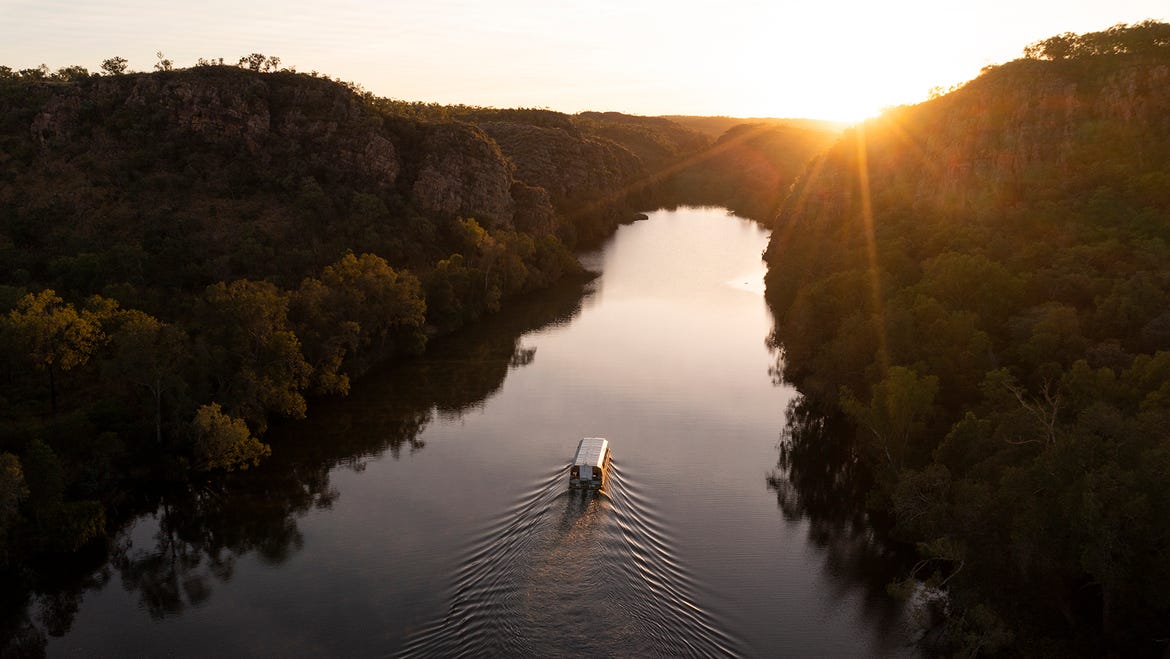 The Baruwei Lookout is worth the hike up, only about 10 minutes from the campground. It has some incredible views of Nitmiluk Gorge and is an awesome sunset viewing point. If you stay till last light, you'll see the thousands of bats flying up the gorge as they head off for the night.
While you're traveling through Katherine, I recommend checking out the Katherine Outback Experience. Tom Curtain, a multiple Golden Guitar winner gives you a real insight on breaking in horses, working dog demonstrations, entwined with live music and humorous bush tales. They have some awesome horse-riding tours and glamping tents are now available. The glamping tents are perfect for couples, friends or families and have a communal campfire in the campground.
Day 10: Nitmiluk (Katherine) Gorge to Judbarra/Gregory National Park (Victoria River Roadhouse) (224km)
On your journey to Victoria River, I recommend stopping in at Giwining/Flora River Nature Park and to check out Kathleen Falls. There's the option to stay at Lorrngurl Campground here if you wish. Victoria River Roadhouse is your gateway to scenic adventures where the fishing game is strong and the walking trails take you through stunning escarpment. It's a highlight of the driving scenery that's for sure. Find your own spot under shady trees with powered sites available and if you're only travelling through, make sure to stop in and grab a great feed!
Meander up the rocky Escarpment Lookout Walk and you'll find yourself with panoramic views of the river and valley below. On sunset and sunrise, the escarpment scenery glows bright orange and red colours with the local kangaroos and wallabies a plenty to spot.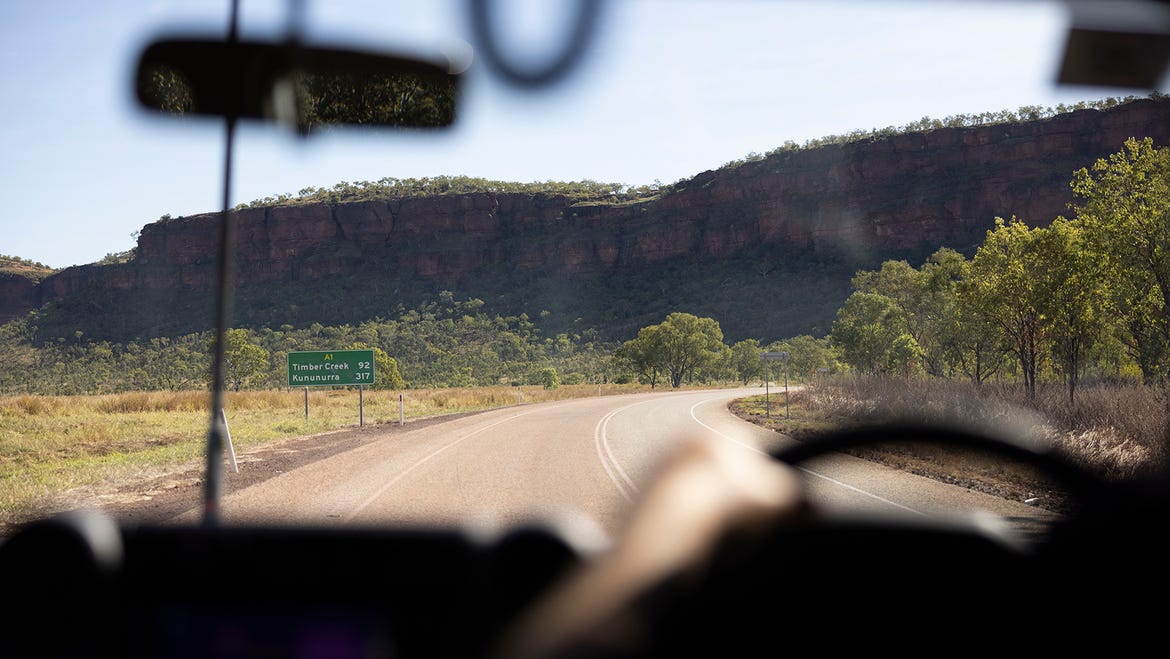 Day 11: Judbarra/Gregory National Park Victoria River Roadhouse to Timber Creek (91km)
Located 359km south of Darwin, you'll find the undiscovered area of Judbarra/Gregory National Park – the second largest national park in the Northern Territory. So, there's going to be a lot to explore along this stretch of the Savannah Way. Around Timber Creek you have amazing walks, Nackeroo Lookout, Limestone Gorge and Gregory's Tree.
There's great 4WD tracks that take you through incredible topography which also allow you to discover the history of Bullita Homestead, fascinating walks, cattle station history (50km from Timber Creek). Another option in the national park is to call ahead and visit Bullo River Station for a real taste of Australian outback station life. The accommodation that's available at Timber Creek is a perfect spot to park up the van. They even have freshwater croc feeding in the creek behind the hotel and caravan park every night. The onsite restaurant offers satisfying meals and service after a big day of exploring the area.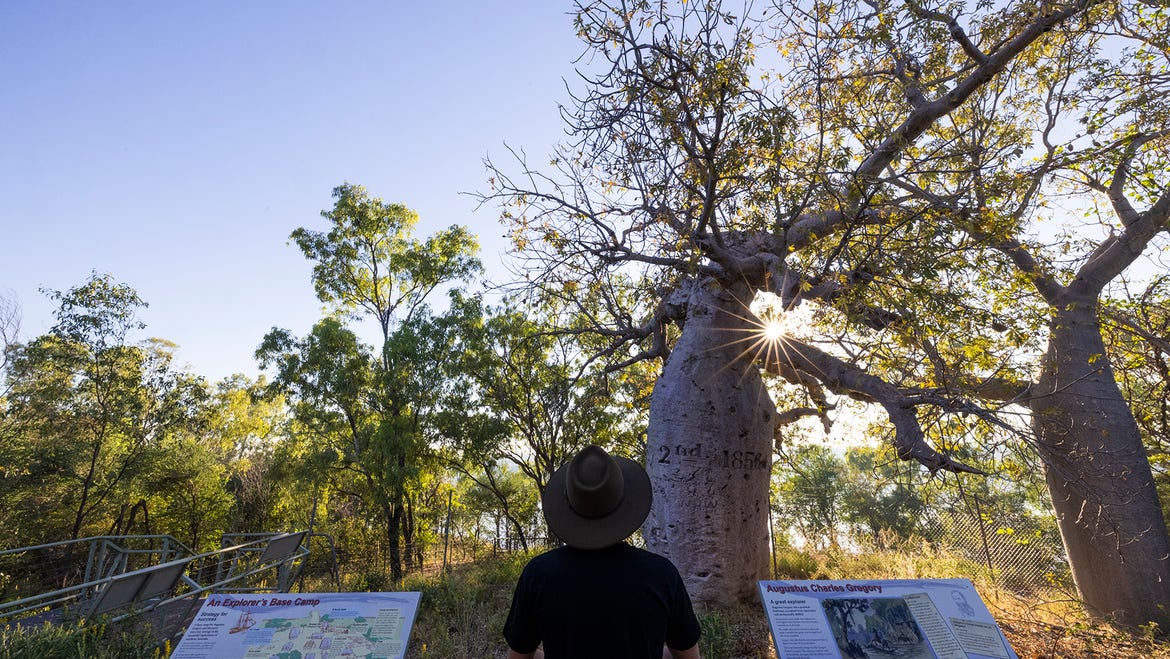 Day 12: Timber Creek to Keep River National Park (200km)
Keep River National Park is a real hidden gem. Just 3km before the WA border on the Northern Territory side. You start to really notice the large amount of boab trees around you and the landforms in the national park are extremely similar to the Bungle Bungles. There are two great camping areas with facilities, fire pits and awesome bushwalking tracks that allow you to hike in and around the city of striped sandstone structures.
The Jinumum and Lang-Gerrbi walks give you the chance to view ancient Aboriginal rock art up close. Keep River National Park is such a great way to finish the NT leg before you continue your Savannah Way adventure into WA. The whole of the Northern Territory leg of the trip and you can just stumble upon so many places that you haven't heard of before.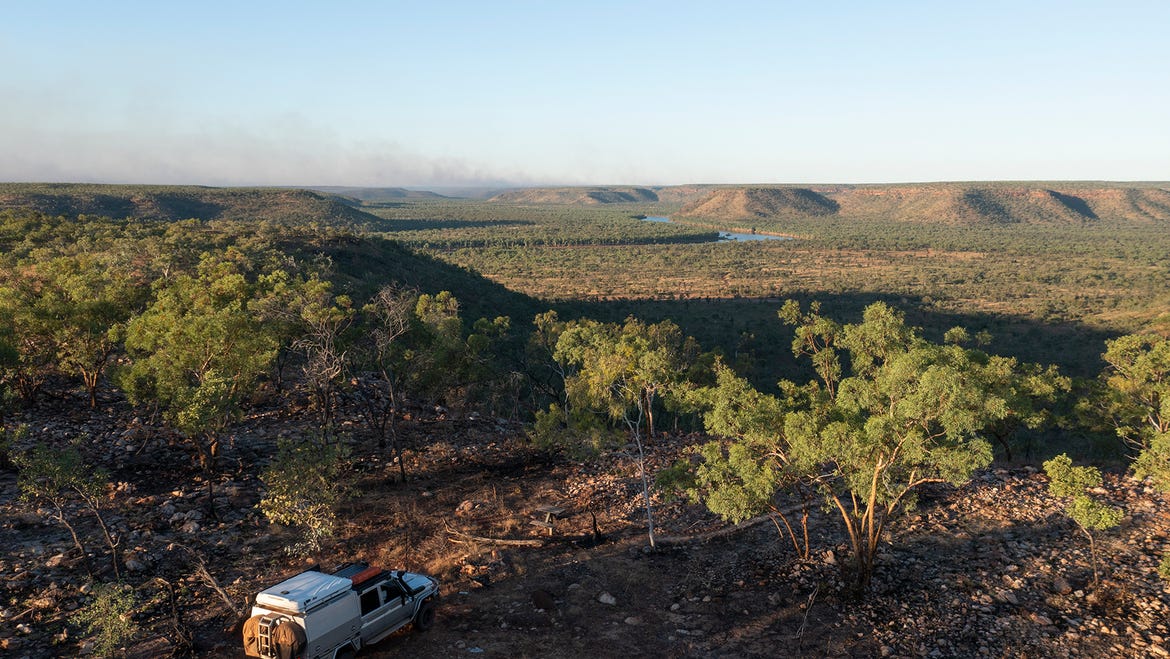 Day 13–14: Kununurra to Broome (1043km)
Continue the length of the Savannah Way across the border into Western Australia. For those looking to experience more of the Northern Territory, I recommend coming back and travelling further north up the Stuart Highway to Darwin.
Follow Sean Scott Photography as he captures the changing landscapes and colours of the outback covering four major national parks in this trip along the Savannah Way.
Start planning your holiday with more NT road trips to explore.