7 superb places to dine out in Darwin
Blending its close proximity to Asia with an ocean brimming with fresh catches, the Northern Territory capital has captured the ideal ingredients which make Darwin a modern dining delight. We've got the lot when it comes to fine feasting and here's seven of our best.
1. Pee Wee's at the Point
Who can resist a coconut-crusted crocodile tail when it's described as "wild caught, wrestled by a chef on the beach in front of Pee Wee's"? Yes, that trademark Territory humour is evident everywhere on this menu, matched only by some of the finest food you'll experience in the Top End.
In fact, this East Point Nature Reserve establishment was named NT Restaurant of the Year for the second time in three years at the Australian Hotel's Association Gold Plate Awards in 2015, and with local produce such as oven-baked wild-caught NT saltwater barramundi on the menu, it's easy to see why.
Visit Pee Wee's at the Point.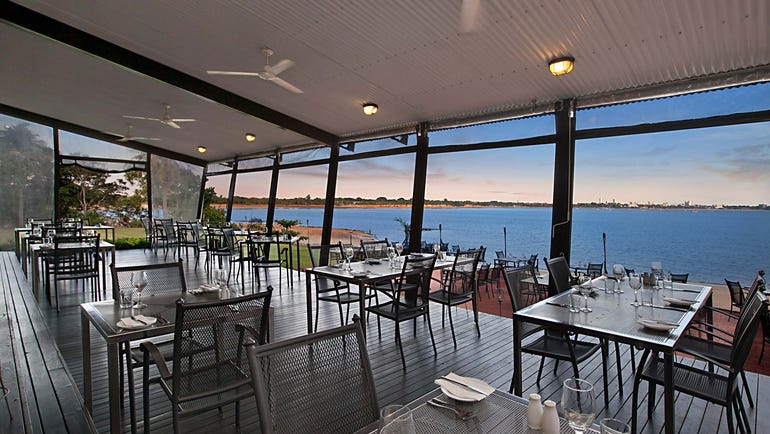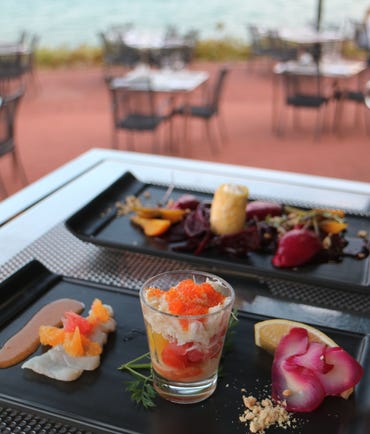 2. Cove
Vegetarians best look away right now, as Cove is a carnivore's carnival. Part of Mindil Beach Casino Resort, this newly re-opened eatery overlooking the sparkling swimming lagoon has a whole new look and vibe.
The menu features prime cuts of beef from around the country and try the Black Angus eye fillet from Byron Bay and as well as finger-licking rib dishes. Touting itself as Darwin's Hottest New Steakhouse, who can argue with that? Check out the impressive wine, beer and liqueur menu here too.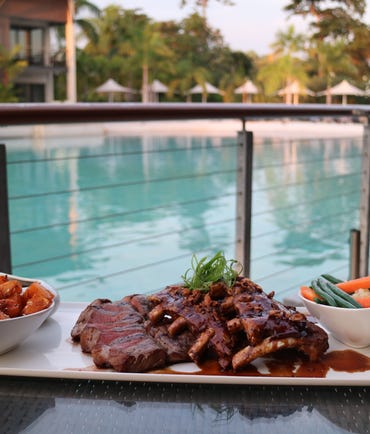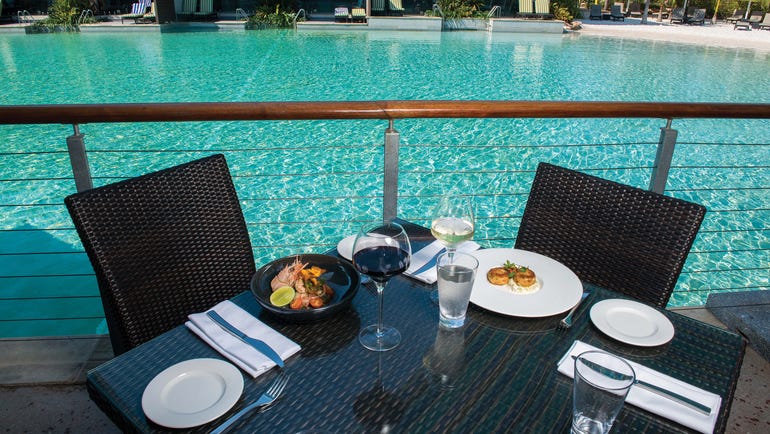 3. Wharf One Food & Wine
With pole position right on the wharf corner and overlooking the lagoon of the oh-so-funky Darwin Waterfront, it's hard to find a better spot to dine on a delicious day.
Best known for its wood-fired tapas menu, delight in small bites such as wood-grilled SA squid with smoked hummus and lemon; wood-fired prawns with radish salad and chilli jam; or for a bigger bite, order the wood-fired NT barramundi with miso and pickled daikon.
For a right royal treat, grab nine mates, order 24 hours in advance, and the ten of you can feast on suckling pig.
Visit Wharf One Food & Wine.
4. Eva's Botanical Garden's Café
It's not easy being green, and that's what makes Eva's so special. Plonked in the heart of the George Brown Darwin Botanic Gardens, this is the perfect place to enjoy a dash of calm with your morning cuppa. Situated in a former heritage-listed church building and with a yawning outdoor deck among the greenery, you'll discover some of the best baristas in the land here.
Much of the menu is baked onsite and while simple, it's healthy and tasty with such delights as wraps, salads, sandwiches and Eva's Ploughman's Lunch. Take a High Tea here and then walk it off among the baobab and palm trees in the adjacent gardens founded in 1886.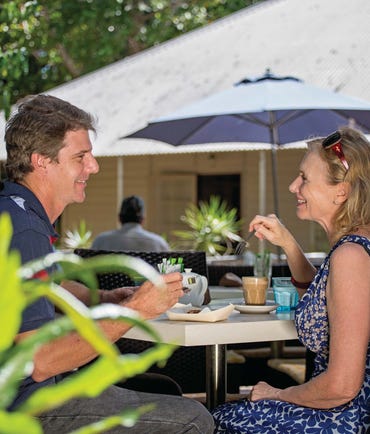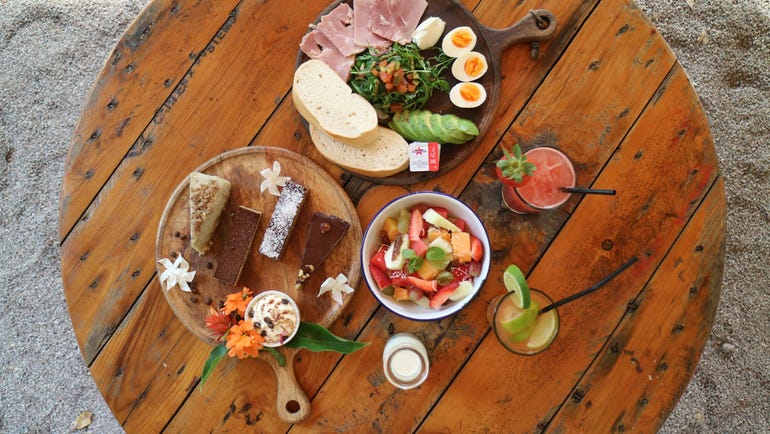 5. Charlie's of Darwin
Located in the heart of the city is a hidden gem tucked away down Austin Lane. Charlie's of Darwin is home to the town's first gin distillery where you can try gins infused with locally sourced botanicals including Kakadu plum, lemon myrtle and river mint. From the restaurant, you can order contemporary shared plates featuring Australian produce – your taste buds will be tantalised with every bite. For a more casual setting, head to the attached rooftop bar that overlooks Raintree Park.

Be sure to book a table in advance when dining in the restaurant as this popular spot can get very busy. Once you try their food you will understand why!
Visit Charlie's of Darwin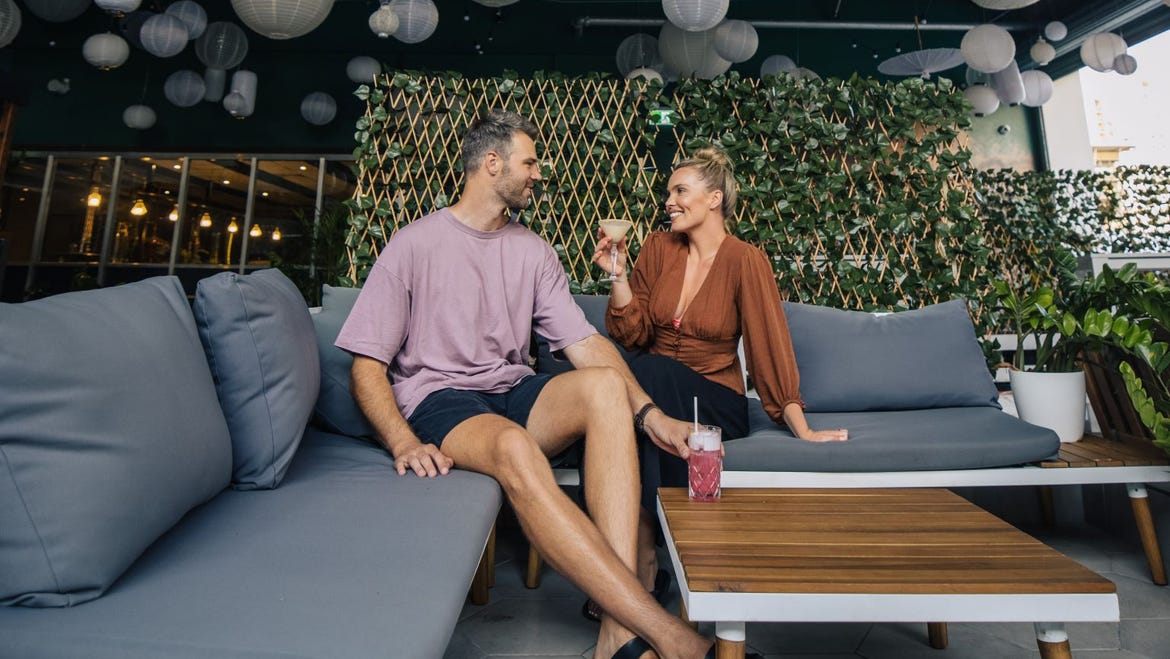 6. Hanuman Darwin
A little bit of south-east Asia in the heart of the Northern Territory, Hanuman Restaurant is a popular Darwin establishment that also boasts an eatery in Alice Springs.
Well-known restaurateur Jimmy Shu has furnished this Mitchell Street business with tables and artwork from his Asian travels which is a huge drawcard for this indoor and alfresco setting.
An even greater lure is the food itself. With everything from the signature dish butter chicken to hanuman oysters, there's bound to be something to satisfy on this extensive and exciting menu.
Visit Hanuman Restaurant.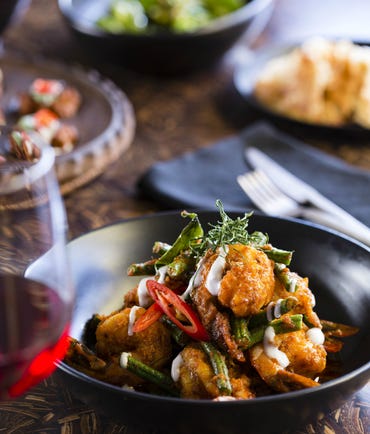 7. Char Restaurant
This restaurant offers the finer side of dining in the beautifully renovated heritage-listed Admiralty House – located on the corner of Knuckey Street and the Esplanade. Owned by Brisbane beef baron John Kilroy, whose Cha Cha Char Wine Bar & Grill is one of the Queensland capital's most renowned places for a steak – it's little wonder the Darwin version is equally as popular.
Visit Char Restaurant.
More articles you might like