Aboriginal people played an important, largely unrecognised, role in supporting the war effort in Northern Australia.
Melville and Bathurst Islands were vitally important for the defence of Darwin against air attacks throughout the war. They lay across the route taken by the Japanese bomber fleets from their airbases in, what is now, Indonesia. As the Japanese bombers crossed Australia's northern coast the Tiwi people looked on, but they were more than just witnesses.
"Stick 'em up, right up" were Tiwi Islander Matthius Ulungura words after tracking a crashed Japanese pilot Hijime Toyoshima through the bush on Melville Island. Matthius captured one of the few enemy pilots shot down during the air raids on 19 February 1942. His prisoner was to become Australia's first Japanese POW, who was sent to Cowra in New South Wales, and became one of the leaders of the 1944 Cowra breakout that saw over a 1,000 Japanese prisoners attempt to escape. A statue of Matthius Ulungura was unveiled on Bathurst Island in 2016 to honour the war hero.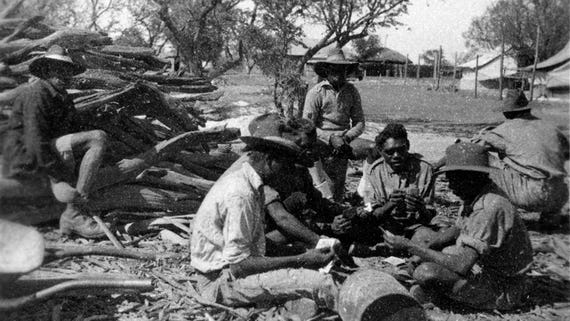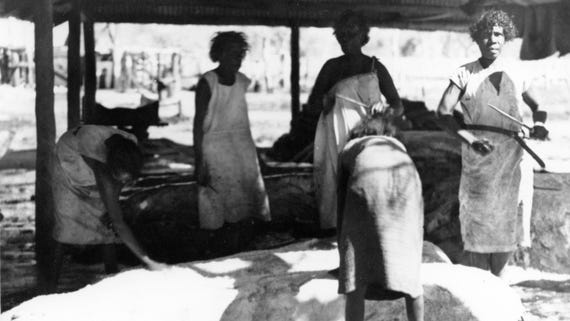 North Australia Observer Unit, known as the 'Nackeroos' and 'Curtin's Cowboys' were helped by Aborigines from across the Top End. The Nackeroos carried out surveillance from the Kimberley to the Gulf of Carpentaria. They were the first line of defence against a Japanese invasion.
The Army also trained a taskforce of about 50 Yolngu men from East Arnhem Land to defend the coastline. This special reconnaissance unit was trained to fight guerilla style warfare, using their traditional weapons. Their wages consisted of three sticks of tobacco a week. Between 1941 and 1945 about 200 Aboriginal people worked for the RAAF preparing and helping maintain isolated airstrips and radar stations, key to the defence of the North.
A rescue and surveillance unit named 'The Black Watch' was formed on the Cox Peninsula, west of Darwin in 1942. One member of the unit, Jack Mulberry, rescued an American pilot who had spent 7 days in the mangroves south of Darwin after being shot down. Just one of the many rescues made by the Black Watch.
The feeling of security which came with having an Aboriginal guide on patrol was a constant theme of the recollections of the men who served with the North Australian Observer Unit. A soldier after the war recalled an Aboriginal guide called Oscar who was with them when they got lost without water in the bush. Oscar found fresh water and saved the lives of his patrol.
It's only recently, so many years later, that Aboriginal people's deeds, defending Australia in the time of war have come to be acknowledged. They handled ammunition, piloted small ships, they worked as medical and engineers assistants, spotters and trackers. They crewed luggers, moved stores to outlying units, helped maintain radar stations and destroyed unexploded bombs. Many women worked as orderlies in hospitals, for their efforts they were mostly paid in rations, or tobacco.
Altri articoli che potrebbero interessarti